Note: "We are a participant in the Amazon Services LLC Associates Program, an affiliate advertising program designed to provide a means for us to earn fees by linking to Amazon.com and affiliated sites."
This is a list of my favorite Thanksgiving recipes I put on the table every year. I hope everyone gets inspired to try at least one from my list. Happy Thanksgiving!
Thanksgiving is here and I thought it would be easier for my readers to create a list of favorite recipes I personally cook every year for this wonderful occasion. I think from all holidays, Thanksgiving is my favorite time to celebrate life, give thanks for my blessings and be with my loved ones.
I hope you find something to inspire you to get in the kitchen and make a wonderful meal for you and your family or friends.
Appetizers:
These pinwheels are made with pumpkin puree and cooked sausage, green onions and shredded Monterey Jack cheese. Really beautiful on the table and also delicious.
The cheese straws, especially the homemade ones, are perfect for appetizers or just snacks and go perfect with cold beers.
Delicious easy dip to serve with some good French baguette thinly sliced. The best!
Side dishes:
Beautiful side dish that could replace other greens you are used to. This recipe is an old Romanian recipe that I grew up with. My grandmother used to make it quite often and everyone in the family liked it including the children.
If you have vegetarians in your family, this recipe is for them.
There is no Thanksgiving  without them in my house. One of the favorites!
This is by far my favorite side dish – corn, crackers, lots of vegetables and cheese! Very easy to make and delicious.
Oh, Yuum! How can you not like this one?
This Cranberry Chutney with Apples could be a delicious addition to every year Thanksgiving celebration. The combination of raisins, apples, dried apricots, orange juice and ginger is a symphony of flavors that will win your heart.  If you try this recipe you will never buy the cans of cranberries again.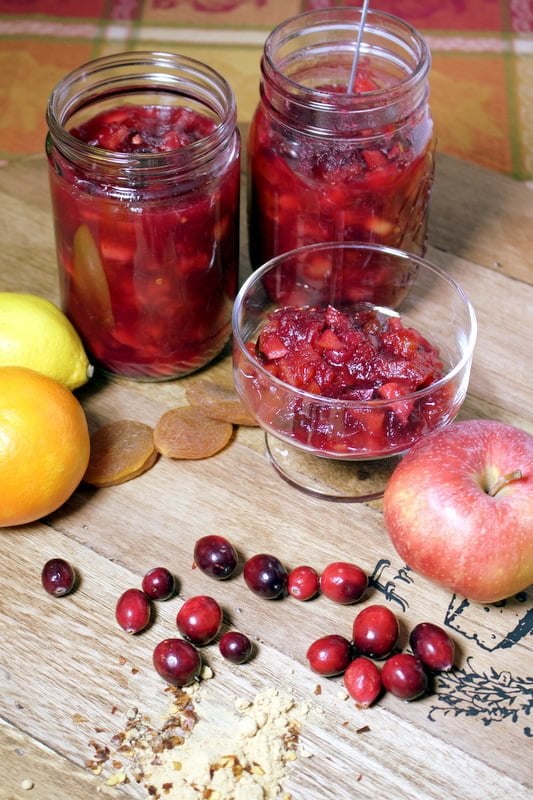 Baked brandied cranberries sauce is a lovely and super easy recipe to make for Thanksgiving. You will never buy canned cranberries anymore!
Dessert:
Many of you will go with traditional pumpkin pie or something else pie. However, for the ones who would like to try something else, here you have some ideas:
A recipe that is different than the American pie, but equally delicious and very attractive on the holidays table.
Delicious flavors and textures make this dessert a handsome option for any end of the meal. Serve it with ice cream or heavy cream! Excellent!
Ok, everyone! This is my round up list for Thanksgiving! My last word for you is this: Whatever you make, whatever recipe you choose, I hope you have a peaceful, beautiful holiday together with your loved ones! Happy Thanksgiving everyone!