Looking for a pie that is different from the traditional pumpkin pie for the holidays? Here you have a Cranberry Custard Pie with Cream Cheese Crust that promises to be the star of the desserts on the table.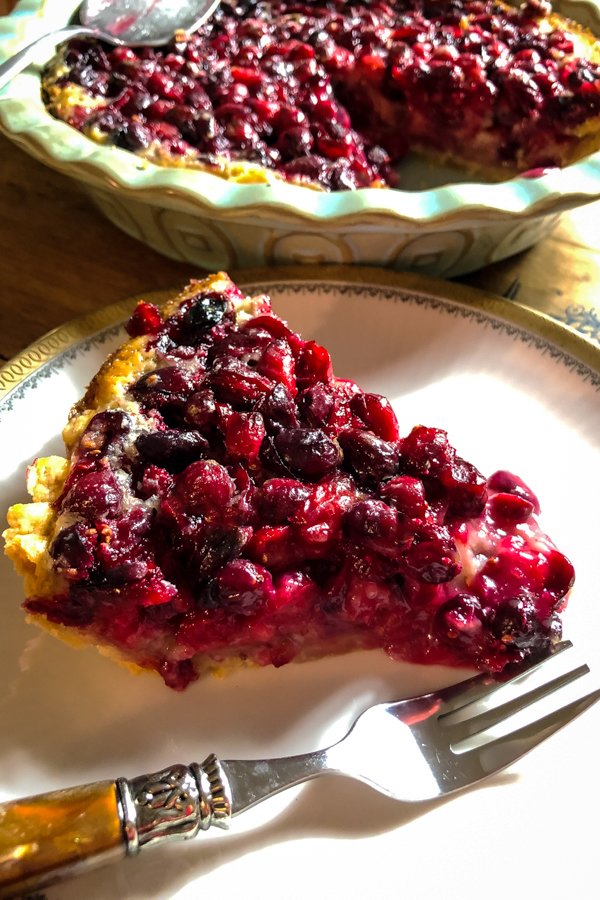 Jump to:
The Delights of This Recipe
Cranberries...I love them! I always thought that we should have fresh cranberries available all year round and not only during the Thanksgiving season.
They are versatile and great in so many recipes. I personally use dried cranberries in all kinds of salads and dishes I cook.
However, I would love to have more fresh cranberries though. There are so many recipes I could make, but not have enough time during the short season when cranberries are available.
Recipes with cranberries
As you can see, from salads to stuffing to chocolate fudge and cookies, the possibilities are endless.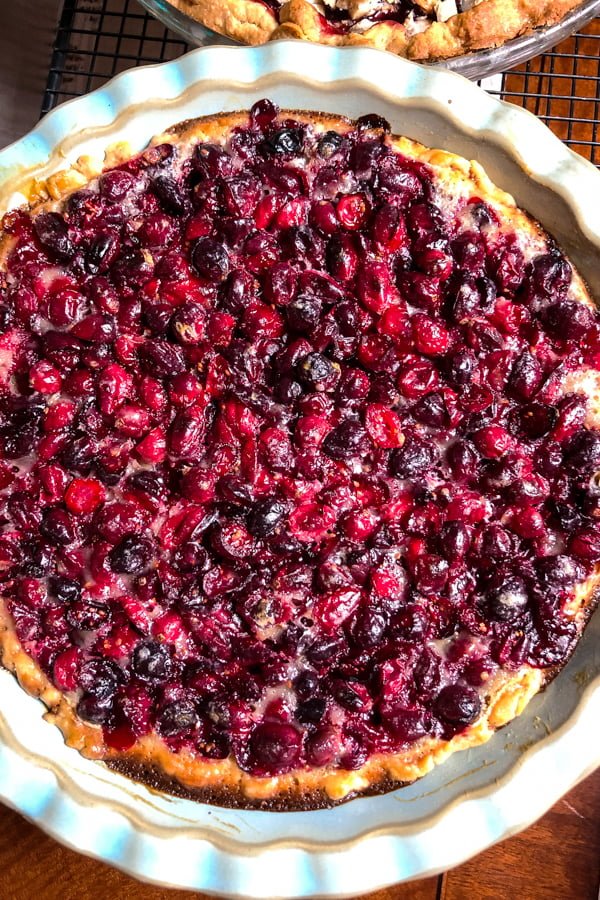 Getting back to our recipe for today, this Cranberry Custard Pie is out of this world. I love the tartness of the cranberries with the custard inside.
However, the crust is my favorite. It is made with cream cheese and tastes divine! You might be surprised to hear that a crust can be made with cream cheese. I also made past pastries using Farmer cheese instead of cream cheese.
I have to say that this type of pastry is my favorite. While growing up, pastry dough made with cheese was popular among the bakers. The pastries come up tender and extremely delicious.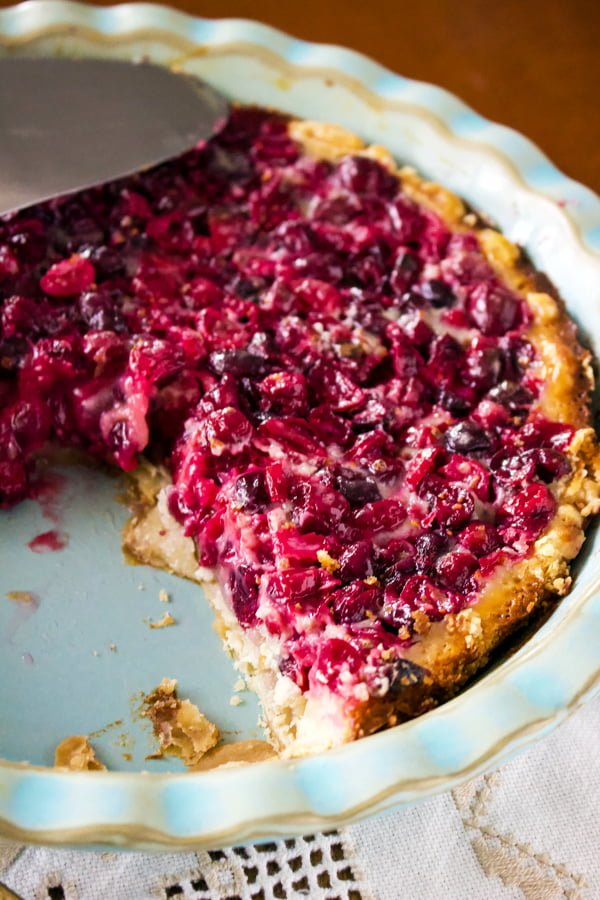 In Eastern Europe, farmer cheese is wildly used in pastries, especially in old recipes. The fat in the butter and cheese together helps create layers of goodness, making the pastry taste divine.
We all know what fat does to a pastry, so our grandmothers knew that very well.
Make these cookies with Farmer Cheese
For years, I was kind of resistant to making pies at home. I did not grow up with them and my first attempt to make an American apple pie from scratch was an absolute disaster.
I am not sure what went wrong with that recipe, but I ended up with a soggy crust(top AND bottom), a pile of sad apples in the middle that collapsed when I took the pie out of the oven, and a bunch of juice that looked like soup. It was almost inedible.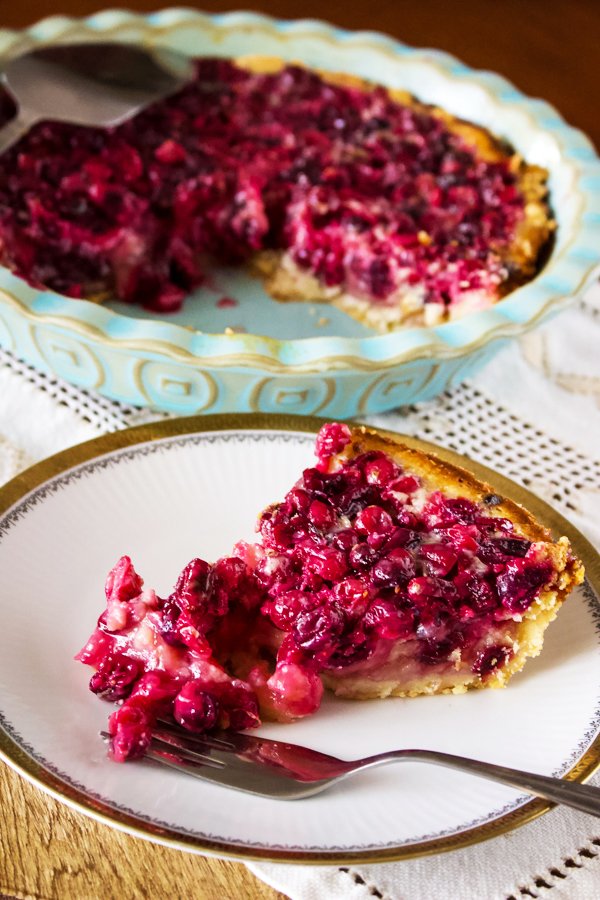 Because of that experience, I gave up on making pies completely. For Thanksgiving, I came up with other desserts that were more European.
We tend to entertain also on Friday after Thanksgiving, and I knew that people would look forward to trying these desserts instead of eating pumpkin pie again.
However, in the last few years, I started again to think about pies and expanding my repertoire with some of the traditional American desserts out there.
You will find on my blog an Apple and Berry Pie, also a Sour Cherry Pie, and a Cherry Pie, but there are also other European pies (like slab pies) I grew up with.
This cranberry custard pie is delicious. Even if you are not a great baker, you can still make it.
Tip
You can even cheat and go for a bought pie crust if my recipe feels intimidating. However, I truly encourage you to try to make the crust at home, especially if you have a food processor where it takes only a few minutes to put it together.
I guarantee that this pie will be the attraction on the Thanksgiving table, and you will make your family and friends happy.
How To Make The Cranberry Custard Pie
This recipe is easy if you follow it correctly. The dough needs to be refrigerated for at least an hour before you use it.
That could be made with the day before. On the day of baking, take the dough out of the fridge, roll it out on a floured surface in a 12-inch round, then slide it into a 9-inch baking dish.
Put the pie dish with the crust in the fridge again for about 30 minutes. You are going to bake the crust a little bit before you add the filling.
Line the crust with aluminum foil, then fill with pie weights or dried beans.
Bake the crust according to the instruction on the bottom of this article, remove from the oven and let it cool completely. Meanwhile, don't play Candy Crush on your phone! Make the filling! The filling is easy to make.
Roughly chop the cranberries and combine them with sugar and lemon zest. Separately, grab another bowl and beat eggs together with heavy cream and flour and make sure the mixture is smooth. Pour that over the cranberries.
Now, take that filling and pour it over the baked crust. Return the pie to the oven and bake for another 50 minutes to an hour, OR until the filling is set.
Your oven might be different than mine, so please keep an eye on that pie.
Transfer the pie to a rack and let it cool completely. I tried the pie cold from the fridge and I did not like it.
I think it is better to warm, dusted with a little bit of powdered sugar over. Yum! Perfect for the end of a delicious Thanksgiving meal, with a cup of coffee!
Happy Thanksgiving everyone!
📖 Recipe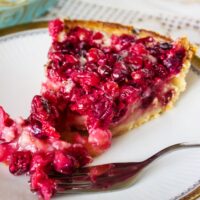 Cranberry Custard Pie With Cream Cheese Crust
Want to mix things up from the usual pumpkin pie during the holidays? Try this Cranberry Custard Pie with a Cream Cheese Crust. It's sure to be a showstopper dessert at your holiday table.
Print
Pin
Share
Grow
Saved!
Rate
Ingredients
Crust:
1 ½

cups

all purpose flour

plus more for dusting

½

teaspoon

salt

6

tablespoons

unsalted butter

cold, cut into small cubes

6

ounces

cream cheese

cold, cut into small cubes

1

teaspoon

white vinegar

or lemon juice

1

tablespoon

ice water

1

large egg

lightly beaten
Filling:
12

ounces

bag of cranberries, slightly thawed if frozen

2

tablespoons

all purpose flour

2

large eggs

1

cup

granulated sugar

1

lemon (use the zest)

⅔

cup

heavy cream
Instructions
Prepare the crust:
Place flour and salt in a food processor and pulse to combine.

Add butter and pulse a few times until the mixture resembles pea-size pieces.

Add the cream cheese and pulse a few more times until the dough comes together.

Add the vinegar(or the lemon juice), and ice water. Pulse a few more times until the dough is moist.

Shape the dough into a disk, wrap and refrigerate until firm for at least one hour or overnight.

Roll out the dough into a 12-inch round. Ease into a 9-inch pie dish. Fold the overhanging dough under itself and crimp with a fork or just your fingers.

Brush the edge of the dough with egg and refrigerate again until firm, for about 30 minutes.

Preheat oven to 350F. Line the crust with aluminum foil and place on top pie weights or dried beans.

Bake until golden around the edge, about 15 minutes. Remove foil and weights and continue baking until the bottom of the crust is dry, 5 more minutes.

Cool completely before adding the filling.
Make the filling:
Chop the cranberries and combine them with sugar and lemon zest.

Whisk the eggs with heavy cream and flour in a bowl until smooth. Pour over the cranberries.

Add the filling mixture to the crust and bake until the filling is set, 50 minutes to an hour approximately.

Transfer the pie to a cooling rack and allow it to cool completely.
Nutrition
Serving:
1
g
|
Calories:
318
kcal
|
Carbohydrates:
41
g
|
Protein:
7
g
|
Fat:
14
g
|
Saturated Fat:
9
g
|
Polyunsaturated Fat:
1
g
|
Monounsaturated Fat:
4
g
|
Trans Fat:
0.3
g
|
Cholesterol:
87
mg
|
Sodium:
261
mg
|
Potassium:
133
mg
|
Fiber:
2
g
|
Sugar:
23
g
|
Vitamin A:
545
IU
|
Vitamin C:
6
mg
|
Calcium:
86
mg
|
Iron:
1
mg
Tried this recipe?
Please leave a comment on the blog or like us on Facebook!