The vegetarian and gluten-free wild rice stuffing recipe makes an elegant alternative to ordinary bread stuffing. It is richly flavored with two kinds of mushrooms and other vegetables.
This stuffing makes it safely into the category "healthier Thanksgiving recipes," not only because it is full of good ingredients that provide flavor, freshness, and good nutrients but it is also easy to make and gorgeous on the table.
Today I will share with you a recipe that uses wild rice, which is perfect for the holidays, especially on Thanksgiving.
Jump to:
What is wild rice
Wild rice is a species of grass that grows in North America. The grain of this grass is harvested by Native Americans, and it is mainly produced in Minnesota and also California.
Another fact about this highly nutritious grain is that it is not actually rice but an annual water-grass seed that grows abundantly in cold rivers and lakes of Minnesota and Canada.
Minnesota's Wild Rice is almost as old as history itself. It became Minnesota's State Grain, and Native Americans consider the grain a sacred component of their culture.
It was always a staple in the Chippewa and Sioux Indians' diet, native to this region. Wild rice is highly nutritional, very rich in proteins and fiber, and very low in fat.
It has a chewy texture, and it is awesome cooked first and then tossed in a little bit of butter.
As a proud Minnesotan, this recipe is part of my "artillery" when it comes to recipes for Thanksgiving. If you are looking for a healthier stuffing that is also gluten-free and highly nutritious, this recipe is for you.
It is also great for vegetarians.
Ingredients
Wild Rice
For this salad, I would like you to go for the real wild rice and not for the rice blend you find in the store. You might say it is the same thing, but it's not. Wild rice has a longer cooking time than brown rice.
You need to cook it separately. It is a little bit more expensive, but once a year, for Thanksgiving, if you can afford it, it is worth the money.
Brown rice
Brown rice is whole-grain rice with the hull removed. It has a shorter cooking time than wild rice but longer than white rice. For this recipe, please use brown rice, not white.
Carrots, Celery, Onions
We cook this combination of vegetables in butter and we add them to the rice. They create the vegetable foundation for the stuffing.
Mushrooms
I used two different types of mushrooms. The idea is that mushrooms are the protein in the stuffing. They also bring lots of flavors. I used Shiitake mushrooms and white champignons. If you have dried Shiitake mushrooms you will have to rehydrate first before you cook them with the regular mushrooms. Otherwise, just follow the recipe.
Dried cranberries
I love cranberries. They are festive, less boring than raisins, packed with nutrients, versatile and delicious. Cranberries bring fun, elegance, and color to any dish, and they are perfect for Thanksgiving or Christmas.
Thyme, Salt, Pepper
If you have fresh thyme, use it. I don't have access to fresh herbs all the time, so I use a lot of dried ones. I actually have a collection of herbs from all the places I travel, and I am very happy with them.
Butter
I like using unsalted butter because I need to control the amount of salt in the food. However, if salted butter is all you have, go ahead and use it, but make sure you use a little bit less salt.
Chicken or vegetable broth
Use low-sodium chicken/vegetable broth.
The recipe will satisfy a crowd and please everyone, vegetarians or not, and I hope you will all enjoy it as much as we did.
More recipes to love
Easy Sausage, Cranberries and Walnuts Stuffing
Brown and Wild Rice Salad with Chicken, Apples and Walnuts
Cranberry Custard Pie with Cream Cheese Crust
Best Thanksgiving Pies And Tarts
Baked Brandied Cranberry Sauce
📖 Recipe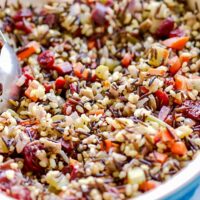 Vegetarian And Gluten-Free Wild Rice Stuffing
The Vegetarian And Gluten-Free Wild Rice Stuffing recipe makes an elegant alternative to ordinary bread stuffing. It is richly flavored with two kinds of mushrooms that provide some protein and also vegetables. In my book, this stuffing makes it safely to the category "healthier Thanksgiving recipes."
Print
Pin
Rate
Ingredients
1

cup

wild rice rinsed

2

cups

long grain brown rice

3 ¾

cups

water

2 cups for wild rice, 1 ¾ cups for brown rice

14

ounces

can of chicken broth or vegetable broth, or 1 ¾ cups of homemade broth

1

cup

dried cranberries or raisins

4

tablespoons

butter

3

medium carrots peeled and cut into ¼ inch pieces

2

stalks celery cut into ¼inch pieces

1

medium onion diced

8

ounces

shiitake mushrooms stems discarded

caps sliced

10

ounces

white mushrooms trimmed and sliced

1

teaspoon

salt

½

teaspoon

dried thyme

¼

teaspoon

ground black pepper
Instructions
Preheat oven to 325F.

In a 2 quart saucepan, cook wild rice with 2 cups water. Boil over medium-low heat, covered until rice is tender, for about 35 to 40 minutes.

Remove from the stove, drain the water if necessary.

Separately, in a medium pot, bring the brown rice to a boil together with the remaining 1 ¾ cups water. Also, add the broth. Cover and simmer over low heat until tender for about 18-20 minutes.

In a large bowl, place the wild rice, brown rice, and dried cranberries. Set aside.

In a nonstick pan, melt 2 tablespoons butter over medium heat.

Add carrots, celery, and onion and cook until tender and golden, about 12-15 minutes.

Stir in salt, thyme, pepper, and cook for another 1 minute.

Transfer to the bowl with rice.

In the same nonstick pan, melt the remaining 2 tablespoons butter over medium heat.

Add shiitake and white mushrooms and cook until tender, golden, and liquid evaporates about 12 minutes.

Transfer to the big bowl with the rest of the ingredients.

Stir all ingredients together and transfer the mixture to a 9x13 inch baking pan.

Cover with foil and bake until heated for about 20 minutes.
Nutrition
Serving:
1
g
|
Calories:
391
kcal
|
Carbohydrates:
72
g
|
Protein:
10
g
|
Fat:
8
g
|
Saturated Fat:
4
g
|
Polyunsaturated Fat:
1
g
|
Monounsaturated Fat:
2
g
|
Trans Fat:
0.2
g
|
Cholesterol:
17
mg
|
Sodium:
446
mg
|
Potassium:
569
mg
|
Fiber:
6
g
|
Sugar:
16
g
|
Vitamin A:
4050
IU
|
Vitamin C:
4
mg
|
Calcium:
41
mg
|
Iron:
2
mg