Learn how to make this wild rice soup with ham, a great recipe on chilly days or whenever you feel like making a comforting meal for you and your family.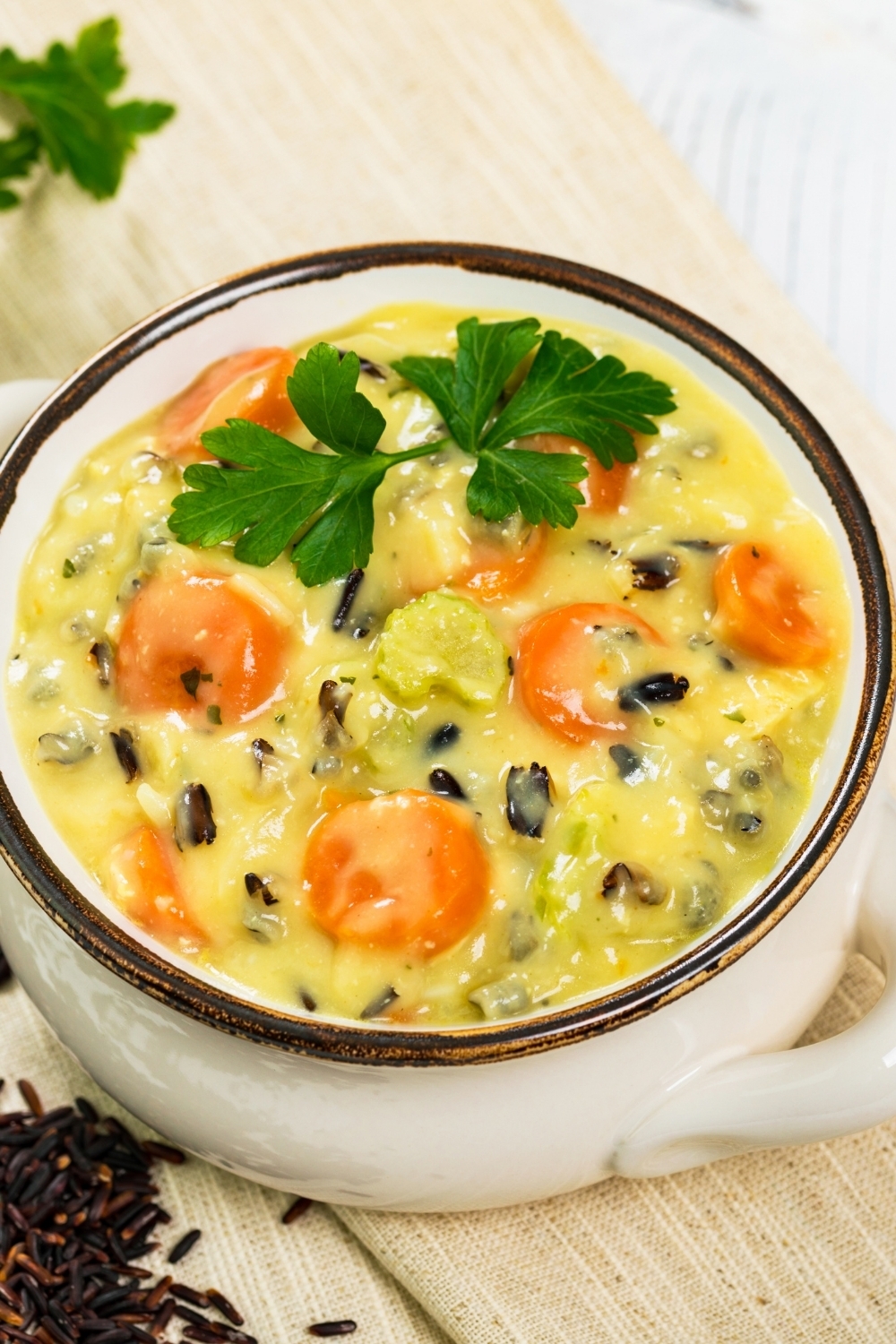 Anyone who has met me knows I lived in Minnesota for many years. Winters are cold, long, and harsh, summers are short, and you need fuel to survive the low temperatures that people experience.
Hearty soups and baked goods are part of the culture and ask anyone living in this part of the world that life would be very sad without them.
Any Minnesotan household has a favorite recipe version of this wild rice soup, and there is no respectable church cookbook without a recipe for this comforting dish.
I personally love anything with wild rice, but I am really in love with wild rice soup. It is comforting, fills you up, and sticks to your ribs, as the Minnesotans like to say. Especially in winter, after a few hours outside the house in frigid temperatures.
This is a quick recipe for wild rice and ham soup. It features cooked wild rice and ham and a few basic vegetables like onions and carrots in a creamy liquid made with half and half, flour, and chicken stock.
Jump to:
What is wild rice?
Wild rice, Minnesota's State Official Grain, is almost as old as history itself. It is the seed of grass that grows successfully in marshes and paddies in northern Minnesota.
This plant, now domesticated and grown commercially, is still often gathered from lakes in the traditional manner, especially by indigenous peoples in North America(Ojibwe, Chippewa, Sioux), who consider the grain a sacred component of their culture.
The Ojibwe people call this plant manoomin and cook it in different ways. The wild rice could be cooked in broth, served with maple syrup, made into stuffing for wild birds( great for Thanksgiving stuffing also), salads, soups, and even desserts.
Wild rice (affiliate link) is highly nutritional, rich in proteins and fiber, and low in fat. It contains potassium, phosphorus, and B vitamins. It has a chewy texture, and it is fantastic if you cook it first and then toss it in a little bit of butter.
I would dare to consider wild rice as the "caviar" of gourmet grains.
Soup with native-harvested wild rice
First of all, the flavor and texture are far superior to the commercially harvested hybrid version. Also, you will be supporting local agriculture, and your soup will have an authentic taste of Minnesota.
In my opinion, wild rice soup should be Minnesota's official dish. A traditional wild rice soup could be easily put in the hot dish category, and nothing is more Minnesotan than that.
Note: Please use REAL wild rice!
I totally understand that wild rice is not a cheap ingredient and is also not easy to find. We are lucky that in Minnesota, it is available in most stores. Using other types of rice is not the same.
I tend to encourage people to substitute ingredients when they cook (NOT when they bake), but this time I will ask you not to use white rice, brown rice, or a "blend of wild rice mix." This blend has only a few grains of wild rice; the rest is white rice.
REAL WILD RICE looks like this: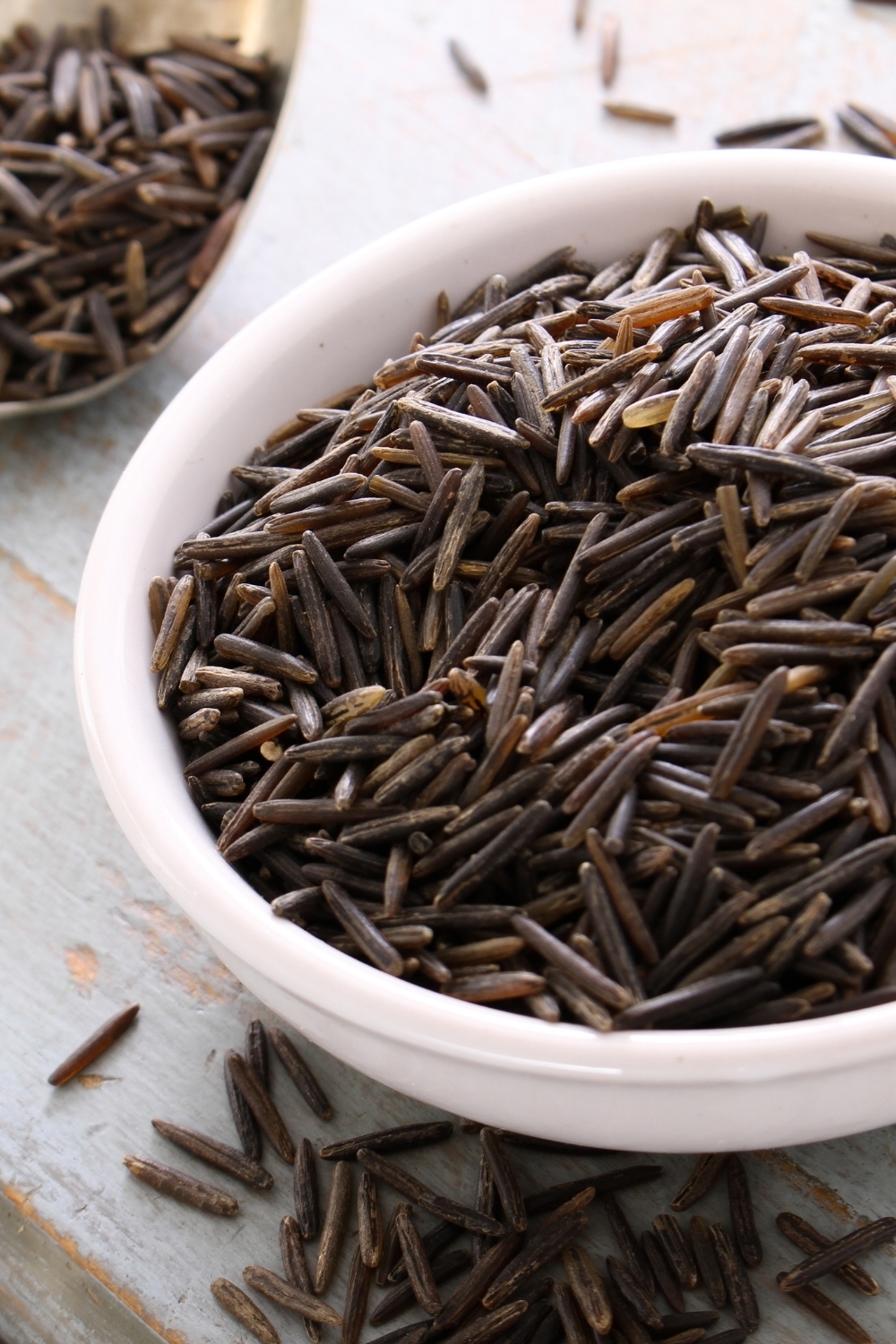 Basic cooking method for wild rice
1 cup uncooked wild rice
4 cups water(or broth)
1 teaspoon salt
Rinse wild rice in a strainer under running water or in a bowl with water. Drain.
Bring wild rice, water, and salt to a boil in a heavy saucepan. Reduce heat and simmer, covered, until kernels are open and tender but not mushy. This will take about 45-55 minutes. Drain.
The rice is now ready to use in different recipes.
1 cup uncooked wild rice = 3 to 4 cups cooked wild rice
Tip: Chicken or beef broth may be substituted for water in cooking wild rice. Omit salt.
How to store wild rice
Uncooked wild rice: Store raw wild rice tightly covered in a cool, dry place. It keeps almost indefinitely.
Cooked wild rice: Refrigerate cooked wild rice for up to one week, tightly covered.
Freeze: Place wild rice in a moisture-resistant container for up to two months.
More wild rice recipes to love
Vegetarian wild rice and mushroom stuffing
Brown and Wild Rice Salad with Chicken, Apples, and Walnuts
Grocery store shopping list and possible substitutions:
For specific amounts, please refer to the recipe card at the bottom of the article.
This wild rice and ham soup offers some flexibility. While I already talked about the importance of using wild rice in this recipe, here are some of the substitutions you can make:
Butter: I always cook or bake with unsalted butter, as I like to control the salt in my dishes. In this recipe, we will melt butter to saute the vegetables.
Onion: I used a medium onion. Yellow, white, or sweet onions are all allowed.
All-Purpose Flour: You do not need a lot, but you do need it to thicken the sauce with it.
Chicken broth: Try to get low-sodium chicken stock or water.
Wild rice: No substitutions here.
Carrots: If you don't like them, skip them. You can add mushrooms instead.
Ham: As we use fully cooked ham, you will need to use cooked meat to make this quick recipe. Ham leftovers are an excellent way (think holiday season), but you can make this soup with cooked chicken or rotisserie chicken if you like. Turkey, anyone? Or you can add cooked bacon that you add at the end or when you serve the soup for extra crunch. Smoked salmon would be delicious too.
Half and Half: I wanted to make this soup lighter on fat, but if you can handle heavy cream, go for it. The soup will be delicious. Whole milk is also acceptable, but I would not use skim milk for this recipe, as you need that creamy, unctuous texture.
Fresh Parsley: we use it for garnishing.
Optional- Dry Sherry / white wine / white vinegar: This recipe requires sherry to balance the acidity. However, I don't always have sherry in the house, but I always have a bottle of white wine sitting around. If you do not drink alcohol, use a little bit of white vinegar.
Why is this soup easy to make?
We are using already-cooked ham and cooked wild rice, making this recipe easier when you have leftover pieces of ham from the holidays.
OR you cooked too much wild rice for your husband, who loves it served just with butter (like my husband, for example), and you need to use up the leftovers.
How to serve
Serve it hot in soup bowls and a delicious slice of crusty artisanal bread, like a baguette, or you can try to make my excellent No Knead Bread recipe.
This soup still has a mouth-watering aroma the next day or the day after. Remember to add more chicken stock when reheating, as the wild rice tends to absorb a lot of liquid from the soup.
Can I make this vegetarian/vegan?
Yes, absolutely. Skip the meat and make this soup vegetarian. Or go vegan and replace the dairy with plant-based milk and the butter with olive oil.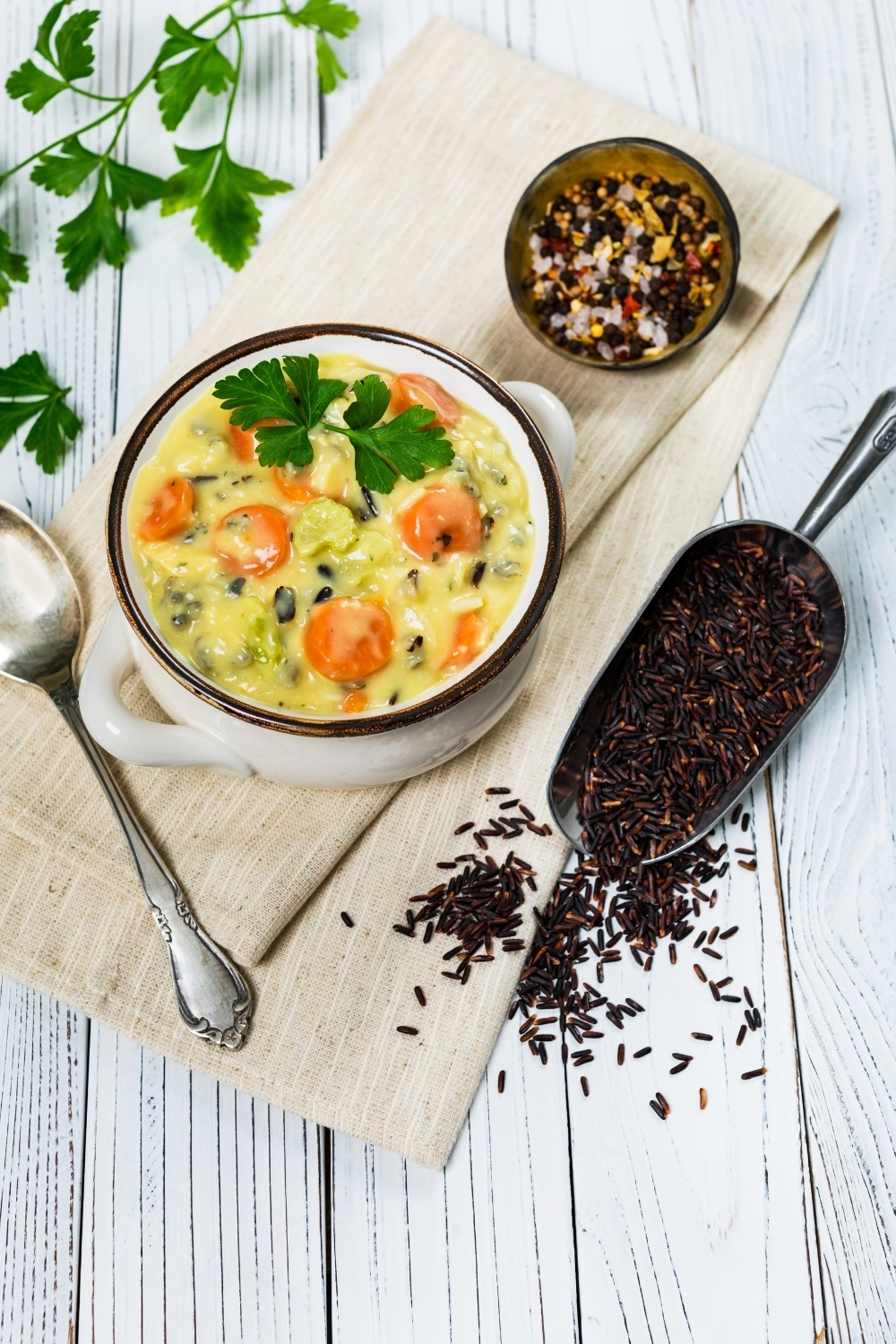 While this delicious meal is quick to make and uses a shortcut, it is still a classic wild rice soup recipe that your whole family will love.
More soup recipes to fall in love with
Greek Lemon Chicken Soup, aka Avgolemono
Chicken Soup With Sour Cream And Garlic
Quick links for Instant Pot Recipes
Instant Pot Chicken Wild Rice Soup
Instant Pot Caldo De Pollo (Mexican Style Chicken Soup)
Instant Pot Beef Vegetable Soup
More New Recipes To Love
📖 Recipe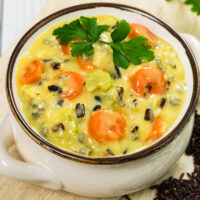 Wild Rice Soup With Ham
Learn how to make this quick wild rice soup with ham, a wonderful recipe to make on chilly days or any time you feel like making a comforting meal for you and your family.
Print
Pin
Share
Grow
Saved!
Rate
Equipment
Thousand Lakes Minnesota Grown Wild Rice 
Ingredients
6

tablespoons

butter

1

chopped medium onion

½

cup

all-purpose flour

3

cups

chicken broth

2

cups

cooked wild rice

made from ½ cup raw wild rice

2-3

medium carrots sliced thinly

½

cup

cubed cooked ham

½

teaspoon

salt

1

cup

half and half/OR heavy cream

Optional: 2 tablespoons dry sherry
Instructions
Melt butter in a large Dutch oven on medium heat and add the chopped onions and carrots. Saute until tender.

Blend in flour and gradually add broth. Cook, constantly stirring, until the mixture is smooth and comes to a boil. Let it boil for 1 minute.

Stir in the cooked rice, chopped ham, and salt. Simmer on low heat for 5 minutes.

Blend in half and half, and if you choose, sherry(or white wine or white vinegar). Heat the soup again to serving temperature.

Serve in bowls with crusty artisanal bread.
Notes
Basic Cooking Method For Wild Rice:
1 cup uncooked wild rice
4 cups water
1 teaspoon salt
Rinse wild rice in a strainer under running water or in a bowl of water. Drain.
In a heavy saucepan, bring wild rice, water, and salt to a boil. Reduce heat and simmer, covered, until kernels are open and tender but not mushy(45-55 minutes). Drain. The wild rice is ready to be used in different recipes.
Nutrition
Serving:
1
g
|
Calories:
297
kcal
|
Carbohydrates:
26
g
|
Protein:
8
g
|
Fat:
19
g
|
Saturated Fat:
11
g
|
Polyunsaturated Fat:
1
g
|
Monounsaturated Fat:
5
g
|
Trans Fat:
0.5
g
|
Cholesterol:
54
mg
|
Sodium:
899
mg
|
Potassium:
269
mg
|
Fiber:
2
g
|
Sugar:
4
g
|
Vitamin A:
3894
IU
|
Vitamin C:
3
mg
|
Calcium:
66
mg
|
Iron:
1
mg
Tried this recipe?
Please leave a comment on the blog or like us on Facebook!