Chicken Soup With Sour Cream And Garlic is a Romanian soup. It is an easy and delicious way to put dinner on the table any time of the year.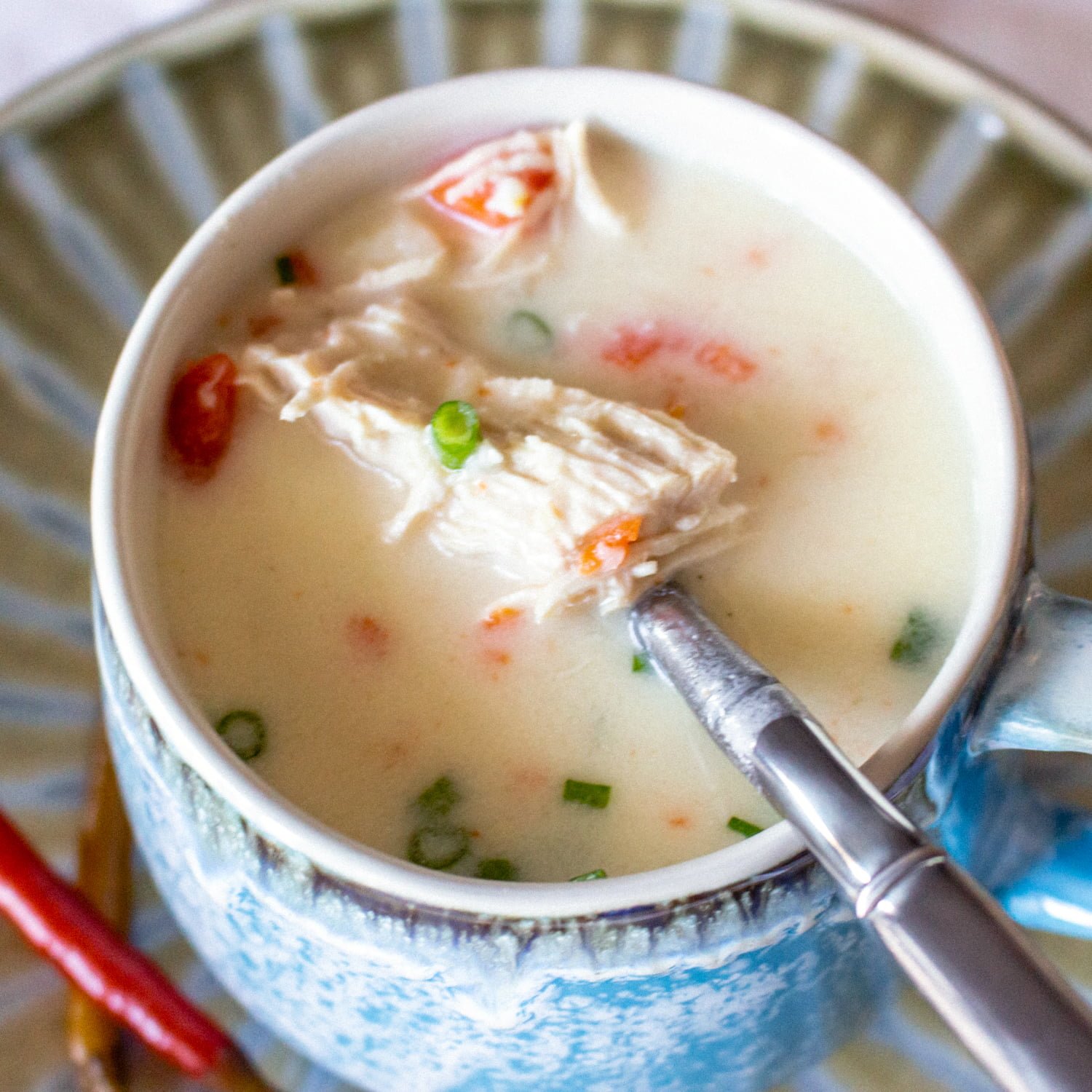 This recipe is part of my collection of Soups, but if you are looking for more Romanian soups, you can try this Romanian Meatballs Sour Soup, Potato Tarragon Soup From Transylvania, Green Bean Soup (With Smoked Ham or this awesome Romanian Tomato Soup- Dairy Free.
Jump to:
Simple and satisfying recipe to try:
Who doesn't like chicken soup? I never met anybody who doesn't enjoy a bowl of chicken soup, especially in the winter.
This soup is slightly different from the popular chicken soup with noodles that we are all familiar with. The recipe comes from Romania, and it is one of the most popular recipes out there.
Soups are a favorite in Romanian cuisine all year round. They are considered healthy, easy to prepare, and versatile.
The soups are also greatly consumed hot during the cold season, perfect for children of all ages and elders.
This soup is a sour soup that might sound unusual to you. It is made with garlic, sour cream, and egg yolks and it is served with vinegar (popular) or lemon juice.
Some Romanian soups are sour because a sour agent is added to them. Usually, vinegar, lemon juice, and sauerkraut juice are the most popular items used to sour the soups.
It is believed that sour soups help digestion and, in some cases, even cure hangovers. The recipe is easy, but you still need to follow some steps to achieve the consistency the soup should have.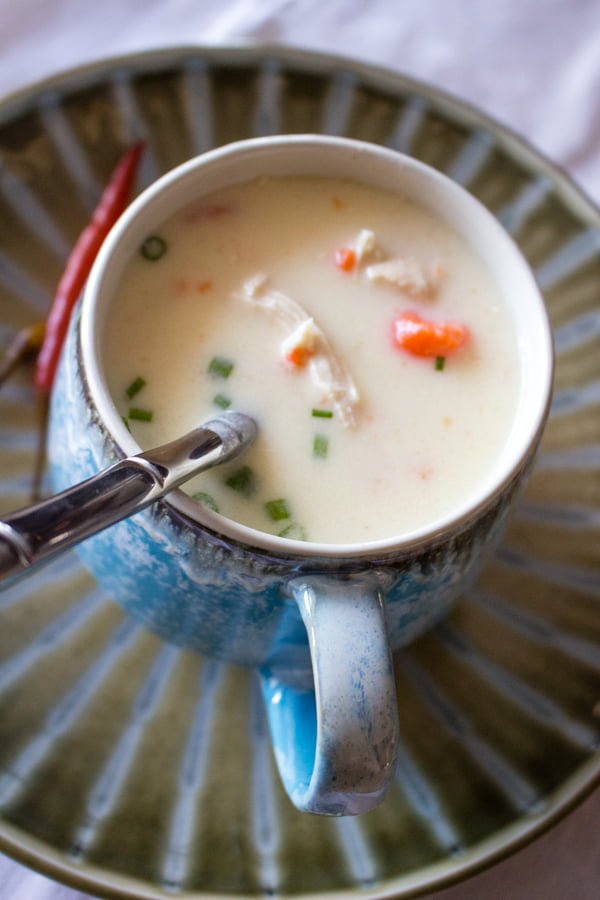 What kind of ingredients should you use?
The easy answer is to use the best ingredients you can afford not only for this recipe but for any recipe you make.
You want your family to be healthy and eat right. Therefore, make sure that you use ingredients free of chemicals, less processed, and fresh.
Chicken- The popular item for this soup is chicken breast, but I always thought that chicken soup should be made with other parts of the chicken, which are more flavorful.
Thighs, chicken drumsticks, the back of the bird, or even wings are the best, so, yes, you can use them if they are available.
Onion and root vegetables- these are pretty standard for any soup. Romanians use a lot of celeriac or celery root, together with carrots and parsnips. Celeriac is packed with flavor, and it is perfect for any soup.
You can find celeriac in the store, but I do know that in U. S. this awesome root is not that popular. I wonder why because it is definitely delicious.
Sour cream- The sour cream should be at room temperature. Also, as a rule for any soup that has sour cream as an ingredient, never ever dump it in the soup. It will curdle the soup and make it look unappetizing.
How to add sour cream:
For this soup, in particular, sour cream, egg yolks, and crushed garlic are mixed together into a smooth paste. Using a ladle, pour hot soup over the egg yolks and sour cream, stirring constantly.
Add a few more ladles of soup over, one at a time, whisking well after each addition.
The goal here is to slowly bring up the temperature of the eggs and sour cream without scrambling them. This is called tempering.
Only now, after this important step, you can go ahead and pour the sour cream and eggs liquid back in the pot of soup.
NOTE: IF it curdles a little bit, don't freak out. It is still good to eat and nothing bad will happen to you, so do not throw the soup away!! 🙂
I promise you that you will like the soup and you will keep making it over and over again. It is definitely a keeper, at least in my book.
Storage instructions:
Refrigerator: Allow the soup to cool to room temperature. Transfer the soup to airtight containers. Leaving some space at the top allows for expansion if the soup is frozen later.
Store the containers in the refrigerator for up to 3-4 days.
Reheating: Reheat the soup gently on the stovetop or in the microwave, stirring occasionally.
Freezer: If possible, freeze the soup before adding the tempered egg and sour cream mixture, as these ingredients may not freeze as well.
If the soup is already complete, it can still be frozen, but the texture may change slightly upon thawing.
Freeze the soup in airtight containers or heavy-duty freezer bags for up to 3 months.
Thawing and reheating: Thaw the soup overnight in the refrigerator or use the defrost function on your microwave.
Reheat gently on the stovetop, and if you froze the soup without the egg and sour cream, complete those steps after reheating.
Recipe faqs:
What if I don't have celeriac root or parsnip?
You can substitute with additional celery or other root vegetables like turnips. The flavor profile might change slightly, but the soup will still be delicious.
What kind of vinegar should I use?
The vinegar is used to enhance the flavor of the soup. White vinegar, apple cider vinegar, or lemon juice can be used to add a tangy flavor. It depends on your taste preferences, so feel free to experiment.
Can I adjust the level of garlic?
Absolutely! If you love garlic, you can add more. If you prefer a milder garlic flavor, you can reduce the amount.
More chicken recipes to love:
Moroccan Chicken With Figs and Couscous
Chicken stew with black olives
More Romanian cuisine:
Craving more? Subscribe to The Bossy Kitchen to get new recipes and a newsletter delivered straight to your inbox! Stay in touch on Facebook, Twitter, Pinterest, and Instagram for all of the latest updates. Don't forget to use the star rating and leave a review.
📖 Recipe
Chicken Soup With Sour Cream And Garlic
Chicken Soup With Sour Cream And Garlic is a Romanian soup also called "Ciorba Radauteana". It is an easy and delicious way to put dinner on the table any time of the year and will soon become a favorite.
Print
Pin
Rate
Ingredients
1

large chicken breast with bone and skin or 2 medium breast

1

large onion

diced

2

medium carrots

diced

1

parsnip

diced

½

celeriac root sliced

or 1-2 celery sticks diced

1

medium red pepper

diced

1

tablespoon

salt

8

cups

water

or chicken stock

1

cup

sour cream

3

egg yolks

3-4

garlic cloves

minced

4

tablespoons

parsley

chopped
To Serve:
White vinegar

apple cider vinegar or lemon juice

sour cream
Instructions
In a soup pot place the chicken breast, diced vegetables and a tablespoon of salt.

Cover with water/stock and bring to a boil, skimming the foam that forms on top of the soup. Cook for about 15 minutes, then lower the heat to medium-low and let the soup simmer for about 40 minutes or until the meat is cooked and the vegetables are tender. Remove the pot from the heat and set aside.

Take the meat out of the soup and transfer it to a large bowl. Discard the bone and skin, and then shred the chicken using two forks.

In a medium bowl, whisk the egg yolks, sour cream and the crushed garlic cloves together into a smooth paste.

Using a ladle pour hot soup over the egg yolks and sour cream, stirring constantly. Add a few more ladles of soup over, one at a time, whisking well after each addition. (Make sure the eggs and the sour cream are at room temperature before you proceed to this step)

Pour the sour cream and eggs liquid back in the pot of soup, and add the shredded chicken.

Taste to make sure it has enough salt and add the chopped parsley.
How To Serve The soup:
Serve the soup hot, in bowls, with fresh bread. Add vinegar to your taste or lemon juice and more sour cream. Hot peppers are nice too.
Nutrition
Serving:
1
g
|
Calories:
254
kcal
|
Carbohydrates:
21
g
|
Protein:
14
g
|
Fat:
13
g
|
Saturated Fat:
5
g
|
Polyunsaturated Fat:
2
g
|
Monounsaturated Fat:
4
g
|
Trans Fat:
0.02
g
|
Cholesterol:
112
mg
|
Sodium:
1297
mg
|
Potassium:
656
mg
|
Fiber:
3
g
|
Sugar:
8
g
|
Vitamin A:
3485
IU
|
Vitamin C:
31
mg
|
Calcium:
86
mg
|
Iron:
2
mg