Romanian Tomato Soup- Dairy Free- a delicious recipe that can change the way you look at the American classic tomato soup. This recipe is not made with dairy or flour.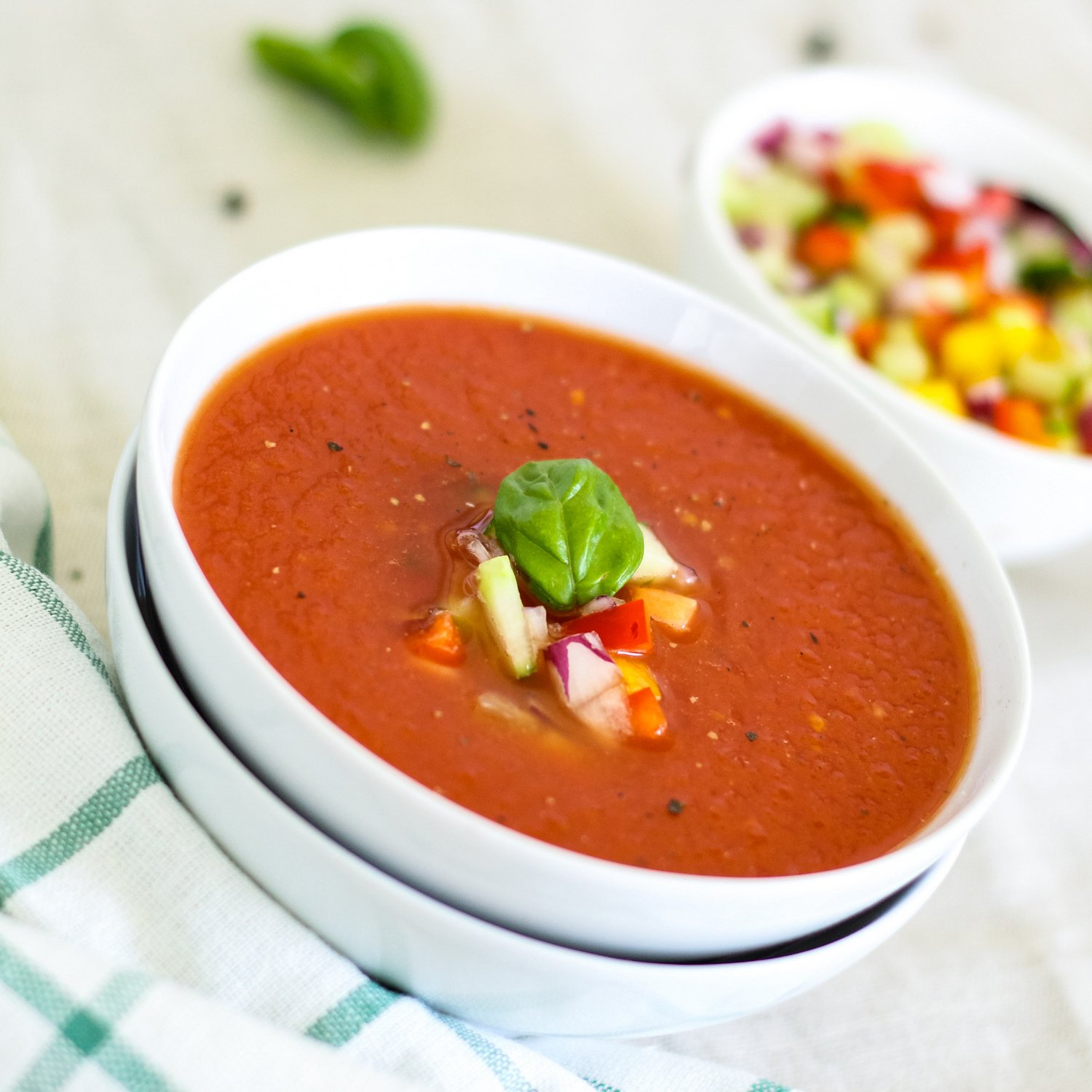 Who doesn't like tomato soup? I remember eating this soup during the hot summers in Bucharest, while growing up.
The tomatoes were coming from the farmers market and they were sweet and tangy at the same time. The celeriac and the fresh parsley were perfuming the soup in a delicate way.
I cannot imagine anything more appropriate for a hot day in summer than a bowl of this tomato soup that can be consumed warm or cold.
This is a summer soup, but there are many people who live in warm climates all year round. Or, there are tons of people out there who would love a hot bowl of this tomato soup in the winter.
My advice for you would be to use fresh tomatoes in the summer and canned tomatoes or tomato sauce in the winter. This will ensure that the soup tastes the best all year round.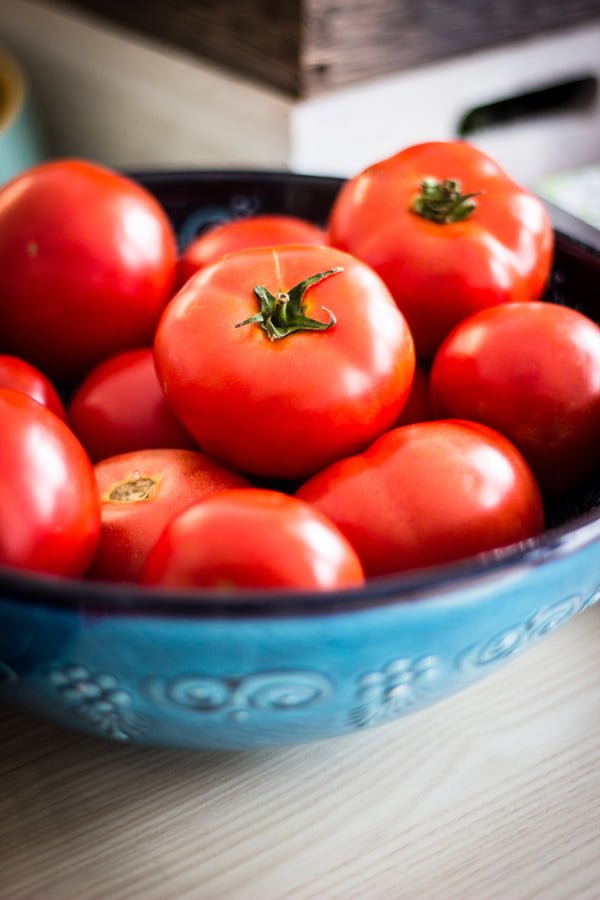 If you live like me, in a very cold climate, tomatoes taste pretty bad in the middle of January.
My version of tomato soup does not have any dairy or flour in it, except for the choice of pasta or rice.
The pasta or the rice will thicken up the soup a little bit. This is what makes this Romanian tomato soup different than the Classic creamy American tomato soup.
There is texture in the soup, as I use fresh vegetables like carrots, celery(or celeriac) and peppers.
If you make the soup for children and want to keep it interesting, use pasta letters and make them recognize the letters while they eat the soup. This would be a fun way for them to enjoy this fabulous healthy soup without complains.
Of course, you can also use any kind of small pasta you like, stelline, orzo, vermicelli, angel hair pasta etc.
What is celeriac?
Celeriac is one of the ingredients that this soup needs. However, you can use celery instead, if celeriac is not available, or just isn't your thing.
This vegetable is also called celery root and it is part of the celery family. Europeans use celeriac wildly in their cooking due to its intense flavor and mild sweetness.
It is also a very resistant root that keeps well during the winter if stored properly and it is very nutritious as well.
Romanians in particular use celeriac both raw and cooked in salads, soups and stews. It is a very popular and common root.
Most soups start with onion, carrots and celeriac root, as a base.
My recipe is one that I grew up with. Each region of Romania might have different variations of this tomato soup.
In Transylvania, for example, you will find more often tomato soup made with a flour roux and sour cream.
The rest of the country doesn't use dairy at all in the soup, but they might use the roux to thicken the soup.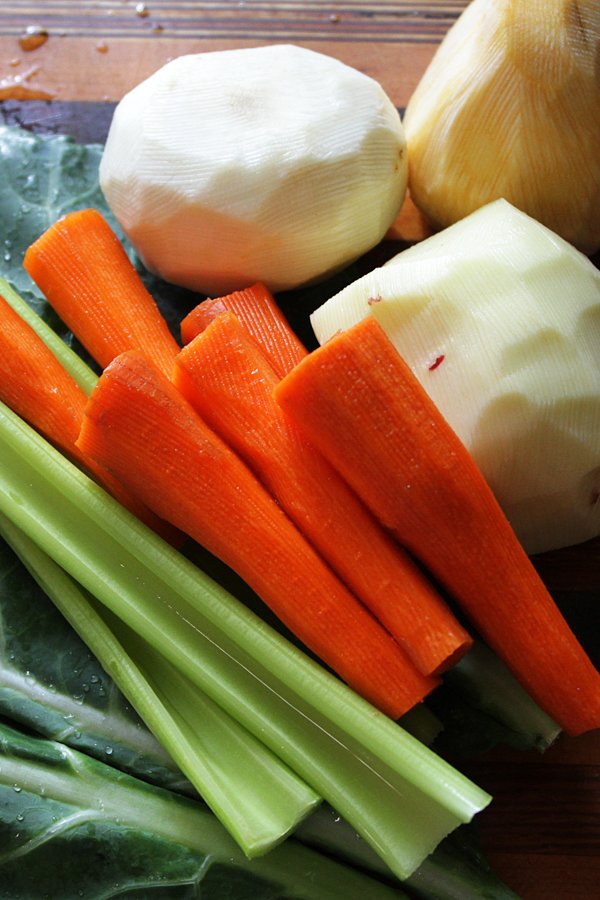 To make this Romanian tomato soup, you start by placing the oil in a soup pot and heating it up on the stove. To that, add chopped vegetables, onions, carrots, peppers, celery root or celery and saute them together until they develop the flavor.
Add tomatoes that you blended before or tomato puree(crushed tomatoes or sauce) and water(or vegetable stock). Add salt to your taste, but make sure that if you use water instead of broth, you will need more salt.
Simmer the soup until the vegetables are almost cooked, which means they should be soft but not mushy. At that point, add the pasta or rice and cook for a few more minutes.
Both pasta or rice will add starchiness to your soup and while it is not going to be creamy, like the American one, it will be very enjoyable.
I honestly had tomato soup in America only at the restaurant and every single time I noticed how thick it was. Most of the time seemed to be more gooey than creamy and I always thought that it was definitely coming from a can. It was also very salty.
If you are not looking for that kind of product, this soup might be for you.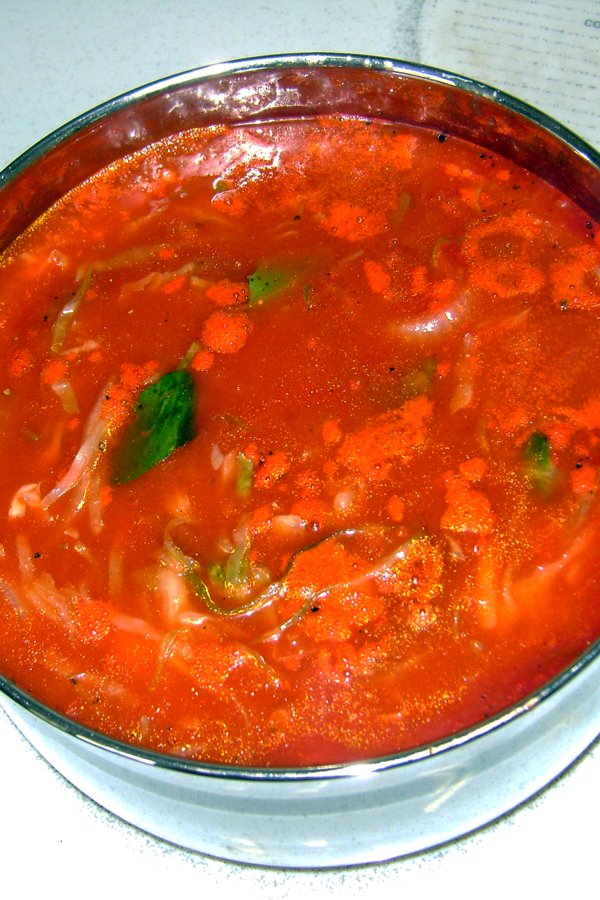 Just give it a try and you will see what I am talking about.
More recipes to love: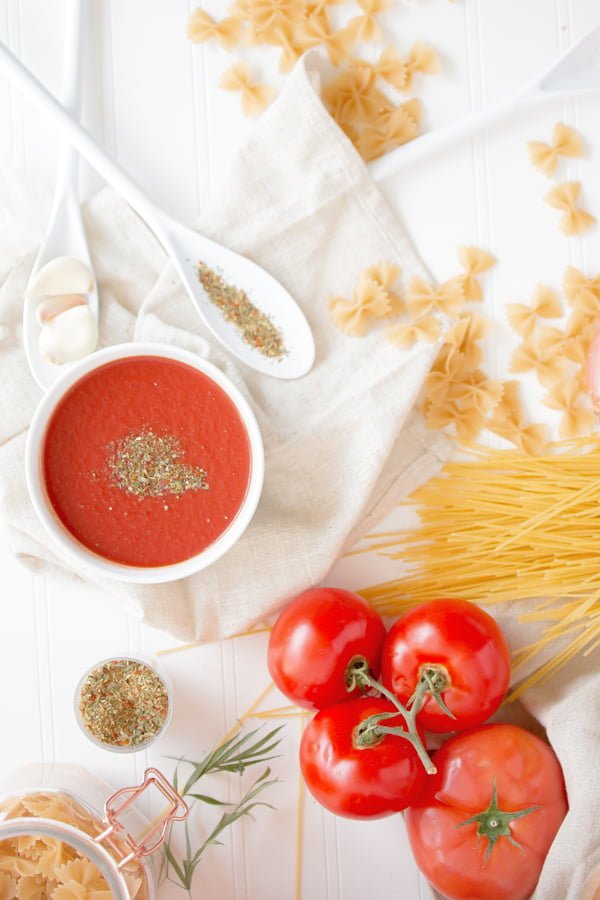 And enjoy!
Yield: 8 servings
Romanian Tomato Soup- Dairy Free
Romanian Tomato Soup- Dairy Free- a delicious version of the American classic tomato soup. This recipe is not made with dairy or flour.
Total Time
1 hour
10 minutes
Ingredients
2-3 Tablespoons vegetable oil
1-2 medium carrots chopped
1 medium onion diced
1-2 small peppers (use any color you have, I like red or yellow)
1 small celeriac chopped small or 2-3 stalks of celery chopped
2 pounds tomatoes chopped and blended in a blender
(optional: Use 16-18oz canned Tomato puree, canned chopped tomatoes, canned diced tomatoes)
¼ cup rice(or 2 handfuls of pasta)
½ bunch of chopped parley or 1-2 teaspoons dried parsley or basil
8 cups water(or vegetable broth)
salt and pepper to taste
Instructions
Clean and chop the vegetables(onion, carrots, peppers, celery)
Heat up the oil in a soup pot on medium high and add the chopped vegetables. Saute them for few minutes until the flavor is developed.
Add the blended tomatoes and water or vegetable broth.
Add salt and pepper to your taste. Be careful if you use vegetable broth, as it might be already salty enough.
Simmer the soup until the vegetables are tender, about 30 minutes.
Add the pasta(or the rice) and let it cook for 7-8 minutes or until the rice or the pasta is tender.
When the soup is cooked, sprinkle the chopped parsley on top of it. If you like basil better, use basil instead of parsley.
Serve it warm or cold as you prefer.
Nutrition Information:
Yield:
8
Serving Size:
1
Amount Per Serving:
Calories:

97
Total Fat:

6g
Saturated Fat:

0g
Trans Fat:

0g
Unsaturated Fat:

5g
Cholesterol:

0mg
Sodium:

85mg
Carbohydrates:

12g
Fiber:

3g
Sugar:

5g
Protein:

2g