Note: "We are a participant in the Amazon Services LLC Associates Program, an affiliate advertising program designed to provide a means for us to earn fees by linking to Amazon.com and affiliated sites."
I am not sure how popular a fish soup would be out there, but for the Romanians, this soup is considered a wonderful meal. Having the Danube River as a border with Bulgaria and also having the Danube Delta close to the Black Sea, many people who live in that part of the country eat a lot of fish.  You can make soup from any kind of fish. In the Danube Delta, people use sturgeon, carp, catfish or pike chunks together with other smal fish that is boiled together. Personally, I used tuna or cod more(here in the U.S.) because they taste more "meaty" to me than tilapia, for example and closer to what I know to be the taste of a delicious fish soup. Romanians use the fish entirely from head to tail, but because I do not have a lot of access to an entire fish, I chose the albacore tuna for this particular recipe.
How I made the sour fish soup- Romanian style:
I chopped onion, celery, carrots, and peppers. I also used orange and yellow carrots, as you can notice in the picture below. However, regular carrots are just fine.
In a soup pot, I heated up a few tablespoons of vegetable oil and sautéd the vegetables just enough to develop their flavor.
I added water and let the vegetables simmer until cooked.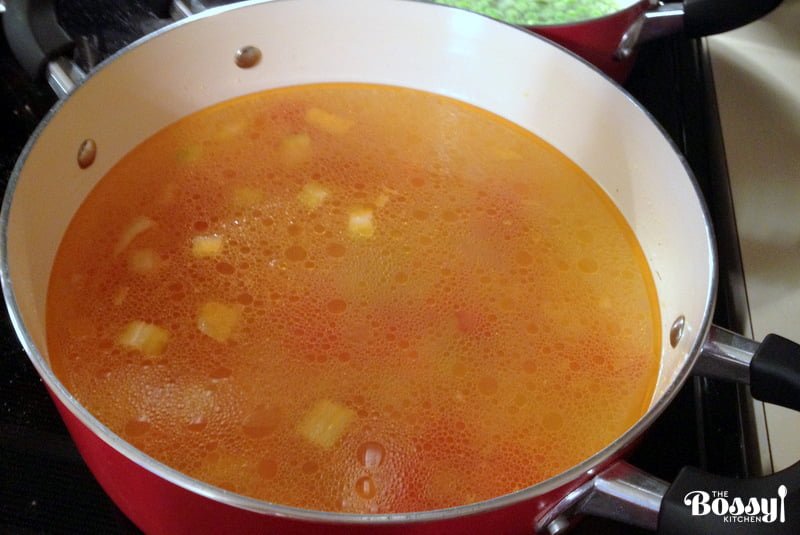 I added the fish which I cut into cubes and simmered the soup for no more than 10 minutes as the fish cooks really fast. I added salt and a little bit of vinegar. You can skip the vinegar, but you need to know that Romanians always say that a fish soup is better if it's a little bit sour. If you do not like the vinegar, add some lemon juice instead. I also added a bunch of chopped parsley.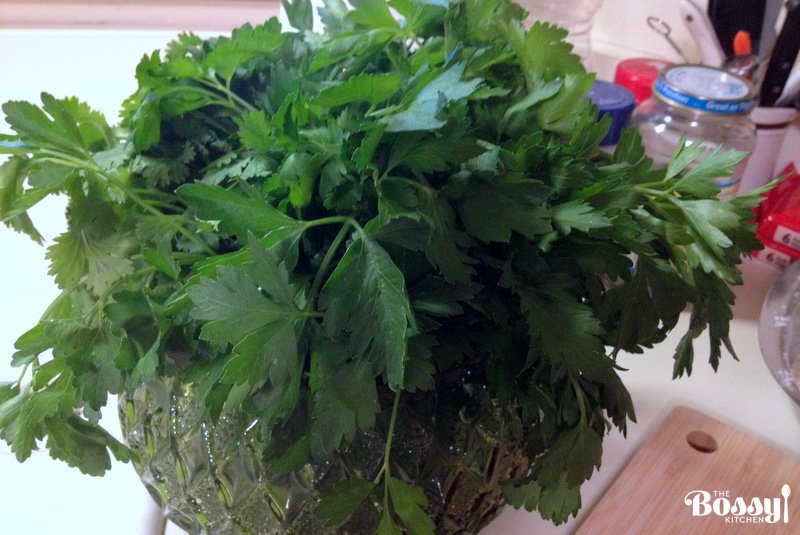 Serve warm with a hot pepper, if you like that, and some good rustic bread.
Sour Fish Soup- Romanian style
Author:
The Bossy Kitchen
Ingredients
1 medium onion chopped
1 -2 medium carrots chopped
½ large red yellow or orange pepper or 1 medium chopped
1-2 celery sticks chopped
16 oz fish(tuna, cod etc)
8 cups water
salt and pepper to taste
1 lemon juice or 2-3 Tbsps vinegar
1 bunch of chopped parsley
2-3 Tbsp vegetable oil
Instructions
In a large pot heat the oil over medium heat.
Add the onion, carrot, celery and bell pepper. Saute them until become translucent, just enough to develop their flavor.
Add water and simmer the vegetables until cooked.
Add salt and pepper to taste.
Cut the fish in cubes and add it to the soup.
As the fish cooks quite fast, simmer the soup for no more than 10 minutes.
Add the juice of 1 lemon or vinegar.
Add the chopped parsley.
Serve warm with some crusty good bread.