Spanish potato salad (Ensaladilla Rusa) is a Spanish favorite made with potatoes, carrots, boiled eggs, cooked peas, tuna, and mayonnaise. Delicious!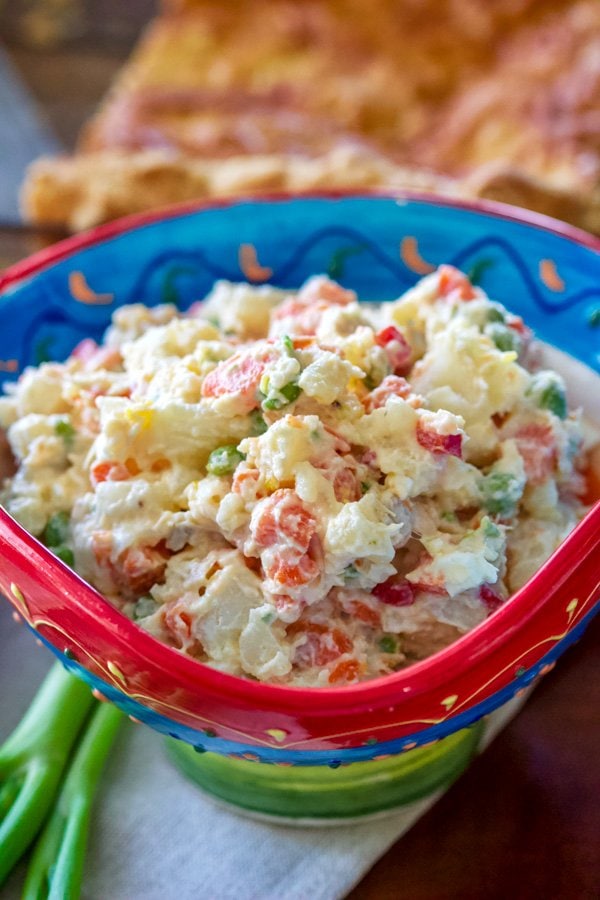 Spanish potato salad (Ensaladilla Rusa)
A few months ago we spent a vacation in Spain. While in Madrid, we stopped for lunch one day at one of the restaurants downtown. Every time I visit a country, I love eating what the locals eat.
This time I did the same thing and looked at their menu for the traditional Spanish food. I chose the Ensaladilla Rusa.
(This was my platter in Madrid. The salad was surrounded by cold cuts, and my favorite was, of course, the Jamon Serrano. Yum and yum again!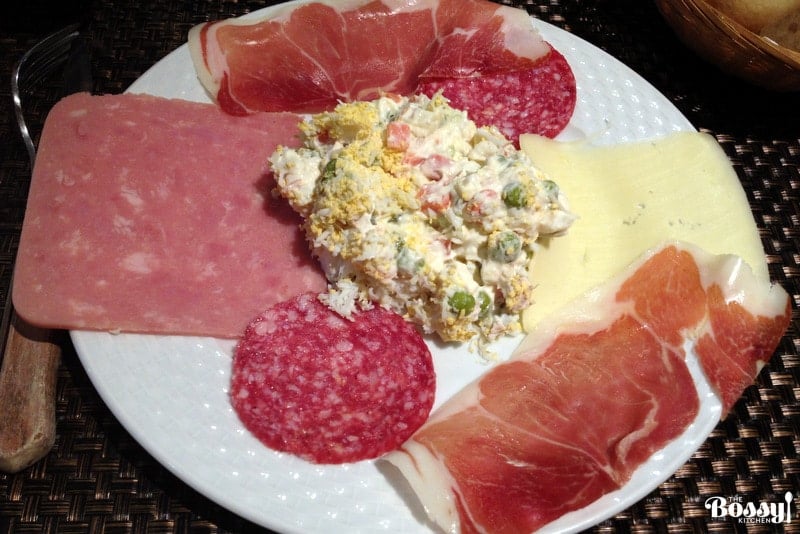 Ensaladilla Rusa is a potato salad that is very well known worldwide, but each country makes it different, using ingredients that are specific to their cuisine.
It might be popular in Spain, but the real recipe originated in Russia. In Russia is traditional around the holidays, especially on New Year's Eve.
The Russian immigrants brought the salad with them to Argentina, Costa Rica, Peru, or Mexico. Over the years, each country adapted the recipe to its local ingredients.
I will share this version with you today is the most popular one in Spain and is made with potatoes, carrots, boiled eggs, cooked peas, tuna, and mayonnaise.
Some recipes also contain roasted peppers, capers, shrimp or even pickles.
It is a delicious, simple salad that uses ingredients that most people have in the pantry: potatoes, carrots, peas, a can of tuna, mayo.
If you know how to make homemade mayonnaise, great, if not, a jar of mayo will be perfectly fine too.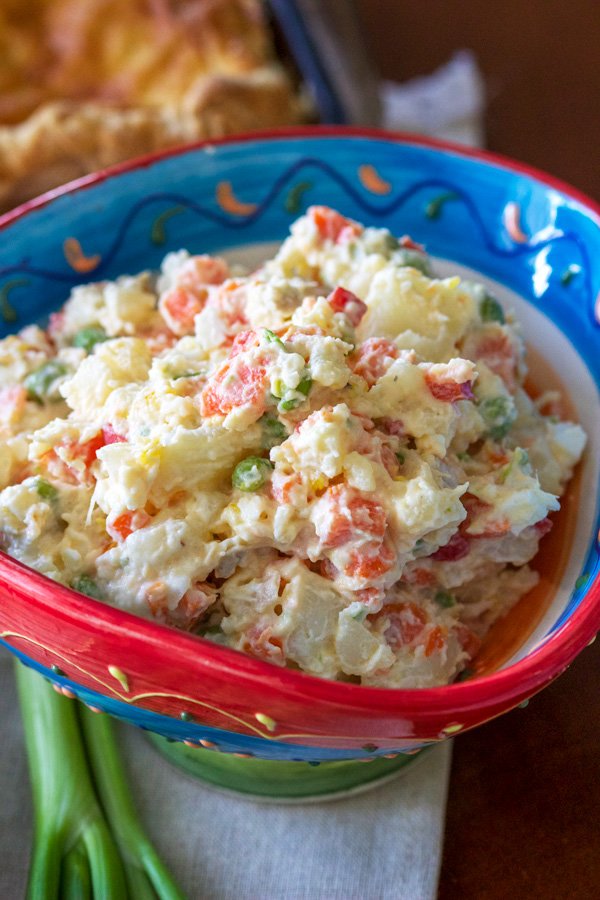 Romanians also have a version of this salad.
A Few tips before you start making the recipe:
It would be best to use a less starchy potato, so the salad has some body and texture. Personally, I'm not too fond of potato salads where the potato is turned to mush because it was either boiled too much or is too starchy.
Red potatoes are a good option. Here you have a collection of recipes with potatoes to choose from. The article also explains what kind of potato to use in different recipes.
Also, do not cook potatoes and carrots in the same pot. Carrots need more time to cook; therefore, they need to be cooked separately; otherwise, as I said before, the potatoes will be too cooked.
I used frozen peas that I cooked separately, but you can use a drained can of peas as well.
Or you can use fresh peas that you cook in a little bit of salty water.
How To Serve This Spanish Potato Salad:
In Spain, this salad is served as tapas all year round. However, you can serve it as an appetizer. Or as a main meal with some cold cuts around.
It is absolutely delicious with bread, but choose a good quality artisanal bread.
If you want to make your own, I really recommend you try this recipe.
Slice it thinly and toast it before you serve it.
PIN THIS FOR LATER: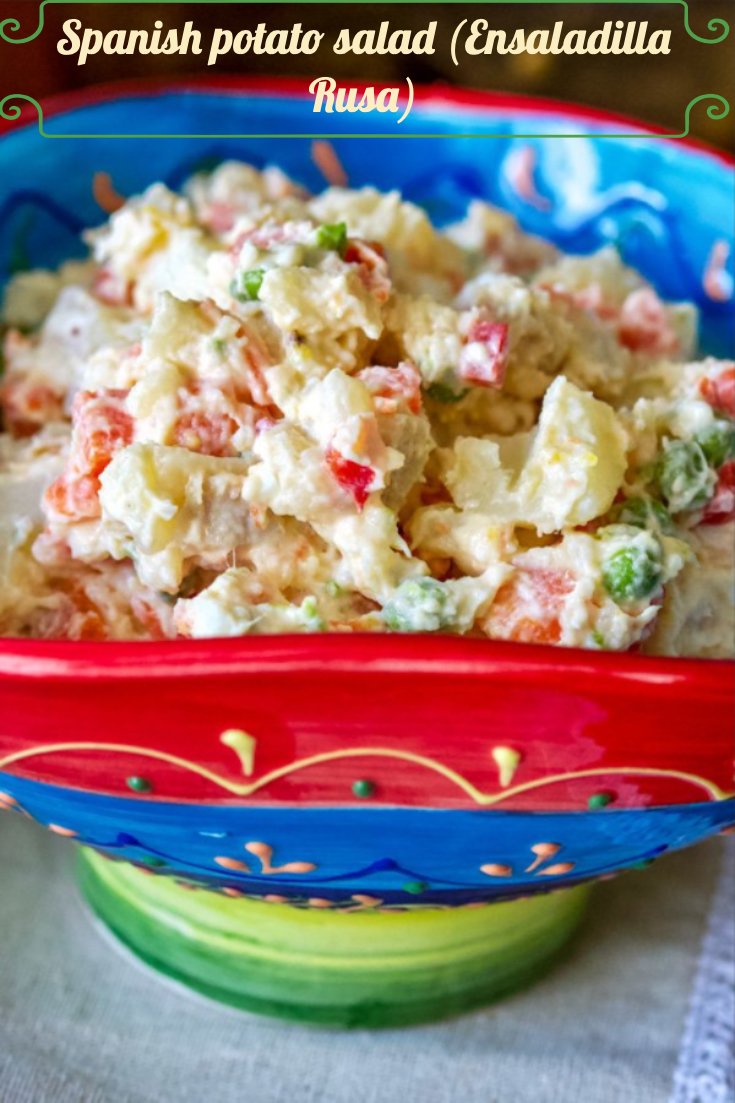 What to drink with this salad?
A nice glass of cold, white wine, like sauvignon would go perfect.
Enjoy and hope you are going to try it soon!
Suggestions for potato salads:
Delicious American Easy Potato Salad
Yield: 6 servings
Spanish Potato Salad (Ensaladilla Rusa)- A Spanish Favorite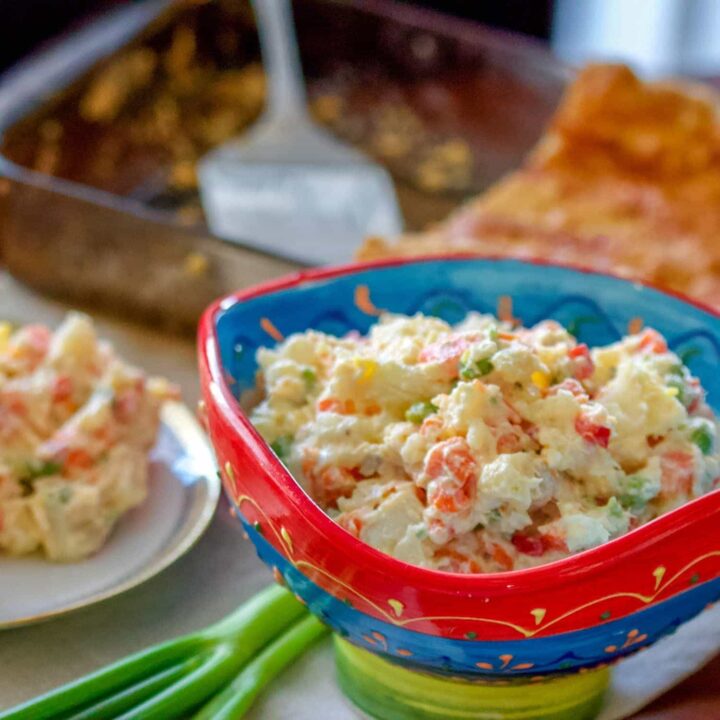 Spanish potato salad (Ensaladilla Rusa) is a Spanish favorite recipe made with potatoes, carrots, boiled eggs, cooked peas, tuna, and mayonnaise. Delicious!
Ingredients
3-4 medium red potatoes boiled
2-3 medium carrots
2 boiled eggs
1 roasted pepper(from the jar is fine)
1 cup cooked peas
1 can tuna
1 1/2 cup mayonnaise
salt and pepper to taste
Optional: 1 chopped pickle
Instructions
Wash and scrub the potatoes. Place them in a large pot filled with water.
Use a smaller pot for cooking the peeled carrots. In the last 5 minutes, add the frozen peas.
Add a teaspoon of salt to each pot, bring the water to a boil and cook the vegetables until soft but not mushy.
Separately, cook the eggs for about 10 minutes, remove from the stove and cool them down in cold water. Remove shells and set them aside. Save an egg yolk for decoration.
Remove the potatoes, carrots, and peas from the heat and let them cool.
Peel the potatoes.
Dice potatoes, carrots, eggs, and the roasted pepper.
Place them in a salad bowl.
Add the cooked peas.
Drain the can of tuna and add the fish to the vegetables.
Optional, you can add a diced pickle.
Add the mayo and mix well.
Add salt and pepper to your taste.
Decorate with shredded egg yolk.
Refrigerate the salad for a while until cool enough, then serve.
Nutrition Information:
Yield:
6
Serving Size:
1
Amount Per Serving:
Calories:

570
Total Fat:

44g
Saturated Fat:

7g
Trans Fat:

0g
Unsaturated Fat:

35g
Cholesterol:

97mg
Sodium:

602mg
Carbohydrates:

29g
Fiber:

4g
Sugar:

5g
Protein:

14g
Note: "We are a participant in the Amazon Services LLC Associates Program, an affiliate advertising program designed to provide a means for us to earn fees by linking to Amazon.com and affiliated sites."