Note: "We are a participant in the Amazon Services LLC Associates Program, an affiliate advertising program designed to provide a means for us to earn fees by linking to Amazon.com and affiliated sites."
Few month ago we spent a vacation in Spain. While in Madrid, we stopped for lunch one day at one of the restaurants in downtown. Every time I visit a country, I love eating what the locals eat. This time I did the same thing and looked at their menu for the traditional Spanish food. I chose the Ensaladilla Rusa. Ensaladilla rusa is a potato salad that is very well known all over the world, but each country makes it different, using ingredients that are specific to their cuisine. This Spanish version is the most popular one and it has potatoes, carrots, boiled eggs, cooked peas, tuna and mayonnaise. Some recipes also contain roasted peppers, capers or even pickles. The salad is served all year around.
This was my platter in Madrid. The salad was surrounded by cold cuts and my favorite was, of course, the Jamon Serrano. Yum and yum again!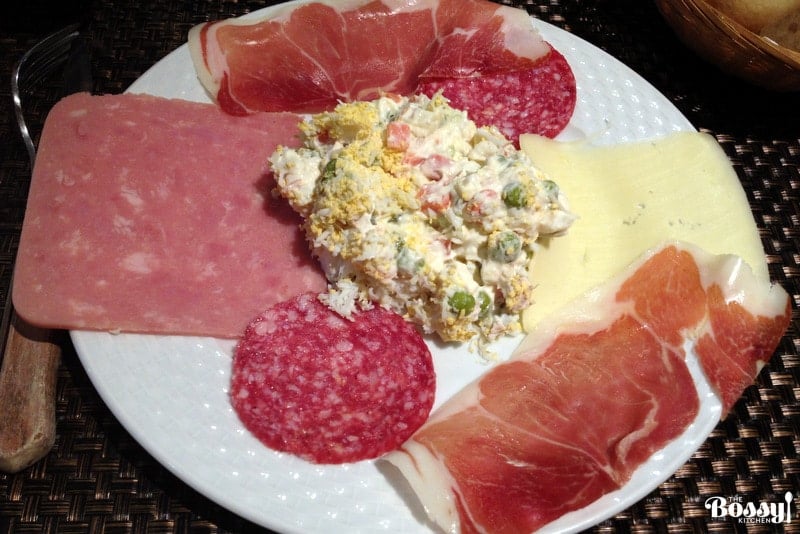 It is a delicious, simple salad that uses ingredients that most people have in the pantry. I used frozen peas that I cooked separately, but you can use a drained can of peas as well. If you know how to make homemade mayonnaise, great, if not, a jar of mayo will be perfectly fine too.
Enjoy and hope you are going to try it soon!
Spanish Potato Salad (Ensaladilla Rusa)- A Spanish Favorite
Author:
The Bossy Kitchen
Ingredients
3-4 medium potatoes boiled
2-3 medium carrots
2 boiled eggs
1 roasted pepper(from the jar is fine)
1 cup cooked peas
1 can tuna
1½ cup mayonnaise
salt and pepper to taste
Optional: 1 chopped pickle
Instructions
In a large pot, pour cold water.
Wash the potatoes and add them (unpeeled) to the pan with cold water.
Peel the carrots and add them to the pot.
Add a pinch of salt to the pot, bring the water to a boil and cook the vegetables for about 25 minutes on low heat.
Separately, cook the eggs for about 10 minutes, remove from the stove and cool them down in cold water. Remove shells and set aside. Save an egg yolk for decoration.
Peel the potatoes.
Dice potatoes, carrots, eggs and the roasted pepper.
Place them in a bowl.
Add the cooked peas.
Drain the can of tuna and add the fish to the vegetables.
Optional, you can add a diced pickle.
Add the mayo and mix well.
Add salt and pepper to your taste.
Decorate with shredded egg yolk.
Refrigerate the salad for a while until cool enough, then serve.