There is no picnic, barbeque, Memorial Day, 4th of July, or Labor Day without a good old-fashioned potato salad. Learn how to make the best potato salad and impress your tribe with a good recipe.
Either you like a potato salad with more mayonnaise or more mustard instead, a good potato salad should be made using the best ingredients you have around.
The truth is that everyone loves this side dish next to their hot dogs, burgers, or grilled meats. Any potato salad is easy to make and eat outside. It is also a comforting food that we all like.
It is also very versatile, as you can make the dish without using a recipe by adding ingredients you like or removing the ones you don't, based on your liking.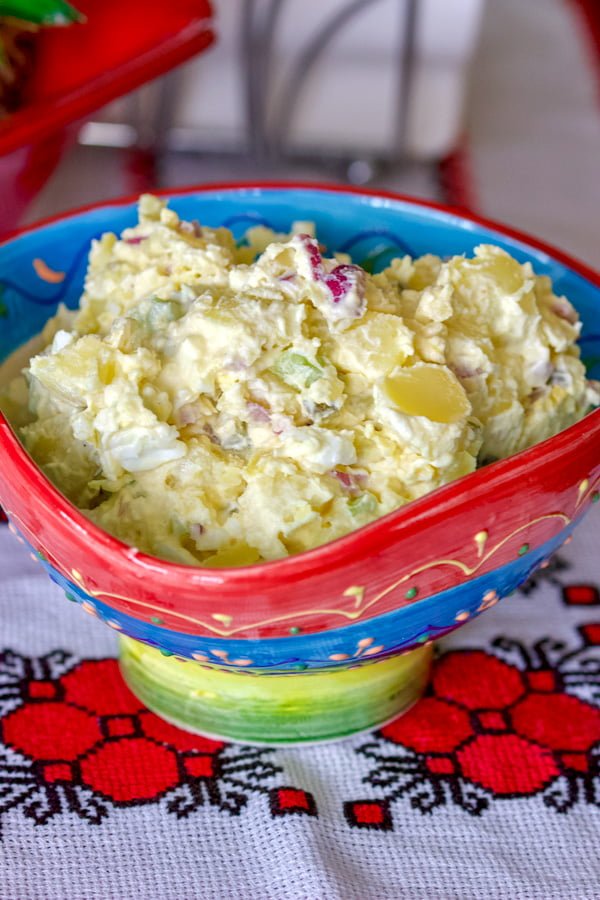 Why you should make this Classic Potato Salad?
The legend says that potato salad evolved from the recipes brought by the German and European immigrants who arrived in the US in the nineteenth century.
The salad is a combination of boiled potatoes mixed with mayo, sometimes even sour cream or yogurt, for a lighter version, onions, celery, and other vegetables, based on the region or preferences. It is served cold or at room temperature.
This classic potato salad version is a winner in my book. Of course, you can buy potato salad in any grocery store, but this homemade version is a million times better than anything you can get out there. Why?
It is easy to make.
It is very creamy with textures that go very well together.
You can use any mayo and mustard you like. As this is a classic recipe, use regular yellow mustard and the mayo you like.
What is the best potato to use for potato salad?
I see around many potato salad recipes and everybody has an opinion about what kind of potato is best to use. In my opinion, you should use whatever you have available, but do not listen to me.
I grew up poor and potato salad was made with any potatoes we had available. We did not have the luxury to choose.
HOWEVER, if you want to follow a professional opinion from some of the best chefs out there, aka Julia Child or Jacques Pepin, they say this:
"The best potatoes for salad are the firm-textured, low-starch "waxy" varieties, which hold their shape well, such as boiling potatoes, small new potatoes, or delicate fingerlings. All-purpose potatoes with waxy flesh, such as the versatile Yukon Gold, are particularly delicious. Whatever kind you use, dress the potatoes while they are still warm so that they best absorb the flavors, and gently fold in all the dressing and seasoning ingredients in one or two additions only, so the potato pieces don't get mashed from overhandling."

Source: Julia And Jacques- Cooking at home
How to boil potatoes so they come out perfect:
First of all, I am a fan of organic potatoes. As a root vegetable, potatoes absorb all of the pesticides, herbicides, and insecticides sprayed above the ground and eventually make their way into the soil.
Apparently, the poor potatoes are sprayed with over 30 different pesticides during the growing season, so, no, thank you!
I will take the organic ones anytime if possible!
Step 1. Clean the potatoes with a brush underwater.
Make sure you remove any spots and dirt from the skin.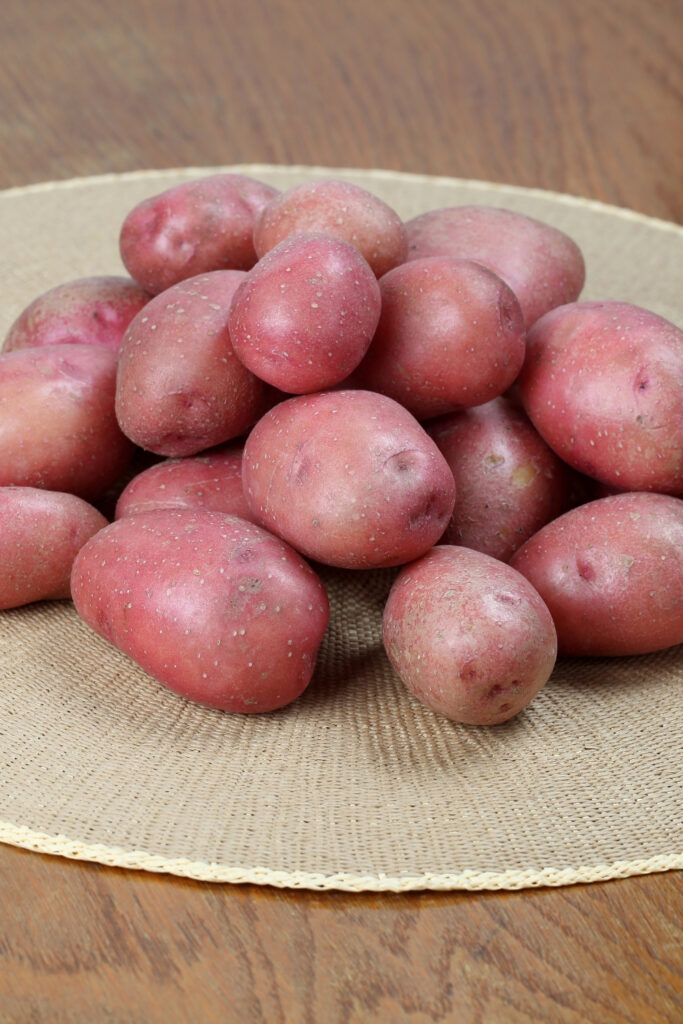 Step 2. Place them in a pot and cover them with cold water.
By starting with cold water, you allow the potatoes to come up to temperature evenly and, therefore, cook evenly.
Add salt, usually about 1 1/2 teaspoons per quart of water.
Salt is necessary, because it adds flavor to the potatoes. Don't be afraid to use it.
Step 3. Boil the potatoes
Boil them until tender, between 8-15 minutes depending on their size. Potatoes are cooked when you can push a fork through the center. Drain the water, and let them cool.
Remove the skin and chop them like bite size.
If you like the skin on the potato, keep it. The skin has a lot of fiber, and it is very nutritional and good for you, especially if the potatoes are organic.
If the potatoes are not organic, I recommend peeling them.
Note: If you choose to cut the potatoes in cubes, boil them only for 5-6 minutes, or until they cook through. Try to not over cook them, as they will fall apart.
Potato salad shopping list:
Red potatoes – or any waxy potato you have available
Mayonnaise– I prefer real mayo, not light, fat-free, or other combinations that are not the real deal.
Sour cream– adding sour cream to the salad helps make the dressing lighter, as mayo can sometimes be heavy by itself.
Hard-boiled eggs– a good potato salad has hard-boiled eggs, and I agree that eggs make the salad creamier and more satisfying.
Celery stalks – the celery adds a beautiful texture to the salad, and I love it in this recipe.
Red onion– this can be replaced with green onions if you like them.
Red bell pepper
Mustard– yellow mustard is perfectly acceptable
White vinegar– I added white vinegar, but I also use apple cider vinegar when available.
Salt– is always the magic ingredient that gives flavor to the potatoes
Sugar– for the ones who think sugar is not good for you, I agree. However, we use it in the recipe just to balance the flavors, and we use only half a teaspoon of it.
Ground pepper
Optional:
Herbs– dill, parsley, tarragon, all work well on this salad. However, don't overpower the taste of the salad with them. Add a little of one and see how you like it. For example, some of these herbs, like tarragon, are a bit strong, so make sure you don't add too much unless you are really into them.
How to make this potato salad:
Step 1. Boil the eggs and the potatoes.
Set aside to cool.
Step 2. Mix together:
In a big bowl, mix together mayo, sour cream, mustard, vinegar, chopped pickle, sugar, salt and pepper.
Add the potatoes, chopped celery, red onion and red bell pepper. Toss them all together.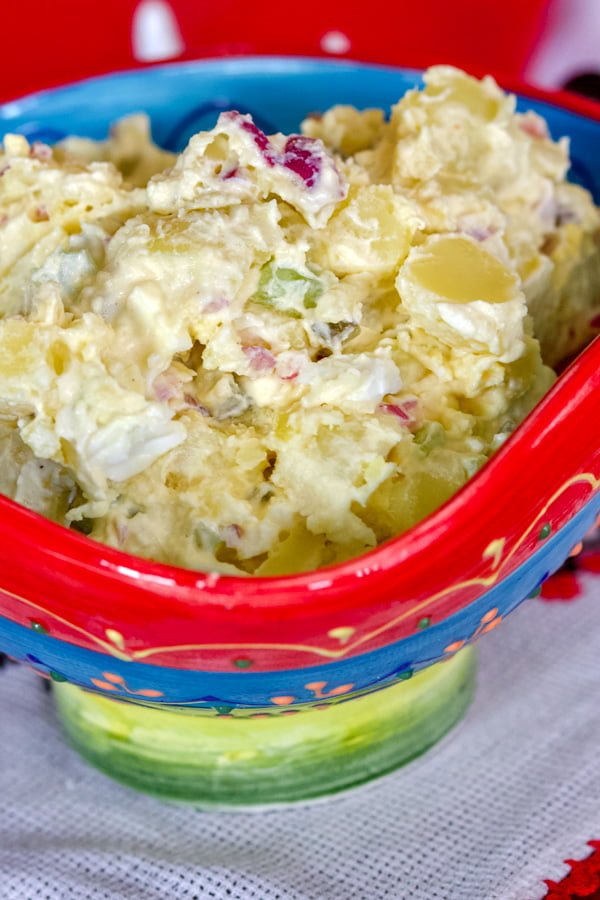 Step 3. Refrigerate.
This salad tastes better the next day. When ready to serve, bring the salad to room temperature. Taste and adjust the seasoning again.
Idea for serving: Line a bowl or a platter with red leaf lettuce or other greens, and place the potato salad on top. Decorate the last moment, if you want, with parsley leaved, sliced hard-boiled eggs, canned red pimiento etc.
Interested in other potato salad recipes?
Romanian Oriental Potato Salad
Enjoy!
Yield: 6-8 servings
Potato Salad
This is a classic, delicious easy potato salad that you can make all year round—a perfect recipe for the summer, from Memorial Day To Labor Day.
Ingredients
2 pounds red potatoes cooked
1 1/3 cups mayo
1/2 cup sour cream
5 large hard boiled eggs
1 pickle finely chopped
2-3 celery stalks chopped small
1 medium red onion finely chopped
1/2 medium red bell pepper
1 Tablespoon mustard
1 Tablespoon white vinegar
1/2 teaspoon salt
1/2 teaspoon sugar
1/2 teaspoon pepper
Instructions
Wash the potatoes and place them in a medium saucepan. Cover the potatoes with cold water and season generously with salt.
Boil the potatoes over medium heat until tender, for about 8-15 minutes, depends on their size.
Drain the water and let them cool.
Peel the potatoes and cut them into bite-size pieces.
In a big bowl, mix the mayo with sour cream, mustard, vinegar, chopped pickle, sugar, salt, and pepper.
Add the potatoes, chopped celery, red onion, and red bell pepper.
Toss them all together and refrigerate.
The salad tastes better the next day.
Recommended Products
As an Amazon Associate and member of other affiliate programs, I earn from qualifying purchases.
Nutrition Information:
Yield:
8
Serving Size:
1
Amount Per Serving:
Calories:

439
Total Fat:

34g
Saturated Fat:

7g
Trans Fat:

0g
Unsaturated Fat:

25g
Cholesterol:

140mg
Sodium:

490mg
Carbohydrates:

26g
Fiber:

3g
Sugar:

4g
Protein:

8g
Note: "We are a participant in the Amazon Services LLC Associates Program, an affiliate advertising program designed to provide a means for us to earn fees by linking to Amazon.com and affiliated sites."