This is a classic, delicious easy American potato salad that can be made all year round. The recipe uses red potatoes. It is best when made with a day before and served chilled the next day.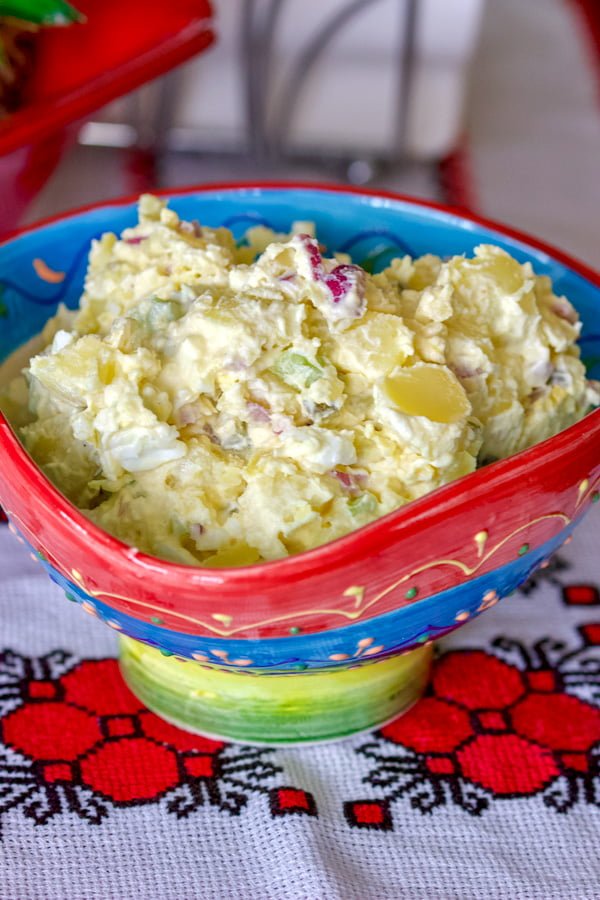 I think this version of potato salad is a winner in my book. Creamy, full of flavors and textures that go perfect together, this recipe will win your heart.
Of course you can buy potato salad in any grocery store, but this homemade version is a million times better than anything you can get out there.
Did I mention that it is also healthier for you as you can control the amount of salt, sugar and mayo used in the recipe?
How to boil red potatoes so they come out perfect:
First of all, I am a fan of organic potatoes.
As a root vegetable, potatoes absorb all of the pesticides, herbicides, and insecticides that are sprayed above the ground and then eventually make their way into the soil.
Apparently, the poor potatoes are sprayed with over 30 different pesticides during the growing season, so, no, thank you!
I will take the organic ones together with onions, carrots and any other root vegetable I cook.
This being said, clean the potatoes with a brush under water. Make sure you remove any spots and dirt from the skin.
Place them in a pot and cover them with cold water.
By starting with cold water, you allow the potatoes to come up to temperature evenly and, therefore, cook evenly.
Add salt, if desired. Salt is not necessary, but if you add it to the potatoes now, the potatoes will absorb some of the salt as they cook.
As a result, the inside will have more flavor.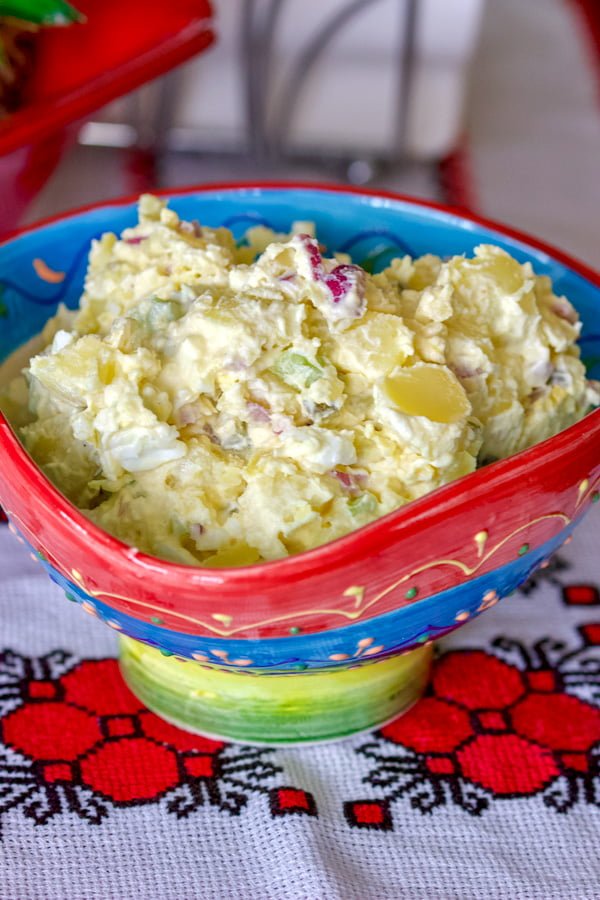 Boil the potatoes until tender, between 8-15 minutes, depending on their size. Drain the water, and let them cool.
Remove the skin and chop them for the salad, bite size usually.
If you like the skin on the potato, keep it. The skin has a lot of fiber and it is very nutritional and good for you, especially if the potatoes are organic.
If they are not, I recommend peeling them.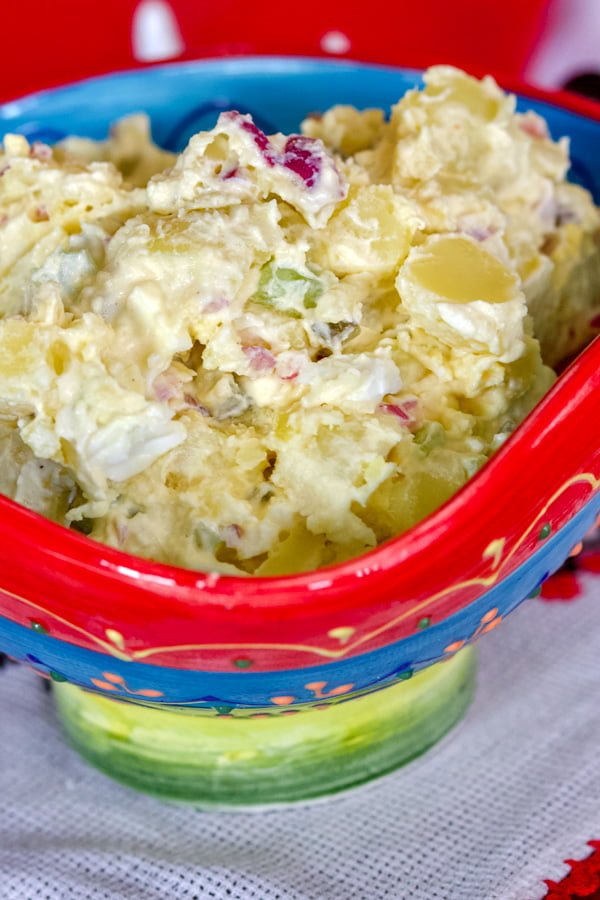 Now that you have the potatoes ready, all you have to do is follow the recipe below and make the most delicious potato salad you will ever have.
Enjoy!
Yield: 6-8 servings
Delicious Easy American Potato Salad
This is a classic, delicious easy American potato salad that can be made all year round. Make it with a day before and serve it chilled.
Ingredients
2 pounds red potatoes cooked
1 1/3 cups mayo
1/2 cup sour cream
5 large hard boiled eggs
1 pickle finely chopped
2-3 celery stalks chopped small
1 medium red onion finely chopped
1/2 medium red bell pepper
1 Tablespoon mustard
1 Tablespoon white vinegar
1/2 teaspoon salt
1/2 teaspoon sugar
1/2 teaspoon pepper
Optional: 2 green onions chopped
Instructions
Wash the potatoes and place them in a medium saucepan. Cover the potatoes with cold water.
Boil the potatoes over medium heat until tender, for about 8-15 minutes, depends on their size.
Drain the water and let them cool.
Peel the potatoes and cut them in bite size pieces.
In a big bowl, mix together the mayo with sour cream, mustard, vinegar, chopped pickle, sugar, salt and pepper.
Add the potatoes, chopped celery, red onion, red bell pepper and optional the green onion.
Toss them all together and refrigerate.
The salad tastes better the next day.
Recommended Products
As an Amazon Associate and member of other affiliate programs, I earn from qualifying purchases.
Nutrition Information:
Yield:
8
Serving Size:
1
Amount Per Serving:
Calories:

441
Total Fat:

34g
Saturated Fat:

7g
Trans Fat:

0g
Unsaturated Fat:

25g
Cholesterol:

140mg
Sodium:

492mg
Carbohydrates:

27g
Fiber:

3g
Sugar:

4g
Protein:

8g