Pickled cucumbers in vinegar- easy recipe for pickling cucumbers. Perfect for preserving cucumbers before winter. Consume them during the cold season with your favorite foods.
Time to pickle beautiful vegetables from Farmers Markets and personal gardens! This is the moment, people, as it will not last for ever.
In Minnesota the summers are short but from late August to late October, the markets are offering an abundance of vegetables and fruits.
This is the time when I try to take advantage of the beautiful gifts from the gardens and preserve some of them for the winter.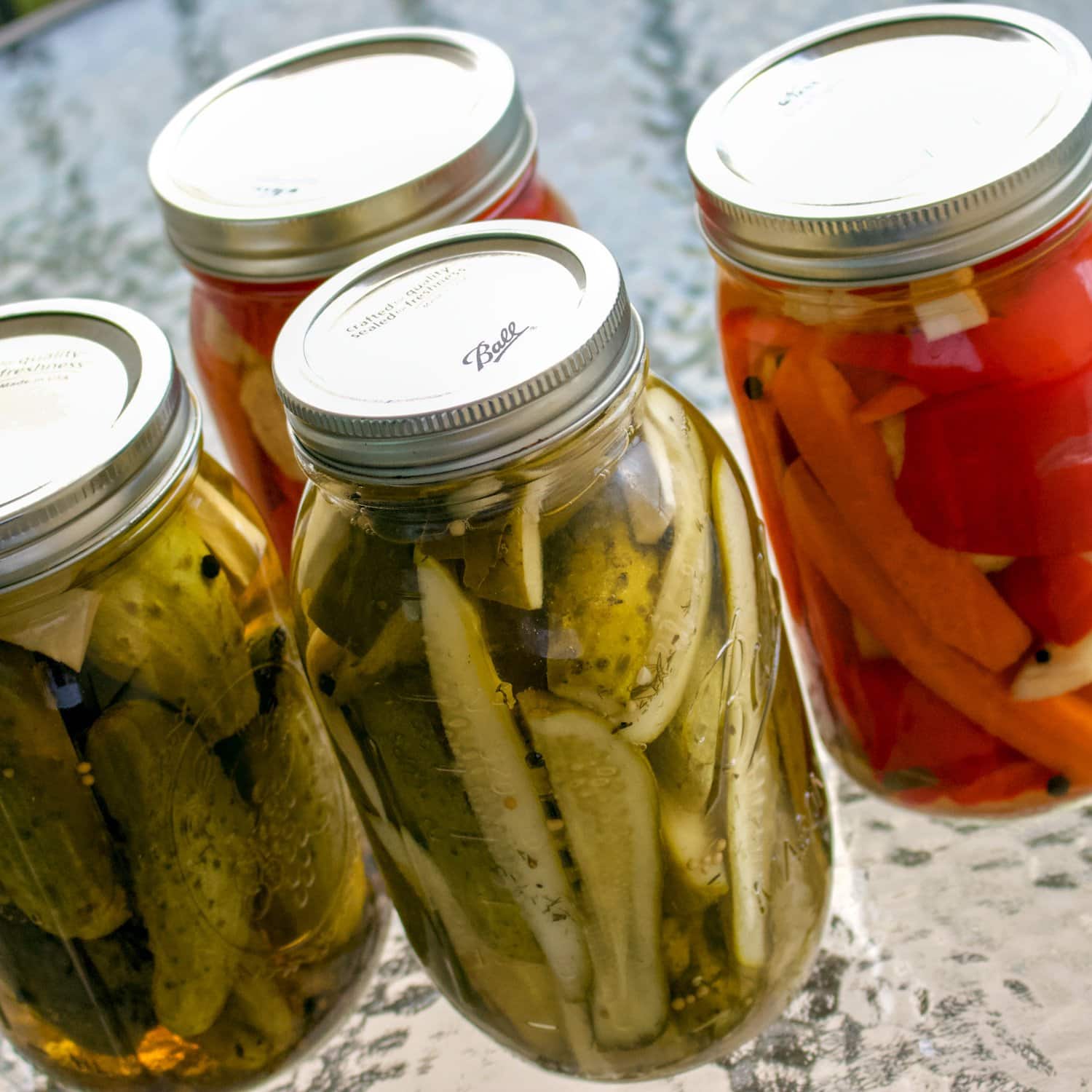 Now, you might ask me, why are you doing this? Can't you just go to the store and buy pickles already in jars and ready to eat?
Yes, I can, but you see, there is something therapeutic about being in the kitchen and making food for my family.
Some would say that the amount of work is not worth it. I will say that for me, it is very important, as I can preserve vegetables using old recipes that I inherited from my family, recipes used when canning and preserving foods for the winter was a way of surviving.
My collection of cans went smaller and smaller over the years, but I still like to make a little bit of each one of my favorite recipes, just to enjoy them for holidays or when I get homesick.
Pickles are well-known staples of the traditional cuisine of the Old Continent, Europe. Even today, many cultures consider the pickled cucumbers to be an important part of their diet during the winter.
In Eastern Europe, during the winter time, salads made with fresh vegetables are replaced with pickled vegetables, like cucumbers, peppers, cabbage, cauliflower, carrots etc. These pickled vegetables are served with stews, soups, roasted meats and potatoes.
Pickled cucumbers, or easy called pickles, can be preserved in two ways: vinegar or brine. The vinegar version is more popular in United States, but in Eastern Europe, fermented cucumbers in brine are the thing.
First of all, because many cultures knew for hundreds of years that fermented foods are good for your gut and have nutritious value.
There are recipes for winter and recipes for summer, where cucumbers are fermented in the sun and consumed in few days. These summer pickles make a terrific snack in the hot weather, especially served with some good crusty rye bread.
Overall, preserving vegetables was always a form of survival. No canning for winter meant no food, as people did not have access to grocery stores.
If you think, when we have weather emergencies, like winter storms, hurricanes or severe weather, people empty the grocery stores and guess what they buy: cans of anything they can put their hands on!
Today, I am going to share with you a recipe from my Romanian old cooking book. This recipe is easy to make and doesn't require a lot of science, which I like.
You have to start with the jars. Clean them with warm water and soap or put them in the dishwasher and give them a good bath. Then, sterilize them. Here is a link about how to do that properly.
I used quart jars with a wide mouth, for better fitting the cucumbers inside.
Choose healthy cucumbers with no defects or spots. Scrub them well under running water with a brush.
If they are curled and not easy to fit in the jar, slice them vertically, like in the picture above.
Classic ingredients for the pickled cucumbers:
Horseradish root– This is one of the secret ingredient that Eastern European countries use for their canned vegetables. Horseradish is an amazing preservative and also maintains the vegetables crisp for long periods of time.
Don't be afraid to use it! Clean it, peel off the skin and slice it in thin sticks that you put in between the cucumbers and on top of the jar.
Dried dill- Especially the one you can find late in the fall, with the seeds still on it, is a perfect ingredient for preserving and flavoring pickles.
Other treasures to add to your jars: Garlic cloves, thyme, black peppercorns, mustard seeds and bay leaves are great additions. Use them and your cucumbers will taste amazing.
Salt for pickles– You can find it in any grocery store.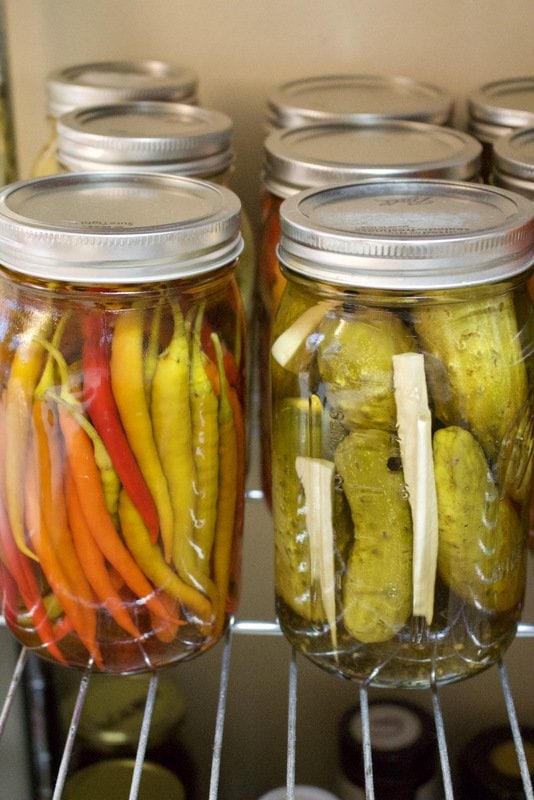 TIP: As a basic rule, for each gallon of vinegar, add 4 tablespoons of salt(make sure the salt is for pickles with no iodine added to it) and 2 tablespoons granulated sugar.
Necessary tools for this recipe:

See the recipe below and make sure to share it with the hashtag #thebossykitchen on Instagram, Facebook and Twitter so we can all see what you're cooking!
Or maybe you want to join The Bossy Kitchen community group where you can share your creations made from this blog or your favorite recipes!
Yield: about 6 quarts
Pickled Cucumbers In Vinegar- Easy Recipe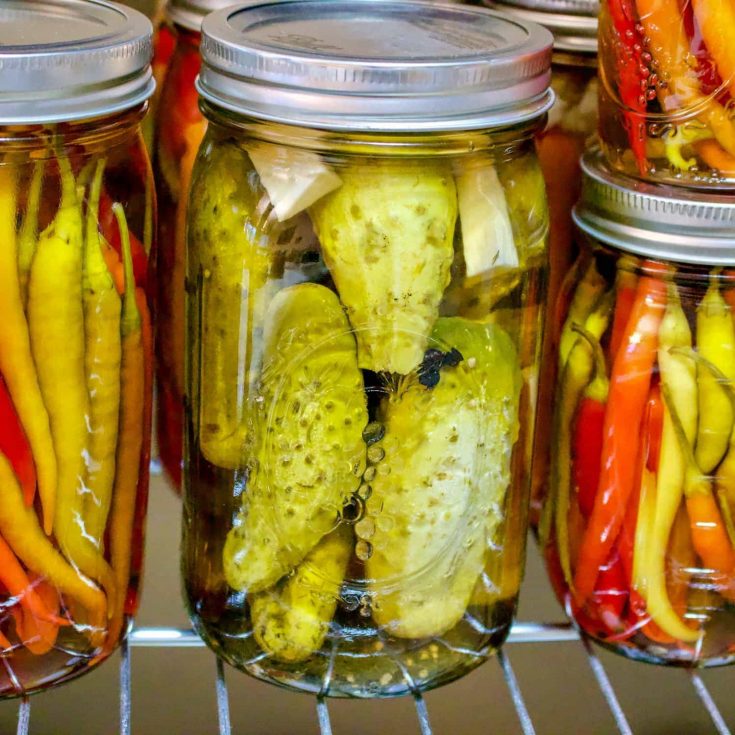 Pickled cucumbers in vinegar- easy recipe- pickle cucumbers in the fall and store them in a cool place. Consume them all winter with your favorite foods.
Additional Time
10 minutes
Ingredients
4 pounds 4-6 inch cucumbers
1 head of garlic
1 gallon plain vinegar 5% acidity
1 horseradish root cleaned and sliced in strips
Instructions
Wash and drain cucumbers. Sterilize jars. Here is a link about how to do that properly.
Fill up the jars with the cucumbers and add garlic cloves, black peppercorns, dried dill and slices of horseradish in between.
In a big pot, bring vinegar to a boil together with salt and sugar. Boil for only 2-3 minutes, then add the bay leaves, thyme and mustard seeds. Set aside to cool for about 10 minutes.
Pour the liquid over the cucumbers to fill the jars. Add 1-2 pieces of horseradish on top.
Seal the jars and store them in a cool place above freezing temperature.
These cucumbers will not ferment and will be perfect for the winter time.
Recommended Products
As an Amazon Associate and member of other affiliate programs, I earn from qualifying purchases.