Pickled cucumbers in vinegar- easy recipe for pickling cucumbers. Perfect for preserving cucumbers before winter. Consume them during the cold season with your favorite foods.
Pickled cucumbers in vinegar- easy recipe
In this article you will learn how to pickle cucumbers the easy way.
Time to pickle beautiful vegetables from Farmers Markets and personal gardens! This is the moment, people, as it will not last forever.
In Minnesota, the summers are short, but the markets offer an abundance of vegetables and fruits from late August to late October.
If you live in a temperate climate, with four seasons, August-September is the time for pickling cucumbers or other vegetables.
This is when I try to take advantage of the beautiful gifts from the gardens and preserve some of them for the winter.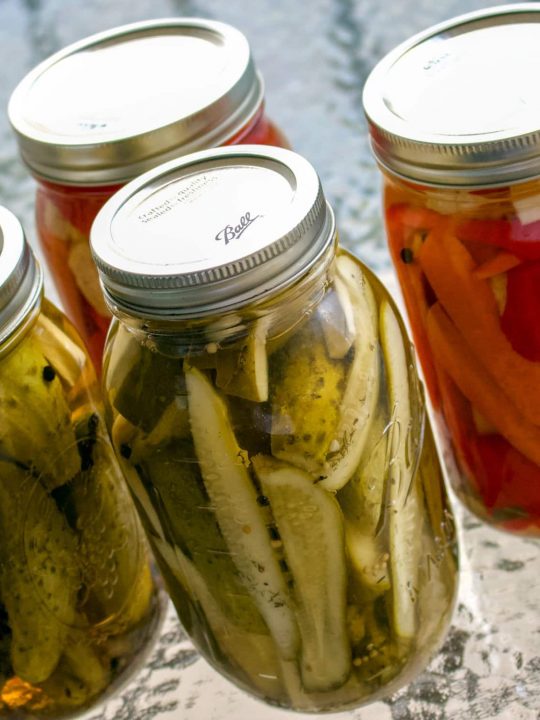 Now, you might ask me, why are you doing this? Can't you just go to the store and buy pickles already in jars and ready to eat?
Yes, I can, but you see, there is something therapeutic about being in the kitchen and making food for my family.
Some would say that the amount of work is not worth it. I will say that for me, it is essential, as I can preserve vegetables using old recipes that I inherited from my family. These recipes were used when canning and preserving food for the winter was the only way of surviving.
My collection of cans went smaller and smaller over the years, but I still like to make a little bit of each one of my favorite recipes to enjoy them for holidays or when I get homesick.
Pickles are well-known staples of the traditional cuisine of the Old Continent, Europe. Even today, many cultures consider pickled cucumbers to be an important part of their diet during the winter.
In Eastern Europe, during the wintertime, salads made with fresh vegetables are replaced with pickled vegetables, like cucumbers, peppers, cabbage, cauliflower, carrots, etc.
These pickled vegetables are served with stews, soups, roasted meats, beans, or potatoes. We also make a lot of lacto-fermented foods, like sauerkraut or cucumbers in brine.
What kind of cucumbers are good for pickling?
–Kirby cucumbers- are small cucumbers and are very popular in Farmer Markets. They have bumpy skins and firm flesh.
–Gherkins or cornichons– also small and perfect for pickling.
–Garden cucumbers are the most popular ones found in North America. They have thick skin and lots of seeds. Good for quick pickling if you peel and seed them. I am personally not a fan of them, but I know many people who love them. These cucumbers are sold waxed in the store and need to be peeled.
–Lemon cucumbers– look exactly like a lemon. They are sweeter and delicious in salads and pickled.
Stay away from the English cucumbers (the long, seedless ones), they are not a good option for pickles.
Also, buy organic when possible. Cucumbers are part of the "Dirty dozens" vegetables containing over 10 different types of pesticides. If you plan to pickle cucumbers, go to the Farmers Market first.
Vinegar or Brine?
Both ways are perfect for winter canning but are actually very different techniques.
Pickled cucumbers, or easily called pickles, can be preserved in two ways: vinegar or brine. The vinegar version is more popular in the United States, but in Eastern Europe, fermented cucumbers in brine are the thing.
First of all, this is happening because many cultures knew for hundreds of years that fermented foods have nutritious value and are good for your gut.
There are recipes for winter and recipes for summer. The summer recipes are designed for quick consumption, and the cucumbers are fermented in the sun.
These summer pickles make a terrific snack in the hot weather, especially served with some good crusty rye bread. Here is a recipe that you will definitely fall in love with.
Overall, preserving vegetables was always a form of survival. No canning for winter meant no food, as people did not have access to grocery stores.
If you think, when we have weather emergencies, like winter storms, hurricanes, or severe weather, people empty the grocery stores and guess what they buy: cans of anything they can put their hands on!
Today, I am going to share with you a recipe from my old Romanian cooking book. This recipe is easy to make and doesn't require a lot of science, which I like.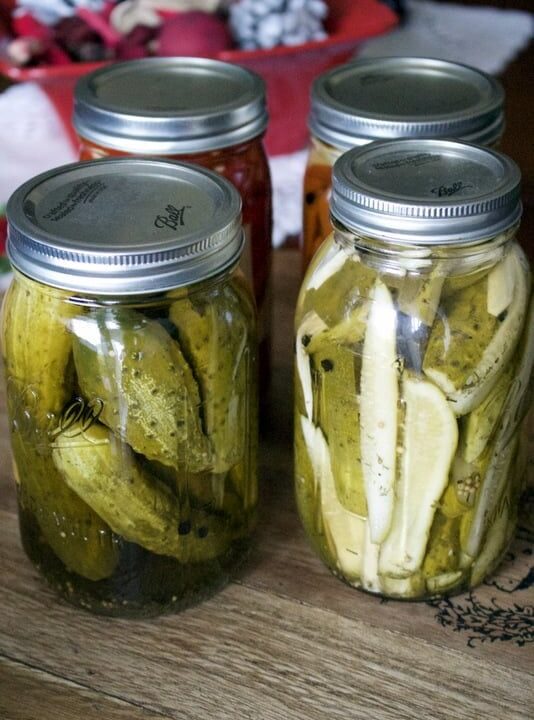 How To Pickle Cucumbers/Gherkins in vinegar:
Step 1.
Start with the jars.
Clean them with warm water and soap or put them in the dishwasher and give them a good bath. Then, sterilize them. Here is a link about how to do that properly.
I used quart jars with a wide mouth, for better fitting the cucumbers inside.
When you sterilize the lids, do not put them together with the jars. I usually clean them in warm water with soap and dry them well, then I boil water and add them for the last 2 minutes to sit in that hot water. Try to replace any older lids that do not look good. If they are too old or have rust on them, replace them.
The new guideline is not even to boil the lids, but for my peace of mind, I think you should place them in hot water at least for few minutes before you use them. (here is the link that talks about not sterilizing the lids anymore: https://www.freshpreserving.com/canning-lids-101.html).
Step 2.
Choose healthy cucumbers with no defects or spots. Scrub them well under running water with a brush. If they are curled and not easy to fit in the jar, slice them vertically, like in the picture above.
Slice horseradish in thin, long pieces that will go in between the cucumbers.
Step 3.
Fill up the jars with the cucumbers and add garlic cloves, black peppercorns, dried dill, and slices of horseradish in between. Add 1-2 pieces of horseradish on top.
Step 4.
In a big pot, bring vinegar to a boil together with salt and sugar. Add the bay leaves, thyme, and mustard seeds. Reduce the heat and simmer the vinegar for 2-3 minutes.
Step 5.
Pour the hot liquid over the cucumbers to fill the jars.
Seal the jars and store them in a cool place above freezing temperature. These cucumbers will not ferment and will be perfect for the wintertime.
Classic ingredients for the pickled cucumbers:
Horseradish root– This is one of the secret ingredients that Eastern European countries use for their canned vegetables.
Don't be afraid to use it! Clean it, peel off the skin and slice it into thin sticks that you put in between the cucumbers and on top of the jar.
I also went through some of my old American cooking books (see The Settlement Cook Book as an example), where I was actually able to find few recipes of pickles that use horseradish.
I am not sure when horseradish went away from the pickled cucumbers recipes, but it is an amazing preservative and also maintains the vegetables crisp for long periods of time. Also, the pickles are not going to be spicy.
Dried dill- Especially the one you can find late in the fall, with the seeds still attached, is a perfect ingredient for preserving and flavoring pickles.
Other treasures to add to your jars: Garlic cloves, thyme, black peppercorns, mustard seeds, and bay leaves are great additions. Use them, and your cucumbers will taste amazing.
Salt for pickles– You can find it in any grocery store.(NO IODINE added to it)
TIP: As a basic rule, for each gallon of vinegar 5% acidity, add 4 tablespoons of salt(make sure the salt is for pickles with no iodine added to it) and 2 tablespoons granulated sugar. OR, for each liter of vinegar, add 1 tablespoon salt, in case you plan to can a smaller amount of cucumbers.
More recipes to love:
How To Freeze Herbs For Winter
How to preserve Hot Peppers in Vinegar
How To Salt Preserve Herbs For Winter
How long should you let the jars with cucumbers sit before you start eating them (for full flavor)?
I would let them sit for at least 3-6 weeks before you start consuming them. In Romania, people preserve vegetables for winter only in September-October when the weather is cool.
They start opening the jars with cucumbers, for example, late November or December. The cucumbers in this recipe should last the whole winter season until May.
How long can the pickles be stored?
They should last about 1-2 years if they are stored in a cool environment.
Do I just place them in cool storage? No water bath?
No water bath. Just place them in cool storage. Vinegar destroys botulism, and this recipe is pure vinegar. Just make sure the vinegar you use is at least 5% acetic acid. The horseradish root, mustard seeds, dill, sugar, and salt give flavor and also preserve the vegetables for months.
Paragraph worth reading, as it explains why there is no water bath in this recipe:
I did some research on other American recipes on the web to see how they are made. I noticed that most of them add a little bit of vinegar, dilute it with water, add spices, salt, and sugar, and then process the jars from 5-10 minutes.

Now, the vinegar you find in American stores is 5% acidity. If you dilute it with water, you must process the jars because you lower the acidity of the vinegar, and bacteria will develop. Therefore, you need to process them.
My recipe, though, uses pure 5% vinegar without water. Also, the vinegar and spices are boiled together and poured over the cucumbers.

There is no water involved. The pickles will be sourer, but this is how we like them in the winter with roasted meats. They also need 3-6 weeks to be ready for eating.

As we boil the vinegar before we add it to the cucumbers, the bacteria will be destroyed. Also, because you use 5% acidity vinegar and it is not diluted, the cucumbers do not need to be processed.
This is a Romanian recipe that I adapted for the Americans. Vinegar sold in the Romanian stores is 9% acidity, therefore very acidic.

Because the vinegar is so strong, the recipes usually require 1 part vinegar and 3 parts water. They still do not process the jars, as there is still enough acidity to keep the pickles safe. Does it make sense?
Conclusion:
If you lower the acidity in the pickles juice under 3%, I would say, then you need to do the water bath for them. If you keep the acidity close to 5%, then you don't.
Where do I store the jars?
If you pickle multiple jars, keep them in a cool place, like a garage, basement, or pantry, above freezing temperatures.
Cucumbers are beautiful and colorful in jars, making them a great gift for family or friends around holidays.
Yield: about 6 quarts
Pickled Cucumbers In Vinegar- Easy Recipe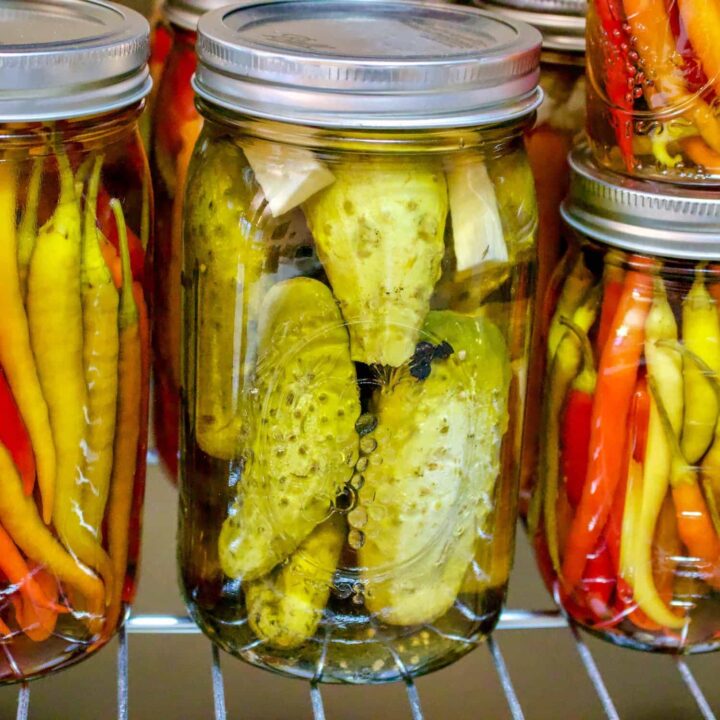 Pickled cucumbers in vinegar- easy recipe- pickle cucumbers in the fall and store them in a cool place. Consume them all winter with your favorite foods.
Additional Time
10 minutes
Ingredients
4 pounds 4-6 inch cucumbers
1 head of garlic
1 gallon plain vinegar 5% acidity
1 horseradish root cleaned and sliced in strips
Instructions
Wash and drain cucumbers. Sterilize jars. Here is a link about how to do that properly.
Fill up the jars with the cucumbers and add garlic cloves, black peppercorns, 1/4 teaspoon of dried dill and slices of horseradish in between.
In a big pot, bring vinegar to a boil together with salt and sugar. Boil for only 2-3 minutes, then add the bay leaves, thyme and mustard seeds. Set aside to cool for about 10 minutes.
Pour the liquid over the cucumbers to fill the jars. Add 1-2 pieces of horseradish on top.
Seal the jars and store them in a cool place above freezing temperature.
These cucumbers will not ferment and will be perfect for the winter time.
Recommended Products
As an Amazon Associate and member of other affiliate programs, I earn from qualifying purchases.
Nutrition Information:
Yield:
48
Serving Size:
1
Amount Per Serving:
Calories:

18
Total Fat:

0g
Saturated Fat:

0g
Trans Fat:

0g
Unsaturated Fat:

0g
Cholesterol:

0mg
Sodium:

6mg
Carbohydrates:

1g
Fiber:

0g
Sugar:

0g
Protein:

0g
Note: "We are a participant in the Amazon Services LLC Associates Program, an affiliate advertising program designed to provide a means for us to earn fees by linking to Amazon.com and affiliated sites."