Charlotte Russe Cake is a classic European recipe that comes from the eighteenth century. The cake has layers of lady fingers, Bavarian cream and fruit. My version is also a no bake dessert, very suitable for any occasion when you do not want to heat up the oven.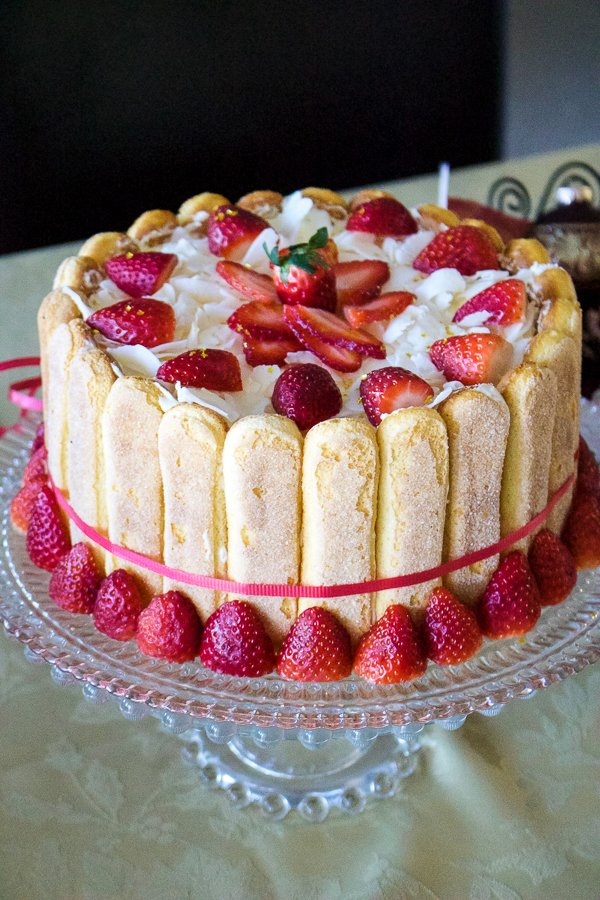 It is a popular cake in Romania especially around the New Year's Eve but not only. Birthdays, holidays and other family and friends gatherings are always a good occasion to make this delicious dessert.
I made this Charlotte Russe Cake for the New Year's Eve. A classic European cake, the Charlotte Russe recipe is a very old one.
Eighteenth-century European aristocrats knew Charlotte Russe as a cake made of lady fingers pressed into an elegant mold, filled with thick custard or Bavarian cream, and flavored with cooked fruit, spices or brandy.
If you traveled to Europe, you noticed pastry shops at almost every corner of the street. Pastry shops, at least those that bake and sell nothing but pastries are becoming rare in America.
In small towns they don't even exist anymore, unless there is a deep ethnic pocket of people from other countries who consider pastry essential to life.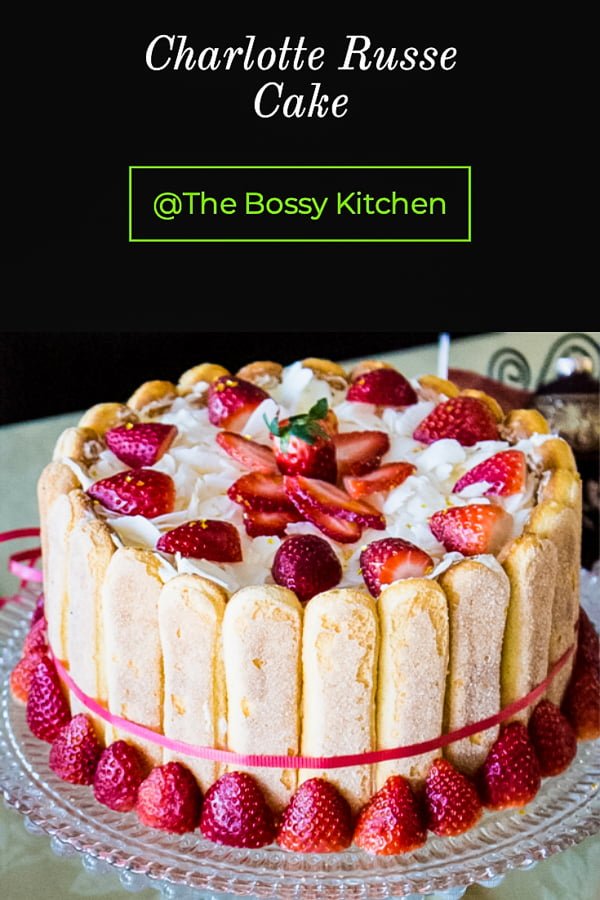 Occasionally, in a neighborhood predominantly French, Austrian, Italian or Scandinavian, an honest pastry shop will survive, and often successfully, as long as it does stay honest.
In general, though, it is a losing battle with families who accept instant gelatins, bought ice creams and defrosted pies as necessary endings to their meals.
It is a different story in Europe. Most women, no matter their level of education or background, know a few basic recipes for making the end of a meal light and reviving, or creating a rich, exciting finale.
European cakes are different from the American ones. I used the term "torte" for them, but I do understand that not everyone knows what a torte is.
Well, a torte is a multilayered cake that can be filled with different things, like buttercream, jam, whipped cream, mousse or chocolate ganache.
The term comes from Europe, where most cakes are called torte. The American cakes are lighter, as they are baked with flour.
The tortes are heavier and they could be baked with flour, but also some other ingredients, like groundnut meal, egg whites (like a meringue torte) etc.
The tortes are usually soaked in syrups, to make them moister and have more layers than an American cake. In other words, tortes are cakes, but not all the cakes are tortes if that makes sense.
Personally, I like this cake because it is a no baked one. Besides the fact that you don't need to heat up the oven, with a little bit of desire, the cake can be put together in less than two hours. How cool is that?
It can also be decorated with all kind of fruits in season. For example, I made one last year and decorated it with strawberries and slices of orange.
I also covered the lady fingers with whipped cream. You can also use raspberries, blueberries, cranberries etc. Use your inspiration and make it your own.
This was my birthday cake I made for myself(yes, I do that sometimes, because I like making cakes).
This one has only strawberries, but the top is decorated with shaved coconut, for a more festive look. I think it looks very handsome, don't you think?
Light and delicious, full of different textures and flavors this cake is a keeper and deserves a place in your recipe book collection. Try it, you will not be disappointed.
Interested in more No Bake Cakes? Try these ones:
No Bake Chocolate Biscuits Cake
No Bake Cheesecake with berries
Recipes for other cakes here . Enjoy!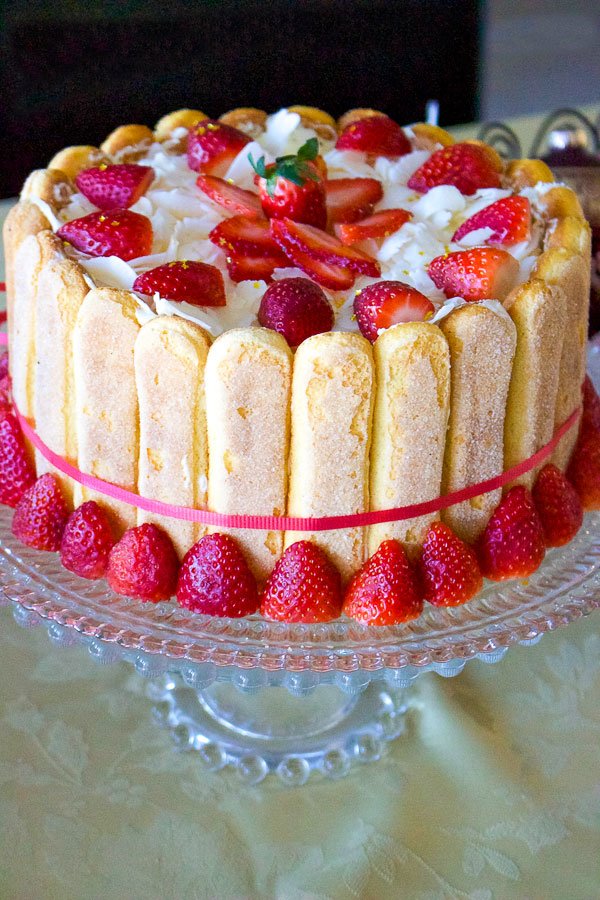 Do you want to join our The Bossy Kitchen Group on Facebook? Come and join here. Everyone with a love for cooking and baking is welcome to join, including food bloggers.
Yield: 12 servings
Charlotte Russe Cake- Classic European Recipe(No Bake)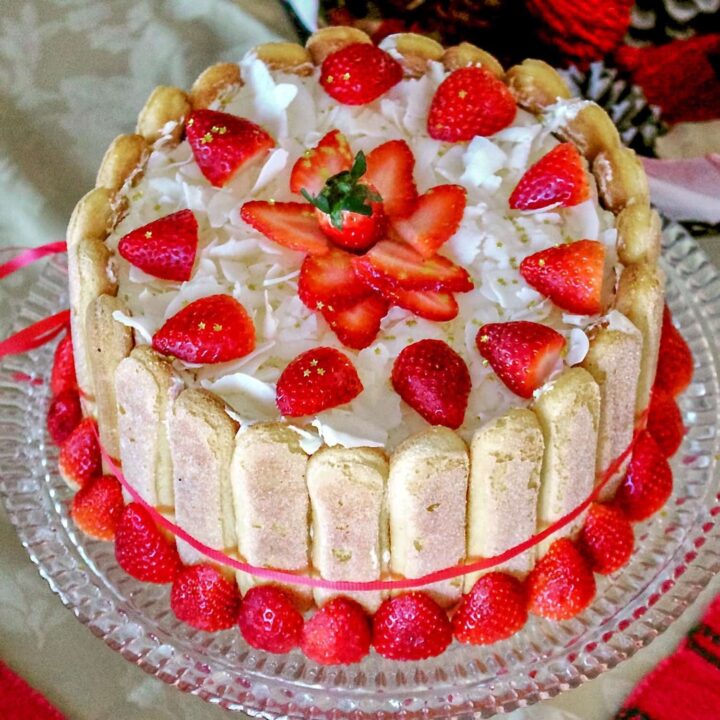 Charlotte Russe Cake is a classic European recipe that comes from the eighteenth century. The cake has layers of lady fingers, Bavarian cream and fruit. It is a no bake dessert.
Ingredients
30-35 lady fingers(use 20-25 lady fingers for the sides of the cake, the rest will be used for the bottom)
For the syrup:
3/4 cup granulated sugar
3/4 cup water
1 teaspoon rum extract
Custard:
1 cup/200g sugar
2 large eggs
1 cup/200ml whole milk
1 tsp vanilla extract
2 envelopes/15g gelatin
2 Tablespoons water
2 1/4 cups/500ml heavy cream
Optional: Fruits for decoration(strawberries, oranges, blueberries, raspberries, cherries, peaches etc)
Instructions
You need a 8 inches springform cake pan.
Prepare the syrup: bring to a boil the water mixed with sugar and simmer for 2-3 minutes.
Remove from the stove and flavor the syrup with rum extract.(do not add the rum extract while simmering the syrup as the flavor will dissipate)
Let the syrup cool down. If you add ladyfingers to a hot syrup, they will fall apart.
Steep the lady fingers in the syrup and line the sides of the springform with them. Place them tightly together.(You will probably need 20-25 lady fingers)
Line the bottom of the springform with lady fingers that you steeped in the syrup.
How to make the cake filling:
Whipped Cream: Place mixer bowl and whisk in freezer for at least 20 minutes to chill.
Pour heavy whipping cream and vanilla into the cold bowl and whisk on high speed until medium to stiff peaks form, about 1 minute.
Do not over beat. Set aside.
Bavarian Cream:
Start by hydrating the gelatin. Mix gelatin with water in a little bowl and set aside.
In a medium pot mix the eggs with the sugar.
Add milk.
Place the pot on Bain-Marie and stir constantly until the first signs of boiling. At this point the eggs are cooked enough and the custard should cling to the spoon. Remove and add the hydrated gelatin. Mix continuously with a wooden spoon until the mixture is completely cool.
Add the whipped cream and blend them together.
Add the candied fruit and mix well.
How to assemble the cake:
Pour half the filling on the bottom of the cake, over the lady fingers.
Cover the filling with another layer of lady fingers soaked in the syrup.
Pour the rest of the filling over the lady fingers and smooth the surface with a cake spatula.
Place it in the refrigerator for few hours or better overnight.
Next day, carefully remove the edges of the springform and place the cake on a platter. Decorate it to your taste with fruits, more whipped cream, sprinkles etc.
Recommended Products
As an Amazon Associate and member of other affiliate programs, I earn from qualifying purchases.
Nutrition Information:
Yield:
12
Serving Size:
1
Amount Per Serving:
Calories:

257
Total Fat:

7g
Saturated Fat:

3g
Trans Fat:

0g
Unsaturated Fat:

4g
Cholesterol:

114mg
Sodium:

88mg
Carbohydrates:

42g
Fiber:

1g
Sugar:

20g
Protein:

7g