This No Bake Cheesecake with berries is a wonderful recipe suited for all kinds of events all year long. Quick dessert, made in no time. Enjoy!
This is a wonderful recipe suited for all kinds of events all year long. Cheesecake with berries, a no-bake recipe, comes in handy when you have to put a dessert together in no time. It is great for any celebrations you might have and the best part is that you do not have to worry about baking a cake in the oven.
It took me about an hour to make and I have to say that it disappeared in about the same time after I served it. Even right now, sharing my recipe with you, I am thinking that I have to make another one, just because it looks so good.
Did I mention that it is great in the summer because you don't need to use the oven?
My version of this classic recipe uses only natural ingredients. Heavy cream, cream cheese, graham crackers, butter, real fruits, a little bit of sugar, gelatin.
I can show you that we can make delicious, easy desserts without using cans and already pre-made stuff. We do not need any of that and this is how it should be.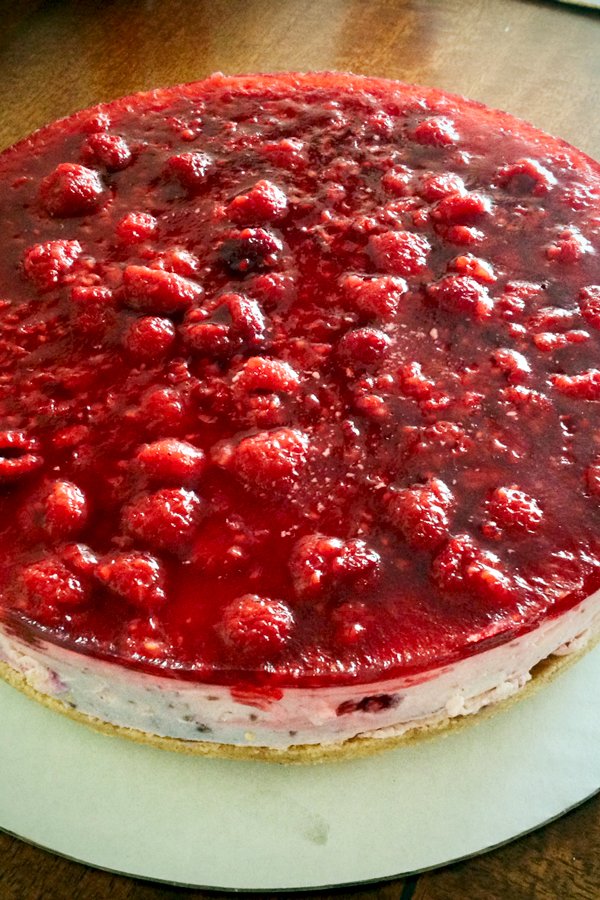 You can use any kind of berries you like, strawberries, blueberries, raspberries or even cranberries, fresh or frozen. In the winter, I like the frozen fruit for convenience. I made this dessert a few times now and as you can see from the pictures, I used different fruits every time.
Cranberries were my favorite, but raspberries are great too.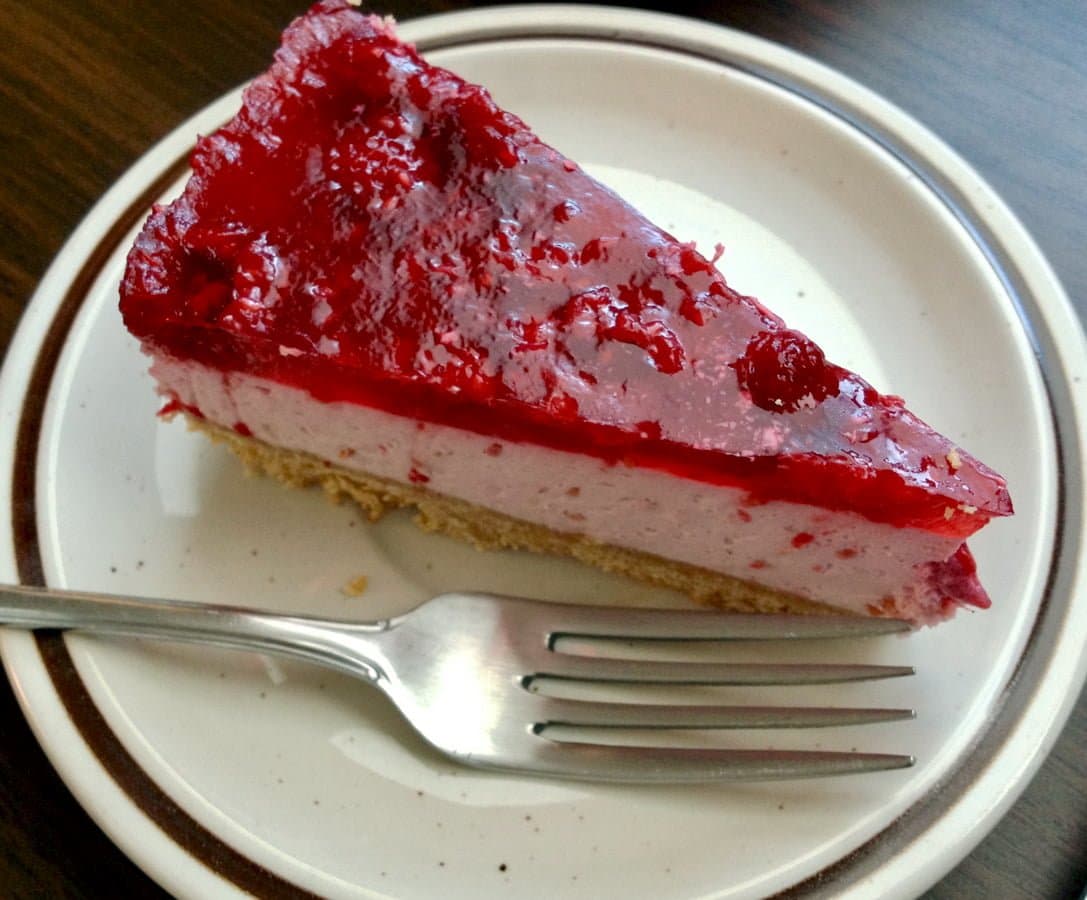 For the ones out there who are trying to watch their carbs or their sugar intake, but still want to have a little treat once in a while, this is a good option for you, as it is not very sweet. My kind of dessert…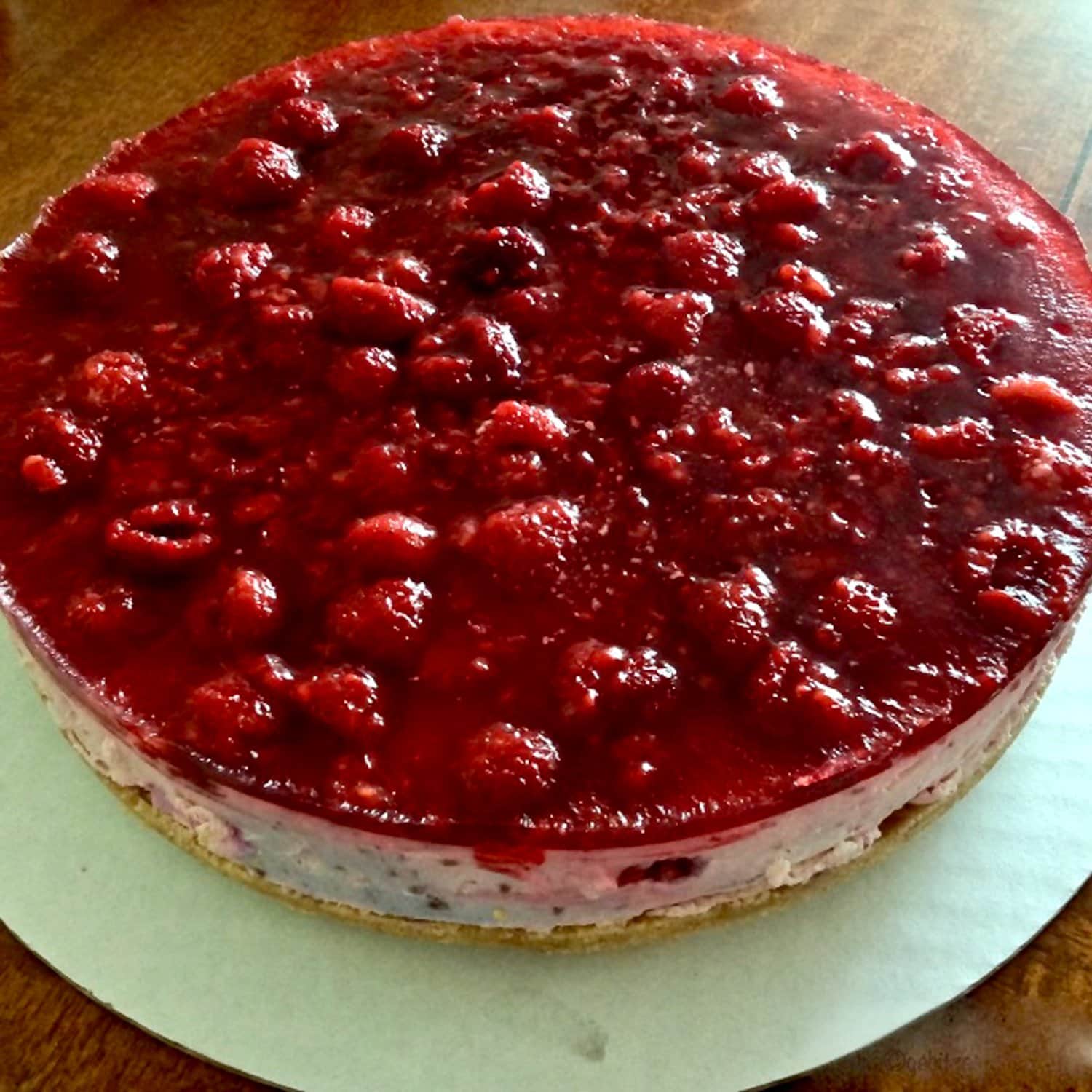 You can also add a little bit of fruit to the cream cheese mixture if you prefer, no problem with that! It will still be delicious and extremely handsome!
Note: I like using gelatin sheets when I make desserts, but you can use any kind you have available. Here is a good post about how to use different types of gelatin in baking. In general, 1 (0.25 oz.) envelope granulated gelatin = 1 tablespoon powdered gelatin = 3 sheets leaf gelatin.
See you next time and happy No baking! 🙂
If you make this recipe, share it with the hashtag #thebossykitchen on Instagram, Facebook, and Twitter so we can all see what you're cooking!
Or maybe you want to join The Bossy Kitchen community group where you can share your creations made from this blog or from other sources. Everyone is welcome to join!
Yield: 12 servings
No Bake- Cheesecake with Berries
This No Bake Cheesecake with berries is a wonderful recipe suited for all kinds of events all year long. Quick dessert, made in no time. Enjoy!
Ingredients
For the crust:
3 oz unsalted butter room temperature or melted
1/2 lemon -zest
Cream cheese filling:
16 oz cream cheese
5 fl.oz.heavy cream
Top:
7 oz berries(strawberries, raspberries, blueberries, cranberries)-fresh or frozen
3 gelatin sheets(1 envelope-0.25 oz. granulated gelatin or 1 Tbsp powdered gelatin)
Instructions
Crust:
Using a food processor, grind the graham crackers together with butter, cinnamon, and lemon zest.
Press the crumb mixture into a 9-inch springform pan, spreading it 1 1/2 to 2 inches up the side.
Press flat. Chill crust in freezer at least 10 minutes.
Cheese filling:
Meanwhile, beat the cream cheese with the sugar and vanilla and set aside.
Separately, whip the heavy cream.
Add it to the cream cheese and gently fold it in.
Hydrate the gelatin sheets in ice-cold water for 2-3 minutes.
Remove the hydrated gelatin and squeeze the excess water.
Melt the gelatin in a double boiler or a saucepan at low temperature. Make sure it doesn't boil.
Add the gelatin to your mixture and mix well.
Pour the cream cheese mixture into the pan, over the crust.
Smooth the top with a rubber spatula. Cover with plastic wrap, and refrigerate until firm, for about 2 hours.
Top:
To make the top of the cheesecake, place water and sugar in a pot on the stove and bring to a boil.
Add the fruits to the syrup and bring to a boil again. Do not simmer the fruits, unless you use cranberries. The goal is to preserve the shape of the fruits. Remove and let cool for few minutes.
Hydrate the gelatin and add it to your warm syrup. Mix gently to make sure the gelatin dissolves completely in the syrup.
Pour the fruits with the syrup over the cake and refrigerate overnight.
Next day remove the springform and place the cake on a platter.
Serve cold.
Note: How to hydrate the gelatin:
For gelatin sheets- Grab a big bowl with very cold water(ice cold) and place the gelatin sheets in the water. Make sure the gelatin is covered in water. Let the gelatin hydrate for 3-4 minutes until soft. Remove the gelatin from the water and squeeze the water excess, then use the gelatin according to the recipe.
For the gelatin, envelopes follow the instructions on the package.
Recommended Products
As an Amazon Associate and member of other affiliate programs, I earn from qualifying purchases.