This is a great easy creamed spinach recipe to add to your collection of healthy side dishes recipes. Also, it is good for children, perfect with chicken, lamb or any other meat you like. A favorite on the Easter table as well.
This Easy Creamed Spinach recipe could be a great addition to your collection of side dishes for Thanksgiving or Christmas and not only. In my house, we eat it all the time even when it is not the holiday season.
Even my daughter, when she was abroad, called me and asked me how to make it, because she was craving "that green thing you make that I like and tend not to share with people"!
Creamy and delicious, this recipe was one of my favorite recipes while growing up, so it does not surprise me that my daughter really likes it too. I used to feed her when she was little because I could sneak in greens without her refusing it.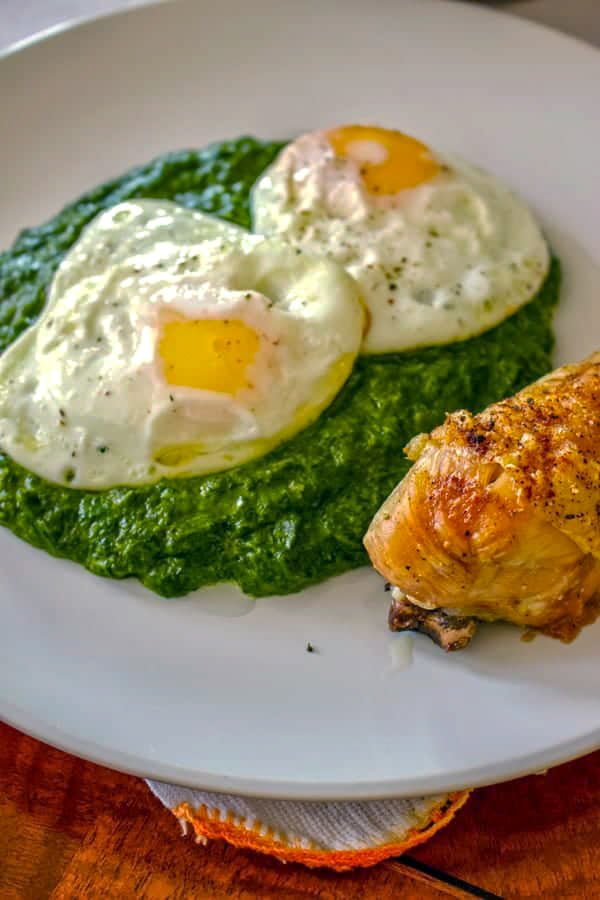 Spinach was one of those vegetables we all ate in spring when it was very affordable to buy at the Farmers Market.
My grandmother used to make this recipe for all of her grandchildren because it was known that spinach was the healthiest form of greens available.
She used to serve it with sunny side up fried eggs and good bread and I have to tell you that we used to lick the plates. I still make it like that for breakfast once in a while.
Sometimes she was serving the spinach, cold, on a slice of fresh bread, as a snack. A.M.A.Z.I.N.G! Or with a piece of chicken right next to it!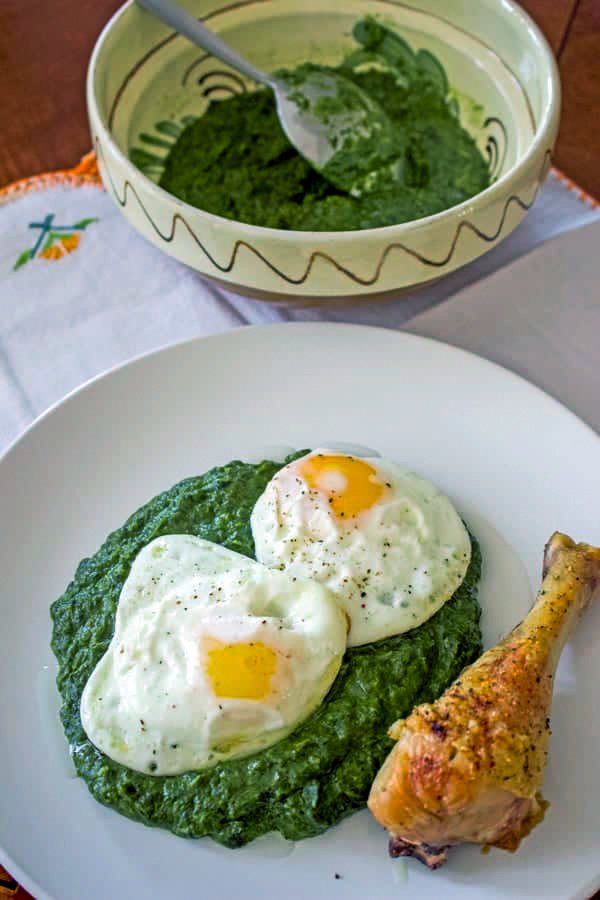 Anyway, the recipe is quite easy to put together. It is made with milk, a little bit of butter or oil, a little bit of flour for thickening and lots of garlic.
If you don't like garlic and feel like this recipe is not for you because of it, you can make it and skip the garlic or use less which is perfectly acceptable.
What kind of spinach do I need to use, frozen or fresh?
I make it all the time with frozen spinach because it is convenient. However, if you go to the Farmers Market and buy a bunch of spinach, use it. Spinach will cook down a lot, so make sure you have enough.
My understanding is that for 10 oz frozen spinach, you need about a pound of fresh one. I like fresh spinach in Spring, but I use frozen most of the year.
How this easy creamed spinach gets creamy?
This is one very good question. This family recipe was always made with milk. However, I see all kinds of recipes out there that use from milk to half and half, from cream cheese to parmesan etc.
You can make it with as many calories you want and add all kinds of ingredients, but if you are looking to make a more balanced side dish that is humble and delicious, stick with milk or half and half, for more richness.
Make ahead this dish:
You can make this dish with 1-2 days before you plan to serve it and reheat it in the microwave or oven at 350F for few minutes. I advice you to cover the bowl of creamed spinach in the microwave. It tends to explode.
How to store this easy creamed spinach:
Store it in the fridge in an airtight container and consumed in maximum 3 days.
What can I serve with this spinach dish:
You can serve it with a multitude of roasted or grilled meats, next to rice or other side dishes at the Thanksgiving table. If you fry few eggs and some bacon, this spinach makes a great breakfast as well.
Here are some ideas:
Roasted lemon chicken drumsticks
Yield: 4 servings
Easy Creamy Spinach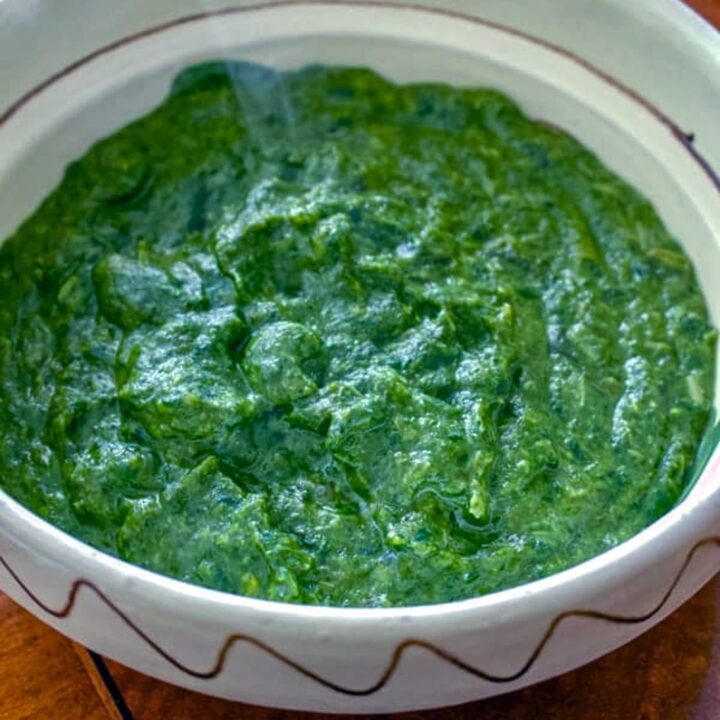 This is a great easy creamy spinach recipe to add to your collection of healthy side dishes recipes. Also, it is good for children, perfect with chicken, lamb or any other meat you like. A favorite on the Easter table as well.
Ingredients
16 oz bag of organic frozen spinach
1 Tablespoon flour
2 Tablespoons butter
3-4 garlic cloves
1 cup milk
salt and pepper to taste
Instructions
In a cooking pan, heat up the butter and add the spinach.
Saute the spinach until soft.
Add salt and pepper to your taste.
Crush the garlic and set aside.
Separately, mix flour and milk together until smooth and free of any lumps.
Add the milk and flour to the spinach and keep mixing to keep it creamy.
If it gets too thick, add a little bit of milk to the pan.
Add the garlic.
Keep mixing. Taste for salt and pepper.
Remove it from the heat and serve.
Note: If you want it smoother, use a vertical blender for few seconds, especially if you serve it to young kids. Makes a great dip as well, served with pita chips.
Recommended Products
As an Amazon Associate and member of other affiliate programs, I earn from qualifying purchases.
Nutrition Information:
Yield:
4
Serving Size:
1
Amount Per Serving:
Calories:

132
Total Fat:

8g
Saturated Fat:

5g
Trans Fat:

0g
Unsaturated Fat:

3g
Cholesterol:

20mg
Sodium:

262mg
Carbohydrates:

11g
Fiber:

4g
Sugar:

1g
Protein:

7g