Note: "We are a participant in the Amazon Services LLC Associates Program, an affiliate advertising program designed to provide a means for us to earn fees by linking to Amazon.com and affiliated sites."
This is a super easy and delicious recipe to make when you have absolutely no inspiration on what to cook for dinner. I make this recipe quite often and use different pork cuts. This time I made it with boneless center cut pork chops, but you can use anything you have available.
Also, I had a bottle of red wine sitting in the kitchen so I decided to use it up. I cook with wine quite a bit. I love the taste of roasted meat in the oven with a sauce made out of garlic, spices and red wine. You can make this recipe for a special occasion or just for a regular dinner. It looks good and it is also delicious.
Serve the roasted meat with roasted or mashed potatoes, French fries, new potatoes with dill and butter, salad, steamed vegetables or anything you like. We had them with roasted vegetables and a red cabbage salad.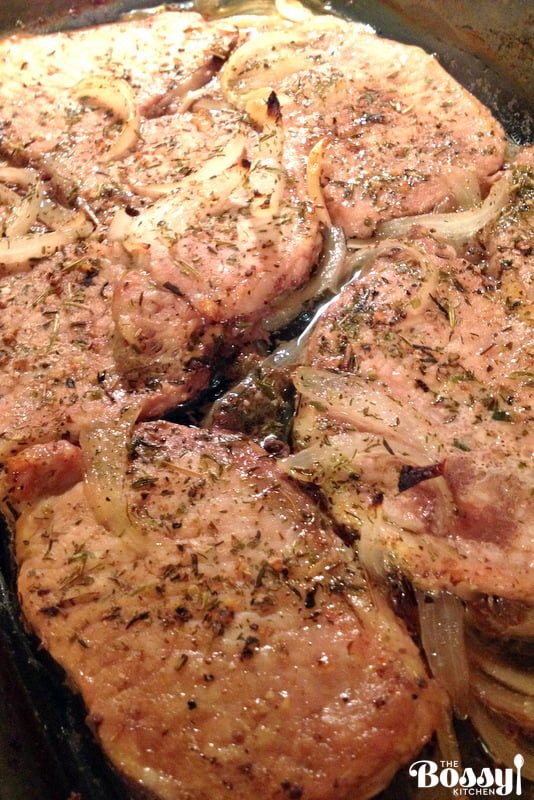 If you make this recipe, share it with the hashtag #thebossykitchen on Instagram, Facebook, and Twitter so we can all see what you're cooking!
Or maybe you want to join The Bossy Kitchen community group where you can share your creations made from this blog or from other sources. Everyone is welcome to join!

Roasted Boneless Center Cut Pork Chops with Red Wine
Author:
The Bossy Kitchen
Ingredients
8 boneless center cut pork chops count 2/person
1 onion sliced julienne
3-4 garlic cloves sliced
1 teaspoon thyme
salt and pepper to your taste
1½ cups red wine your preference
2-3 tablespoons extra virgin olive oil sunflower oil works well too
Instructions
Preheat oven to 400F.
Lay the pork chops on a baking sheet and sprinkle them generously with salt, pepper and thyme on each side.
Julienne an onion and toss it together with the meat.
Chop the garlic cloves in half and add them to the meat.
Add the oil and red wine.
Bake in the oven at 400F for 35-40 mins or until the internal temperature of the meat reaches 145F.
Serve with roasted potatoes, salad, roasted vegetables or anything you like.