This Red Cabbage Salad With Apples And Walnuts is an excellent winter salad and one of my favorites.
This recipe is a vibrant mixture of crunchy and refreshing ingredients, like red cabbage, apples, and red onions, paired with the earthiness of walnuts and the sweetness of golden raisins.
The dressing is a simple vinaigrette that brings the whole salad together with a balance of acidity, sweetness, and richness.
Jump to:
Why I love this recipe
Great textures: This is a fantastic winter salad and one of my favorites. I love everything about it, the textures, the flavors, and how colorful it is.
Easy to make: One of the easiest recipes on my blog, this salad uses ingredients that many of us have in the pantry.
Healthy option: For me, red cabbage is a winter vegetable. It is also full of vitamins and fiber, like vitamin C, A, and iron, something that we all need, especially during the cold season.
Economical: It is inexpensive and a super versatile veggie that makes an excellent option for any meal.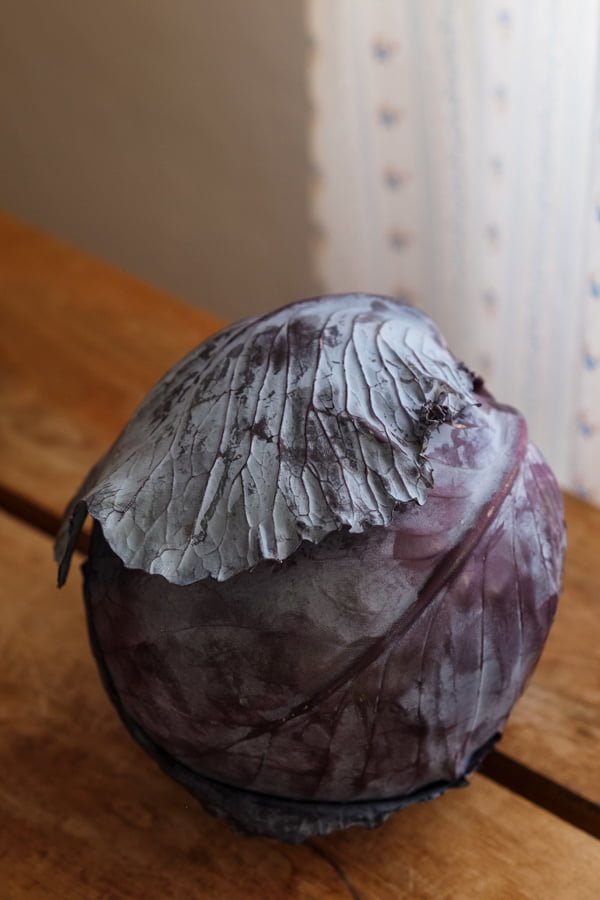 What other ingredients do we need for this salad
Besides red cabbage, apples are another excellent addition to our winter diet. Remember the saying, "An apple a day keeps the doctor away"? 
Healthy, crunchy, and delicious, apples are often incorporated not only in desserts but also in appetizers, salads, and main dishes.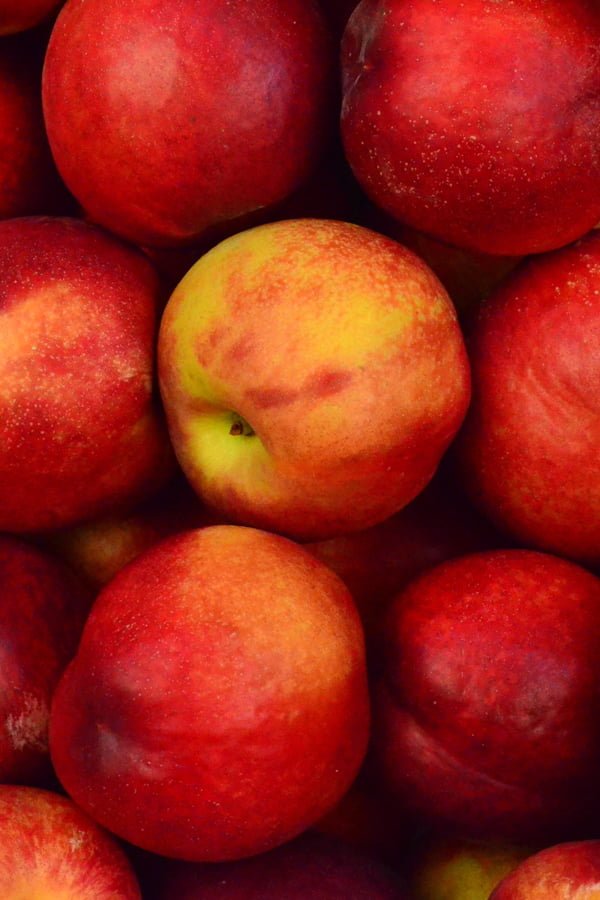 We also snacked on walnuts all winter long. One of the easy snacks available while growing up was walnuts and apples together.
As peanuts are very popular in the American diet, walnuts are part of the Eastern European diet. They grow in abundance in that part of the world, and many dessert recipes use them.
You can also skip the apples and walnuts and make only the red cabbage using the same dressing.
However, this combination is divine, mainly because of the texture of this salad.
Expert tip
For an added depth of flavor, try lightly toasting the walnuts before adding them to the salad.
Simply place the walnuts on a dry skillet over medium heat, stirring occasionally for 3-5 minutes or until they're fragrant and slightly browned. Allow them to cool before incorporating into the salad. This small step can elevate the overall taste and texture of the dish.
How To Clean And Cut Red Cabbage
Like any other vegetable, red cabbage needs to be cleaned before using it. When you buy cabbage, regular or red, it has to look healthy, fresh with undamaged leaves.
You will need to remove the outside leaves because they were on the grocery store shelf, which is not always clean. Wash the cabbage and pat it dry, then slice it in half.
Place the cabbage cut side down and thinly slice it around the edges until you get to the core, which you discard.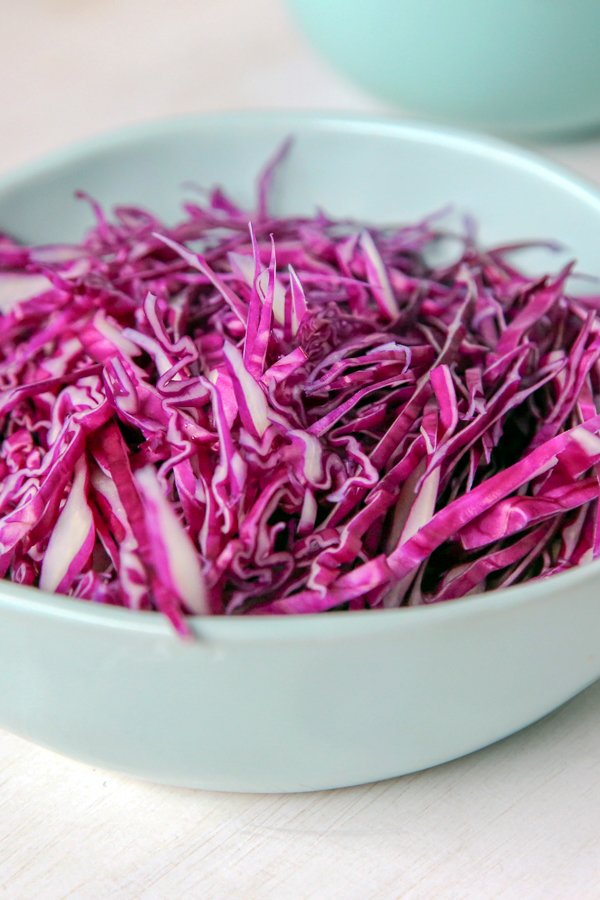 Best Red Cabbage Salad With Apples And Walnuts Recipe Instructions
To make this recipe, you need to shred the cabbage, slice the apples and the red onion, add walnuts and raisins, and make a simple dressing of oil, vinegar, salt, pepper, and a little bit of sugar.
It will only take 10 minutes to put it together, and the result will be a fabulous recipe made with simple ingredients, perfect for the entire family.
I made this red cabbage salad the other night for dinner and served it with pork and roasted pumpkin.
Sometimes I serve it with roasted vegetables for a light meal. It goes great with grilled or roasted meats, sausages, etc.
Storage instruction
Store the salad in an airtight container in the refrigerator.
It is best consumed within 1-2 days as it loses the freshness and crunch.
If you plan to store it for more than a few hours, consider storing the vinaigrette separately and adding it to the salad just before serving to maintain the salad's crunchiness.
Recipe Faqs
Can I substitute another nut for walnuts?
bsolutely! Almonds, pecans, or even toasted pine nuts would work well in this recipe. Choose based on your personal preference.
I am not a fan of raisins. What can I use instead?
I like dried cranberries or dried cherries. They can be a flavorful substitute, giving a tart and sweet contrast to the dish. Or, you can skip them entirely.
What type of apple works best for this recipe?
I tend to use whatever apples I have around. However, a crisp and slightly tart apple works best, such as Honeycrisp, Granny Smith, or Pink Lady. They hold up well in salads and complement the flavors of the other ingredients.
Can this salad be made ahead of time?
While it's okay to prep the individual ingredients ahead of time (like shredding cabbage, chopping apples, and onions), it's best to combine everything and add the vinaigrette just before serving to ensure maximum freshness and crunch.
Did I forget anything? Just let me know in the comments!
Enjoy!
More recipes with cabbage
Cabbage With Pork- Romanian Recipe
Authentic Romanian Sauerkraut Stuffed Cabbage Rolls
More recipes with apples
Craving more? Subscribe to The Bossy Kitchen to get new recipes and a newsletter delivered straight to your inbox! Stay in touch on Facebook, Twitter, Pinterest, and Instagram for all of the latest updates. Don't forget to use the star rating and leave a review.
📖 Recipe
Best Red Cabbage Salad With Apples And Walnuts
This Red Cabbage Salad With Apples And Walnuts is an awesome winter salad. The crunchy texture of cabbage, apples, and walnuts makes this salad a delicious option for dinner.
Print
Pin
Rate
Ingredients
½

red cabbage

medium size

1

red onion

sliced julienne

1-2

apples

medium size

¼

cup

walnuts

chopped

¼

cup

golden raisins

4

tablespoons

apple cider vinegar

or balsamic vinegar

½

teaspoon

salt

¼

teaspoon

ground pepper

1

teaspoon

sugar

2

tablespoons

olive oil
Instructions
Shred the cabbage.

Chop onions, apples, and walnuts.

In a medium salad bowl, place the cabbage, apples, and onion together.

Add the walnuts and the raisins and mix to combine.

Grab a tiny jar with a lid and put oil, vinegar, salt, pepper, and sugar in it. Close the lid and shake the jar until you have a vinaigrette.

Pour the vinaigrette over the cabbage and mix well.

It goes well with pork or beef.
Nutrition
Serving:
1
g
|
Calories:
232
kcal
|
Carbohydrates:
32
g
|
Protein:
4
g
|
Fat:
12
g
|
Saturated Fat:
1
g
|
Polyunsaturated Fat:
10
g
|
Sodium:
105
mg
|
Fiber:
6
g
|
Sugar:
21
g