Celeriac (Celery Root) Apple And Carrot Salad is a beautiful winter recipe that provides vitamins and freshness to your diet. Optional add chicken or turkey to it.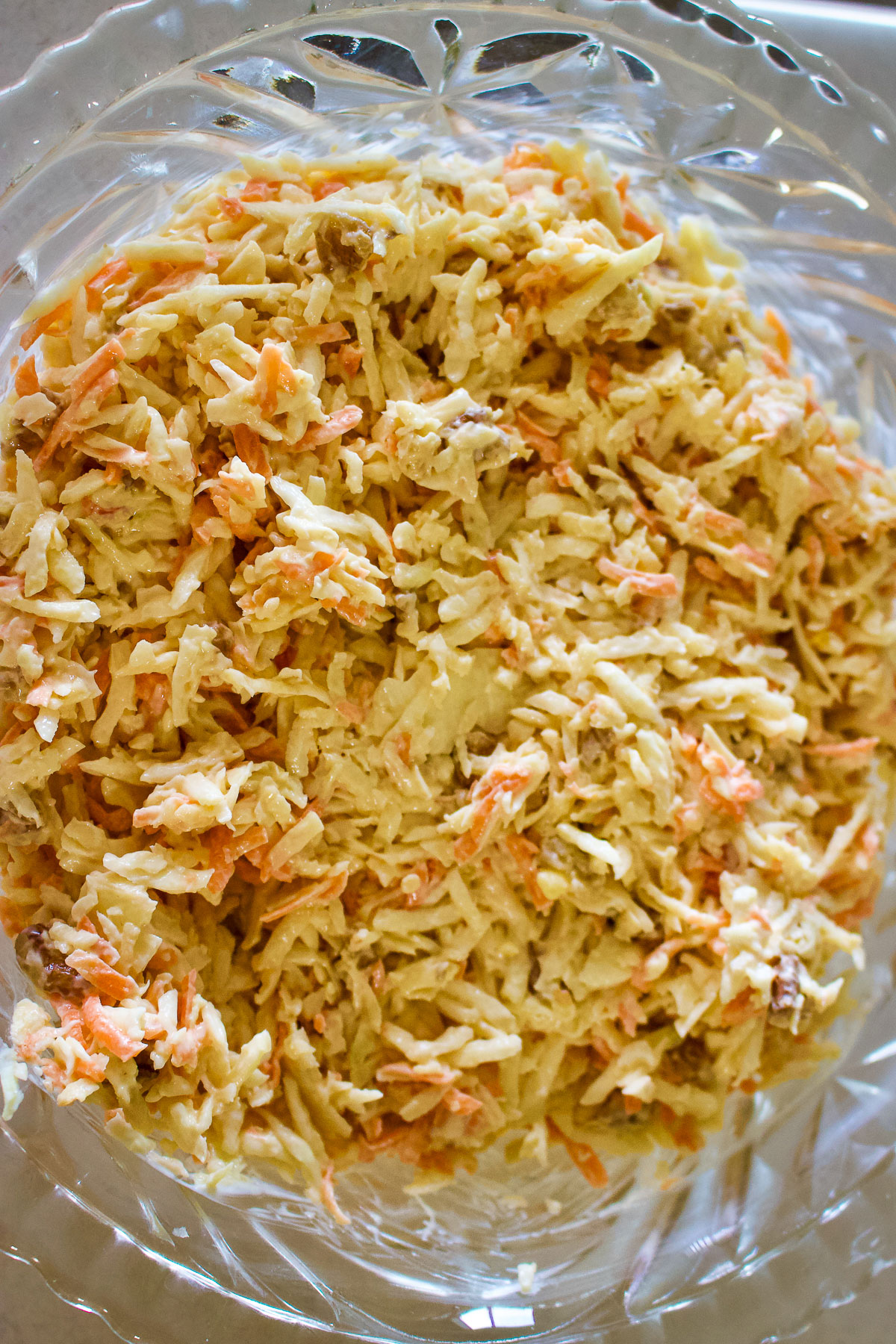 This recipe combines the earthy flavor of celeriac (or celery root) with the sweetness of apples and the crisp texture of carrots.
The addition of walnuts adds a crunchy, nutty element, and the creaminess of the mayonnaise binds everything together. It's a refreshing and filling side dish.
Many of you probably made this salad before or at least knew about it. This is a recipe I know for many years. I grew up with it every winter, as my mom used to make it all the time.
It was called Waldorf Salad, but doing some research, I found out that Americans make this salad a little bit different.
Jump to:
What kind of ingredients would go into this salad
Celeriac
Apples
Carrots
Walnuts
Mayo
Optional: you can add dried fruits (like raisins or cranberries), cooked chicken or turkey, grapes etc.
What is celeriac
Celeriac is also called celery root, and it is closely related to parsnip, parsley, and celery. It tastes like green celery but with nutty undertones.
Celeriac is a versatile root vegetable that can successfully replace potatoes.
This Celeriac (Celery Root) Apple and Carrot Salad was a very popular salad while growing up in Romania. We are big consumers of celery root (or celeriac) and apples; therefore, the ingredients were easy to find.
It was also a wonderful winter salad that provided lots of vitamins and freshness to our diet.
Celeriac is a versatile root vegetable that may be roasted, stewed, blanched, or mashed. The soups are very flavorful when a piece of celeriac is added to the rest of the vegetables.
Also, stews, casseroles, and other savory dishes benefit in taste from celeriac.
The leaves and stems of this vegetable have many flavors and are aesthetically beautiful and vibrant, which means that you can use them as a garnish on salads and fancy meals.
How to make this fresh salad
You need just a few ingredients, like apples, celery root(celeriac), carrots, walnuts, and mayo. I love the crunchiness of this salad.
It is also easy to make and even easier if you own a food processor, as shredding the vegetables is the most time-consuming.
To make the salad, you basically have to clean, peel and get the vegetables ready for shredding. Celeriac, apples, and carrots all go in the food processor. 
When done shredding, place everything in a salad bowl. Pretty simple, right?
Add the chopped walnuts and the mayo.
Mix everything and taste for salt and pepper. I usually don't add salt and pepper at the beginning because the mayo is already salted, and I have no idea how much salt it still needs.
Besides that, you can adjust the salt according to your diet, in case you have to control that.
Storage instructions
Store the salad in an airtight container in the refrigerator. Due to the mayonnaise and fresh ingredients, it's best consumed within 2-3 days.
If you make it ahead, consider adding the mayonnaise just before serving to ensure the salad remains fresh and crunchy.
Recipe faqs
Can I replace celeriac with another vegetable?
Yes, while celeriac has a unique flavor, you can replace it with jicama or kohlrabi for a similar texture. Just note that the flavor profile will change slightly.
What kind of apples should I use for this salad?
Crisp and slightly tart apples are ideal. Consider using Granny Smith, Pink Lady, or Braeburn.
Is there a lighter alternative to mayonnaise?
Certainly! You can use Greek yogurt as a healthier alternative or even a mixture of both Greek yogurt and mayonnaise to maintain some creaminess while reducing overall fat content.
How can I add more depth of flavor to this salad?
To bring more flavor, consider adding a handful of raisins, dried cranberries, or even a teaspoon of Dijon mustard to the mix. This will introduce a new layer of taste, complementing the existing ingredients.
That's it! Serve it cold as an appetizer or with roasted meats, and you are here for a delicious treat that is perfect even the next day!
Note: The beauty of this salad is that besides the vegetables, you can also add cooked chicken or turkey, making the salad versatile and a great way to recycle the leftover turkey or chicken from previous meals. (think Thanksgiving or Christmas leftovers)
More recipes to love and make
How To Make THE BEST Potato Salad
Pineapple Carrot Cake with Cream Cheese Frosting
How To Roast Carrots In The Oven
Traditional Romanian Sour Soup with Pork and Vegetables
Romanian Tomato Soup- Dairy Free
Best Thanksgiving And Christmas Turkey Recipes
📖 Recipe
Celeriac (Celery Root) Apple and Carrot Salad
Celeriac (Celery Root) Apple and Carrot Salad- Beautiful winter recipe that provides freshness to your diet. Add chicken or turkey to it for a complete meal.
Print
Pin
Share
Grow
Saved!
Rate
Equipment
Food Processor 12-Cup, Aicok Food Processor Blender, 1.8L Food Processor 12-Cup, Aicok Multi-Function Food Processor, 1.8L, 3 Speed Options, 2 Chopping Blades & 1 Disc, Safety Interlocking Design, 500W, Black
Ingredients
1-2

medium celeriac

celery root peeled and shredded

2-3

medium apples cored and shredded

2

large carrots peeled and shredded

8

ounces

chopped walnuts

8

ounces

mayonnaise

salt and pepper to taste
Instructions
Clean and core the apples.

Peel and clean the celery root.

Peel the carrots.

With a food processor or regular vegetable grater, shred all the vegetables and place them in a salad bowl.

Add the walnuts.

Add mayonnaise and salt and pepper to taste.

Serve cold.

Note (Optional): You can also add cooked chicken or turkey, making the salad versatile and a great way to recycle the leftover turkey or chicken from previous meals.
Nutrition
Serving:
1
g
|
Calories:
590
kcal
|
Carbohydrates:
26
g
|
Protein:
8
g
|
Fat:
53
g
|
Saturated Fat:
7
g
|
Polyunsaturated Fat:
35
g
|
Monounsaturated Fat:
10
g
|
Trans Fat:
0.1
g
|
Cholesterol:
16
mg
|
Sodium:
364
mg
|
Potassium:
629
mg
|
Fiber:
7
g
|
Sugar:
10
g
|
Vitamin A:
3462
IU
|
Vitamin C:
13
mg
|
Calcium:
97
mg
|
Iron:
2
mg
Tried this recipe?
Please leave a comment on the blog or like us on Facebook!