This Traditional Romanian Sour Soup with Pork and Vegetables is a recipe that is made in many regions of Romania.
The recipe uses a variety of basic vegetables, like carrots, celery, potatoes and, as the name shows, pork meat. The broth of this soup is dressed with sour cream and lemon juice or vinegar.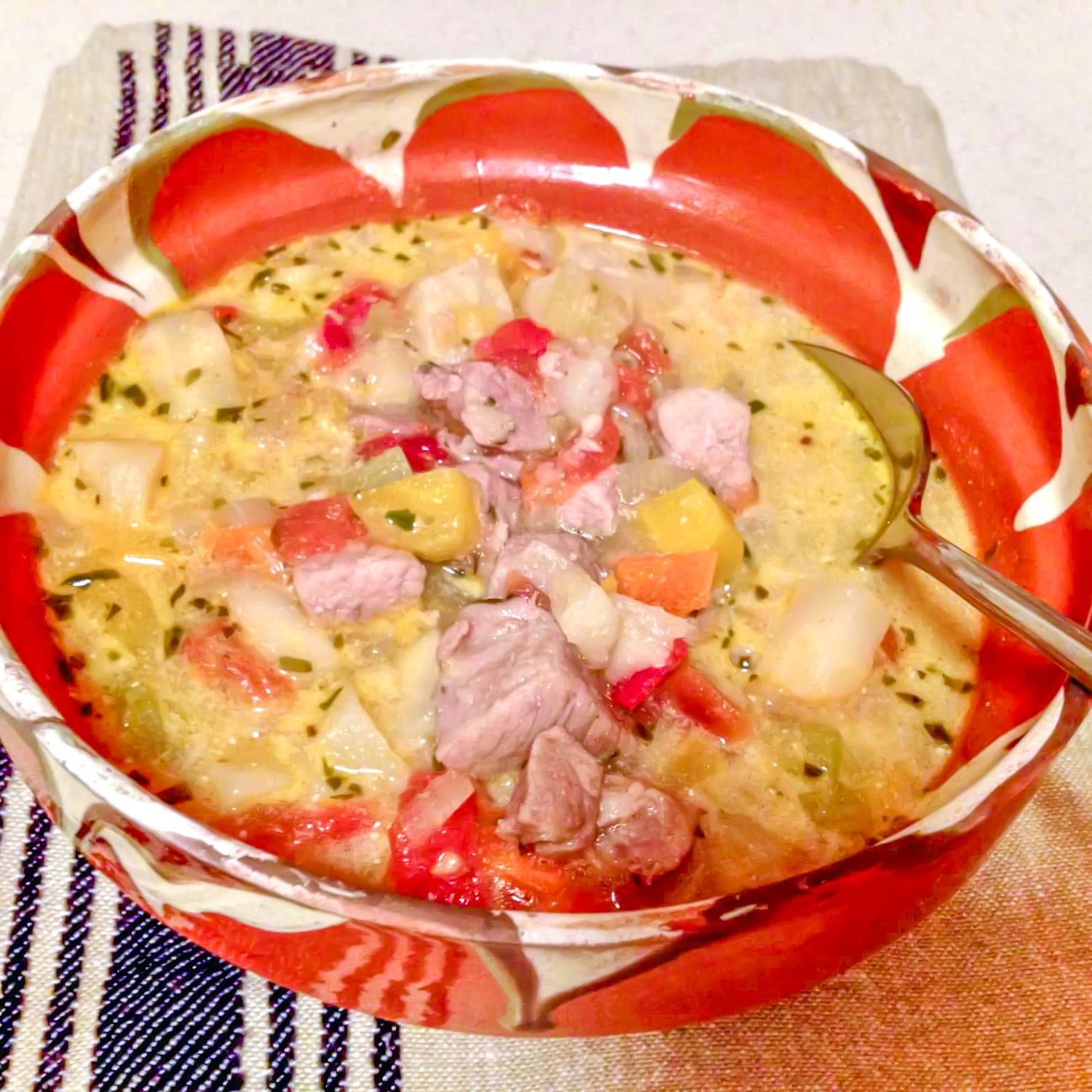 I forgot how delicious a good hearty soup can be. In the last few days, after we moved to our new place, I tried to get used to the new environment and get back to my cooking books and recipes.
It was not easy to get back in the kitchen as I had to get used again cooking on a gas stove.
I did not cook on a gas stove since I moved to US, so it was very exciting for me to get back to that. It is in a way like riding a bike...you never forget how to do it, but you get a little bit rusty if you did not use it in a while.
Did you ever notice the difference between cooking with an electrical stove versus a gas one?
It is all about how fast you move in the kitchen, and with the electrical one I was able to take my time and also multitask.
With the gas stove though, the food cooks faster, so I have to be around that pot a lot more than before when I was cooking with electrical...so, all my routine had to change.
Anyway, it was time for a soup. I love this soup as I love hearty soups in general. I grew up with them and always loved them.
A good soup feeds your body and soul, is a complete meal, and a smart, nutritious way to feed yourself and your family. In many cultures, broths and soups are the first aid on healing the ill and a great way to feed a child.
In the Romanian cuisine, soups can be sweet or sour. The sour soups may contain a wide variety of sour ingredients, usually lemon juice or vinegar.
The sour soups have many vegetables and most of the time, meat, which can be anything available, pork, beef, chicken etc.
Gather together the following ingredients:
Pork
Carrots
Onions
Celery root
Potatoes- waxy potatoes are good
Peppers- use any kind of bell pepper you have available
Green celery- this one is not as popular as the celery root, but it brings flavor if you do not have celery root.
Garlic
Fresh tomatoes or tomato paste, sauce or diced tomatoes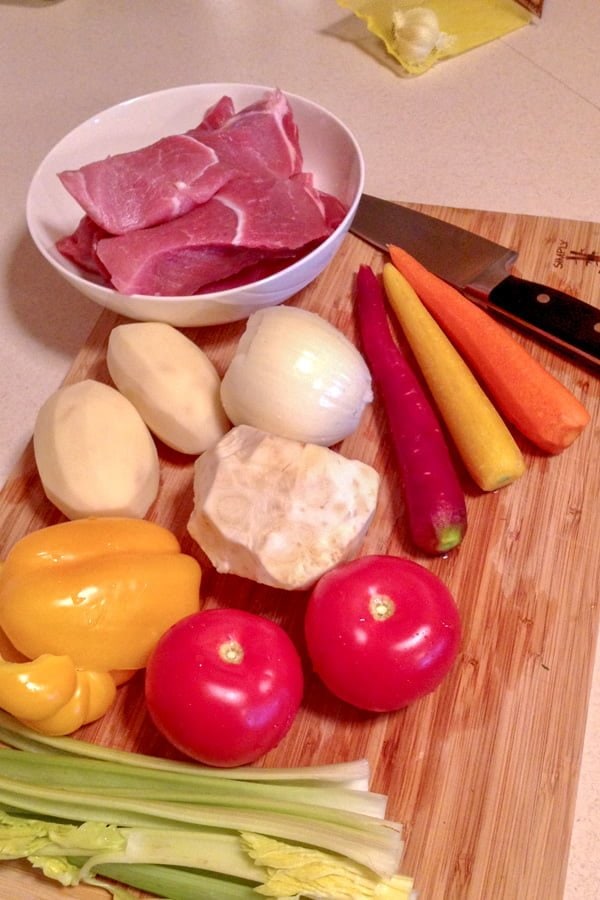 How to make a traditional Romanian sour soup with pork and vegetables:
Clean all vegetables and dice them the best you can. This is a matter of preference.
Some people like vegetables really small, while others prefer them bigger in size.
No matter how you like them, make sure you chop them approximately the same size so they cook in the same amount of time.
Set them aside. Prepare the pork by cutting it into small cubes.
Grab a soup pot and pour some vegetable oil into it. Place the pot on the stove on medium heat and add the pork meat first.
Brown the pork for a few minutes.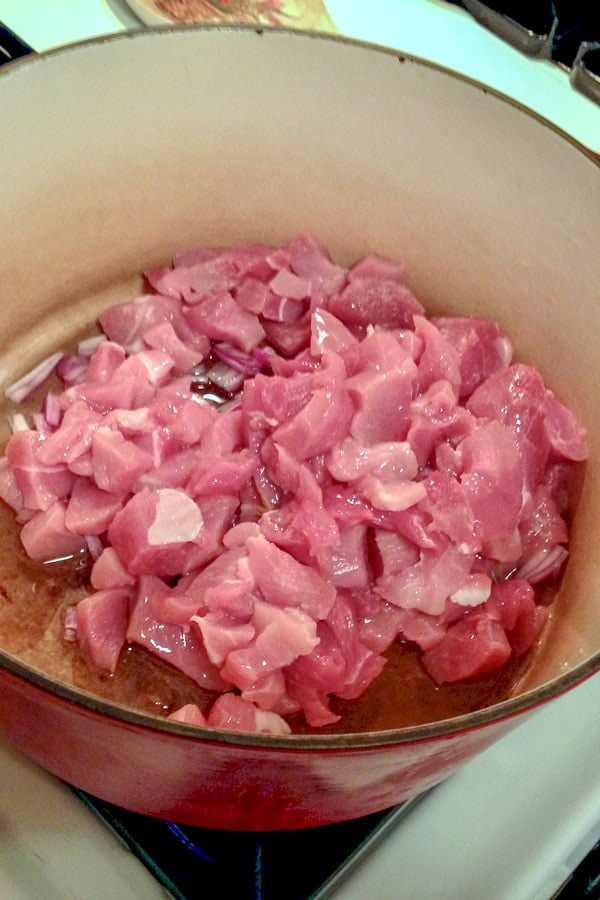 Add the chopped vegetables, except the potatoes and tomatoes, which you will add a little bit later.
Note: Do you know that potatoes cook faster than onions and carrots? This means that when you make a soup, you have to add them to the pot a little bit later in the process so they don't become mushy.
After the pork meat gets friendly with the vegetables, add some water to cover everything and simmer the soup for a while. When the meat is cooked, add the tomatoes and the potatoes.
Taste for salt and pepper, and add some oregano, dried tarragon (fresh is better, but dried is expected if you make the soup during the cold season), and lemon juice (you can replace it with plain vinegar instead). 
How to make the sour cream dressing for the soup:
Reduce the heat and grab a separate bowl.
Pour sour cream into the bowl, and using a ladle, add some hot soup from the pot over the sour cream, mixing constantly.
Note: If you just add the sour cream to the soup, it will separate and have an awful look, so tempering the sour cream by adding the hot liquid over is an important step.
Pour the mixture over the soup, stirring to incorporate the sour cream and to give the soup a white creamy look. At this point, the soup is ready to be served.
Serve it with some fresh crusty bread, and here you have a gorgeous meal for the entire family!
This soup is so delicious that we had it for breakfast one day, and my husband said that he never ate anything better than this soup.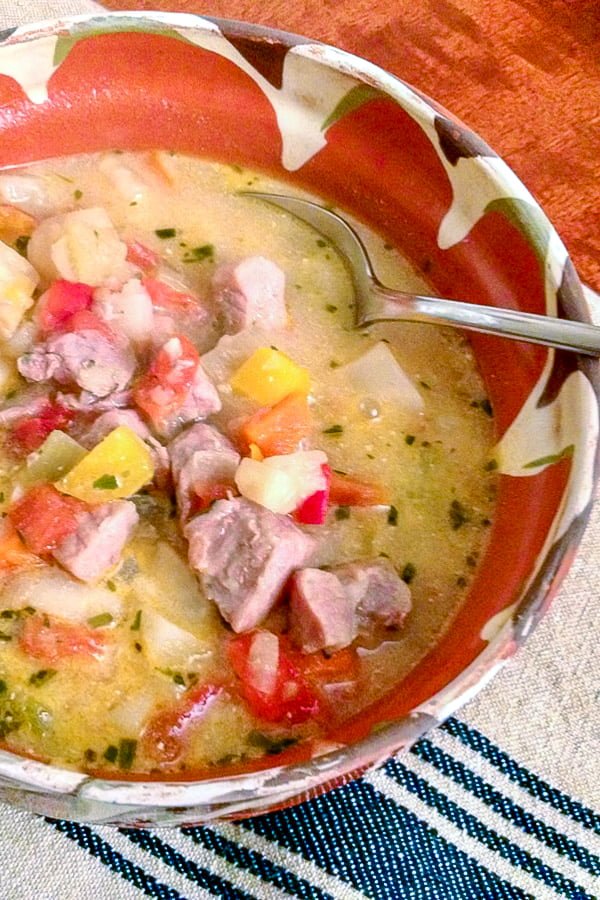 More recipes to love:
Instant Pot Beef Vegetable Soup
Chicken Soup With Sour Cream And Garlic
Traditional Saxon Potato Tarragon Soup From Transylvania
Transylvanian Bacon Green Beans Soup
Enjoy!
Yield: 8 portions
Traditional Romanian Sour Soup with Pork and Vegetables
This traditional Romanian sour soup with pork and vegetable is a recipe that is made in many regions of Romania. The recipe uses a variety of basic vegetables, like carrots, celery, potatoes and pork meat. The broth of this soup is dressed with sour cream and lemon juice or vinegar.
Ingredients
1 pound/500g pork meat chopped
3 medium carrots chopped
2-3 celery sticks chopped
1 medium onion chopped
2 tomatoes chopped
2-3 garlic cloves chopped
1 celery root peeled and chopped
1 pepper(any color you prefer) chopped
1-2 potatoes medium, chopped
salt and pepper to taste
1-2 Tablespoons vegetable oil
1 Tablespoon dry tarragon
½ teaspoon dry oregano
4 Tablespoons sour cream
½ lemon(we use the juice from it) or 1-2 Tablespoons vinegar or to your taste
8 cups water
Instructions
Chop the pork meat in cubes and put them in a pot of soup, on medium heat, on the stove, with some vegetable oil.
Let the meat sweat for few minutes to develop the flavor, then add all the cleaned and chopped vegetables(carrots, celery sticks, onion, garlic, celery root, pepper) except for the potatoes and tomatoes.
Cook the vegetables together with the meat until they develop the flavor, then add water to cover them.
Bring the soup to a boil, then lower the heat and allow the soup to simmer until the meat is cooked through and the vegetables are semi soft. Add the potatoes cut in small cubes and the chopped tomatoes.
Add salt and pepper to taste and a little bit of oregano.
Simmer the soup 5-10 minutes more until the potatoes are cooked.
Add the dry tarragon and the juice from the lemon(or vinegar).
In a separate bowl put the sour cream.
Add a small amount of hot soup to sour cream; stir to mix. Gradually add the mixture to the soup, stirring constantly. Do not bring back to boil.
Serve hot.
Nutrition Information:
Yield:
8
Serving Size:
1
Amount Per Serving:
Calories:

260
Total Fat:

14g
Saturated Fat:

4g
Trans Fat:

0g
Unsaturated Fat:

8g
Cholesterol:

59mg
Sodium:

125mg
Carbohydrates:

16g
Fiber:

3g
Sugar:

3g
Protein:

19g