This Romanian Pork and Vegetables Sour Soup is a beloved dish enjoyed across various regions of Romania.
Infused with staple ingredients like carrots, celery, and potatoes, and featuring tender pork, it's a flavorful culinary experience.
The magic lies in the tangy twist, as the broth is enriched with a zest of sour cream, lemon juice, or vinegar. A taste of tradition in every spoonful!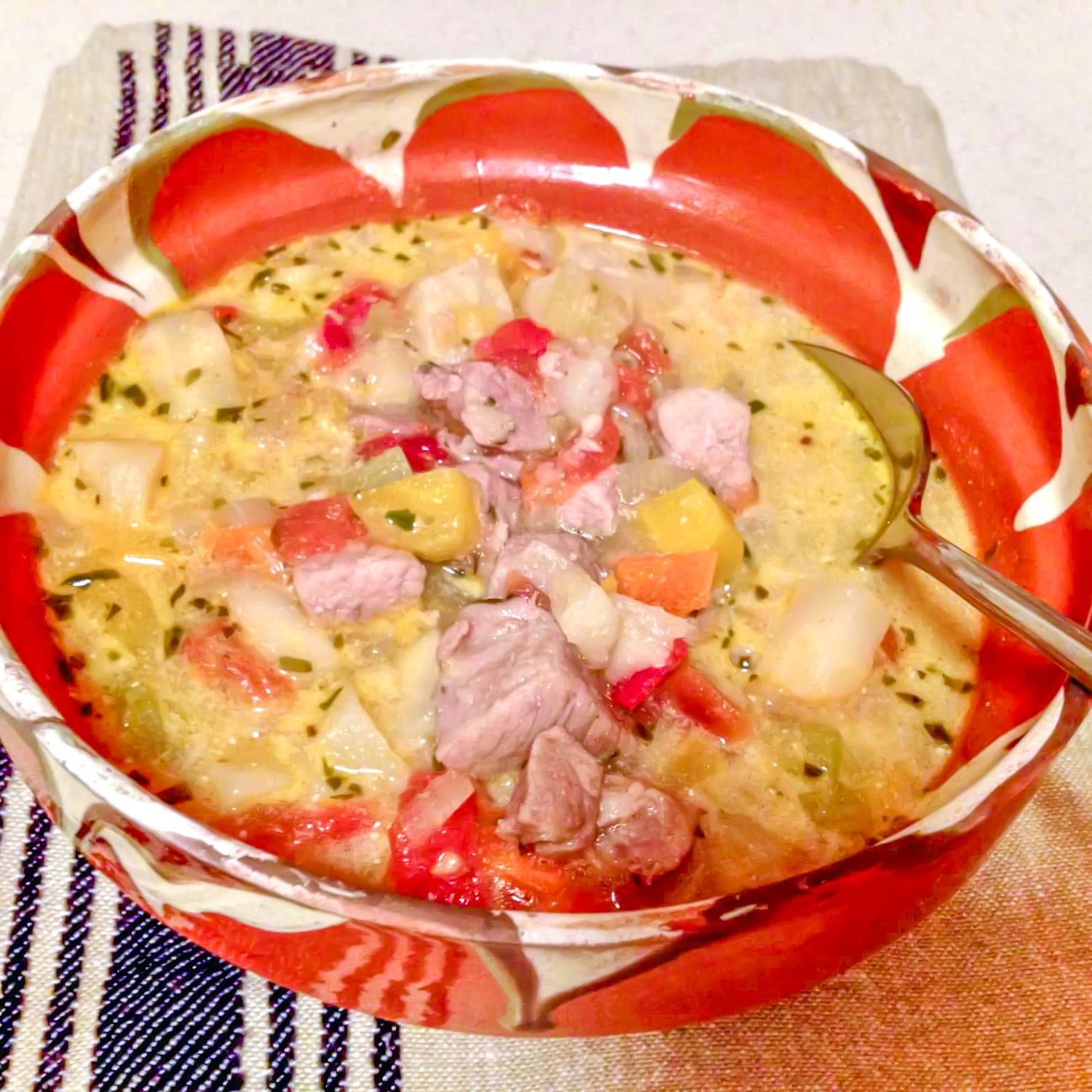 This recipe is part of my Romanian collection of recipes that you might enjoy. Among other recipes, you might like to try this Transylvanian Green Bean Soup (With Smoked Ham), Chicken Soup With Sour Cream And Garlic or this delicious Romanian Meatballs Sour Soup.
Jump to:
I recently rediscovered the joys of a good, hearty soup. With our move to a new place, I've been adapting to a different environment and dusting off my old cookbooks.
Cooking on a gas stove after so long was a challenge but an exciting one, akin to riding a bike after many years – you never really forget. Since moving to the US, I'd only cooked on an electric stove, where I could take my time and multitask.
The gas stove, however, cooks food faster and demands more attention. It's shifted my whole kitchen routine, forcing me to hover over the pot more than before.
And what better way to adapt to my new culinary set-up than with a comforting bowl of soup? It's not just a meal for me; it's a nourishing experience that feeds both body and soul.
Growing up with hearty soups, I've always appreciated how they serve as a wholesome, nutritious option for the whole family.
In many cultures, they're even considered a healing remedy. Whether for the ill, the young, or just for the love of it, a good soup always feels like home.
In the Romanian cuisine, soups can be sweet or sour. The sour soups may contain a wide variety of sour ingredients, usually lemon juice or vinegar.
The sour soups have many vegetables and most of the time, meat, which can be anything available, pork, beef, chicken etc.
Ingredients for this soup
You will need:
Pork loin or pork shoulder: While this soup flavors are designed for pork meat, you can also use chicken or beef.
Carrots: Don't skip them, they are part of the traditional vegetables for any soup.
Celeriac: I like this root, but if you are not familiar with it, you can use green celery.
Tomatoes: I used fresh tomatoes, but canned diced tomatoes work as well. If you do not have diced tomatoes, you can also use tomato sauce or a little tomato paste.
Onions: I used yellow onion. You can also use white or red onion instead.
Garlic: We use a very small amount in this recipe, just for enhancing the taste. You can replace it with some garlic powder, if you prefer.
Bell pepper: I like the red ones in particular. You can also use a mixture of frozen peppers, for your convenience.
Potatoes: Use an all purpose potato, like Yukon Gold, or the waxy variety. I would stay away from starchy potatoes, as they tend to fall apart and change the texture of the soup.
Water: chicken or vegetable stock can be used instead, but please make sure you buy lower sodium, so you can control the salt in the recipe.
Dried tarragon: Pork and tarragon are good friends. While I always encourage you to make the recipes your own and adapt them to your taste, I truly think that tarragon is the herb that gives this soup the traditional taste of Romanian soups.
Lemon juice or 1-2 tablespoons vinegar, to taste
For dressing the soup:
Sour cream: can be replaced with creme fraiche or yogurt.
Note: Do you know that potatoes cook faster than onions and carrots? This means that when you make a soup, you have to add them to the pot a little bit later in the process so they don't become mushy.
How to temper the sour cream
Tempering sour cream with hot soup is a careful process that allows you to incorporate the sour cream without it curdling from the heat. Here's how you can do it in easy-to-follow steps:
Prepare the sour cream: Place the sour cream in a heat-proof bowl. You'll want it at room temperature if possible, as this makes the tempering process smoother.
Add hot soup gradually: Take a ladle of the hot soup and very slowly pour it into the bowl with the sour cream, whisking constantly. This gradual addition warms the sour cream without shocking it, which can cause it to curdle.
Mix thoroughly: Continue to whisk the mixture until it's smooth and well combined. The idea is to raise the temperature of the sour cream gradually so it becomes more accustomed to the heat.
Incorporate into the soup: Now that the sour cream mixture is warmed, you can slowly whisk it back into the main pot of soup, stirring continuously. The tempered sour cream will now blend smoothly into the soup without forming lumps.
Avoid Boiling: Once you've added the tempered sour cream, be sure to keep the soup on low heat and avoid bringing it back to a boil, as this could still cause the sour cream to curdle.
Tempering sour cream like this helps to create a rich, creamy texture without the risk of ending up with unappealing clumps of curdled dairy. It's a simple but vital technique for dishes that call for a smooth, luxurious finish.
Expert tip
The sourness in this traditional Romanian Pork and Vegetables Sour Soup can be a defining feature, and it is something that you can customize to your taste preferences.
Start with the suggested amount of lemon juice or vinegar, then taste the soup as it nears completion.
If you prefer a more tangy flavor, you can gradually add more lemon juice or vinegar until you reach your desired level of sourness.
Be sure to add these acidic elements gradually, tasting as you go, to prevent overpowering the other flavors in the soup.
This soup is so delicious that we had it for breakfast one day, and my husband said that he never ate anything better than this soup.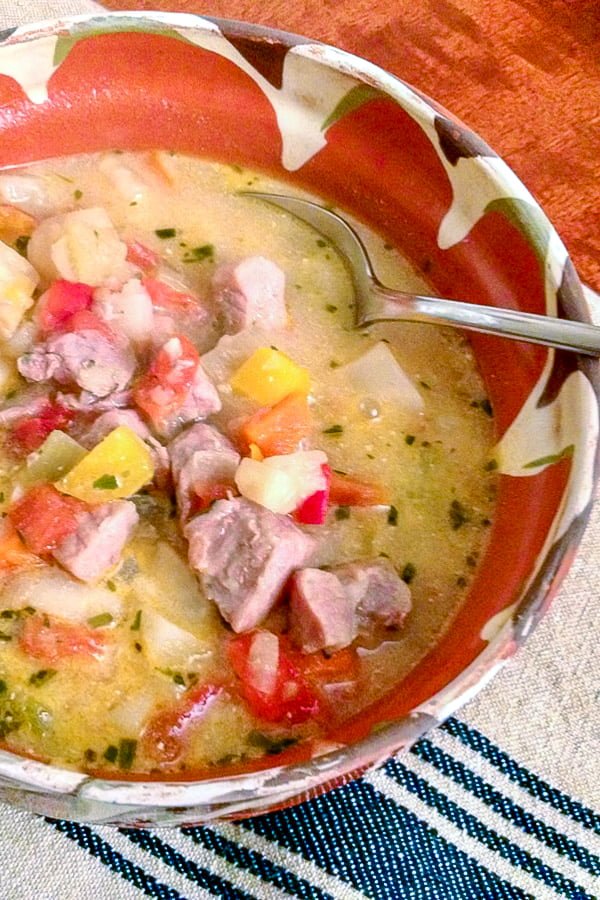 How to store this soup
Refrigeration: Allow the soup to cool to room temperature. Store in an airtight container and refrigerate for up to 3-4 days.
Freezing: This soup can be frozen for up to 2-3 months. Cool completely and store in a freezer-safe container, leaving some space for expansion. Thaw overnight in the refrigerator and reheat gently on the stove.
However, but be cautious with the sour cream, as dairy can sometimes separate when frozen. If planning to freeze, you might consider setting aside the portion to freeze before adding the sour cream, then adding fresh when reheating.
Recipe faqs
What type of vinegar should I use if not using lemon juice?
A mild vinegar like apple cider vinegar or white wine vinegar would work well in this recipe. Start with a small amount and adjust to taste.
What can be served with this soup?
Traditional accompaniments might include fresh bread, pickles, or hot peppers.
Is there a specific type of sour cream that works best?
Full-fat sour cream usually offers the richest flavor and creamiest texture, but you can use low-fat versions if preferred. The key is to temper it correctly, as described in the recipe.
More soup recipes to love
Enjoy!
📖 Recipe
Romanian Pork and Vegetables Sour Soup
This traditional Romanian sour soup with pork and vegetable is a recipe that is made in some regions of Romania. The recipe uses a variety of basic vegetables, like carrots, celery, potatoes and pork meat. The broth of this soup is dressed with sour cream and lemon juice or vinegar.
Print
Pin
Rate
Ingredients
1

pound

pork loin or pork shoulder

cubed

3

medium carrots

diced

2-3

celery sticks

or a small piece of celeriac root, diced

1

medium onion

diced

2

tomatoes

diced

2-3

garlic cloves

minced

1

red bell pepper

diced

1-2

potatoes medium

cubed

1

teaspoon

salt

1-2

tablespoons

vegetable oil

1

tablespoon

dried tarragon

½

lemon

we use the juice from it or 1-2 tablespoons vinegar or to your taste

4

tablespoons

sour cream

8

cups

water

or chicken stock
Instructions
Cube the pork meat and place it in a soup pot over medium heat on the stove, along with the vegetable oil.

Brown the meat on all sides, then toss in the cleaned and diced vegetables – carrots, celery sticks, onion, garlic, and pepper – holding back the potatoes and tomatoes for later.

Sauté the vegetables with the meat until they release their flavors, then add enough water to cover them completely.

Bring the soup to a boil, then reduce the heat, letting it simmer until the meat is cooked and the vegetables are semi-soft. It might take about 25 minutes. Stir in the small-cubed potatoes and the chopped tomatoes.

Simmer the soup 10-15 minutes more until the potatoes are cooked.

Add the dried tarragon and the juice from the lemon(or vinegar).

Place the sour cream into a soup bowl.

Add a small amount of hot soup to sour cream; stir to mix. (this process is called "tempering"). Gradually add the mixture to the soup, stirring constantly. Do not bring back to boil.

Serve hot with fresh bread, pickles or hot peppers.
Nutrition
Serving:
1
g
|
Calories:
151
kcal
|
Carbohydrates:
11
g
|
Protein:
14
g
|
Fat:
5
g
|
Saturated Fat:
2
g
|
Polyunsaturated Fat:
1
g
|
Monounsaturated Fat:
2
g
|
Trans Fat:
0.01
g
|
Cholesterol:
39
mg
|
Sodium:
354
mg
|
Potassium:
565
mg
|
Fiber:
2
g
|
Sugar:
4
g
|
Vitamin A:
4625
IU
|
Vitamin C:
32
mg
|
Calcium:
48
mg
|
Iron:
1
mg