I love this easy recipe of Mexican Pork in Green Sauce- Puerco en salsa verde. It is easy to make and perfect to serve in tacos, with rice, beans, or a salad. This recipe is a shortcut version to a popular dish that is considered classic in the Mexican cuisine.
PIN THIS FOR LATER:
Easy Mexican Pork In Green Sauce- Puerco en Salsa Verde
This recipe originally is made with fresh roasted poblano, jalapeno peppers and also roasted tomatillos that are blended together to create the sauce for the pork.
In some recipes, nopalitos (or cactus leaves) are cooked together with pork for a delicious version. Some other recipes add potatoes.
However, when the lack of time requires a short cut, I always have some bottles of Mexican salsa in the house. We love that stuff.
Sometimes I take a trip to the Mexican store and get fresh ingredients for this recipe, but sometimes I just whip this recipe fast by using an awesome jar of salsa verde from the pantry.
I was thinking to apologize for not making this dish from scratch, but I don't have to.
Like everyone else out there, sometimes I get busy and recipes like this one are awesome when you have to put dinner on the table pretty fast.
I also know that people are super busy and they don't take the time anymore to cook from scratch.
While I totally understand the problem, I still think there are ways we can prepare quick dinners without using lots of processed ingredients.
What kind of salsa verde do I need to get and what are tomatillos?
Usually, the green salsa is made with jalapeno peppers, tomatillos, garlic and other spices. Tomatillos are part of the tomatoes family.
They are also called "tomate verde" and a staple in the Mexican cuisine. The tomatillos are usually covered in a brown papery husks. That husk is removed before cooking.
These vegetables have a pleasant acidic flavor that bring freshness to the dish.
There are some awesome salsas out there and most of them are quite similar when it comes to ingredients, so you really cannot go wrong with the flavors. You can also choose a mild or a hot salsa, based on your preferences.
I usually go with the mild salsa, but if you like the food spicier, go for it.
What kind of pork meat I need for this dish?
I chose pork shoulder because in my opinion this cut has enough fat and flavor for this dish.
If you don't have pork shoulder use pork butt. Both cuts of meat require slow cooking, therefore perfect for this dish.
Dried or fresh Mexican oregano has quite a different flavor from the more common Greek variety.
You can find this oregano in most grocery stores in the ethnic food section, online, or in the ethnic food markets.
So, let's start making this delicious dish!
How to make this Easy Mexican Pork In Green Sauce- Cerdo en Salsa Verde:
Step 1.
Prepare the meat and vegetables.
Chop the meat, devein the jalapeños and chop them small, chop the onions and garlic.
Step 2.
In a large pan, heat up the oil and add the pork meat. Brown the meat on each side.
Step 3.
Add the onions, garlic and jalapeños and sauté gently until onions get translucent.
Step 4.
Add salsa and vegetable stock, cover and simmer the pork on medium-low heat for about 25-30 minutes, or until the pork is soft.
Step 5.
When done, taste again for salt (be careful with it, as both salsa and the stock have salt in them). Add cilantro.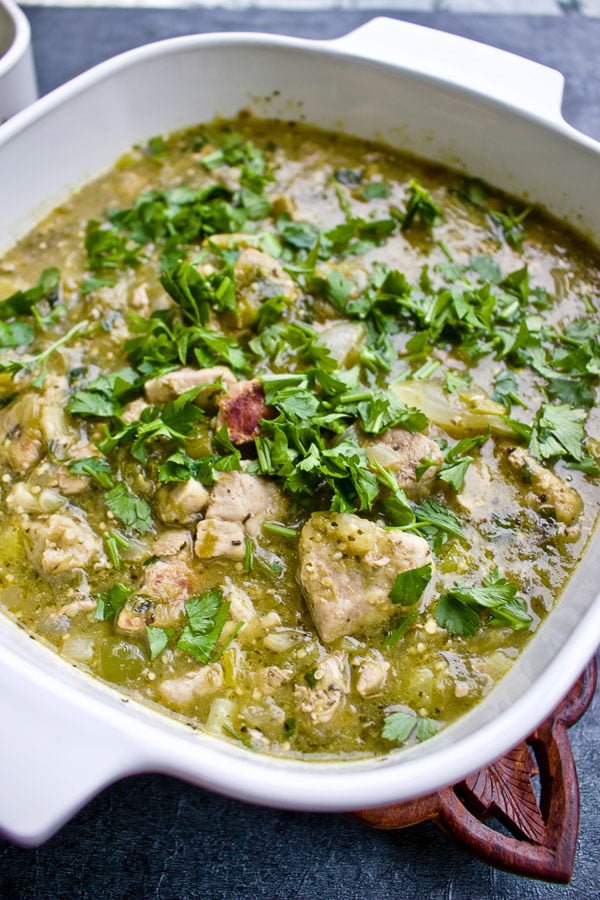 I served this dish with a wonderful lemony rice made with white wine.
You can also try this recipe of easy Mexican rice recipe.
Suggestion for this dish:
Chop 3-4 medium potatoes and add them to the sauce. Basically, after you add the salsa and the vegetable stock, add the potatoes and continue cooking everything together for 25-30 minutes.
Even though potatoes are already in this dish, it is still traditional in Mexico to serve it with rice- a combination that is very good actually.
This dish is actually better if you cook it with some time before and then reheat it. I believe the flavors have time to get friendly with each other.
Refried beans or regular cooked beans can be added to the menu. Here you have a recipe on how to make authentic Mexican beans.
Fresh corn tortillas are the best, but if you prefer flour tortillas go with them.
We did not serve the dish with tortillas, but rice was perfect.
Also, if you prefer it without rice, a dollop of Mexican crema works well with the dish.
So, are you going to try it? I personally love meals like this that are fairly easy to cook and serve in basically one hour.
Enjoy!
Note: "We are a participant in the Amazon Services LLC Associates Program, an affiliate advertising program designed to provide a means for us to earn fees by linking to Amazon.com and affiliated sites."