This is the easiest dinner for busy families and perfect for your Taco Tuesday. Chicken tacos made this way are ready in less than 30 minutes. A little oil, some spices, and the chicken is cooked in no time. Pair it with warm tortillas and your favorite toppings, and you are ready for a delicious meal that everyone will love.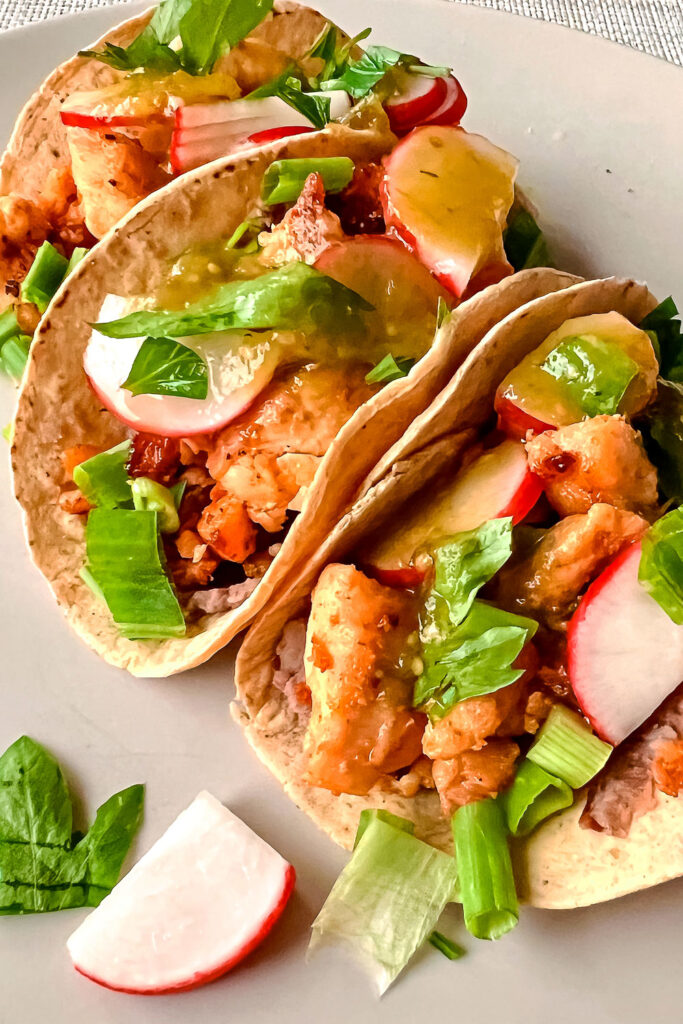 Jump to:
Why this recipe works
Easy to make- You can have dinner on the table in less than 30 minutes.
Delicious- who doesn't love tacos, especially when you can make them at home? Chicken tacos are the easiest way to put dinner on the table on any day of the week. To make them, it doesn't have to be Taco Tuesday or Cinco de Mayo.
Versatile- Use various ingredients you have in your pantry or refrigerator. Customize them based on your taste and preference.
Perfect for parties and celebrations.
One of the best chicken tacos recipes- Don't take my word, try them and let me know what you think.
Note: This recipe offers step-by-step instructions on making soft chicken tacos, especially if you have never made tacos before. You can even engage your kids to help you make dinner faster.
Ingredients
Chicken.
Use chicken breast or boneless, skinless chicken thighs. For easy cooking, I already cubed the meat because I love to brown the pieces on all sides.
You can also use any meat you like. Chicken is my favorite, but beef or pork meat is also delicious, and the process of making the recipe is mostly the same.
For the spice rub:
Cumin powder.
Cumin is a very popular spice in Tex-Mex cuisine. It is earthy and warm and has a powerful smell and taste. If cumin is not your favorite, you can replace it with oregano or Mexican oregano.
Paprika.
Go with your favorite. Sweet, spicy, or smoked, paprika is versatile and great for meats.
Garlic powder and onion powder.
These are probably my favorite spices in the kitchen. They simply flavor the food in such a way that sometimes you do not need anything else besides them.
Tajín.
Tajín is a popular Mexican spice made with chili peppers, lime, and sea salt. I feel that every Mexican food lover who also likes cooking needs some tajín in the pantry.
This seasoning is tangy, salty, and not very spicy. I like its bright, citrusy taste and subtle chile flavor. Tajin is a great ingredient to use in both sweet and savory foods.
It adds an extra zing to the food and can be sprinkled on fruits or veggies. You can also use it as part of a marinade for your favorite grilling meats.
If tajin is unavailable in your pantry, add a few drops of lemon juice to the chicken.
Salt.
Salt is optional in case you do not have the tajin.
Vegetable oil.
It could be sunflower oil(my favorite), olive oil, or canola oil.
Other items to make the tacos:
Tortillas.
For a more authentic Mexican flavor, use a fresh corn tortilla that you warm up on the stove. Corn tortillas are also gluten-free if you want to eat less gluten.
Flour tortillas are also acceptable, or any of your favorite tortilla brands you enjoy.
Cilantro.
Cilantro adds another layer of deliciousness to a taco.
Green onions.
I love green onions, as the tacos look bright and appetizing. Regular diced onion is also an option instead of green onion.
Radishes.
Slice them thin or chop them. They add crunch and color.
Green salsa or your favorite one.
I like green, mild salsa for this dish, but again, this is just an option. You are the boss here. Use the salsa you want.
Refried beans.
A can of refried beans is all you need. I like to serve it warmed up.
Limes or lemons for serving.
Optional. Crumbled queso fresco or Feta cheese.
How to make chicken tacos
Step 1. Prepare the chicken meat.
I like to cube the chicken meat for faster cooking. Place the meat in a bowl. Pour the oil over them and mix so the chicken gets coated.
Step 2. Spices.
Use a small bowl to mix spices. We have salt, garlic powder, onion powder, paprika, tajin, and cumin powder in the bowl.
Step 3. Season the chicken with spices.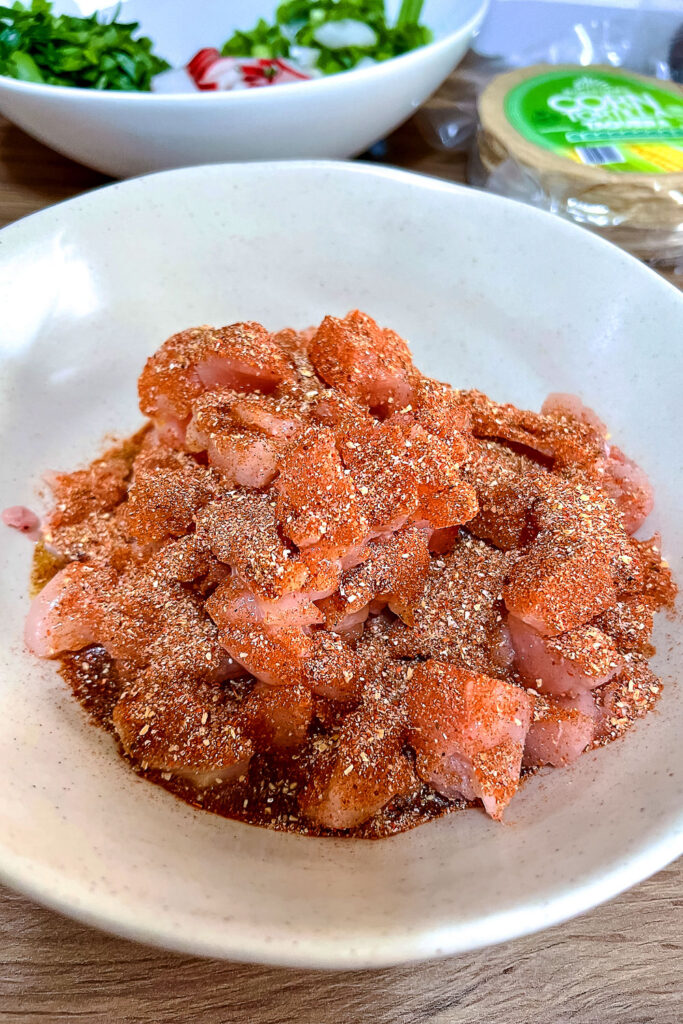 Step 4. Cook the chicken.
Heat the pan on medium-high heat. Place the cubed chicken in one layer and cook it on all sides. Cook the chicken in batches without overcrowding the meat.
When you are done cooking the meat, it should look this yummy or even better, as you are an excellent cook!
Step 5. Prepare the toppings.
Slice the radishes, chop the onions and the cilantro. Cut the limes or lemons and place everything in a bowl for easy serving.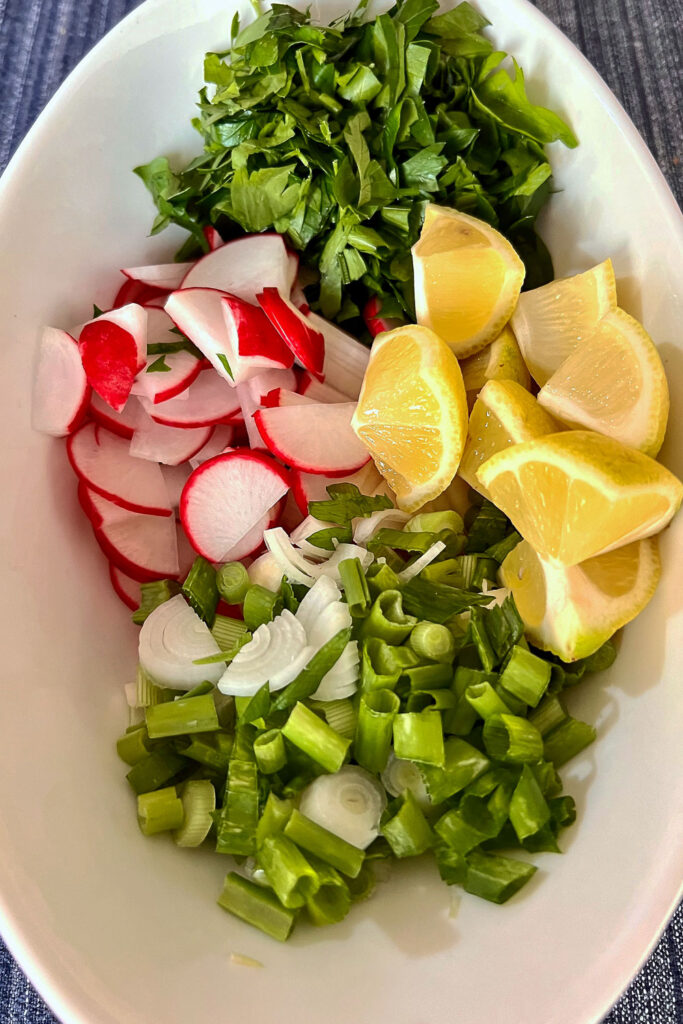 Warm up the can of refried beans. Place the beans in a bowl and warm them up in a microwave.
Step 6. Warm up the tortillas.
My favorite way to do it is to place the tortillas in the skillet and warm them up for 15-30 seconds on each side. I learned this super easy trick from one of my Mexican friends while living in Mexico, who was trying to teach me the right way to eat a tortilla.
Keep the tortillas warm by placing them in a tortilla warmer or wrapped in a clean kitchen towel.
Step 7. Assemble the tacos.
Place a tortilla on the plate and spread it with warm refried beans.
Add chicken and the rest of your favorite toppings. Squeeze lemon juice over it and enjoy. Optional: add some crumbled Mexican cheese, like queso fresco, or even a good, salty Feta cheese.
What else can you add to your tacos?
Chicken tacos made my way are easy and absolutely delicious. However, you can add other things to them, like:
Mexican crema or sour cream
Pico de gallo- you can make your own or buy already made from the grocery store.
Slices of jalapeno
Grilled vegetables, like peppers and onions
Slices of avocado
Black beans
Tomatoes
Shredded cheese, like Cheddar cheese
Lettuce
Grilled corn
Guacamole- make it or buy it
I want to make the chicken in the Airfryer
Sure, why not? Just follow the same steps to prepare the chicken. Cube it, coat it with some oil and spices, and place it in a preheated Airfryer at 400F(205C) for about 8 minutes. Rotate the chicken pieces after 4 minutes so they get browned on all sides.
Then, assemble the tacos and enjoy! How easy is that?
More recipes to love
Authentic Mexican Tinga De Pollo (Chicken Tinga)
Potatoes with Mexican Sausage (Papas Con Chorizo)
Check the web story for this recipe: How to make Chicken Tacos
📖 Recipe
The Best Easy Chicken Tacos Recipe
This recipe features tacos made with juicy chicken, marinated in spices, and cooked to perfection. Serve these tacos any day of the week for an easy dinner. Leftovers make a great lunch as well.
Print
Pin
Share
Grow
Saved!
Rate
Ingredients
For the chicken:
1

pound

chicken thighs or breast

cubed

2

tablespoons

vegetable oil

1

teaspoon

ground cumin

1

teaspoon

paprika

sweet or smoked

1

teaspoon

garlic powder

1

teaspoon

salt

1

teaspoon

onion powder

1

teaspoon

tajin
For tacos:
8

tortillas

corn or flour

1

bunch cilantro

chopped

3-4

green onions

or regular onion chopped

4-5

radishes

medium size, sliced

Green salsa or your favorite

16

ounces

refried beans

1 can

Limes or lemons for serving

Optional: Crumbled Queso fresco for topping the taco
Instructions
Prepare the chicken: Cut the chicken meat into small cubes and place them in a bowl. Pour the oil over them and mix, so the chicken gets coated.

Prepare the spices. Separately, use a small bowl to mix the spices together.

Season the chicken with the spice mixture.

Cook chicken. Heat a large skillet over medium-high heat. Place the chicken cubes in one layer and brown it on all sides. If there is too much chicken, cook it in batches. Remove from the heat and set aside.

Prepare the toppings: Chop the green onions, cilantro and slice the radishes.

Warm up the tortillas: Throw the tortillas in a cast iron skillet, warmed over medium-high heat. Warm them for 15 to 30 seconds on each side.

Assemble the tacos: Place a warm tortilla on the plate. Spread a layer of warm refried beans on the tortilla, add chicken, salsa, and the toppings. Squeeze a few drops of lime on top and enjoy.

Optional: Add crumbled Mexican cheese (or Queso Fresco).
Notes
Do you want to make the chicken in the Airfryer for faster cooking?
1. Chop the chicken meat, add spices and only two teaspoons of oil. Mix to coat the chicken with spices and oil.
2. Preheat the Airfryer to 400F(205C) and place the chicken pieces inside the basket.
3. Cook for a total of 8 minutes, flipping the chicken at the 4-minute mark. Use the chicken to make tacos.
Nutrition
Serving:
1
g
|
Calories:
310
kcal
|
Carbohydrates:
19
g
|
Protein:
28
g
|
Fat:
13
g
|
Saturated Fat:
2
g
|
Polyunsaturated Fat:
6
g
|
Monounsaturated Fat:
4
g
|
Trans Fat:
0.1
g
|
Cholesterol:
108
mg
|
Sodium:
1359
mg
|
Potassium:
360
mg
|
Fiber:
6
g
|
Sugar:
3
g
|
Vitamin A:
498
IU
|
Vitamin C:
3
mg
|
Calcium:
70
mg
|
Iron:
3
mg
Tried this recipe?
Please leave a comment on the blog or like us on Facebook!