15 Authentic Mexican Recipes to make any day of the week.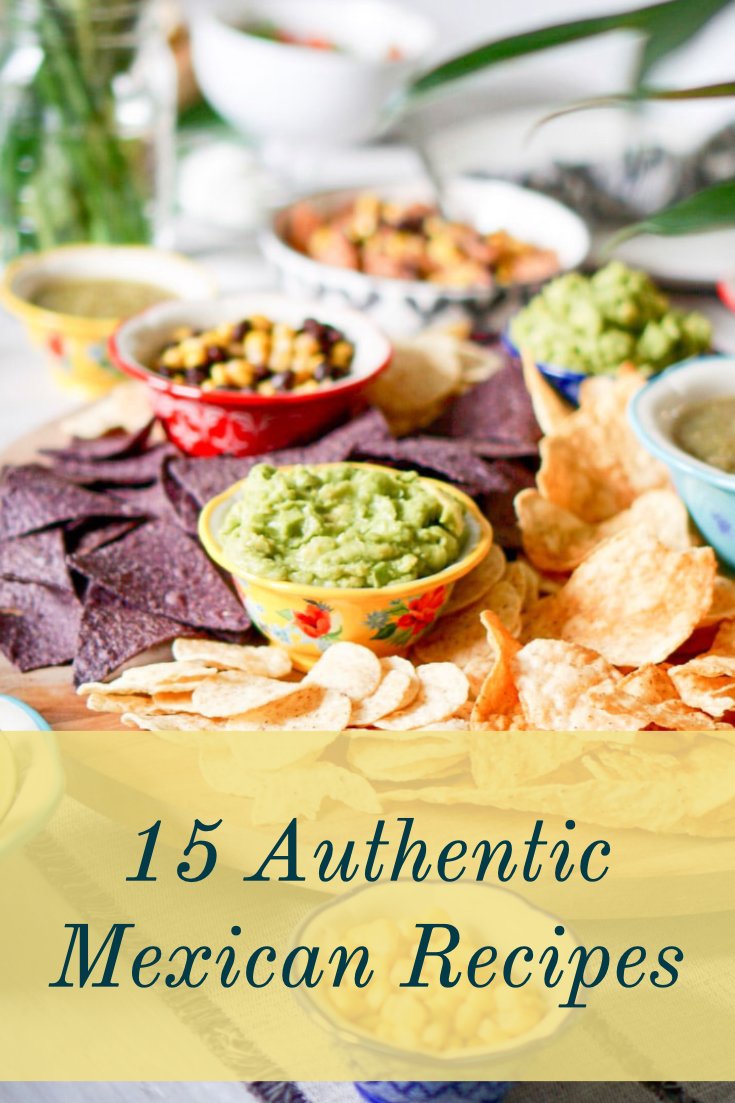 It is so hard to not love Mexican cuisine. From tacos to flan, from home made stews to delicious soups, Mexican recipes are comforting and delicious.
I love Tex-Mex cuisine also, but I am more fond to the authentic Mexican cuisine, which, by the way, is very different than the one found at the American southern border.
I thought it would be nice to put together a collection of my favorite 15 authentic Mexican recipes that I make very often.
You will find delicious recipes with mild flavors that are easy to make by anyone who loves being in the kitchen and trying new recipes.
You will be able to enjoy my favorite and the most popular recipe of chicken tinga on my blog, a recipe that is as authentic as it can be.
There are instructions in this recipe on how to cook it in different ways, from traditional stove cooking to Instant Pot and slow cooker.
The chicken soup or caldo de pollo is to die for. The flavors are mild and the recipe is great for the entire family from young kids to elders.
One of the easiest recipes on this list is pork in green salsa that uses bottled green salsa to create an amazing sauce for cooked pork. This recipe is great with rice or just on a taco.
Pico de gallo with tuna is another authentic recipe that comes from Mexico City. You might be surprised to find out that this recipe is usually served with saltine crackers and not with tortilla chips, which, by the way, are not a popular item on the Mexican tables in Mexico.
You will also find recipes for rice and basic Mexican beans, just because I think it is important to learn how to build up recipes that are so used in the Mexican cuisine.
Flan is a recipe that everyone loves and it is so easy to make. However, my recipe of flan with cream cheese is a popular, very interesting one that might intrigue and inspire you to try.
And finally, capirotada, a recipe of bread pudding that is made differently than the classic bread pudding we all know about.
The bread is soaked in a dark brown sugar syrup infused with cinnamon sticks, has raisins and almonds and also cheddar cheese(YUM!). What more can you ask for?
Whether it's a regular Friday night, Taco Tuesday, Cinco de Mayo, Memorial Day or Labor Day, these 15 authentic Mexican recipes are fun enough for a party, and easy enough to make a delicious weeknight dinner.
Authentic Mexican Recipes Great For Parties And Gatherings
Authentic Mexican Recipes- From appetizers to desserts, there is something for everyone. These recipes will bring the awesome Mexico flavors to your plate.
Note: "We are a participant in the Amazon Services LLC Associates Program, an affiliate advertising program designed to provide a means for us to earn fees by linking to Amazon.com and affiliated sites."