Note: "We are a participant in the Amazon Services LLC Associates Program, an affiliate advertising program designed to provide a means for us to earn fees by linking to Amazon.com and affiliated sites."
Are you looking for a gluten free version of the so loved Tabbouleh salad? Quinoa is the answer. It is a simple, beautiful recipe that requires few fresh ingredients like spring onions, lots of parsley, tomatoes, green or red peppers, mint, lemon juice and spices. For the ones who cannot eat the bulgur(cracked wheat) that is traditionally used in the tabbouleh salad, quinoa is a perfect replacement.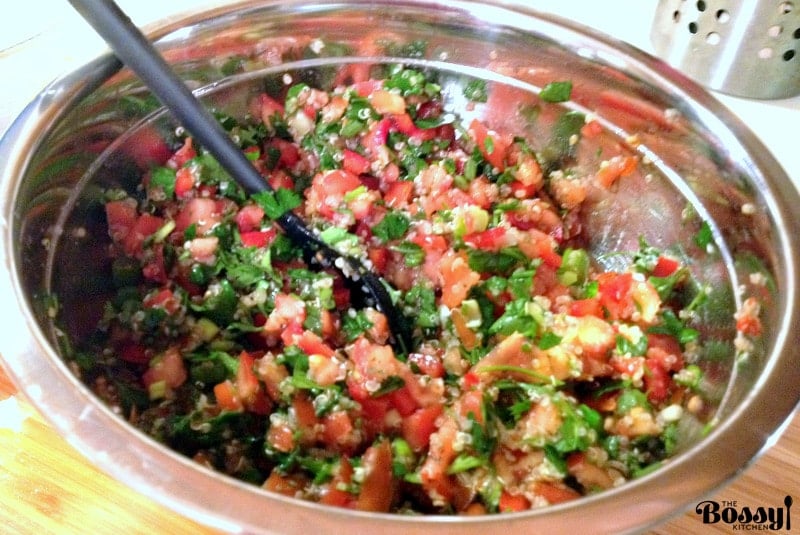 HOW TO COOK QUINOA:
If you use uncooked quinoa, for each cup of uncooked seeds, use 2 cups of water. Bring to a boil, then reduce the heat to medium-low and cover the pot. Simmer for 15 minutes until the quinoa absorbs the water. Remove from the stove and let rest for 5 minutes. For this salad, let it cool, then use it.
HOW TO MAKE THE SALAD:
Place the quinoa into a salad bowl, chop the green onions, parsley, tomatoes, peppers, mint, add the spices, lemon juice, salt and pepper and serve chilled. Easy peasy, right?
Looks refreshing, colorful and beautiful! And it is delicious! Enjoy!
Quinoa Tabbouleh Salad - A Summer Delight
Author:
The Bossy Kitchen
Ingredients
8oz(227g) cooked quinoa
1 large bunch parsley, chopped
1 bunch spring onions chopped
3-4 medium tomatoes chopped
1-2 tbsp dried mint, or few leaves chopped fresh mint
1 small green or red pepper chopped
salt and pepper to taste
pinch of allspice
½ tsp cinnamon
1 tsp ground cumin(optional)
juice of 1-2 lemons according to your taste
Instructions
Clean and chop parsley, green onions, tomatoes, pepper and place everything in a salad bowl.
Add the cooked and cool quinoa and mix together.
Add the spices and taste for salt and pepper.
Add the lemon juice and mix again. Serve cold.