Capirotada is a Mexican Bread Pudding made with bread, piloncillo, cinnamon, raisins, almonds, and cheese. It is a recipe that will win your heart in no time.
How is it made? What ingredients go into the recipe?  Can you replace or skip some of them? Let's look at what Capirotada is and why it is so popular in Mexico.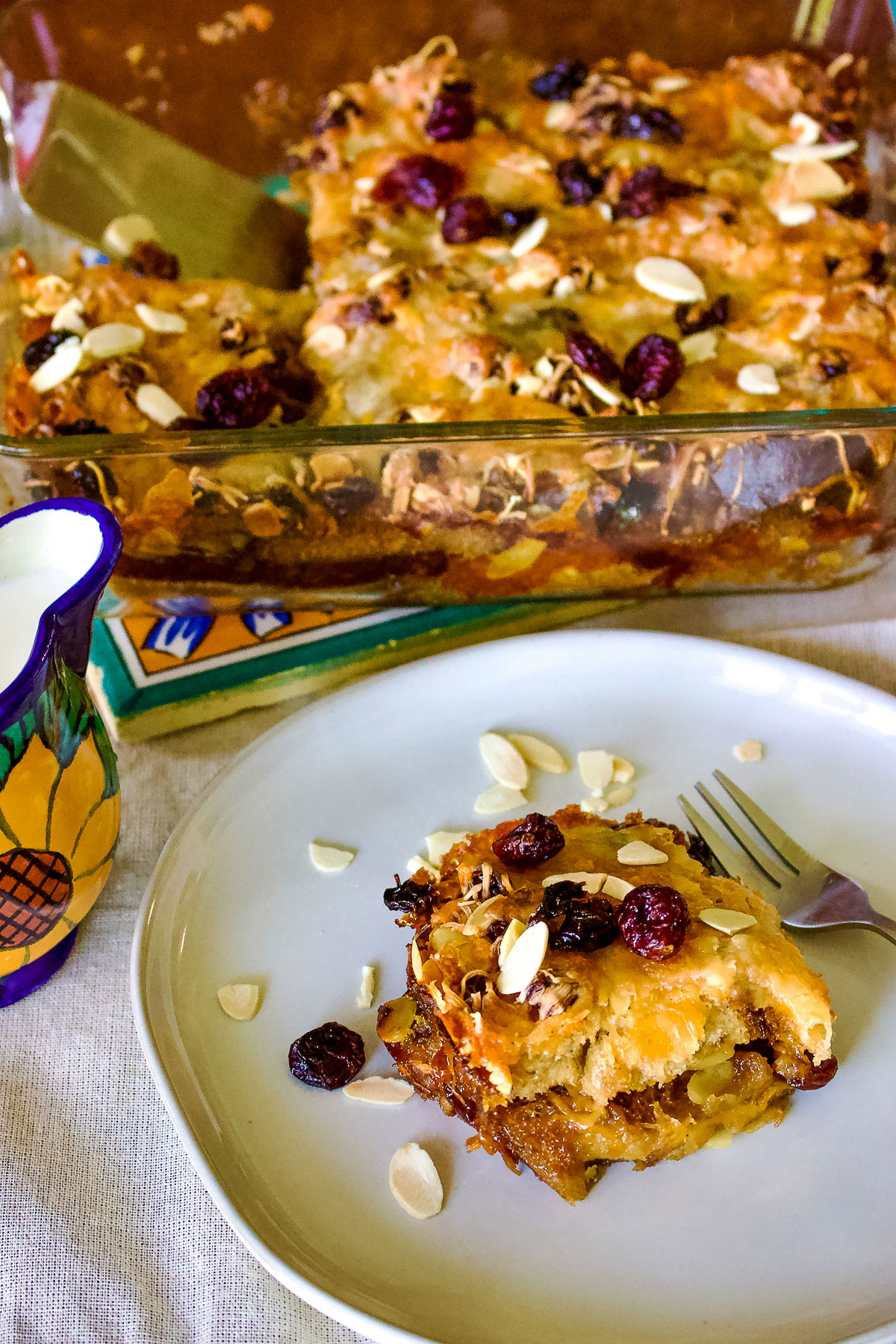 Jump to:
What is Capirotada?
Capirotada is a type of bread pudding, the Mexican version of the classic bread pudding we all know. The key ingredient that makes the difference between a classic bread pudding and a capirotada is the cheese that beautifully melts over the pudding, creating a layer of goodness.
This traditional dish is traditionally eaten during the Lent season as the cheese provides extra protein to Lenten observers abstaining from meat on Fridays, especially on the Good Friday before Easter.
Ash Wednesday marks the beginning of Lent(40 days before Easter), and this is the day when this recipe comes out of the recipe collections.
Of course, this beautiful Authentic Mexican Capirotada- Bread Pudding can be made all year round, and it goes well for parties, around the holidays, or Sunday meals in the family.
After researching different Capirotada recipes popular in Mexico and the US among the American-Mexican communities, I concluded that this recipe is one of the most popular.
This Capirotada recipe comes from my collection of recipes I learned to make while living in Mexico.
What kind of ingredients do we usually use on a Capirotada?
Bread- The Capirotada pudding is made with slices of small yeast rolls called bolillos (slices of French bread or crusty bread would also work). You can buy bolillo rolls in any Mexican bakery.
Like many international cuisines, the Mexican one makes good use of everything available. Nothing goes to waste, and this recipe is an excellent example of it.
The recipe requires bread that is a couple of days old. It is preferable to slice the bread and leave it overnight on a wire tray to dry it out, or you can dry it out in a slow oven.
Piloncillo (affiliate link) is unrefined whole cane sugar, typical of Central and Latin America. It is a solid form of sucrose derived from the boiling and evaporation of sugarcane juice. To use this type of sugar, you need to simmer it in water to obtain a sweet piloncillo syrup.
You can also use dark brown sugar if you prefer.
Cinnamon sticks- We use them to flavor the piloncillo syrup. The cinnamon sticks are removed before the syrup is poured over the bread.
Shredded cheese- Queso Anejo is the traditional cheese used in Capirotada. However, Monterey Jack or mild Cheddar cheese are accepted too. You need a melty cheese.
Raisins and Almonds- slivered almonds are the best for this recipe, but pine nuts work well too.
In conclusion, Capirotada is a pudding made with layers of bread, syrup, raisins, almonds, and cheese, all baked in the oven until golden brown and delicious.
I made it on many occasions, and it was always a success. Like all my recipes, this one is also easy to make and uses ingredients almost everyone has in their pantry.
The flavors work really well together, and the recipe will definitely impress you with how delicious it is!
Many cultures know how to use whatever they have in the pantry and not waste anything. Stale bread is one of these items that people never throw away.
It is a staple in many cuisines and is greatly respected. Bread is life and keeps you full and satisfied.
Of course, we are not talking about the bread you find in grocery stores nowadays, that low-quality wheat, processed too much and infused with ingredients that should never be in a loaf of bread.
We talk about real bread made only with flour, yeast, salt, and water, which provides energy, nutrition, and comfort.
This recipe repurposes old bread at a time when people fast during Lent.
It is such a humble recipe that uses simple ingredients that are probably sitting in someone's pantry waiting to be used.
How to make capirotada
Step 1. The bread.
First of all, any bread works. As I said before, bolillo bread is the traditional one (it is crunchy on the outside and soft inside.)
It is also called "pan blanco," but a French baguette is acceptable too, or white country bread.
It has to be a few days old or quite dry.
If it is not, just cut it into thick slices and dry it for a few minutes in a low-temperature oven.
Or butter the bread slices on both sides, place them on a baking sheet under the broiler for 3 minutes on each side, and you have already completed the first step of the recipe.
Step 2. Make the syrup.
While the bread is getting ready for the next step, make the syrup.
In a small pot or saucer, place sugar, water, and cinnamon sticks.
Bring the water to a boil and simmer gently until the sugar completely dissolves. Remove it from the heat and allow it to cool.
Step 3. Assemble the Capirotada.
Now is the time to layer the bread on the bottom of the baking dish with the rest of the ingredients. I had enough bread to end up with two layers of bread, but I made this pudding using only one layer in the past.
It was still good. Sprinkle raisins, almonds, and cheese over the first layer of bread.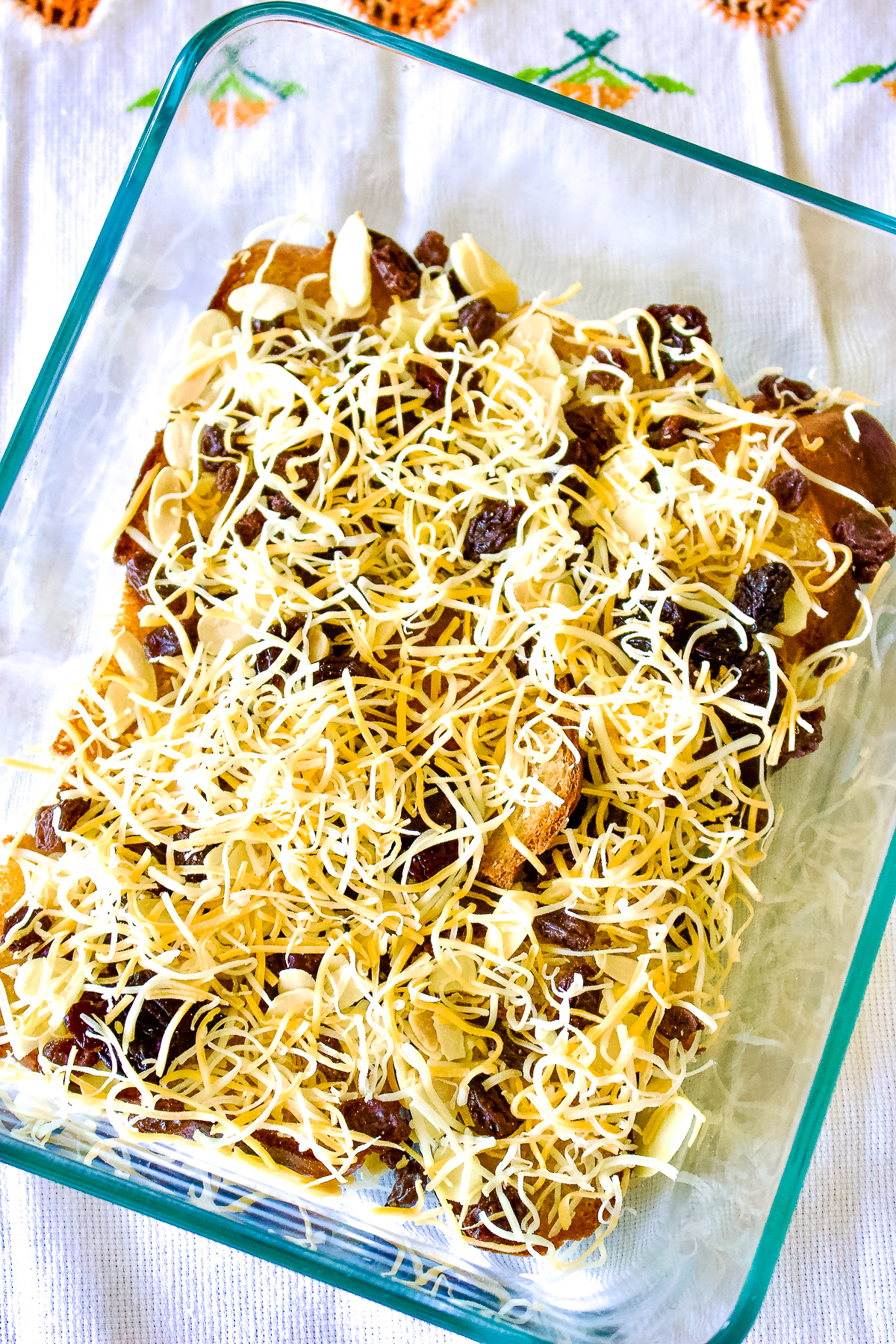 Pour half of the syrup over the first layer of ingredients.
Allow the bread to soak that syrup for 5 to 10 minutes. Then you can continue with the next layer of bread, raisins, almonds, and cheese.
Pour the rest of the syrup over the bread and let it soak again.
Step 4. Bake.
Bake until golden brown on top. The bottom layer of goodness will be slightly caramelized from the brown sugar. The pudding is going to be soft in the middle and crunchy outside.
Serve it cold, with heavy cream on top, and decorated with some flaked or slivered almonds (affiliate link).
Check out the web story for this recipe: Mexican Capirotada (Bread Pudding)
Delicious flavors and textures make this traditional capirotada dessert an attractive option for any end of the meal. Enjoy!
How about another bread pudding recipe? Try Blueberry Bread Pudding With Cheddar.
More Mexican Recipes To Love:
Tinga Poblana- Mexican Pork Tinga
Authentic Mexican Chicken Tinga
Caldo de Pollo- Mexican Chicken Soup
Authentic Mexican Bistec Encebollado
Craving more? Subscribe to The Bossy Kitchen to get new recipes and a newsletter delivered straight to your inbox! Stay in touch on Facebook, Twitter, Pinterest, and Instagram for all of the latest updates. Don't forget to use the star rating and leave a review.
📖 Recipe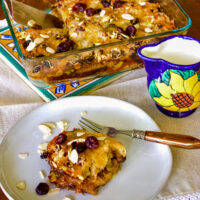 Capirotada- Authentic Mexican Bread Pudding
Capirotada is the Mexican version of the so-known bread pudding. It's traditionally eaten during Lent, as some say, because the cheese provides extra protein to Lenten observers abstaining from meat on Fridays. Of course, this beautiful Authentic Mexican Capirotada- Bread Pudding can be made all year round, and it goes well for parties, around the holidays, or Sunday meals in the family.
Print
Pin
Share
Grow
Saved!
Rate
Equipment
Goya Piloncillo Panela, Brown Sugar Cane

Organic Korintje Cinnamon Sticks
Instructions
The recipe works better with older bread that is quite dry.

Preheat the oven to 350F/180C.

Slice the bread about ½ in thick or 1 cm. Lightly butter on both sides.

Layer on a baking sheet and bake for 3-4 minutes on each side, until lightly toasted and dry. Remove and cool. Set the slices aside.

Place the sugar, cinnamon, and water in a pan. Heat gently, stirring until the sugar has dissolved. Bring to a boil, lower the heat and simmer for 5 minutes without stirring to reduce it. Remove the cinnamon stick and let the syrup cool.

Grease an 8-inch/20cm square baking dish with butter.

Layer the bread, almonds, raisins, and cheese in the dish, pour the syrup over, letting it soak into the bread for 5-10 minutes. Repeat the steps with the same layer of bread and the rest of the ingredients. Do not omit this step. The bread needs time to soak the syrup; otherwise, the syrup will run to the bottom of the dish, and the top layer will remain dry.

Bake the pudding for about 30 mins, until golden brown.

Remove from the oven, leave to stand for 5 minutes, then cut into squares.

Serve warm or cold with heavy cream over and decorate it with some flaked almonds.

This dish makes a great breakfast the next day with milk poured over.
Nutrition
Serving:
1
g
|
Calories:
365
kcal
|
Carbohydrates:
39
g
|
Protein:
7
g
|
Fat:
21
g
|
Saturated Fat:
10
g
|
Polyunsaturated Fat:
2
g
|
Monounsaturated Fat:
8
g
|
Trans Fat:
0.5
g
|
Cholesterol:
43
mg
|
Sodium:
156
mg
|
Potassium:
142
mg
|
Fiber:
2
g
|
Sugar:
31
g
|
Vitamin A:
465
IU
|
Vitamin C:
0.03
mg
|
Calcium:
190
mg
|
Iron:
1
mg
Tried this recipe?
Please leave a comment on the blog or like us on Facebook!