Hi! I am Gabriela, and this is my virtual home. I am a self-taught cook and a trained Pastry Chef.
I grew up in Romania during a tough time in communism. Life was hard, but the family was always very important. I moved to the U.S. many years ago, and now I live in Minnesota, a very cold but cool state.
Despite the harsh environment, long winters, and short hot summers, I think this place suits me.
My maternal grandmother is the one from who I inherited the cooking genes.
In this photo, you can see Elisabeta, with her husband, my grandfather Nicolae and my mom, Victoria, who I believe was about 5 years old when the picture was taken.
This is also her, my grandmother, later in life, after I was born. She is holding me in her arms.
I will always remember my summer vacations at her house while growing up, the good times, and her amazing food. Here is an easy, delicious recipe of French Fries that reminds me a lot of her food.
In the picture below is my paternal grandmother, Herta, with me. Herta lived in Transylvania and had a German heritage.
She moved to Germany at 84 years old, together with my family's paternal side. She was a very strong lady, and even though she moved to Germany at such an old age, she never forgot her roots.
Herta traveled back and forth between Germany and Romania, spending winters in Germany and summers in Romania. She passed away at 94 years old.
I think I inherited the love for baking from her. Her German cookies and pastries were to die for. Here is one of the recipes that remind me of her baking.
Coming from a country under a lot of oppression and with scarce food for many years, I learned to love easy, simple recipes that use processed-free ingredients and common sense.
My cooking and baking style is mostly European, but you will also find recipes on my blog from other parts of the world.
I am also fascinated by old recipes because I believe that people used to eat healthier and more in season than today.
For that matter, I have a unique perspective when it comes to food. My mother, for example, worked full time, but we always had cooked food on the table.
We also did not have supermarkets, boxed foods, or processed ingredients. We had to cook and bake with real ingredients.
We ate many leftovers as my mom would cook enough food to last for 3-4 days on Sundays. When I grew up and then got married, I also did the same thing.
No cooking meant no eating. Also, cooking on weekends made our life easier during the week.
Canning meats, vegetables, or fruits was a way of life. Everyone was very busy in the fall, canning vegetables and fruits, pickling cucumbers, or making sauerkraut.
The rest of the winter was spent enjoying the fruits of the labor. Zacusca- the traditional Romanian vegetable spread was to die for.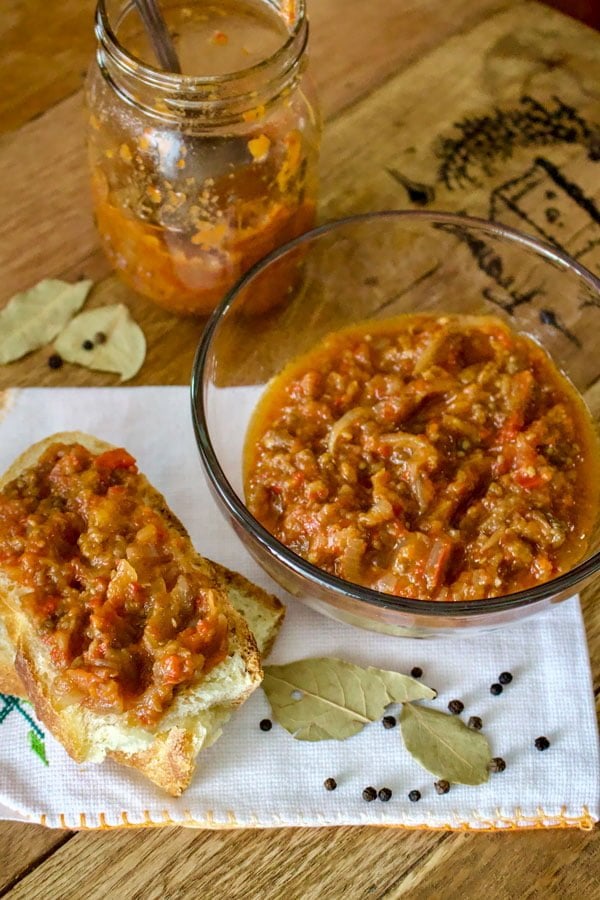 Baking desserts was also done maybe once a week, usually during the weekends. Sundays, to be more precise, because, during communism, the working week was Monday to Saturday. (yikes)
Most European desserts are less sweet than American ones, which will be reflected in many recipes you will find on my blog.
Most people in the States will find them very different. Europeans put a lot of emphasis on flavors and taste versus sweetness.
Because I understand that cooking in bulk once or twice a week is not everybody's cup of tea, I decided to share recipes that you can easily make any day of the week.
On my blog, you will find recipes made from scratch. I wanted to show you that you can drop all the boxes of cake mix, canned soups, non-dairy whipped products, and other things that your body cannot deal with and use REAL ingredients.
Many people are shocked when they learn that it is not that expensive to eat well and also healthier, while moderation is key.
Do you read the labels when you shop for food? I do! A lot! I need to make sure that I know what I put inside my body.
I also believe that cooking is love made visible, so how do I show you my true love if I feed you junk?
Where is my responsibility in the kitchen towards my family if I feed them a product from the store that has aspartame, propylene glycol, red 40, and yellow 5 in it? That is not real food, people!
For that matter, even when I bake, I try to avoid coloring buttercream or glazing cookies and cakes with crazy food colors.
Sometimes you will find on my blog recipes that are naturally gluten-free, vegetarian, or vegan. I don't think I can be a vegetarian, and I could never give up gluten.
I love meat, especially pork, as I grew up with it. Salami, sausages, bacon…oh yes!
People look at me like I come from a different planet when I tell them that I grew up eating sandwiches with lard, salt, and pepper for lunch while in school.
However, ask any German, for example, what they think about schmaltz!! Totally great in moderation!
Also, make sure you sign up for my monthly letter to receive new and old recipes from the blog.
Thank you for visiting my blog! I really hope you will come to visit once in a while and join me in my culinary adventures!
For more information about me and what I am doing, please visit the FAQ page.
If interested in working with me, please visit "Work with me" page.
Thank you!