Mustard Pickled Vegetables- a winter delight– great for the holidays, perfect as an appetizer, side dish with roasted meats or just as a snack.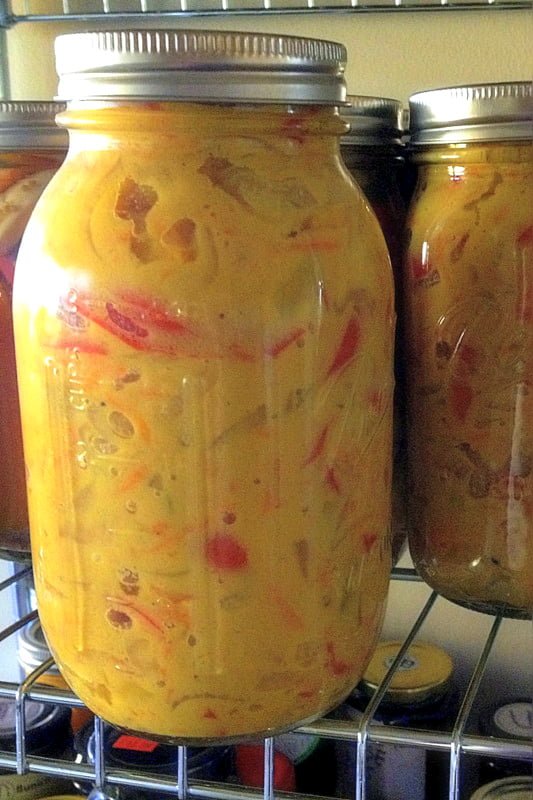 Canning seems to be a forgotten skill in the modern times and few people enjoy doing it or finding it necessary.
With the abundance of fruits and vegetables all year long in the supermarkets, there is no need to can anymore as our ancestors used to do it for survival reasons.
People used to eat in season and if you did not can over the summer and early in the fall you had no food for the winter, which was a big problem.
I grew up back in Eastern Europe, in the 70's and 80's when we did not have supermarkets.
We were used to buy vegetables from the Farmers Markets, eat in season and can everything under the sun for the winter.
It did not matter if you lived in a village or a city, this was the norm if you wanted to eat well during the cold season.
This recipe in particular is a dear one to me. It is a family heirloom that went from one generation to another and shared among women in the family.
I was not sure how to call it, as it is not a relish, but more like a cold vegetable salad that we serve as an appetizer, or next to any kind of roasted meats, as a side dish.
I sometimes eat it on a slice of homemade bread, as a light lunch.
It is tangy, mustardy, delicious, keeps well for months and it is very different that any regular pickled vegetables you might tasted before.
Few notes before we start making these mustard pickled vegetables:
The biggest amount of work for this recipe is chopping the vegetables, but in the modern world, we always have options. A food processor makes your life easier, so please make yourself a gift and get one.

The amount of ingredients can be adjusted based on your needs. This is the original recipe we used to start with. If you want to make more of just half of it, it is perfectly OK to do so.

Also, make sure you clean and sterilize your jars before using them. As I hope you already know, this is the most important rule of canning. If you don't sterilize the jars properly, you either get sick from the food, or the food spoils before you get to enjoy it. If you do not know how to get the jars ready for canning, here is some information.
To see other canning recipes in my small collection, please click here.
Do you like pickled hot peppers ?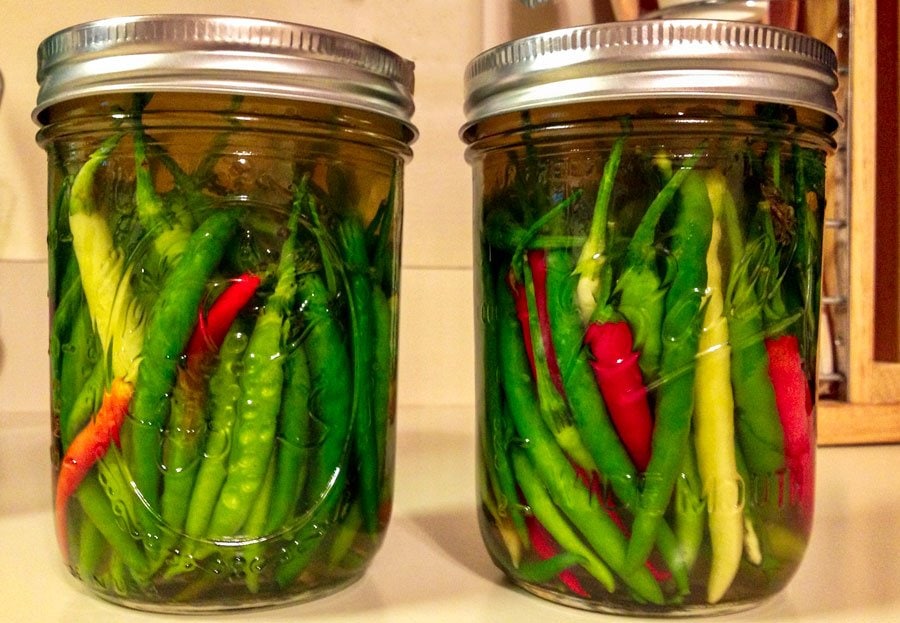 Would you like to find out how simple it is to freeze fresh herbs from your garden so you can use them in winter? You are in the right place.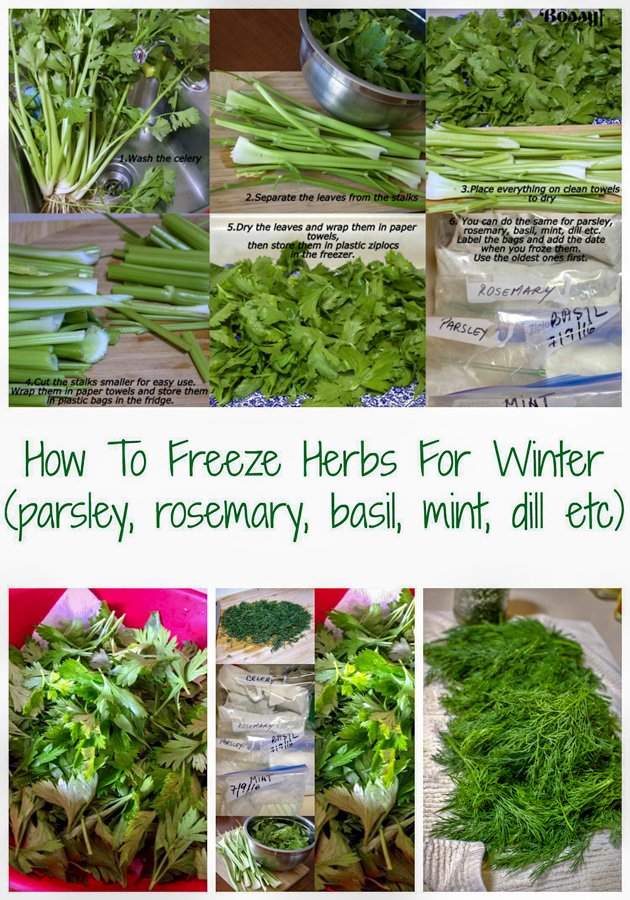 How about that bunch of herbs in your garden that you would like to preserve somehow for winter? there is an old method that tends to be forgotten: SALT! Here is a way to preserve herbs in salt.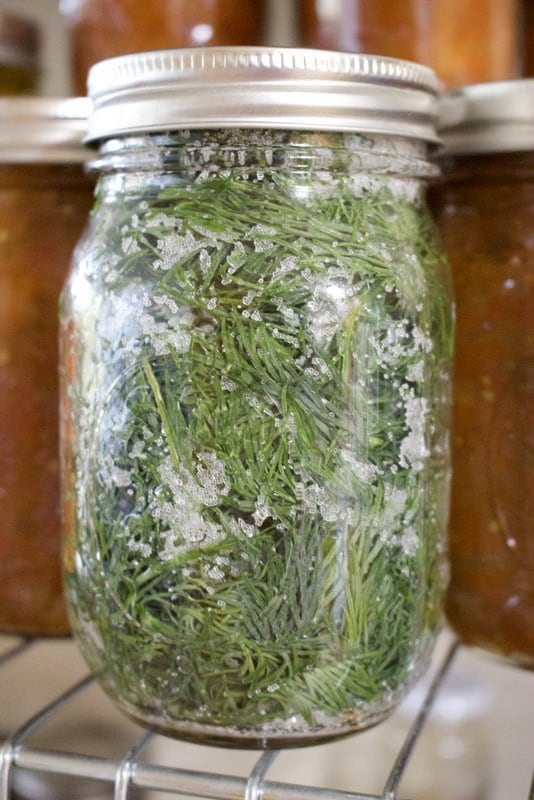 If you make a recipe, share it with the hashtag #thebossykitchen on Instagram, Facebook and Twitter so we can all see what you're cooking! 🙂
Enjoy and let's make the recipe together!
Yield: 10 jars
Mustard Pickled Vegetables- A Winter Delight
Mustard Pickled Vegetables- a winter delight- great for the holidays, perfect as an appetizer, side dish with roasted meats or just as a snack.
Total Time
1 hour
15 minutes
Ingredients
2.2 lb/1 kg carrots shredded
2.2 lb/1 kg sweet banana peppers or Cubanelle pepper sliced thinly
2.2 lb/1 kg red bell pepper sliced thinly
2.2 lb/1 kg onion sliced julienne
2.2 lb/1 kg green tomatoes thinly sliced
2 medium celeriac plus the leaves- the celeriac is shredded, leaves are chopped
4cups/1 liter plain water
2 cups/1/2 l white vinegar 5% acidity
1 1/4 cups/ 250g granulated sugar
3 1/2 Tablespoons/60 g salt
3 1/2 cups/750 ml vegetable oil(like sunflower oil)
Instructions
Clean and sterilize the jars.
Prepare the vegetables: slice the onions julienne, shred the carrots and the celeriac (a food processor works perfect for this step), slice thinly the peppers and the green tomatoes.
In a big pot, bring to a boil the water, vinegar, sugar, salt, pepper and bay leaves.
When the sugar dissolves and the mixture comes to a boil, throw the vegetables in the pot in the following order: carrots, celeriac, onions, peppers and finally the green tomatoes.
Bring the pot back to a boil and keep the vegetables only 3 minutes from the time the pot started to boil again.
Remove them with a spatula and place them in a big bowl.
You will not need the vinegar and water solution anymore after that.
Mix the mustard and the oil separately, like a mayonnaise.
Pour the mustard sauce over the mix of vegetables in the bowl and mix well.
Fill up the jars with this vegetable mixture, close the jars tight and flip them upside down until they cool down completely.
Keep the jars in a cool, dark place.
Serve this vegetable mixture as an appetizer, salad or next to roasted meats in the winter.
Recommended Products
As an Amazon Associate and member of other affiliate programs, I earn from qualifying purchases.