This recipe of Apricot Jam with Ginger Almonds and Mint will bring the summer closer to you. The delicate apricots with a hint of ginger and flavored with fresh mint are just beautiful together. Make this jam and have it for breakfast on a piece of tasty baguette and a cup of fresh coffee.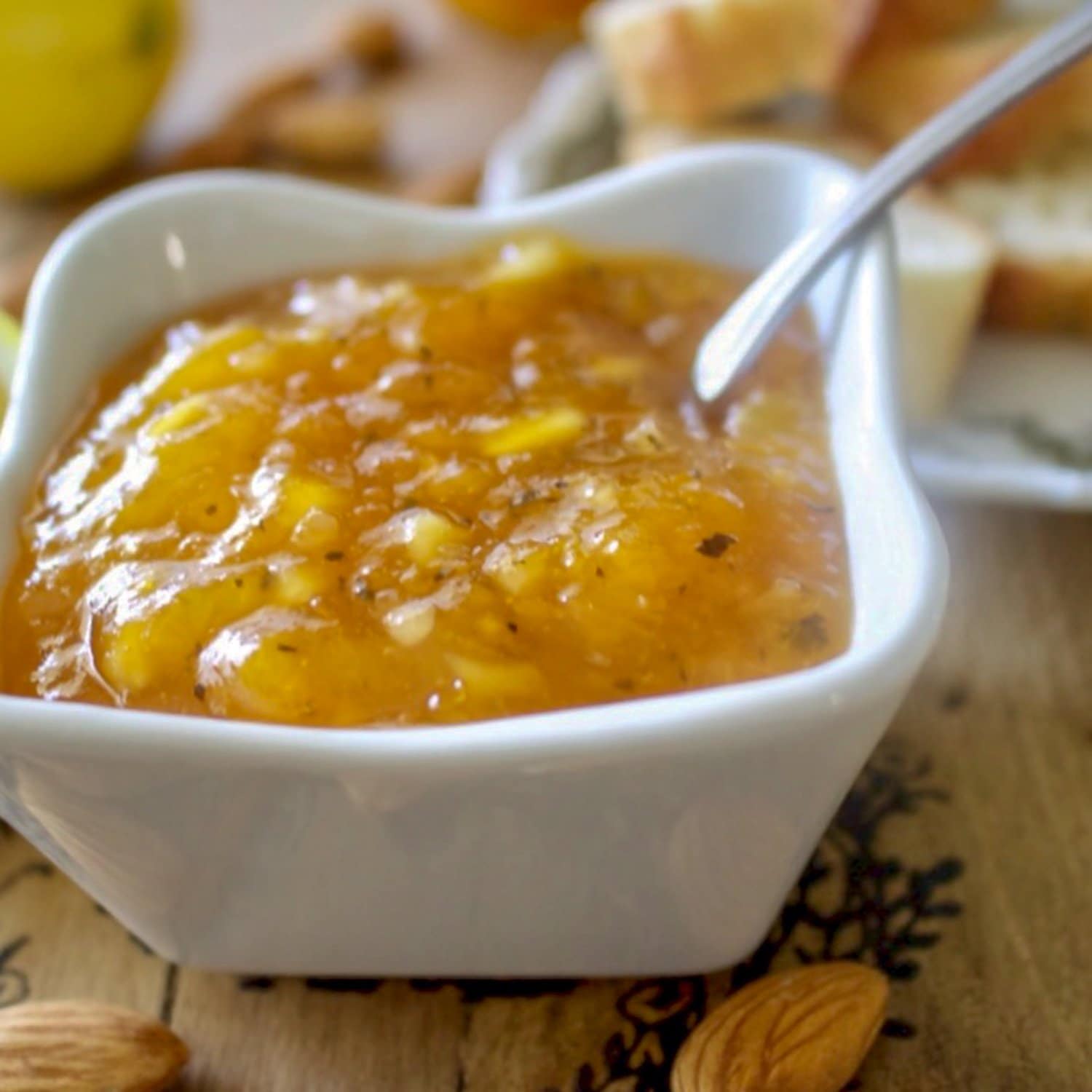 Jump to:
Why you will love this jam
Make this Apricot Jam with Ginger Almonds and Mint for a quick, delicious meal.
Apricots. Just the name can make your mouth water. I love them. As a matter of fact, I think I am in love with them.
I grew up in a house with pretty substantial old-world influences, food-wise.
We ate what was in season and were lucky to have lots of fruits and vegetables during the summer. Fresh apricots, strawberries, sour cherries, and regular cherries were a sure sign that it was June.
Then there were peaches in July. We ate them while on vacation to the Black Sea, sizzling our skin on the sunny beach. The fragrance of the juicy peaches, while breathing the salty air of the sea, will stay with me for the rest of my life.
We ate copious amounts of plums during August, while grapes were reserved for September and October and quinces for the rest of the fall.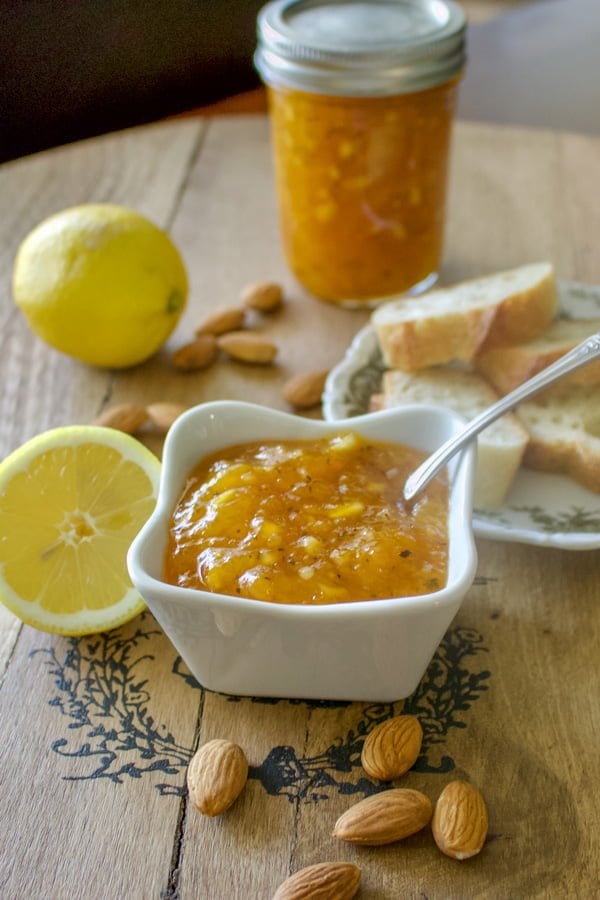 Too bad apricots are not exactly big in the US. Many fresh apricots, while pretty, are dry and tasteless. Others are mealy/mushy.
But if you get one that is just right, it is pretty much fruit perfection. I miss them terribly.
There's nothing like a perfect apricot. The pale orange color of the fruit's skin and darker inner pulp is so distinctive!
The fruit is velvety and appealing to hold and touch. And oh, that fragrance...
Maybe writing this post makes me finally admit how in love I am with this little fruit.
This past weekend, we visited the local Co-op where we found organic apricots. Sadly, they were not as flavorful as I remember them, so I decided to make them into jam and add ginger, almonds, and mint.
They needed some help to become glorious. As a rule, I do not can if the produce is not organic.
Who wants to eat preserved pesticides anyway?
By the way, did I tell you that I am a jam hoarder? Yes, I am, and I am very proud of it! I did not hoard jams until I moved to the US many years ago.
We live in Minnesota, where the growing season is short, and many fruit trees cannot make it in these long, cold winters we have.
So, I started to collect jars of jam, especially the ones made with European fruits.
I also have friends! Friends who really love me because every time I go back to Romania for a visit, I receive lots of jars with fruit preserves as gifts.
Sour cherries, quince, or rose hips are some of my favorites. Also, green walnut or rose preserves are some special ones.
My maternal grandma used to grow a few very fragrant rose bushes in her garden just for this purpose. (see a recipe here for rose petals cookies).
My daughter called me the other day, telling me that since she came back to the US from her year studying abroad in Europe, she has been unable to find a good jam for her morning toast.
I had to solve the problem immediately, so I sent her a jar of this apricot jam in a care package, and she's been enjoying it every morning ever since.
The combination of ginger and mint is amazing, and the almonds add an interesting texture to it. A slice of good bread with butter is all you need for this jam...perfect snack or dessert.
Growing up, this was our regular snack. Bread, butter, marmalade, jam, or preserves were all we needed.
The preserves are low in calories and provide the perfect amount of sweetness when it comes to a sweet tooth.
By the way, I just wanted to show you that after I fill up the jars with jam, I flip them upside down and cover them with some kitchen towels allowing them to cool down.
This way, they stay fresh for a longer period of time.
I made a very small batch just for immediate consumption. The recipe is very easy to follow, so if you have access to apricots, I dare you to try it.
Recommendation
Kids will enjoy it, too (I know my own big kid enjoyed it).  It is great for breakfast, snacks, or dessert, as a topping for ice cream or rice pudding.
The apricots become quite tangy as you cook them, so as a rule of thumb, for each pound of fruit, use half-pound sugar.
I do not recommend going with less sugar as it will not set correctly. Also, as the fruit becomes tangy during the cooking process, you need that amount of sugar in it.
So, are you going to make the jam? Leave a comment at the bottom of this post, and let me know.
And if you are in the mood, try making these crepes and fill them with jam! Then invite the family to join you! Yum!
More recipes to love
Pumpkin Seed And Apricot Pumpkin Sweet Bread
Homemade Mango Honey Ice Cream
📖 Recipe
Apricot Jam With Ginger Almonds And Mint
This recipe features a delicious summer jam ready to enjoy on bread and butter, rice pudding, ice cream, or just as is.
Print
Pin
Rate
Servings:
18
servings per 13oz jar
Ingredients
1

pound

Chopped apricots

½

pound

Granulated sugar

¼

teaspoon

Ginger powder

¼

cup

Slivered roasted almonds chopped small

½

teaspoon

Dried mint or a teaspoon of fresh chopped mint
Instructions
Slice the apricots in half to extract the pits.

Chop the fruits into small bits and place them in a stockpot.

Add the sugar, ginger and mint.

Mix and let everything sit together for about an hour, to release the juices.

Place the stockpot on the stove on medium heat and cook the fruit uncovered.

Skim off any foam that rises to the surface. As the mixture thickens and reduces, stir frequently to make sure the jam isn't burning on the bottom.

Add the chopped almonds.

When the jam looks thick and is slightly-jelled, turn off the heat.

(You can use a candy thermometer if you wish. The finished jam will be about 220ºF/104ºC.)

Once done, ladle the jam into clean jars.

Cover tightly and let cool to room temperature, flipping the jar upside down.

Once cool, refrigerate until ready to use.

If you want to make jam for the winter consumption, please refer to the USDA canning guidelines for instructions.
Nutrition
Serving:
1
g
|
Calories:
49
kcal
|
Carbohydrates:
13
g
|
Protein:
0.002
g
|
Fat:
0.04
g
|
Saturated Fat:
0.001
g
|
Sodium:
0.1
mg
|
Potassium:
1
mg
|
Fiber:
0.004
g
|
Sugar:
13
g
|
Vitamin A:
0.01
IU
|
Calcium:
0.2
mg
|
Iron:
0.01
mg