Pumpkin Seed And Apricot Pumpkin Sweet Bread is a very moist and delicious recipe for pumpkin bread. The surprise in this bread is the addition of dried apricots and the candied pumpkin seeds sprinkled over the bread.
Pumpkin Seed And Apricot Pumpkin Sweet Bread
October and November are considered the months when everyone eats pumpkin in any form. I think pumpkin should be consumed all year round because it is an awesome vegetable that is delicious and versatile.
I love pumpkin bread in the fall. It makes a beautiful snack during the day with a cup of coffee or tea, especially when you live in Minnesota, as I do.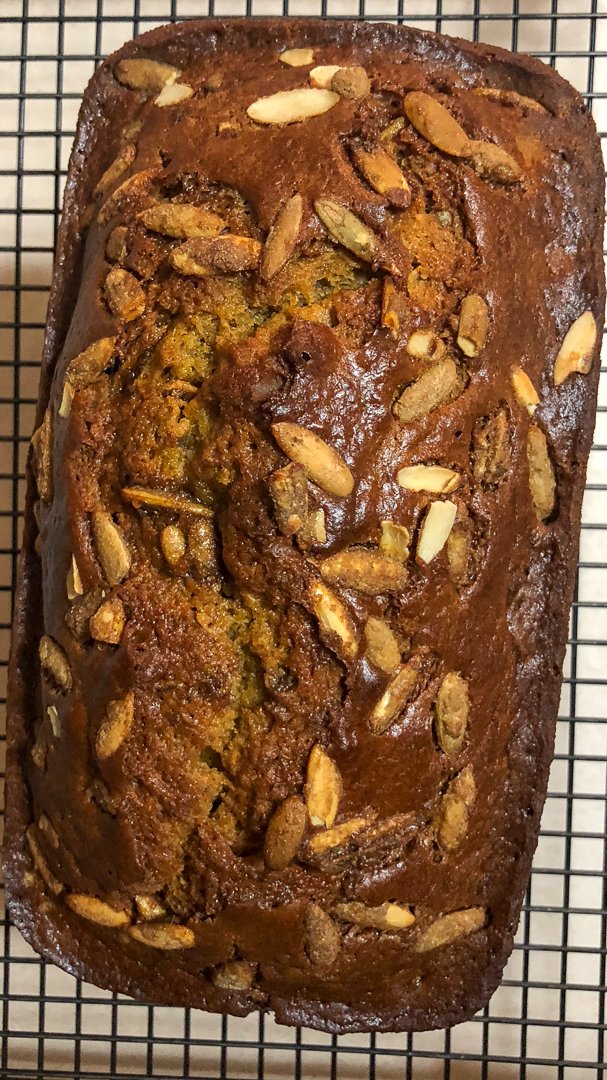 It is only the beginning of November, people, and we already have snow on the ground. The temperatures are dropping tonight to 7-8F(which is about -14C).
I look through my living room window, and I see the wind blowing the snow we had last night and today.
I already had a few cups of coffee, soup, and two cups of tea while working on my blog today.
You want to hide under a warm blanket and show up in May when the spring might come to this part of the world.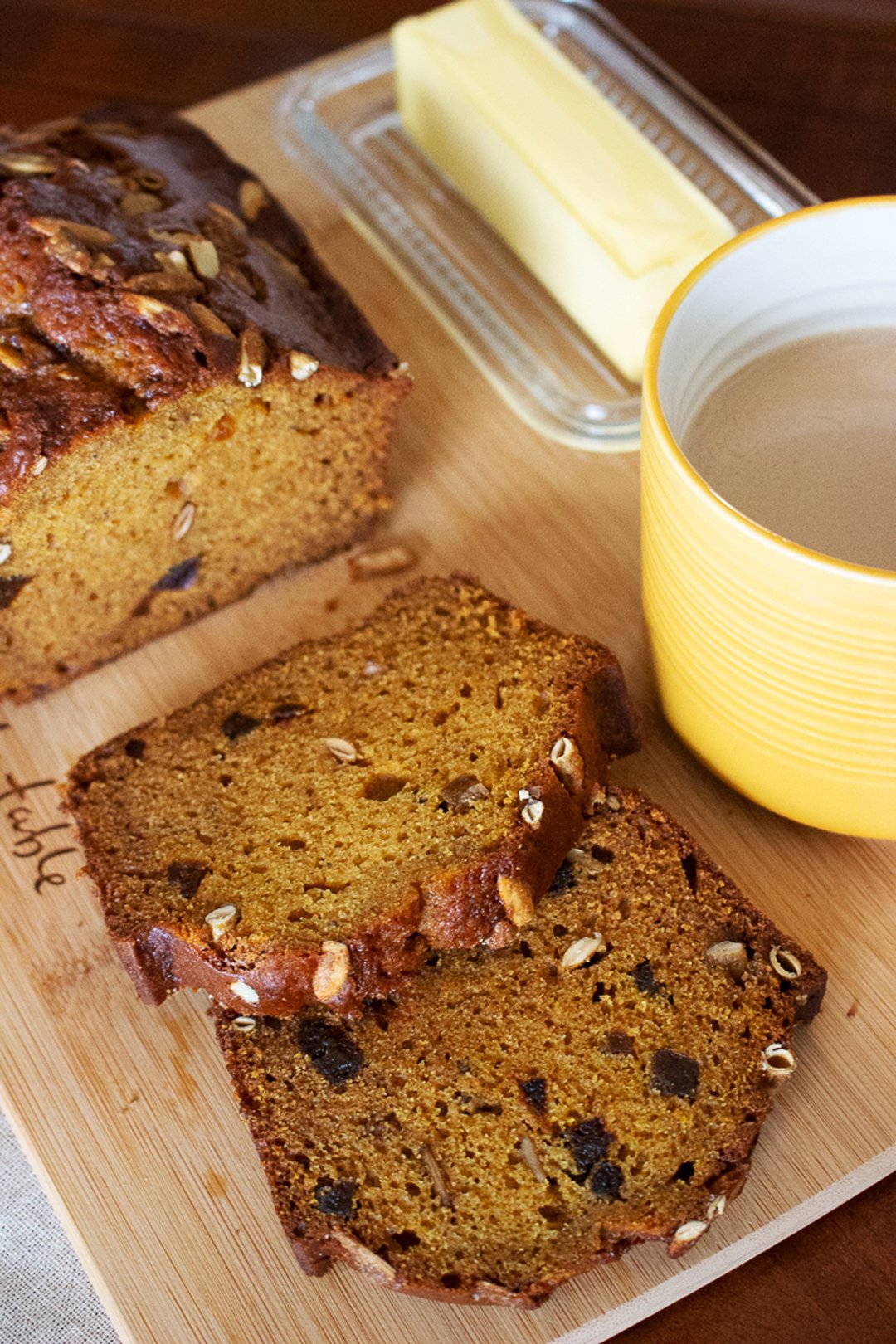 Baking is a big part of the survival skills we have around here. I do not know what I would do if I would not have an oven.
I make a lot of stuff in it. From cookies to roasted chicken, cakes, and savory or sweetbreads, the oven is my best friend.
This recipe is easy to make. I usually shop at Trader Joe's for a lot of stuff, and this time, I used these Trader Joe's Pumpkin Spiced Pumpkin Seeds, but if you do not have access to Trader Joe's, regular toasted pumpkin seeds are wonderful to use.
If you have a Mexican store around, you can find bags of pumpkin seeds there called Pepitas, and in Mexican cuisine, these seeds are used in many dishes.
I also used dried apricots, which I love. Dried apricots have a lot of potassium, so for the ones out there who need a potassium boost in their diet due to health issues, this product is an awesome way to refill the tank.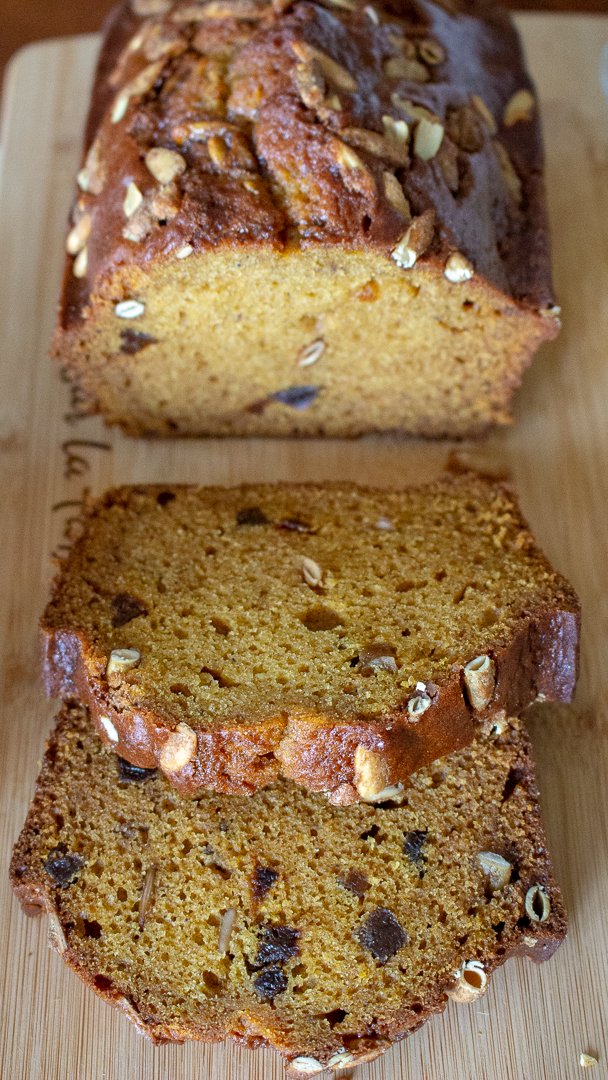 The spices in this bread are warming ones, specific to fall. My favorite spice in this recipe is the cardamom that I always loved.
Also, the ground ginger brings a little bit of spiciness that enhances the rest of the flavors in the bread.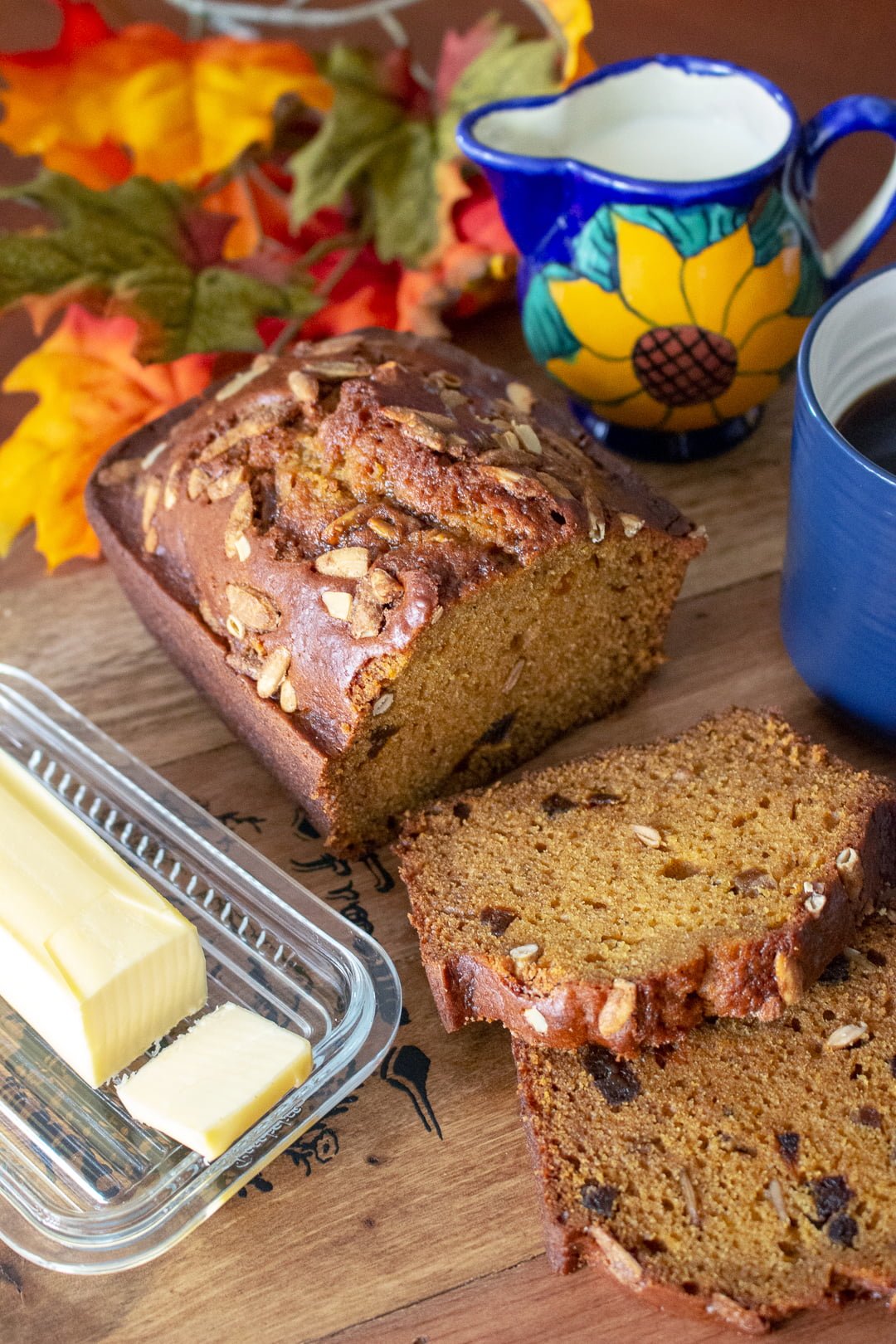 The leftover pumpkin pure you will have from baking the bread can be frozen for later or used to make these gorgeous Sausage Pumpkin Pinwheels, which would be perfect for a party with appetizers around the holidays.
I would love these for Thanksgiving or even New Years' party.
If you need to make more bread, just double the recipe. The pumpkin bread loaves can be frozen and defrosted at room temperature later.
Enjoy and happy baking, everyone!
More recipes to love:
Pumpkin bread with fresh cranberries
Pumpkin bread with walnuts and raisins
Check out the web story for this recipe: How to make Pumpkin Seed And Apricot Pumpkin Sweet Bread
Yield: 1 loaf
Pumpkin Seed And Apricot Pumpkin Sweet Bread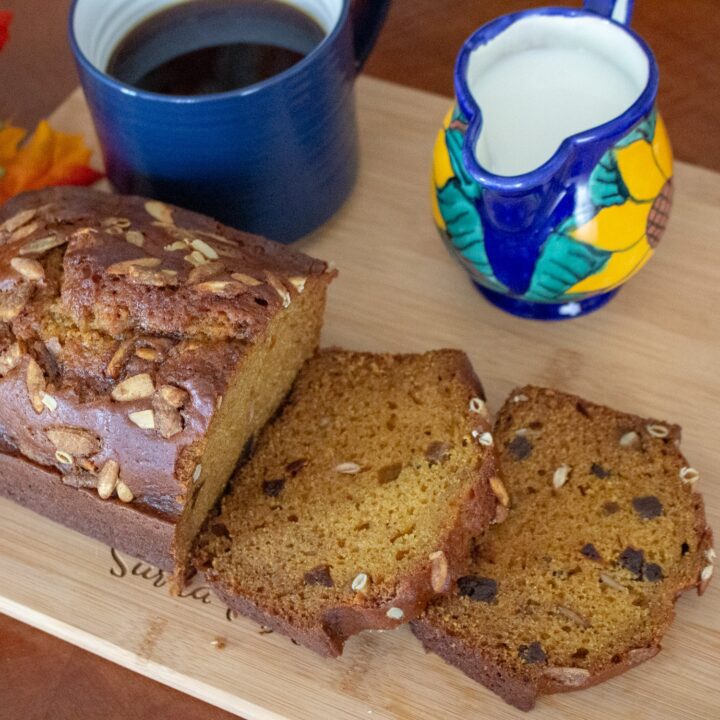 Pumpkin Seed And Apricot pumpkin Sweet Bread is a very moist and delicious recipe for pumpkin bread. The surprise in this bread is the addition of dried apricots and the candied pumpkin seeds sprinkled over the bread.
Additional Time
10 minutes
Total Time
1 hour
30 minutes
Ingredients
1 1/2 cups all purpose flour
1 cup granulated sugar
1 teaspoon baking soda
3/4 teaspoons salt
1/2 teaspoon ground cinnamon
1/4 teaspoon ground cardamom
1/4 teaspoon ground ginger
1/4 teaspoon ground nutmeg
2 large eggs
1/2 (15-oz) can pumpkin pure
1/2 cup vegetable oil(I used sun flower oil)
1/4 cup fresh orange juice
1/2 cup chopped dried apricots
Instructions
Preheat oven to 350F/180C. Grease the bottom and the sides of a 9x5 inch loaf pan. Set aside.
In a large bowl, stir together the dry ingredients: flour, sugar, baking soda, salt, cinnamon, cardamom, ginger, and nutmeg. Set aside.
In a different bowl, stir together eggs, pumpkin, vegetable oil, and orange juice.
Add egg mixture to the dry ingredients. Stir the ingredients together. Add the chopped apricots.
Pour batter into prepared pan. Sprinkle the top of the loaf with pumpkin seeds.
Bake for 55 to 60 minutes or until a toothpick inserted in the center of the loaf comes clean.
Cool bread in a pan on a wire rack for 10-15 minutes.
Remove bread from the pan and cool completely on the wire rack.
Recommended Products
As an Amazon Associate and member of other affiliate programs, I earn from qualifying purchases.
Nutrition Information:
Yield:
10
Serving Size:
1
Amount Per Serving:
Calories:

216
Total Fat:

2g
Saturated Fat:

1g
Trans Fat:

0g
Unsaturated Fat:

2g
Cholesterol:

37mg
Sodium:

304mg
Carbohydrates:

45g
Fiber:

3g
Sugar:

25g
Protein:

5g
Note: "We are a participant in the Amazon Services LLC Associates Program, an affiliate advertising program designed to provide a means for us to earn fees by linking to Amazon.com and affiliated sites."