This easy marbled pound cake is moist, fluffy, and delicious. This coffee cake is great as a snack with a cup of coffee or milk.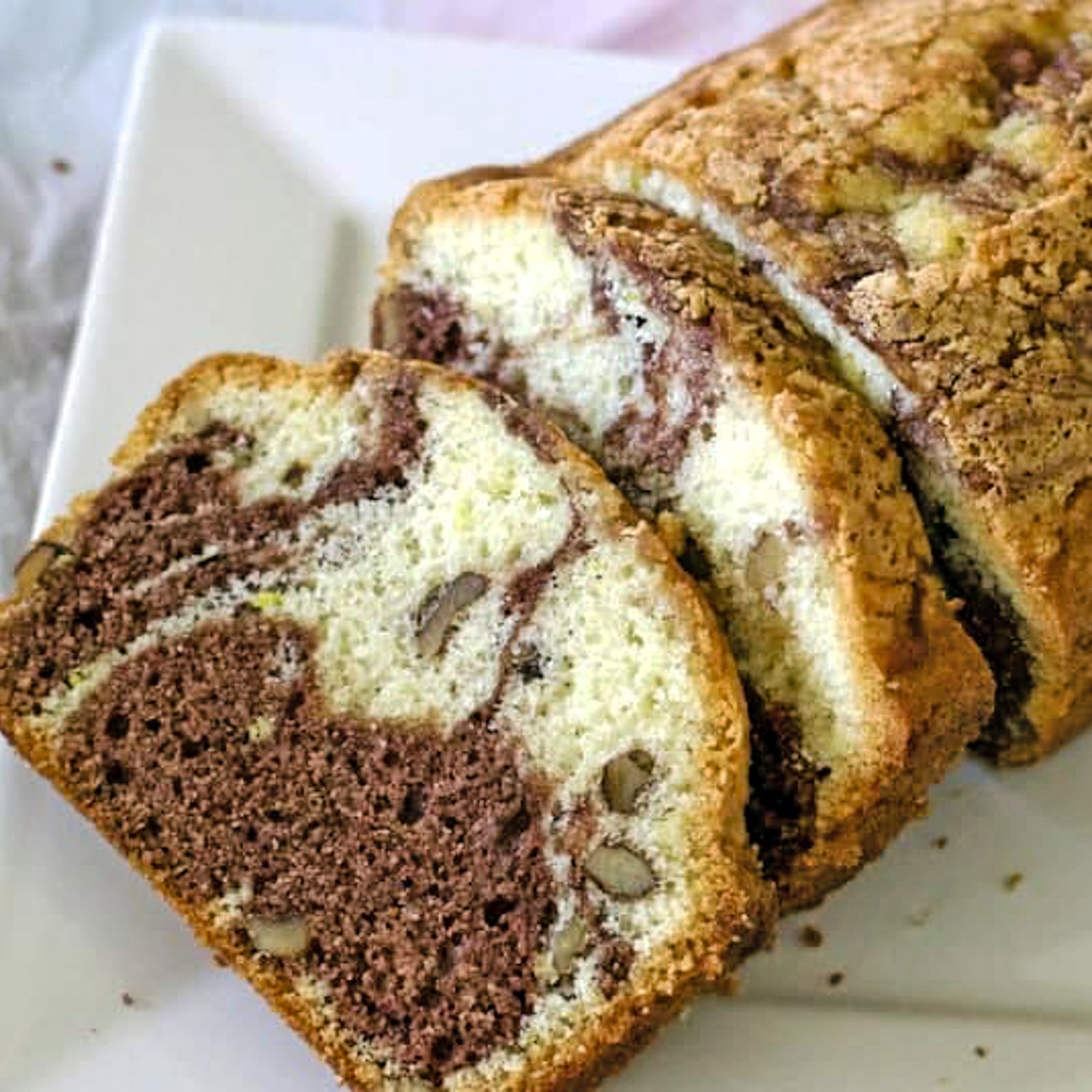 marbled pound cake
This humble recipe is beautiful and delicious, and it will brighten your day. It is a simple sweet bread that can be made any day of the week when you crave some comfort.
It works really well next to a cup of tea or a coffee.
The quantities on this recipe are for two loaves, so if you prefer, you can freeze one for later.
It is a great bread for potlucks, great for your kid to take to school in his lunch box, great for when you have company for coffee and many other occasions when you need something to calm down your sweet tooth.
Here you can find another option of sweet bread-Blueberry Orange Bread With Walnuts:
or this Low Sugar Bread with Dried Fruits and Nuts– one of the best!
Did I mention that this recipe is also great for picnics and trips? The bread can be sliced and wrapped in individual little bags if you travel by car, train, or even plane.
Much better than the small snack bags you receive in the plane, right?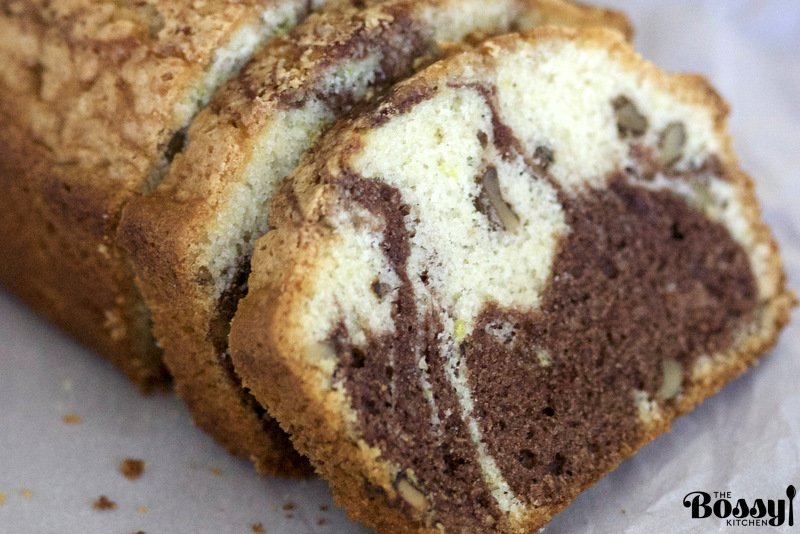 You can add walnuts, pecans, or other nuts you like; you can develop different flavors, like lemon, rum, or almond.
The options are endless, you just have to find your favorite combination.
It is a classic Romanian bread that I grew up with, and I like to make it quite often. When my mind goes blank, and I lack ideas, I go for this sweet bread.
The secret to obtaining fluffy, delicious sweet bread stays in the egg whites. The egg whites are beaten until stiff and very gently folded into the batter.
The bread will rise only because of the air that we incorporated into the egg whites.
In the past, people did not have baking powder or baking soda available all the time, so a lot of the work was done by the strong arms of the baker who would beat the heck out of these egg whites to obtain a fluffy final product.
Now we have electric mixers that can do the same thing for us. Definitely life got easier, right?
Enjoy and let me know if you liked it! And if you did, maybe you want to take a look at this Sour Cherries Sweet Cornbread too. It is also very delicious and very Romanian.
If you make this recipe, share it with the hashtag #thebossykitchen on Instagram, Facebook, and Twitter so we can all see what you're cooking!
Come follow me on Pinterest for more recipes.
Yield: 2 loaves
Easy Marbled Pound Cake Recipe
This easy marbled pound cake is one of the most popular sweetbreads you will find in Romanian cuisine. Moist, fluffy, and delicious, this coffee cake is great as a snack with a cup of coffee or milk.
Total Time
1 hour
5 minutes
Ingredients
1¾ cups(350g) granulated sugar
6 eggs separated
11 tablespoons vegetable oil
7 tablespoons cold water
1 tablespoons baking powder
2¾ cups (350g) all-purpose flour
1 tablespoons vanilla
1 lemon zest
2 tablespoons cocoa powder
Instructions
Preheat oven to 350F and grease two loaf pans with butter or oil.
Separate egg whites from yolks.
With an electric mixer, beat the yolks with the oil added slowly, spoon by spoon. You want to build up the mixture, like a mayonnaise.
Add the cold water, spoon by spoon. Keep mixing.
Sift the flour and baking powder together.
Add the egg yolks and oil mixture to the flour and mix slowly.
Incorporate vanilla and lemon zest into the mixture. Set aside.
Separately, beat the egg whites with sugar until stiff.
Fold the egg whites slowly into the flour mixture. Fold only until you see that the flour was incorporated. It is OK to see some egg whites in the mixture still.
Split the batter into two parts.
Use one part to mix it with the cocoa powder. Set aside.
Pour the other half of the batter into the two loaf pans, making sure there is an equal amount of batter in each pan.
Add the cocoa batter to each pan.
Grab a fork or a spoon and swirl your cocoa batter to create patterns in the other batter.
Bake at 350F for 30-45 mins or until the toothpick comes clean and the loaves are golden brown on top.
Carefully remove them from the pans and place them on a rack to cool.
Slice the bread with a serrated knife and serve at room temperature.
Recommended Products
As an Amazon Associate and member of other affiliate programs, I earn from qualifying purchases.
Nutrition Information:
Yield:
24
Serving Size:
1
Amount Per Serving:
Calories:

129
Total Fat:

8g
Saturated Fat:

1g
Trans Fat:

0g
Unsaturated Fat:

6g
Cholesterol:

47mg
Sodium:

79mg
Carbohydrates:

12g
Fiber:

1g
Sugar:

0g
Protein:

3g
Note: "We are a participant in the Amazon Services LLC Associates Program, an affiliate advertising program designed to provide a means for us to earn fees by linking to Amazon.com and affiliated sites."