This easy marbled pound cake (known in Romania as Chec cu Cacao Marmorat) is one of the most popular sweet breads you will find around, something that almost everyone knows how to make. It is so popular that everyone has one or more versions of their "tried and true" recipe folder and they love to make it when they entertain.
It is used as a simple dessert after Sunday meals in the family, almost always served with the traditional Turkish Coffee.
The quantities on this recipe are for two loaves, so if you prefer,  you can freeze one for later. It is a great bread for potlucks, great for your kid to take to school in his lunch box, great for when you have company for coffee and many other occasions when you just need something sweet. Did I mention picnics and breakfast? Perfect for these ones too!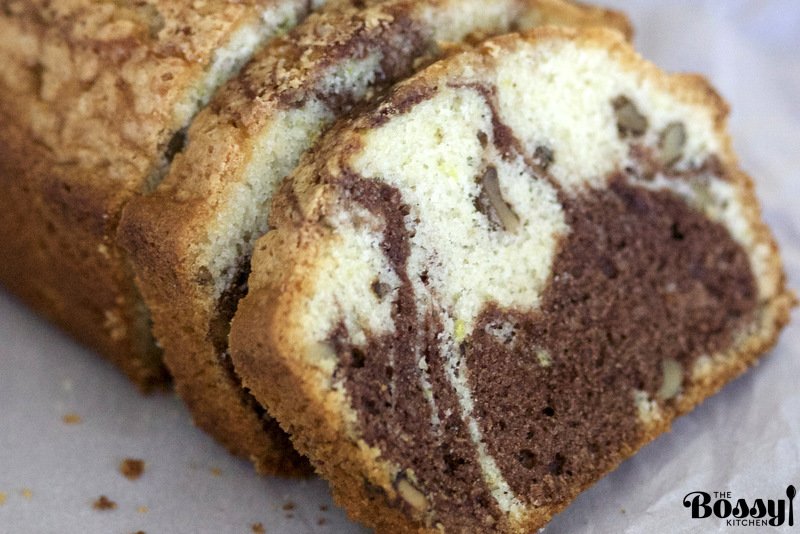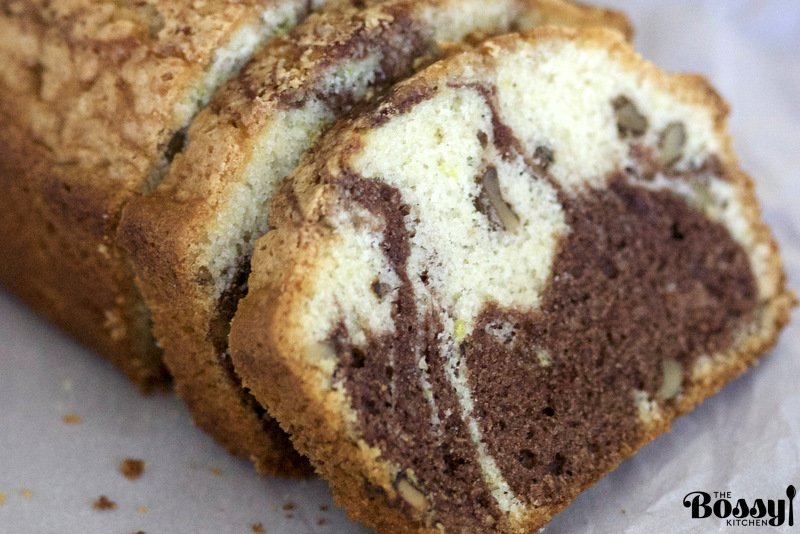 You can add walnuts, pecans or other nuts you like, you can come up with different flavors, like lemon, rum, or almond. The options are endless, you just have to find your favorite combination.
Enjoy and let me know if you liked it! And if you did, maybe you want to take a look at this Sour Cherries Sweet Cornbread too. It is also very delicious and very Romanian.
If you make this recipe, share it with the hashtag #thebossykitchen on Instagram, Facebook, and Twitter so we can all see what you're cooking!
Or maybe you want to join The Bossy Kitchen community group where you can share your creations made from this blog or from other sources. Everyone is welcome to join!
Yield: 2 loaves
Easy Marbled Pound Cake Recipe
This easy marbled pound cake (known in Romania as Chec cu Cacao Marmorat) is one of the most popular sweet breads you will find in the Romanian cuisine.Moist, fluffy and delicious, this coffee cake is great as a snack with a cup of coffee or milk.
Total Time
1 hour
5 minutes
Ingredients
1¾ cups(350g) granulated sugar
6 eggs separated
11 tablespoons vegetable oil
7 tablespoons cold water
1 tablespoons baking powder
2¾ cups (350g) all-purpose flour
1 tablespoons vanilla
1 lemon zest
2 tablespoons cocoa powder
Instructions
Preheat oven to 350F and grease two loaf pans with butter or oil.
Separate egg whites from yolks.
With an electrical mixer, beat the yolks with the oil added slowly, spoon by spoon. You want to build up the mixture, like a mayonnaise.
Add the cold water, spoon by spoon. Keep mixing.
Sift the flour and baking powder together.
Add the egg yolks and oil mixture to the flour and mix slowly.
Incorporate vanilla and lemon zest to the mixture. Set aside.
Separately, beat the egg whites with sugar until stiff.
Fold the egg whites slowly into the flour mixture.Fold only until you see that the flour was incorporated. It is OK to still see some egg whites in the mixture.
Split the batter in two parts.
Use one part to mix it with the cocoa powder. Set aside.
Pour the other half of the batter into the two loaf pans making sure there is equal amount of batter in each of the pans.
Add the cocoa batter to each pan.
Grab a fork or a spoon and swirl your cocoa batter to create patterns in the other batter.
Bake at 350F for 30-45 mins or until the toothpick comes clean and the loaves are golden brown on top.
Carefully remove them from the pans and place them on a rack to cool.
Slice the bread with a serrated knife and serve at room temperature.