This authentic traditional Turkish coffee recipe is my favorite one when it comes to drinking coffee.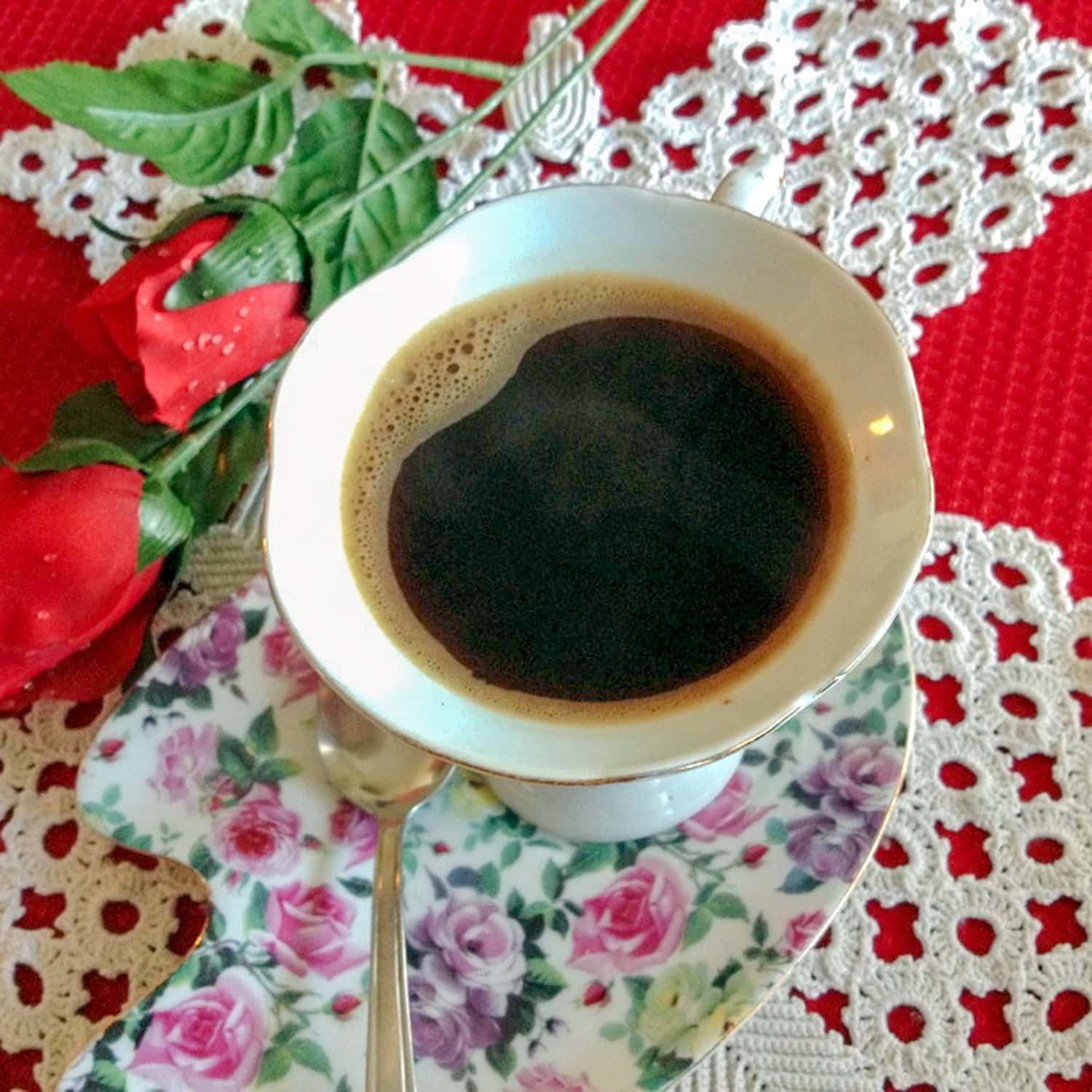 The exceptional taste, body, aroma, and preparation makes Turkish coffee far superior to any other coffee out there.
You might want to challenge me on this one, but unless you tried it and did not like it, you should just trust me.
I grew up with this coffee, so I know my stuff. 🙂
WHAT YOU NEED TO MAKE AUTHENTIC TURKISH COFFEE:
HOW TO MAKE TURKISH COFFEE:
First of all, it is prepared in an ibrik, a small coffee pot with a long handle, but any other pot would serve the purpose.
The sugar is added during the brewing process, not after. Of course, this can be adjusted based on the preferences, but the traditional one is made with sugar.
Milk and cream are never served with Turkish coffee.
The coffee is ground to a fine powder, and it should sink to the bottom of the cup.
The Turkish coffee is served hot in small cups.
ALSO, and this is a very important note: Traditional AUTHENTIC Turkish coffee DOES NOT HAVE cardamon in it, as I noticed on all kinds of very successful sites out there.
The coffee with cardamon is popular in most Arabic countries, Syria, Irak, Iran etc, but not in Turkey.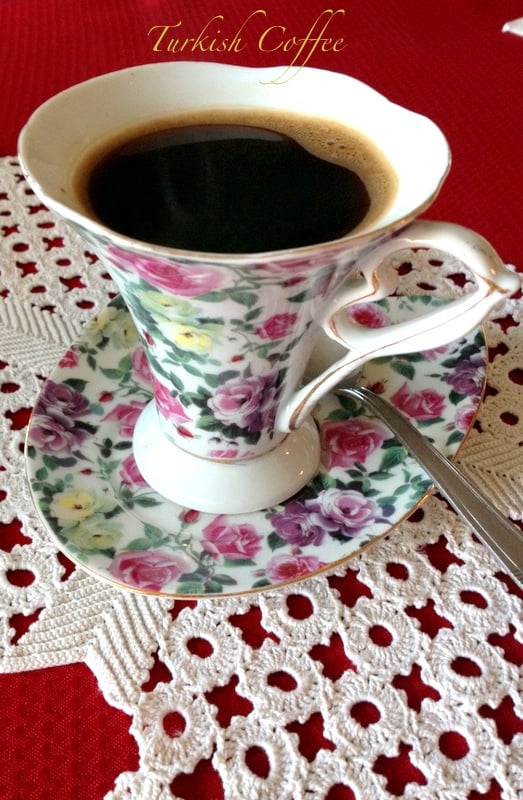 A few things before you start making the coffee:
Turkish coffee is made with water, sugar, and coffee in a pot on the stove. The sugar and the coffee are added at the beginning of the brewing process without stirring.
The whole idea is to obtain a natural thick frothing on top of your coffee and this is achieved by letting the coffee brew on low heat until it gets closer to the boiling point, WITHOUT boiling it.
Traditional Turkish Coffee is not boiled. However, the pot needs to be watched all time as it goes from not boiling to boiling very fast.
When you see the brew "rising", move the pot away from the heat immediately.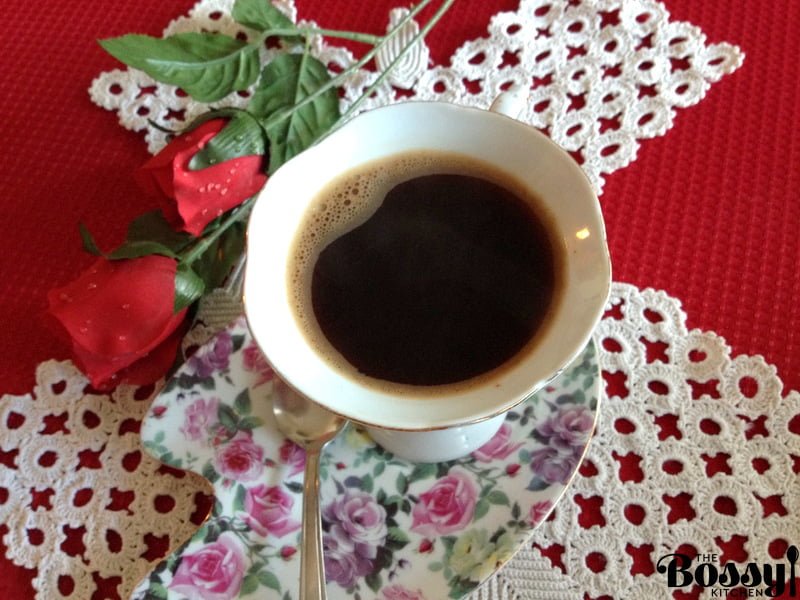 The process is very easy and the results are incredible. Once you discover Turkish Coffee, your life will change forever!
Turkish coffee is much stronger/concentrated than filtered coffee, so it is not customary to drink more than one cup.
It is usually served with some sweet treat, cookies, candy, chocolates or Turkish delights.
For example, it would go perfectly with my awesome Coffee Flavored Sugar Cookies or my tasty recipe of Walnut and Rose Hip Jam Bars like my grandmother used to serve her guests.
I hope you will give it a try!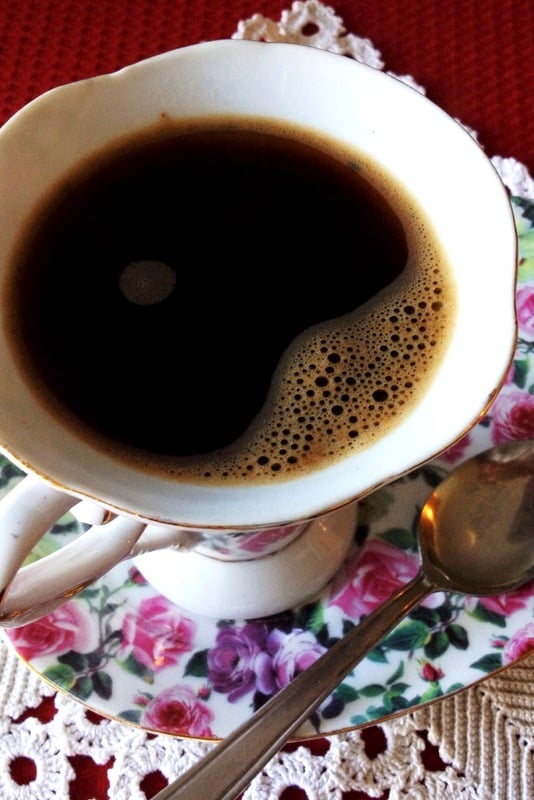 Yield: 1 serving
Authentic Traditional Turkish Coffee
Authentic traditional Turkish coffee-The exceptional taste, body, aroma, and preparation makes Turkish coffee far superior to any other coffee out there.
Ingredients
1 cup of water /person
1 teaspoon sugar optional
Instructions
Using a coffee cup, measure the amount of water you will need. One coffee cup water /person. Pour the water into the ibrik or pot.
Add one teaspoon of sugar for each cup and place the pot on the stove. Do not stir.
Also, add the coffee(1-2 heap teaspoon/cup) in the pot and DO NOT STIR. Just let the coffee "float" on the surface because if you stir it now, you might cause it to clump up.
Place your pot of water on the stove and turn the heat to medium-high.
When the coffee starts to sink into the water and the water is warm enough to dissolve your sugar, stir it several times and then turn down the heat to low.
From this point on, observe your coffee. Do not let the temperature get hot enough to start boiling.
The key idea is to let the coffee build a "thick froth," which occurs at approximately 158 F or 70 C, which is much cooler than the boiling point.
(If your brew comes to a boil, you will not have any foam).
If your brew gets too hot and begins to "rise," then move it away from the heat or turn it down. You are almost done.
Pour the coffee into your cups (quickly at first to get out the foam, then slowly) while ensuring that each cup has an equal amount of foam!)
If you are serving several cups, you might be better off spooning the foam into each cup first.
The Turkish coffee is enjoyed sip by sip with various sweet desserts.
Recommended Products
As an Amazon Associate and member of other affiliate programs, I earn from qualifying purchases.
Nutrition Information:
Yield:
1
Serving Size:
1
Amount Per Serving:
Calories:

16
Total Fat:

0g
Saturated Fat:

0g
Trans Fat:

0g
Unsaturated Fat:

0g
Cholesterol:

0mg
Sodium:

10mg
Carbohydrates:

4g
Fiber:

0g
Sugar:

4g
Protein:

0g
Note: "We are a participant in the Amazon Services LLC Associates Program, an affiliate advertising program designed to provide a means for us to earn fees by linking to Amazon.com and affiliated sites."