This is an old family recipe for a homemade chocolate liqueur made with cocoa powder. You can try to make this recipe before the holidays and use it as a great edible gift for family and friends. It does not require expensive ingredients either.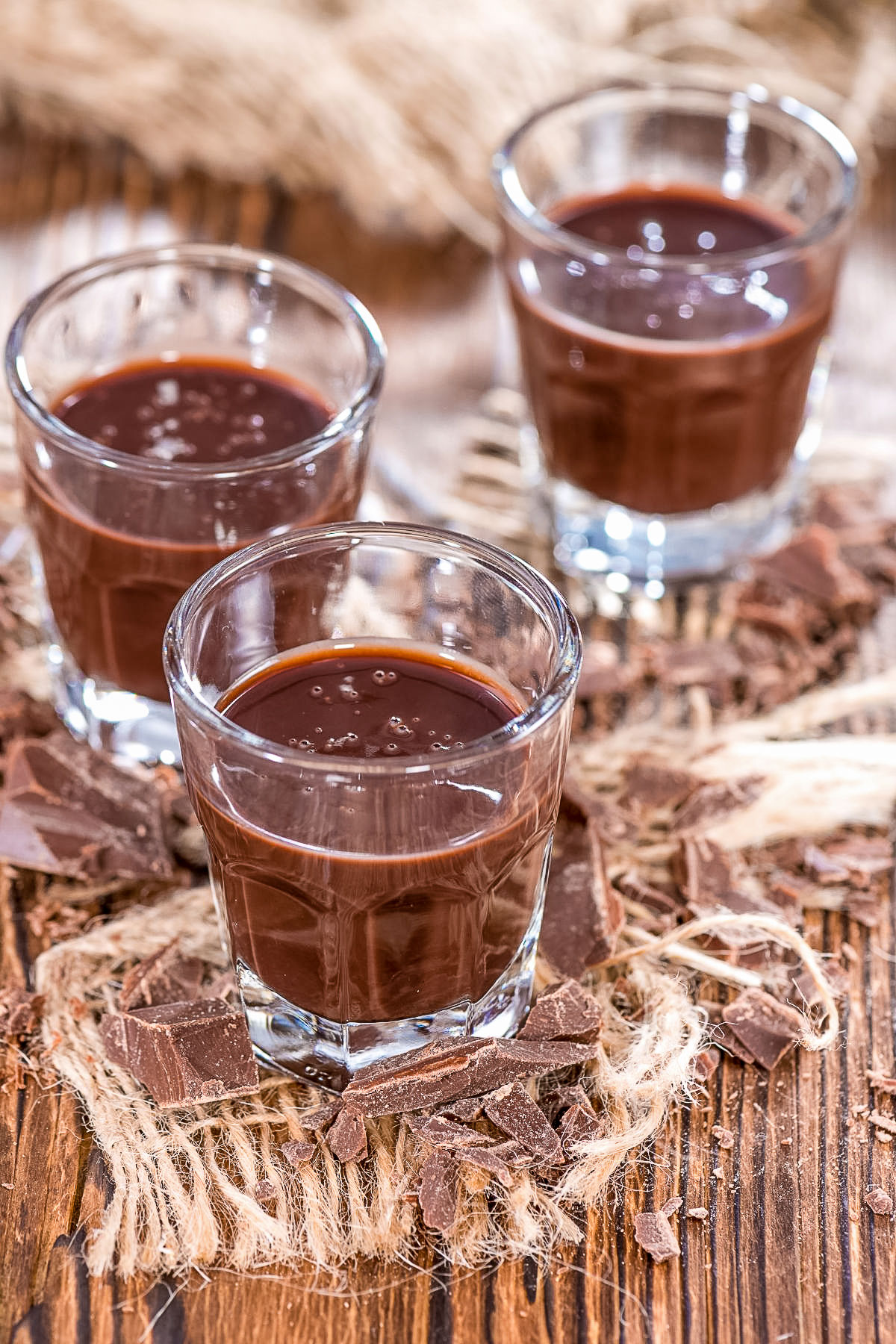 Jump to:
What is a chocolate liqueur?
Chocolate liqueur is a sweet and rich alcoholic beverage that has a chocolate flavor.
It is typically made by mixing cocoa powder or chocolate with a base spirit such as vodka, rum, or brandy and sweetened with sugar syrup.
Some recipes may also include cream or milk to give the liqueur a creamy texture.
The time it takes to make chocolate liqueur will depend on the recipe. Some recipes can be made in just a few hours, while others may take several weeks or even months to fully develop the flavors.
It is important to note that the longer the liqueur is allowed to age, the smoother and more complex the flavor will become.
This recipe is part of my small family recipe collection. It comes from my dad's part of the family, and it must be at least 60-70 years old, if not older than that.
It is an interesting and unique recipe as it is not made with dairy, like most recipes I saw out there. While I never tasted this liqueur as a child, I do remember my family making their own chocolate liqueur in the kitchen. It was considered a special treat.
Note:
Please notice that I wrote liqueur and not liquor. You might ask, what's the difference between chocolate liquor and chocolate liqueur? The two are often pronounced the same, but they are not the same thing.
What is chocolate liquor?
Chocolate liquor (also known as cocoa liquor or cocoa mass) is a pure chocolate product that is made by grinding roasted cocoa beans into a smooth liquid.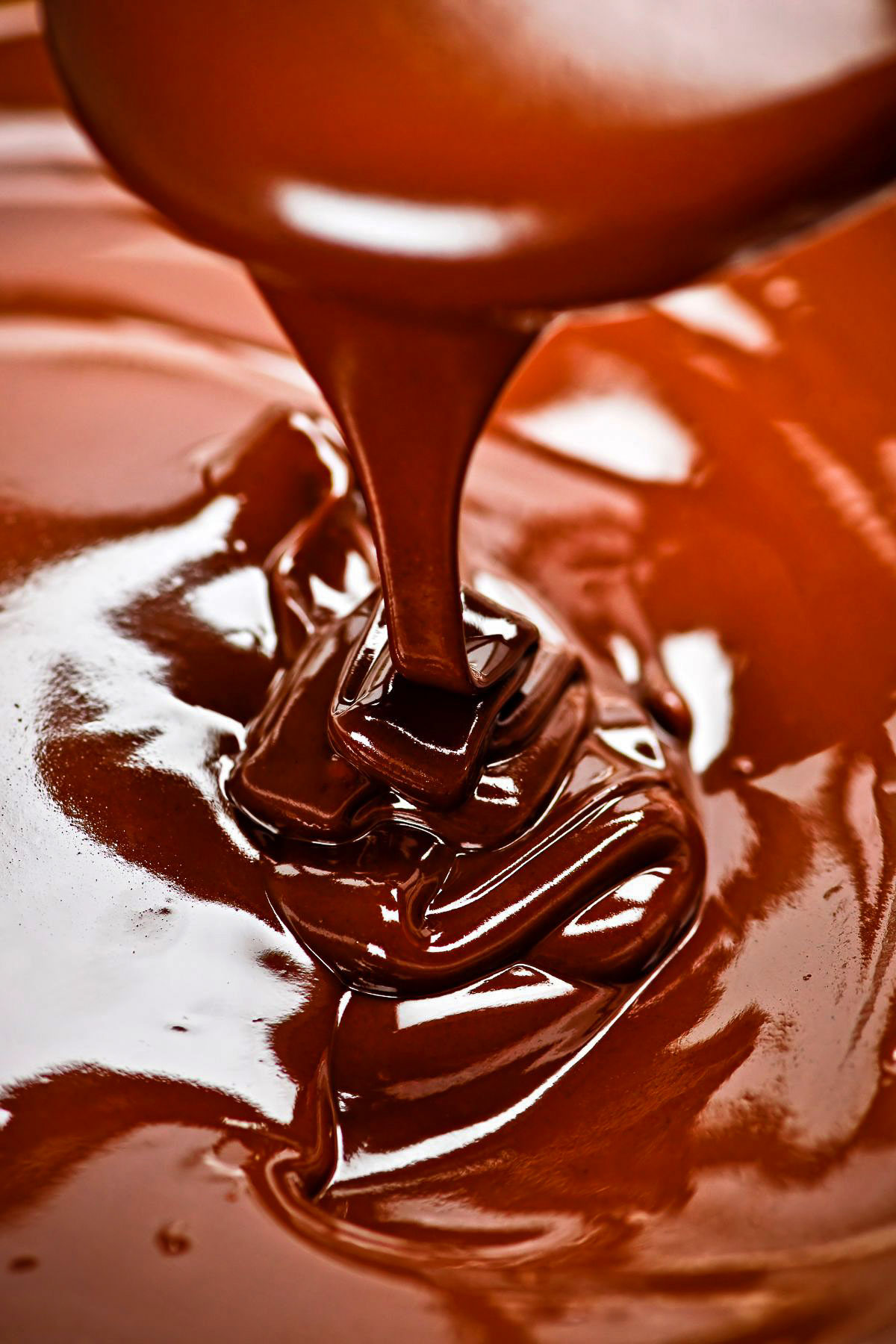 It is the basis for all chocolate products and is made from 100% cocoa solids, without any added sugar or other ingredients.
Chocolate liquor is used as the main ingredient in the production of chocolate bars, chocolate confections, and other chocolate products.
It is also used in the production of cocoa powder and cacao butter, which are key ingredients in the baking and confectionery industries.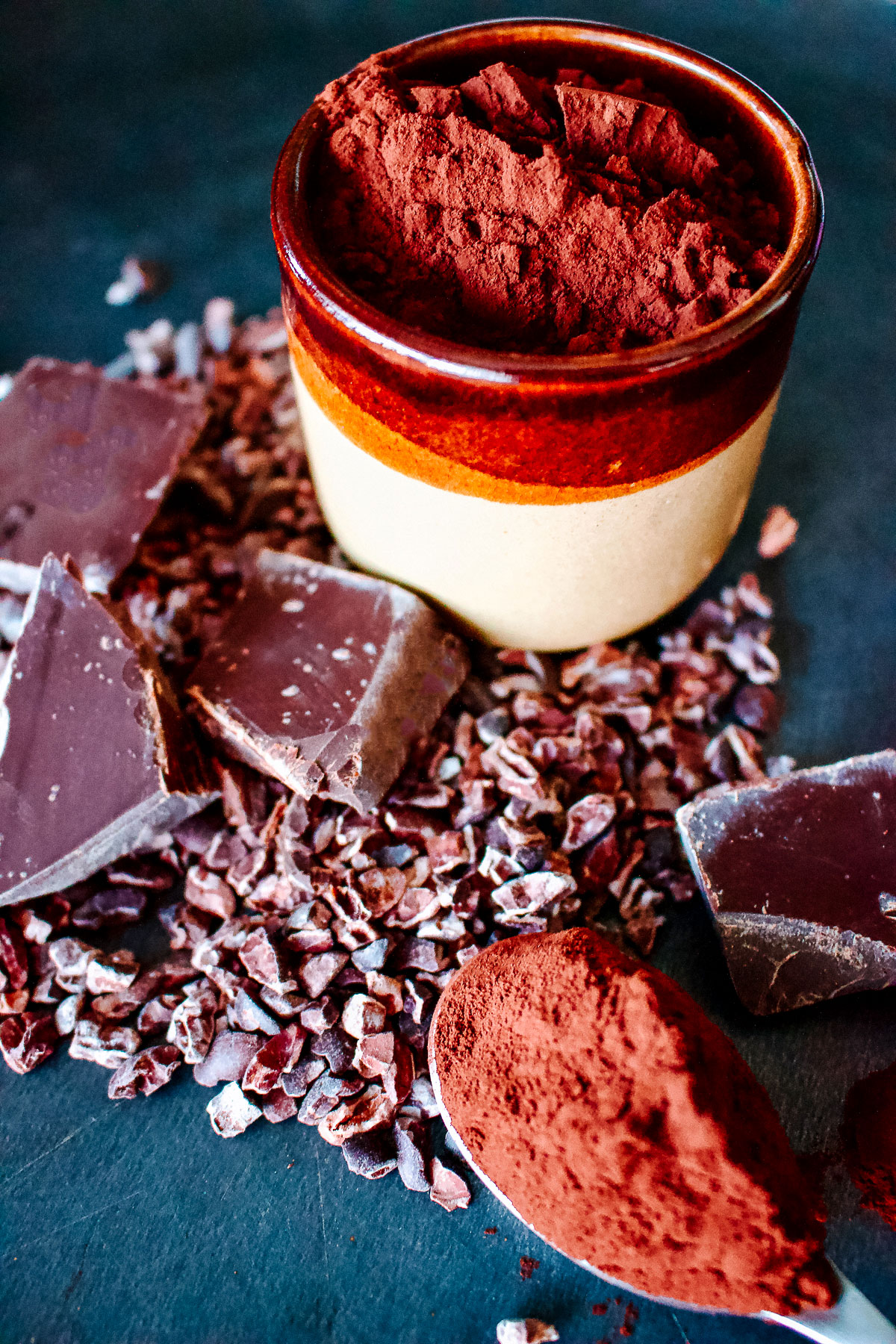 Why does this recipe work?
My recipe is dairy free: So many cocoa/chocolate liqueur recipes out there carry whole milk or cream among the ingredients. I like these recipes too, but I found the dairy to be a little bit too heavy for my taste. However, it is possible to make chocolate liqueur without dairy by using a dairy-free alternative such as almond milk, coconut milk, or soy milk instead of cream. There are many vegan-friendly recipes available online that can guide you through the process.
This recipe is versatile: This recipe for homemade chocolate liqueur is worth making because it allows you to create a delicious and versatile drink that can be enjoyed on its own or used to enhance the flavor of cocktails and desserts.
Homemade is better tasting: By making the liqueur at home, you have complete control over the quality of the ingredients and can customize the recipe to suit your taste preferences. For example, you can choose high-quality cocoa powder to create a rich chocolate flavor, and you can experiment with different types of alcohol to create a unique flavor profile.
Fun and rewarding experience: Making your own liqueur can be a fun and rewarding experience that allows you to experiment with new flavors and techniques. It can also be a great way to impress your friends and family with your culinary skills. This a perfect recipe to make when you have chocolate lovers in your family!
If you are thinking that you will be able to drink the liqueur right away, you are here for a big disappointment.
The liqueur needs to sit in a dark, cool place for about 14 days and has to be shaken every day.
Ingredients
Granulated sugar
Water
Unsweetened cocoa powder: Use high-quality cocoa powder for a rich chocolate flavor. Look for a raw, unsweetened cocoa powder that has a high percentage of cocoa solids. I like Dutch-processed cocoa powder.
Alcohol: I used vodka but consider using a combination of vodka and brandy or rum to add complexity to the flavor.
Salt: To enhance the chocolate flavor.
Vanilla bean or real vanilla extract (optional): For a subtle flavor note and extra flavor.
How to make
Step 1. Mix the ingredients except for the alcohol.
Step 2. Cook the ingredients on the stove until the sugar and cocoa are dissolved and you obtain a smooth chocolate syrup.
Step 3. Cool the syrup.
Step 4. Add the alcohol.
Step 5. Pour the mixture into clean bottles with tight-fitting lids and store them in a cool, dark place for at least two weeks. Shake the bottles every day.
Step 6. After two weeks, strain the liqueur through a fine-mesh strainer or cheesecloth to remove any sediment.
Return the chocolate liqueur to the clean bottles and store them in a cool, dark place for at least a month to allow the flavors to develop.
Note:
Many recipes out there use coffee filters to filter the chocolate liqueur.
I, personally, was not very successful with the paper filters, but I used cheesecloth, and that worked beautifully.
The liqueur is quite thick, so the coffee paper filters did not work for me.
If you plan to have it ready for the holidays, you need to start making it some time in advance so it has enough time to age properly.
Serve it very cold from the fridge, straight up, or over ice. It makes a wonderful after-dinner dessert drink.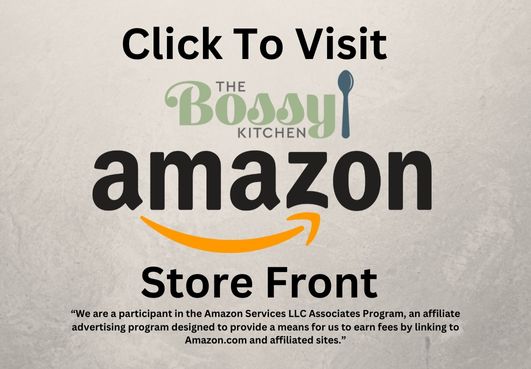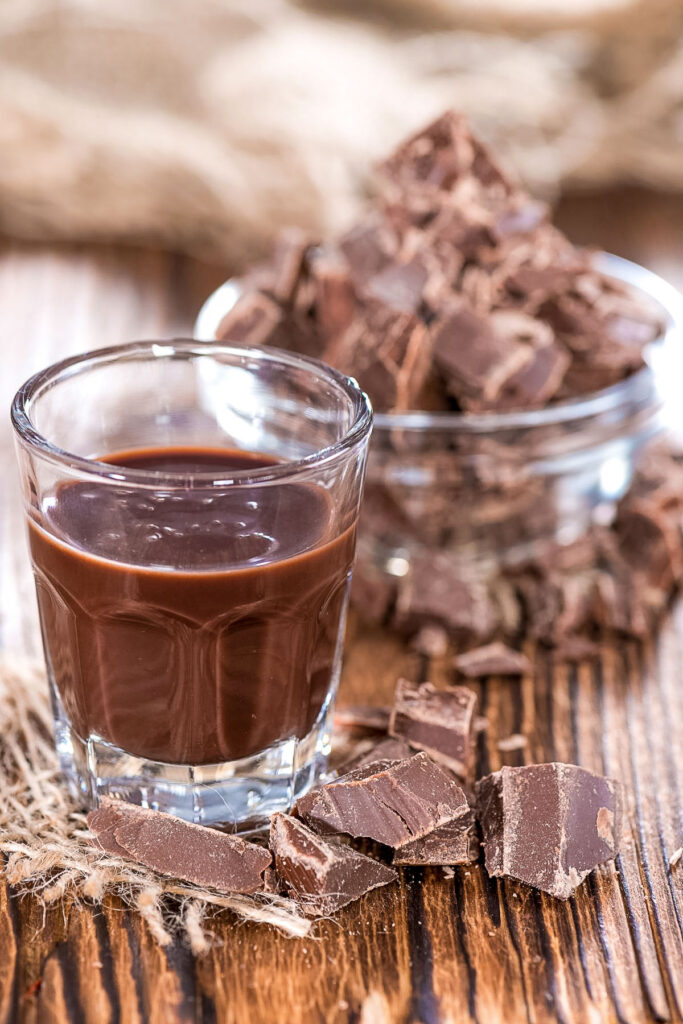 This homemade liqueur is definitely a keeper and a great gift idea.
Enjoy your homemade chocolate liqueur as an after-dinner drink or as a delicious addition to cocktails and desserts!
More recipes to love
Cherry Flavored Drinks & Cocktails & Smoothies
How To Make An Easy Trifle Dessert
Cocoa Walnuts Banana Bread Recipe
Craving more? Subscribe to The Bossy Kitchen to get new recipes and a newsletter delivered straight to your inbox! Stay in touch on Facebook, Twitter, Pinterest, and Instagram for all of the latest updates. Don't forget to use the star rating and leave a review.
📖 Recipe
Homemade Chocolate Liqueur Recipe
This homemade chocolate liqueur recipe is an old family treasure that is made with cocoa powder. It makes a perfect gift for the holidays and is very inexpensive to make.
Print
Pin
Share
Grow
Saved!
Rate
Ingredients
2 ½

cups

granulated sugar

2 ½

cups

water

7

tablespoons

raw unsweetened cocoa powder

2

cups

alcohol

such as vodka or a combination of vodka and brandy or rum

1

Pinch

of salt

optional

1

vanilla bean or 1 teaspoon vanilla extract

optional
Instructions
In a medium-sized saucepan, combine the sugar, water, and cocoa powder. If using, add a pinch of salt and the vanilla bean or extract.

Heat the mixture over medium heat, occasionally stirring, until the sugar has dissolved and the cocoa powder has thoroughly mixed with the water to create a smooth syrup.

Reduce the heat to low and let the mixture simmer for 10-15 minutes, occasionally stirring, until the mixture thickens up slightly.

Remove the saucepan from the heat and let the mixture cool to room temperature.

Once cooled, stir in the alcohol and mix well.

Pour the mixture into clean bottles with tight-fitting lids. Store the bottles in a cool, dark place for at least two weeks, shaking the bottles vigorously every day to ensure that the flavors are well combined.

After two weeks, strain the liqueur through a fine-mesh strainer or cheesecloth to remove any sediment.

Transfer the liqueur to clean bottles with tight-fitting lids and store them in a cool, dark place for at least a month to allow the flavors to develop.
Nutrition
Serving:
1
g
|
Calories:
156
kcal
|
Carbohydrates:
26
g
|
Protein:
0.3
g
|
Fat:
0.4
g
|
Saturated Fat:
0.1
g
|
Polyunsaturated Fat:
0.01
g
|
Monounsaturated Fat:
0.1
g
|
Sodium:
4
mg
|
Potassium:
28
mg
|
Fiber:
1
g
|
Sugar:
25
g
|
Calcium:
3
mg
|
Iron:
0.3
mg
Tried this recipe?
Please leave a comment on the blog or like us on Facebook!