Romanian Homemade Chocolate is a popular recipe created during a time when chocolate was almost impossible to find.
The recipe is made with powder milk, unsweetened cocoa powder, sugar and butter and it is a delicious dessert that nowadays can be made for a party where multiple desserts are served.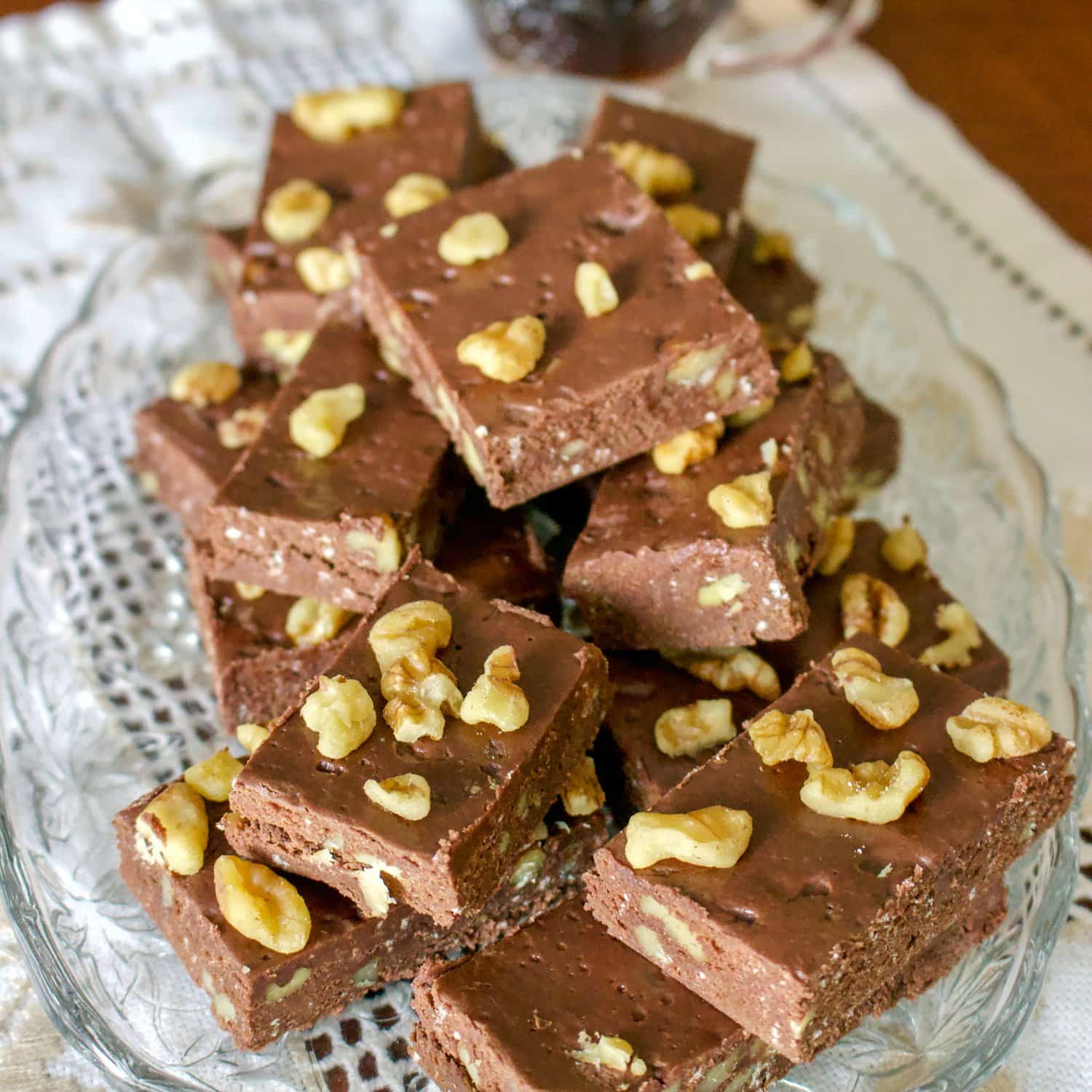 Romanian Homemade Chocolate
This recipe of homemade chocolate is coming from Romania and it was probably created during the communist era (1946-1989) when food was scarce and real chocolate was a luxury. The recipe is close to the popular American fudge, except that the ingredients are quite different.
I have to say that the recipe is quite creative and uses very basic ingredients that most people had in their pantries if they were lucky enough to find them in the stores.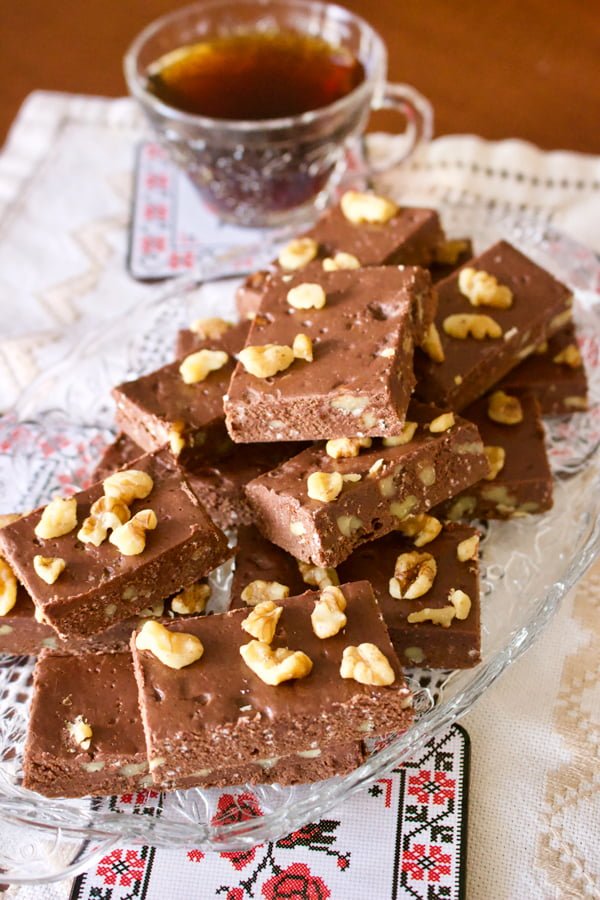 During these difficult times, powder milk was rare, sugar and butter were rationed and overall any ingredient used in the baking or desserts making was hard to find.
For that matter, we rarely had desserts and when we had them it was for a special occasion and a real treat.
Because this recipe was passed from family to family, everyone living during that period of time knew about it. It is also a recipe that you can find in any Romanian cooking book published in the 70's or 80's, just because it was so popular. Many of us are still fond of it even today.
I did some research and could not find any other country in Eastern Europe to make it, so here you have an original recipe that I hope you will try and like.
How the Romanian homemade chocolate is made:
The process is very simple. Powder milk and unsweetened cocoa powder are sifted together in a large bowl. Separately, a syrup made out of water, sugar, and butter is simmered on the stove for few minutes, then added to the dry ingredients and mixed vigorously.
The whole mixture is then poured on a parchment paper lined tray and spread evenly. The tray goes in the refrigerator for few hours, better overnight.
The next day, the chocolate is ready to be served. Nuts or dried fruits can be added to the recipe for more fun.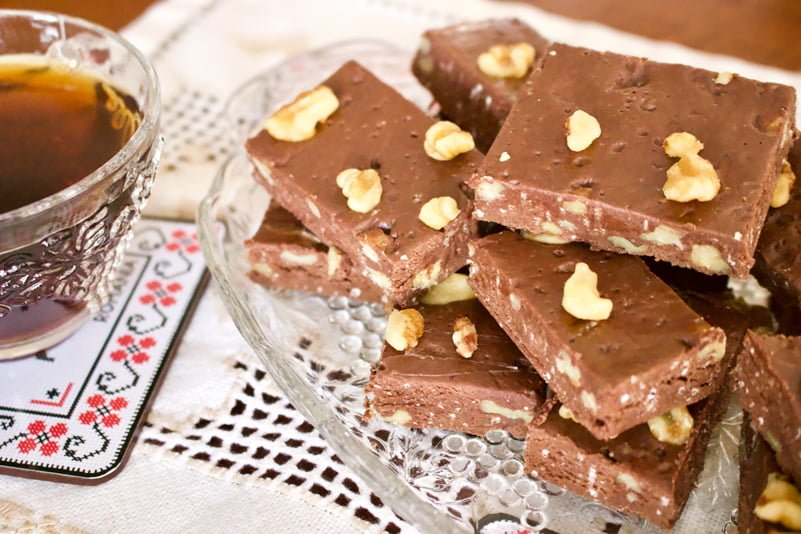 Tip: When you start making the recipe, make sure you have all the ingredients together and measured. From the moment the syrup is ready to be poured over the dry ingredients, you have to move fast. If not, the mixture will harden quickly and it will be difficult to manage it on the tray.
The original recipe says that you need to use a 15x10inch tray, but I don't think this is extremely important. You can use what you have available. However, it should be a medium size tray, like a 9×13 inch Pyrex glass for example.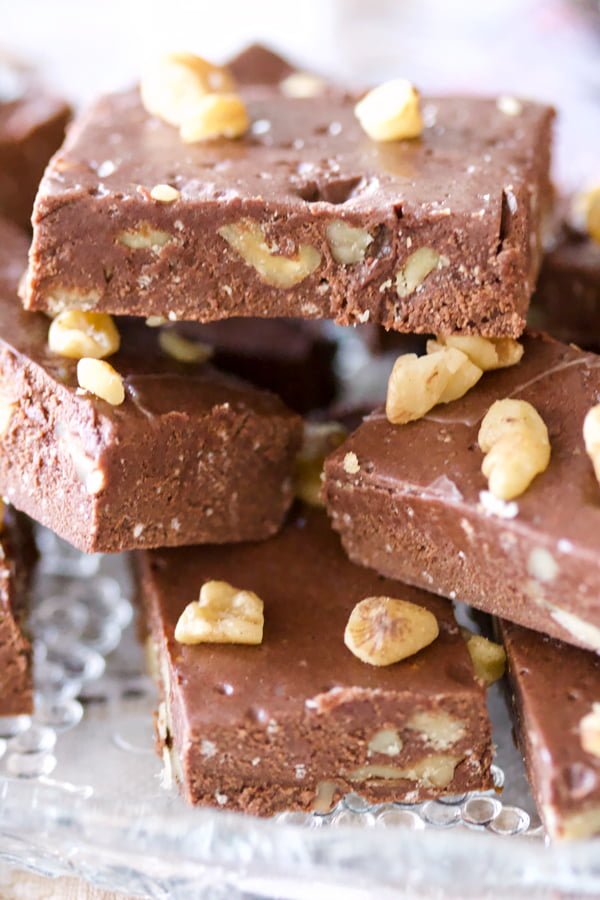 My Amazon shopping list suggestions:
This recipe is suitable for a party with multiple desserts. From my personal experience, your guests will be very impressed with the taste, especially if you use good quality ingredients.
The chocolate lovers will also fall in love with it. Christmas, Valentine's Day, birthday celebrations, all these occasions are perfect to show off your skills and make this recipe.
I used organic raw cocoa which brings a health benefit to the table. I also cut the amount of sugar from the original recipe, as I thought it was too sweet for my taste.
If you make the recipe, share it with the hashtag #thebossykitchen on Instagram, Facebook, and Twitter so we can all see what you're cooking!
Interested in other chocolate recipes? Here you have a link to my collection of delicious chocolate treats!
Yield: 24 pieces
Romanian Homemade Chocolate
Romanian Homemade Chocolate is a popular recipe that was created during a difficult era when chocolate was almost impossible to find. The recipe is made with powder milk, unsweetened cocoa powder, sugar and butter and it is a delicious dessert that nowadays can be made for a party where multiple desserts are served.
Ingredients
2 cups/400 g granulated sugar
2/3 cups/150ml water
4 cups/500 g powdered milk
1 cup/100 g raw cocoa(unsweetened)
1 1/2 cups/150-200g chopped toasted nuts( hazelnuts, walnuts etc)
7 tablespoons/3.5oz/100g unsalted butter
1 tablespoon lemon juice
1 tablespoon vanilla
1 tablespoon rum essence
Instructions
Line a 15x10 inch baking tray with parchment paper. Butter the entire surface of the parchment paper and set the tray aside.
In a large bowl sift together the powdered milk and the unsweetened cocoa powder. Add chopped roasted nuts like hazelnuts or walnuts and mix well.
In a medium saucepan, place water, butter, sugar and lemon juice(the lemon juice prevents the crystallization of the sugar while making the syrup).
Bring to a boil and simmer for 2-3 minutes. Remove from the stove and add vanilla and rum essence.
Note: From this point, you have to work fast.
Pour hot syrup over the dry ingredients and stir vigorously making sure all the powdered milk and cocoa powder are incorporated.
Pour the mixture onto the parchment paper and spread it evenly with a spatula. You have to move fast because the mixture will harden pretty quickly.
Cover the pan with foil and place it in the refrigerator for few hours, best overnight.
The chocolate will continue to harden over the next days. Cut it into squares or small bars and serve.
Keep refrigerated.
Nutrition Information:
Yield:
24
Amount Per Serving:
Calories:

227
Total Fat:

8.9g
Saturated Fat:

2.8g
Cholesterol:

12mg
Sodium:

130mg
Carbohydrates:

30.3g
Fiber:

1.8g
Sugar:

26.6g
Protein:

10g