Cheese straws with feta and poppy seeds are a delicious way to serve your guests appetizers or snacks. These cheese straws go really well with beer.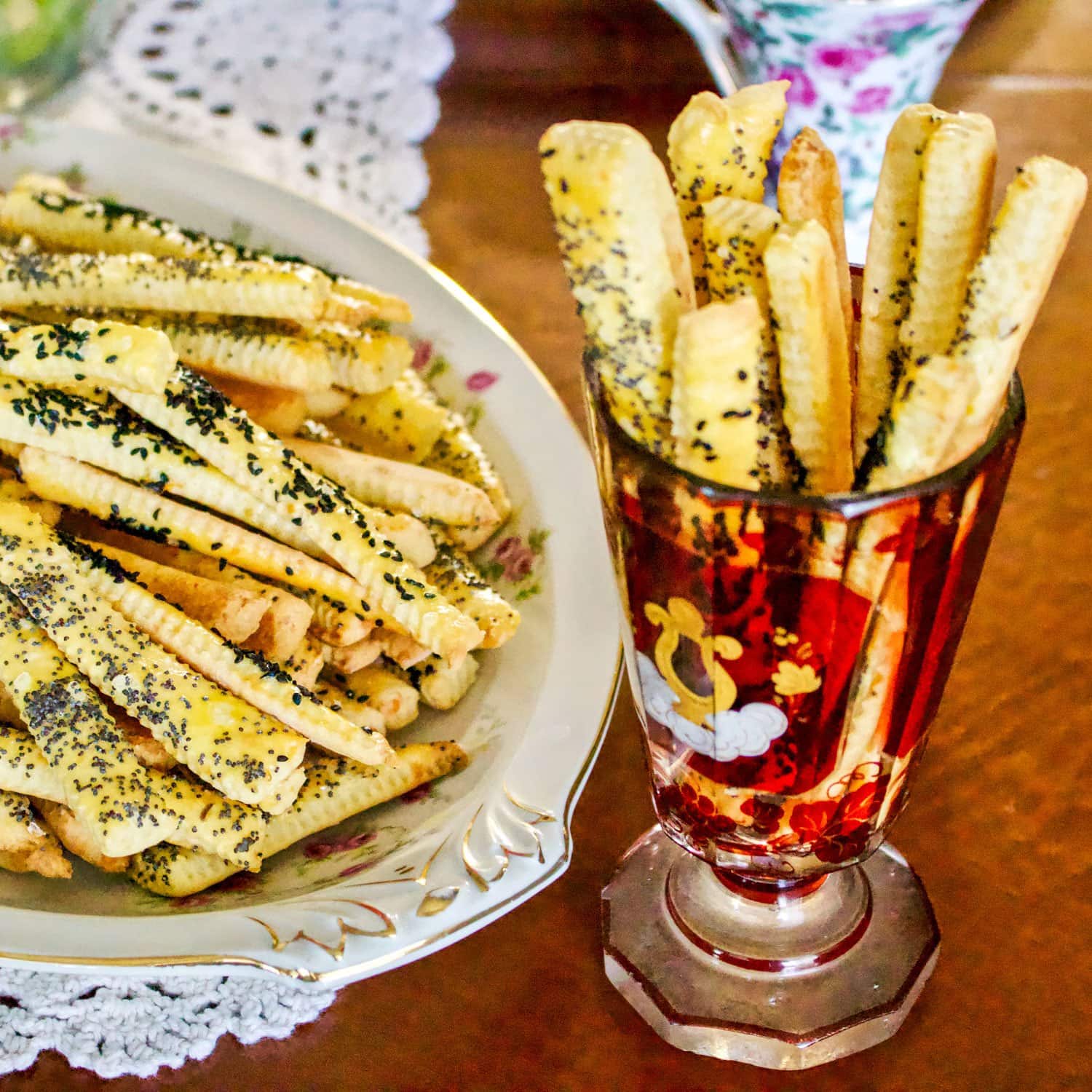 Perfect snack or appetizer
If you look at my blog's appetizer section, you will notice some other recipes for cheese straws. I grew up with them and always loved them.
The cheese straws, especially the homemade ones, are perfect for appetizers or snacks and go perfectly with cold beers.
They have a special place on the table on Easter or Christmas, but Romanians like to make them all year round and serve them as snacks.
If I had to choose between store-bought cheese straws and homemade ones, I would definitely select the homemade ones.
These little treasures are very easy to make and use common ingredients we all have in our pantries.
Bake them on a chilly day, and the aroma will warm your home and your heart. Serve them on a hot day with a cold beer, and everyone will love you!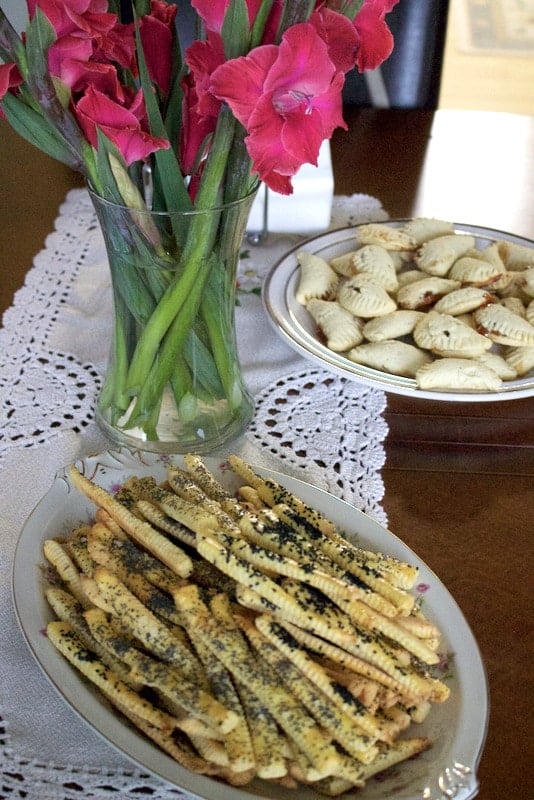 I
All-purpose flour
Cold unsalted butter cubed
Feta cheese
Eggs
Yogurt (or sour cream)
Toppings: you can use either poppy seeds, caraway seeds, or sesame seeds, and always coarse salt to sprinkle over the dough before it goes in the oven.
Can I make the dough in advance?
Yes. The dough can be made and used the same day, but you can also keep it in the fridge for a few days or freeze it for later use.
The dough can be frozen for up to 3 months: Shape the dough into 2 rectangles, about 1 inch thick, wrap each piece in plastic wrap, and place them in a sealable bag.
When ready to bake, remove the dough from the freezer, thaw it until pliable, and then proceed with the recipe.
Can I bake the cheese straws in a different shape?
Yes. The dough is usually rolled out on the table and cut into strings.
If you prefer some other shapes, use cookie cutters or a pizza/pasta cutter to shape the dough as you wish.
Coins, triangles, hearts, or special shapes for special occasions are definitely fun to try.
Can I freeze the cheese straws after baking them?
Yes, you can. Let the cheese straws cool completely. Store them in an airtight container separating layers with parchment paper or aluminum foil.
Before serving, remove them from the container and let them come to room temperature.
Perfect snack for hungry people! Are you entertaining for the holidays? Make these! What about Easter or a Sunday night? Perfect!
More recipes for cheese straws:
Cheddar Cheese Straws with Cumin
Cheddar Cheese Straws With Black Caraway Seeds
More recipes to love:
Craving more? Subscribe to The Bossy Kitchen to get new recipes and a newsletter delivered straight to your inbox! Stay in touch on Facebook, Twitter, Pinterest, and Instagram for all of the latest updates. Don't forget to use the star rating and leave a review.
Yield: 24 pieces
Cheese Straws With Feta And Poppy Seeds
Cheese straws with feta and poppy seeds are a delicious way to serve your guest's appetizers or snacks. These cheese straws go really well with beer.
Ingredients
4cups/500g all purpose flour
10.5 Tablespoons/150g cold unsalted butter cubed
2cups/300g Feta cheese crumbled
2 large eggs
6 ½ tablespoons /100g yogurt(or sour cream)
1 egg beaten to brush the straws before baking them
Toppings: poppy seeds, caraway, sesame, coarse salt
Instructions
Pulse in a food processor flour and butter until the mixture resembles coarse crumbs.
Add crumbled cheese, eggs, yogurt, sour cream, and pulse until you obtain a dough.
Remove the dough from the food processor, wrap it in plastic and refrigerate for an hour.
Bring it back to the kitchen and preheat the oven to 350F/180C.
On a floured counter, roll out the dough to ¼ inch or 5 mm thick.
Then cut 3x½ inch or 7.5x1cm strips, about 24 pieces.
Place the strips on the prepared cookie sheet.
Brush each straw with the remaining egg and sprinkle with poppy, sesame, or caraway seeds.
Bake for 15-20 minutes, or until golden.
Finally, transfer them to wire racks to cool.
Recommended Products
As an Amazon Associate and member of other affiliate programs, I earn from qualifying purchases.
Nutrition Information:
Yield:
8
Serving Size:
1
Amount Per Serving:
Calories:

229
Total Fat:

18g
Saturated Fat:

11g
Trans Fat:

0g
Unsaturated Fat:

6g
Cholesterol:

113mg
Sodium:

134mg
Carbohydrates:

12g
Fiber:

0g
Sugar:

0g
Protein:

5g