Romanians make many traditional dishes for Easter, but this Romanian Easter Meatloaf-Drob de Carne Tocata cu Legume is one of the best ones you can find out there. 
Jump to:
Ideal Easter Dish:
The recipe is a version of Easter meatloaf made for those who do not like lamb meat or do not like offal. For Easter, the traditional meatloaf is made with lamb organs, like the liver, lungs, kidney, and spleen.
I like the original recipe, and if I happen to visit my family in Romania during Easter time, I really enjoy eating it.
However, finding offal can be challenging here in the States, and I noticed that it is not very popular. Lots of people do not enjoy consuming this type of food. If you are one of them, my friend, you are not alone.
How This Easter Meatloaf is served:
When you follow my recipe, you'll have a stunning dish to enjoy warm or cold, perfect for an Easter appetizer or even the next day. We love to serve this meatloaf chilled, surrounded by a bounty of fresh vegetables like lettuce, radishes, and cherry tomatoes, not to mention the beautifully colored Easter eggs and slices of tangy Feta cheese—it's a celebration on a plate!
Holidays are our excuse to go all out with feasting and togetherness. If you've had issues with meatloaf being too dry, it's likely because it needs more fat. I find a blend of ground beef and pork keeps it moist and flavorful. And since it's spring, and Easter symbolizes rebirth, I pack in greens and seasonal veggies for that vibrant spring freshness.
This isn't your everyday American meatloaf; it's something special that might just change the way you think about meatloaf.
My Easter meatloaf is delicious and looks very festive, as the element of surprise inside is the hard-boiled egg. Yes, the meatloaf is baked with hard-boiled eggs placed inside the mixture before going inside the oven.
Ingredients:
Ground meat. I call it ground meat and not hamburger meat because it could be anything you like: beef, pork, chicken, or even ground turkey. My preference is half pork and half beef. I am also crazy and grind the meat myself, but feel free to get good ground meat from a reliable source.
Green Onions- These are, for me, the symbol of Spring when it comes to cooking. They have a mild flavor and color the dish beautifully. Chop them small for this dish.
Garlic- a few garlic cloves should be enough unless you can find the green garlic, which looks like a green onion, but the leaves are flat and thin, compared to green onions with a tubular leaf. Mince the garlic if you use regular cloves. Chop it if you use green garlic.
Red Bell Pepper is sweet, delicious, and beautiful in the meatloaf. Chop it or dice it small.
Mushrooms are delicious in this dish and give the meatloaf texture and flavor. Ensure you wash the mushrooms before using them(sand and dirt in the meatloaf don't taste good). Also, dry them on paper towels or a clean kitchen towel and chop them small.
Fresh Parsley and Dill- I recommend them in fresh form, not dry. The recipe looks and tastes better with fresh herbs.
Eggs- You will need two large eggs for the mixture and 3-4 large eggs that will be boiled, peeled, and placed in the middle of the meatloaf before it goes in the oven.
Add nutmeg, salt, and pepper to season the meat mixture and some butter to coat the baking dish. Because I baked in a glass loaf pan, I did not coat the bottom of it with bread crumbs, but you can do that if you choose a metal pan.
How to make this Easter Meatloaf:
Now that you have all the ingredients grab a big bowl. Place the ground meat in the bowl and start chopping the rest of the ingredients.
Green onions, garlic, red pepper, mushrooms, herbs, everything goes in the bowl with the meat.
While you chop the vegetables, boil the eggs in a pot with water for 6 to 10 minutes. They don't need to be super hard because we will hide them in the meatloaf, and they will cook again.
Beat two eggs and add them to the meat mixture. Add salt, pepper, and nutmeg. Using a wooden spoon or your awesome clean hands, mix the ingredients to obtain a cohesive mixture.
The pictures are not that awesome, but my hands were kind of busy, as you can imagine.
Grab a loaf pan and butter the bottom and inside walls.
Spoon about ⅓ of the meat mixture into the pan and add the peeled eggs one by one.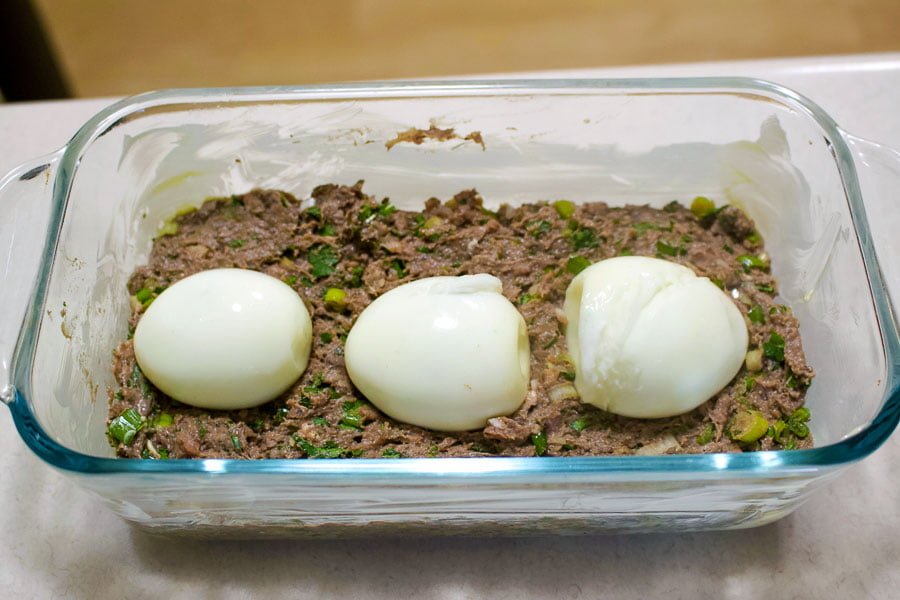 Come with the rest of the mixture and spoon it over the eggs the best you can.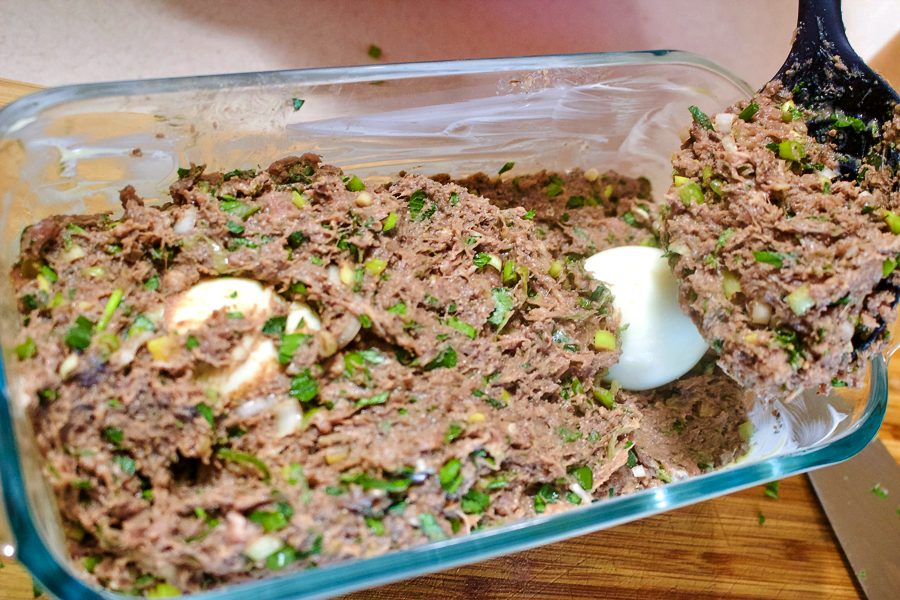 They should sit nicely covered in the middle of the pan.
Shave a few flakes of butter and place them on top of the mixture if you want. This is optional. Use your judgment, especially if you know that the ground meat you used did not have a lot of fat.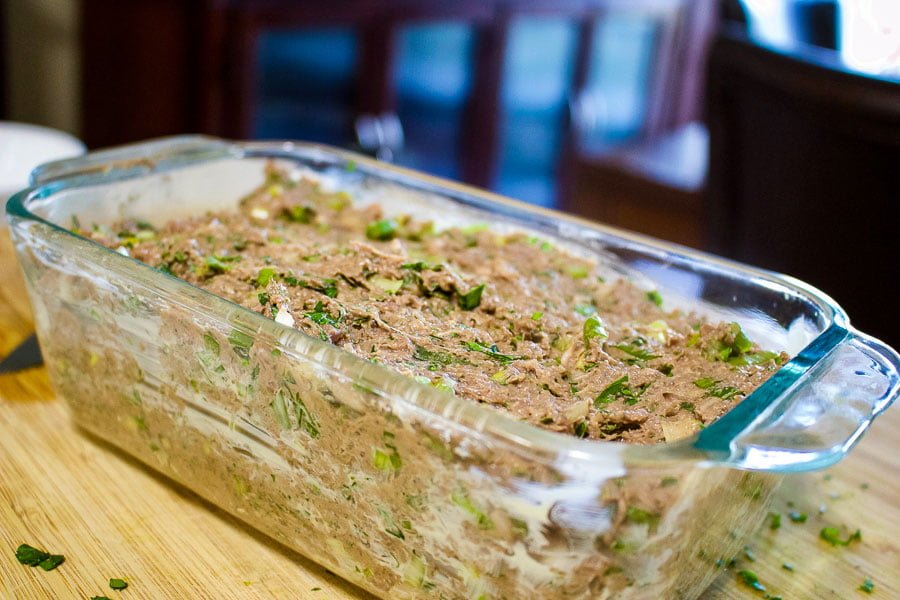 Bake at 350F/180C for about 45 minutes to a maximum of an hour. Time is relative, as each oven is different, each household uses a different type of pan.
The glass pans need less time in the oven while the metal ones need more. Set the time for 45 minutes and see from there.
Bake until the surface is nicely browned. Remove from the oven and let the meatloaf cool down.
Ideally, you can put it in the fridge for a few hours or until the next day, when you can gently run a knife around the edges and remove the meatloaf from the pan easily on a platter.
Recipe ideas for Easter
Traditional Easter Recipes From Around The World
24 Easter Sunday Traditional Romanian Recipes To Enjoy
Easy Romanian Traditional Easter Cheesecake
I hope you try this Romanian Easter Meatloaf recipe!
Happy Easter, everyone!
Craving more? Subscribe to The Bossy Kitchen to get new recipes and a newsletter delivered straight to your inbox! Stay in touch on Facebook, Twitter, Pinterest, and Instagram for all of the latest updates. Don't forget to use the star rating and leave a review.
Yield: 8-10 servings
Romanian Easter Meatloaf-Drob de Carne tocata cu legume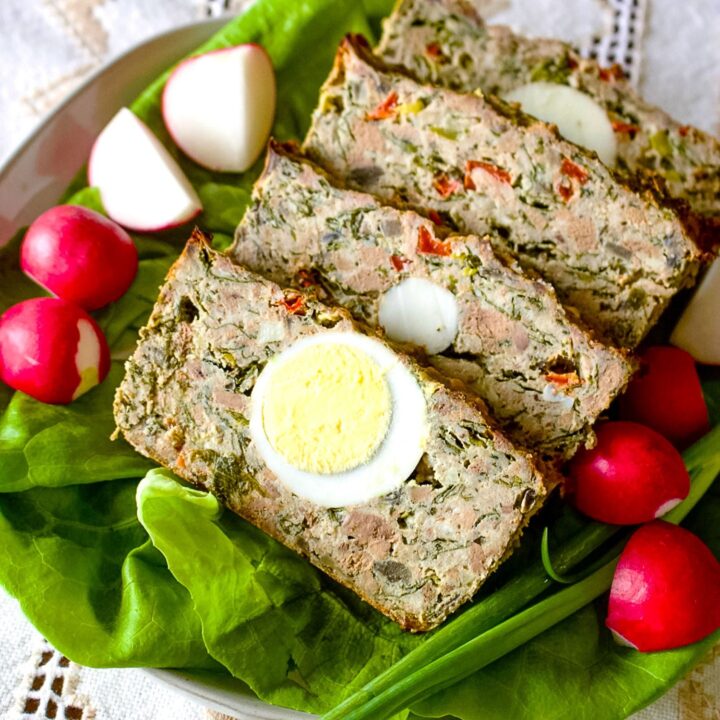 Romanians make many traditional dishes for Easter, but this Easter Meatloaf is one of the best ones you can find out there.
Total Time
4 hours
5 minutes
Ingredients
1 lb ground beef(or pork or a mixture of both)
1 lb green onion chopped small
3 garlic cloves or 1 bunch fresh green garlic chopped small
1 red bell pepper chopped small
½ lb mushrooms chopped small
1 bunch fresh parsley chopped small
1 bunch fresh dill chopped small
1 teaspoon salt
½ teaspoon ground pepper
¼ teaspoon nutmeg
2 large eggs beaten
3-4 large boiled eggs
butter and bread crumbs to coat the baking tray
Instructions
Preheat oven to 350F/180C.
Boil 3-4 eggs in a pot with water for about 6 to 10 minutes. Cool and peel the eggs. Set aside.
In a large bowl, place the ground meat.
Chop the green onion, garlic, red bell pepper, mushrooms, parsley, and dill.
Add all the vegetables and herbs to the meat.
Beat 2 eggs and add them to the mixture.
Add salt, pepper, and nutmeg. Mix until all ingredients are well incorporated.
Butter a loaf pan and coat with bread crumbs.
Spoon about ⅓ of the meat mixture in the baking pan and press it with a spoon until it's compact.
Place the eggs on top of the meat and cover them with the rest of the mixture, making sure it is evenly distributed.
Optional, if you know that the meat doesn't have a lot of fat, add a few small butter pieces on top of the mixture.
Bake the meatloaf at 350F/180C from 45 to 60 minutes. Set the time at 45 minutes and check from there. The meatloaf should be nicely browned on top, and a toothpick should come out clean when you test the meatloaf in the middle. It might take a little bit longer than 45 minutes, depending on your oven and the pan material.
Let it cool in the pan, place it in the refrigerator to set for few hours or until the next day.
The next day, run a knife around the edges and remove the meatloaf on a platter decorated with fresh lettuce leaves, green onions, and radishes.
Serve cold as an appetizer with Easter-colored eggs, salads, cold cuts, and cheese. Mustard and mayo are good as well with it.
Recommended Products
As an Amazon Associate and member of other affiliate programs, I earn from qualifying purchases.
Nutrition Information:
Yield:
10
Serving Size:
1
Amount Per Serving:
Calories:

217
Total Fat:

12g
Saturated Fat:

5g
Trans Fat:

0g
Unsaturated Fat:

6g
Cholesterol:

155mg
Sodium:

330mg
Carbohydrates:

8g
Fiber:

2g
Sugar:

3g
Protein:

18g