Tarta De Santiago (Spanish Almond Cake Recipe) is a traditional Spanish dessert that requires little effort to make. It is a naturally gluten free cake as the recipe is made with almond flour. A great dessert to serve with a cup of coffee to end dinner in a glorious way.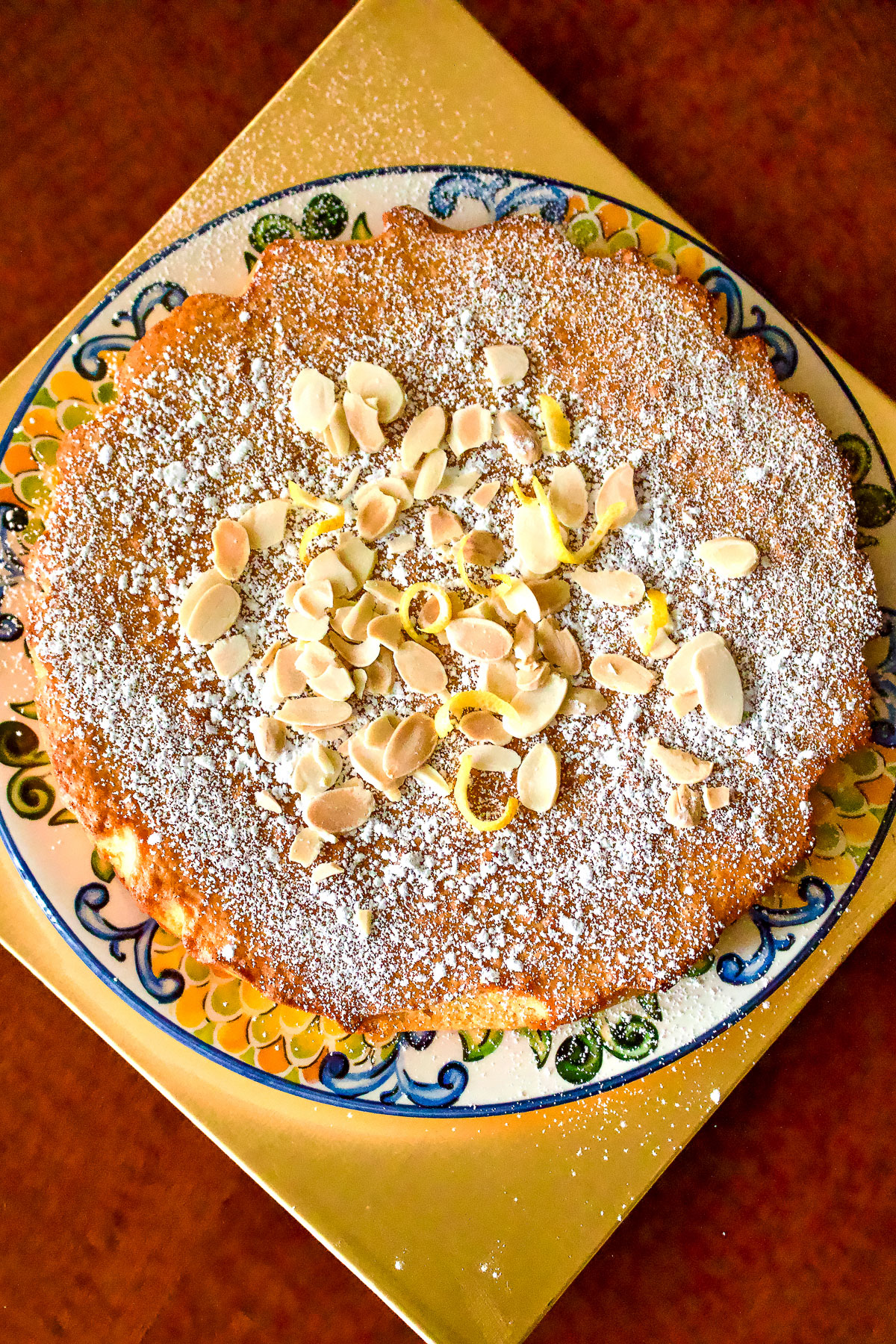 This cake is part of my Spanish collection of recipes on the blog, where you can find a multitude of dishes to make any time you want to take a culinary trip to Spain.
You will find, among others, Polvorones De Limon- Spanish Traditional Christmas Cookies, Migas Con Chorizo, Carne Con Tomate (Meat in Tomato Sauce) or Spanish Cod In Tomato Sauce.
Spanish Potato Salad (Ensaladilla Rusa) is a popular recipe you can enjoy all over Spain, and this delicate Orange-Almond Flan is perfect for entertaining.
Jump to:
Finding flavors on the way to Santiago de Compostela
Do you know how some places just stick with you? Santiago de Compostela is one of those spots for me.
Sure, it is the last stop on the Camino de Santiago, and the cathedral is a jaw-dropper, no doubt.
But beyond the stunning architecture and the sense of accomplishment you see on the faces of those tired pilgrims, there's another journey to be had—the one that leads you straight to some of Galicia's best eats.
We're talking hearty stews and soups, like Caldo Gallego, a hearty soup made with white beans and pork, and seafood dishes like Pulpo a la Gallega, Almejas a la Marinera. Padrón peppers are a staple on pretty much every menu. Seriously, Galicia knows how to feed you.
And then there's Tarta de Santiago.
What is Tarta de Santiago?
Tarta de Santiago, or St. James' Cake, has its roots that go way back, and it's as much a part of Galician culture as the rolling green hills and the sound of bagpipes in the air.
Think of it as Galicia's culinary ambassador. It is not just a cake. It is a slice of history.
Legend has it that this almond cake (tarta de almendras in Spanish) has been around since medieval times. It gets its name from St. James, or Santiago, the patron saint of Spain, who's said to be buried in Santiago de Compostela.
Pilgrims trekking their way to the saint's shrine would get a taste of this delicious Galician almond cake as a kind of sweet reward at the end of a long journey.
The recipe is a simple one—mostly almonds, sugar, and eggs. That's it! No fuss, no frills, but when these ingredients come together, they create something really special.
Sometimes, there is a pinch of cinnamon, and sometimes, it is simple.
This basque almond cake is traditionally topped off with powdered sugar, and the Cross of Saint James is stenciled right in the middle, making it instantly recognizable.
So, when you bite into a Tarta de Santiago, you're not just enjoying a delicious dessert; you're taking a bite out of a centuries-old tradition. It's like a little culinary journey, with no walking stick or hiking boots required.
Note:
It is not mandatory to use that cross on top of the cake. I just wanted to show you that this is how it looks traditionally.
When I make the cake, I only decorate it with slivered almonds and dust it with icing sugar. Keep it simple, and your dessert will be a hit!
The almond tart recipe is also naturally gluten-free for those who follow a gluten-free diet. In 1577, people did not think about gluten-free recipes, but they did think about a way to use available ingredients.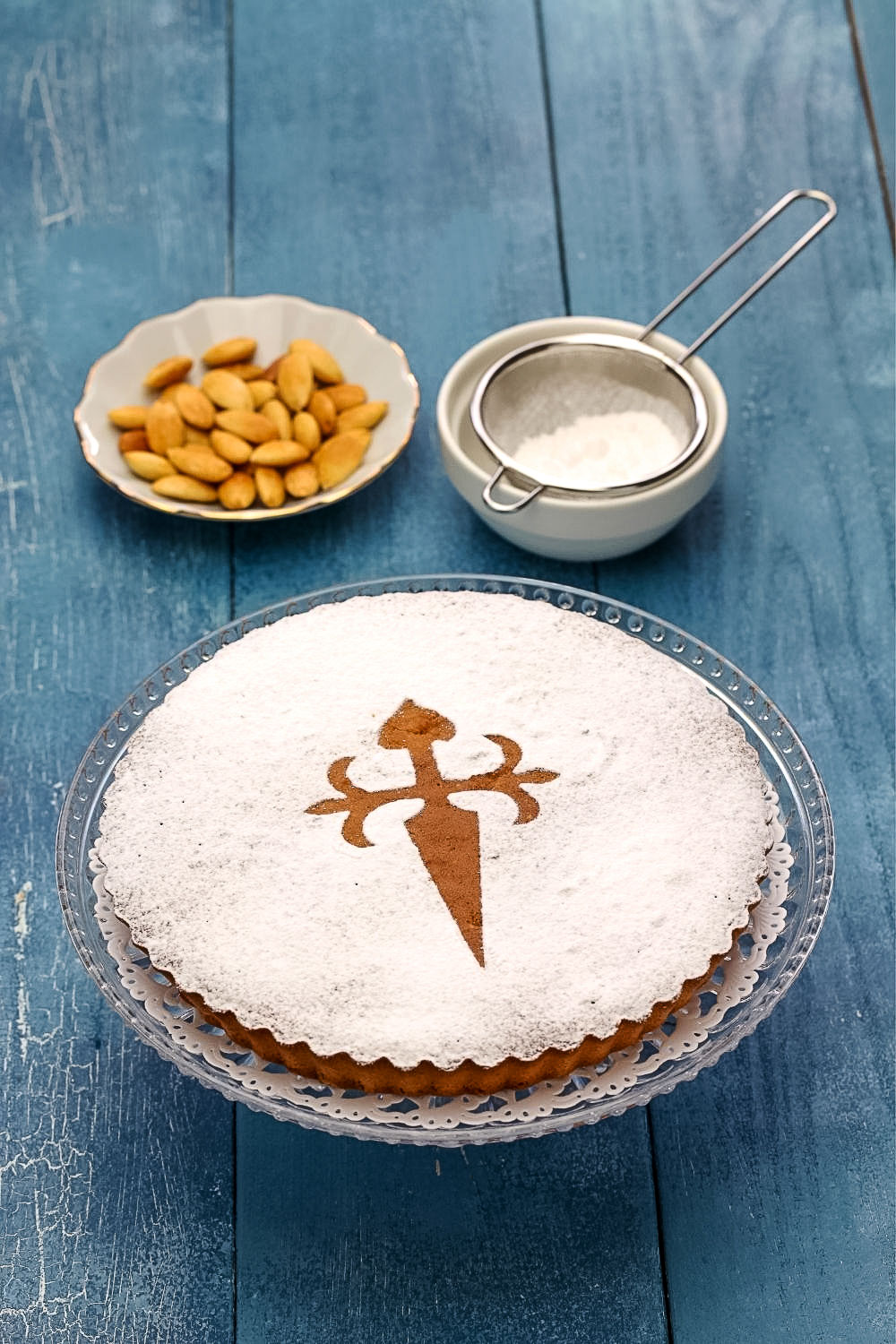 Tarta de Santiago ingredients:
Almond flour or almond meal :
I suggest you look for almond flour made from skinless, blanched almonds. There are some places where you will find ground almonds. These are almonds that are unpeeled, and the texture of the cake will be different.
If you cannot find almond flour, you can make your own. Buy whole raw almonds (not roasted or salted) and soak them in hot water for 5 minutes.
The brown skin will slide off the almonds very easily. Place the almonds on a clean kitchen towel and remove the moisture, then put them in the food processor to grind them. Make sure you do not transform them into almond paste. Yummy, but not suitable to make this cake. Now, they are ready to be used.
As usual, we use large eggs in our baking. You will need 5 eggs.
Granulated Sugar, cinnamon powder, lemon zest, and some powdered sugar for dusting the surface of the cake. Cinnamon is optional. Some recipe versions have it, while others don't. It is a matter of preference. I like cinnamon in this recipe, so I added it.
Butter: Grease the pan before baking the cake.
A 9-inch tart pan or a 9-inch springform pan. You can cover the bottom of the tin with parchment paper, but this is not mandatory if your prepared tin has been greased before.
Optional: You can add some almond extract for a stronger almond flavor. Otherwise, the original recipe is made without.
There are multiple ways to bring the ingredients together:
Method 1. The easier way and most traditional one is to mix the eggs and sugar together in a large mixing bowl, then add the almond flour, lemon zest, and cinnamon. The dry ingredients are gently incorporated into the eggs, and the batter is baked.
Method 2. I saw recipes where the egg whites are beaten and then added to the batter. While there is nothing wrong with this method, I do not recommend it if you want to make it truly authentic.
Method 3. Some recipes even call for baking powder, which is not at all part of the authenticity of the recipe.
Secret: In the traditional recipe, the cake comes out denser because the ingredients are mixed without whipping the egg whites or adding baking powder to aerate the batter.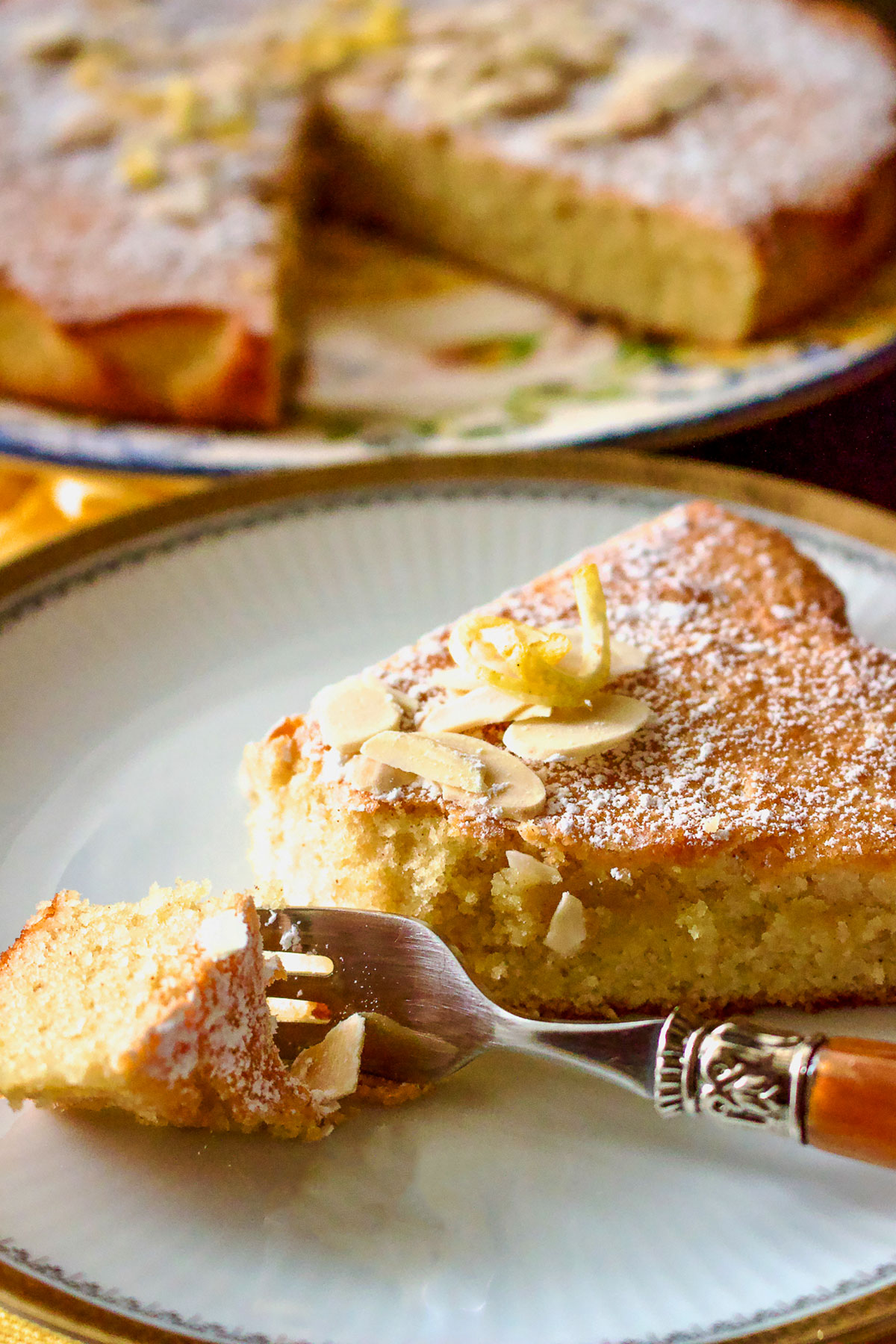 The recipe is straightforward, and you will be pleased with the results. Also, the cake is not tall. It looks more like an elegant tart.
How to store:
At room temperature.
This traditional Spanish almond cake can last for several days if stored properly. It does not need to be refrigerated, but it should be kept in a cool, dry place. You can store it at room temperature in an airtight container or wrapped in plastic wrap.
Depending on the recipe and the specific storage conditions, Tarta de Santiago can last for up to a week or more. However, it's best to consume it within 2-3 days for optimal taste and texture.
In the freezer.
If you want to extend the shelf life of Tarta de Santiago, you can freeze it either in individually sliced pieces or as the entire cake.
To do this, wrap it tightly in plastic wrap and then place it in an airtight container or freezer bag. It can be stored in the freezer for up to three months.
When you're ready to enjoy it, let it thaw at room temperature for several hours before serving.
Also, do not cover it with powdered sugar if you plan to freeze the cake. Sprinkle the sugar after you bring it to room temperature.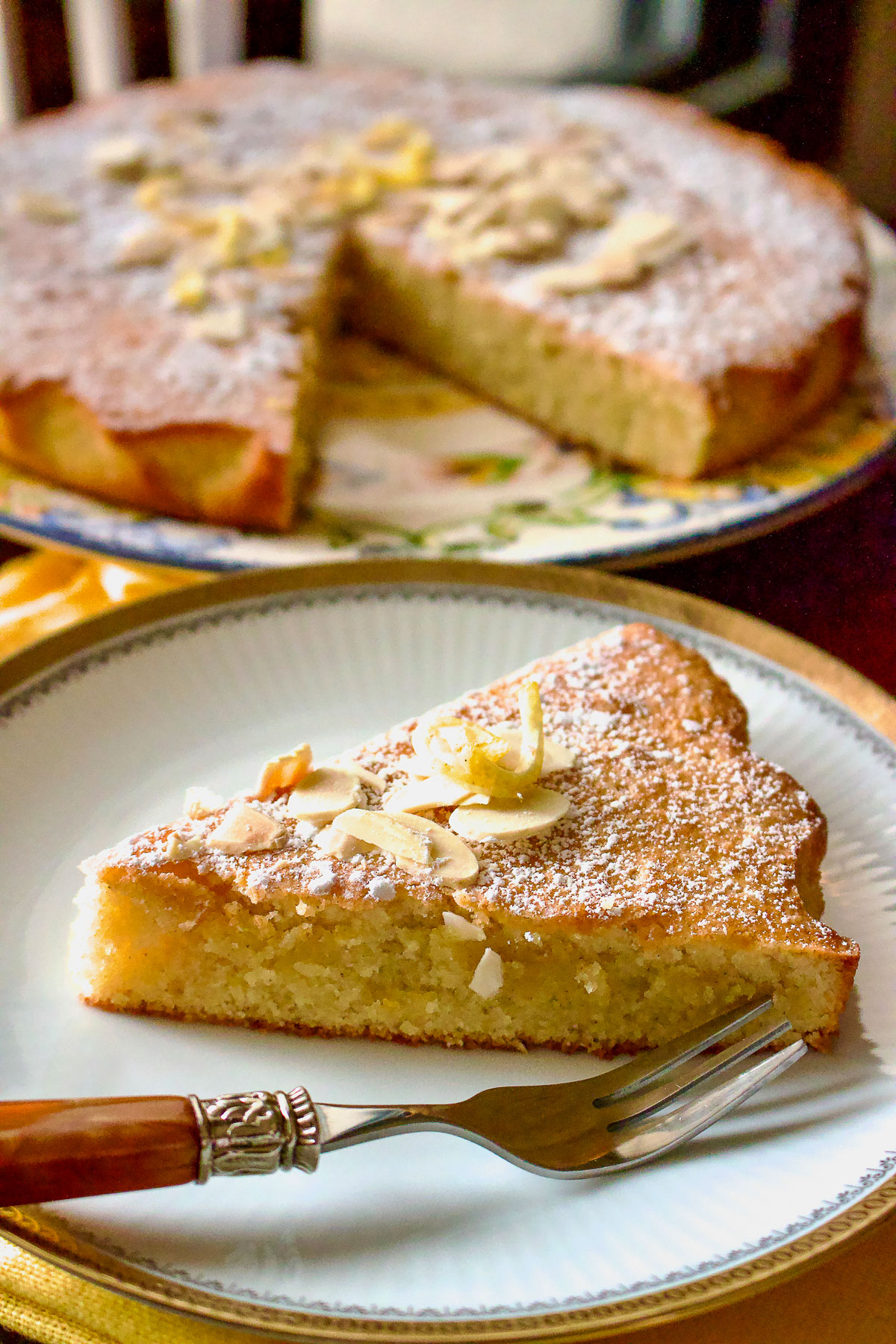 Recipe Faqs:
What kind of almonds are recommended for this recipe:
The original recipe requires raw Marcona almonds, but any almonds will do if you do not have that type of almond. As I am located in the US, I usually get almond flour at the grocery store.
When is Tarta de Santiago eaten?
On the 25th of July, Spain celebrates the St. James Feast. As a matter of fact, this day is a public holiday in the Basque Country and Galicia.

This is the day when most people will bake the cake to mark the event.
Spain uses almonds in many of its recipes, and this one is no different. Why not, as they are one of the biggest producers of almonds in the world?

Tarta de Santiago has also been recognized as a protected geographical indication (PGI) by the European Union, which means that it can only be called Tarta de Santiago if it is made in Galicia using traditional methods.
More Spanish recipes to love:
📖 Recipe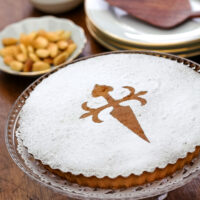 Tarta De Santiago (Spanish Almond Cake)
A delicious Spanish dessert made with almond flour. Gluten-free. In Spain, this cake is served around the holidays or during the Semana Santa before Easter Sunday.
Print
Pin
Share
Grow
Saved!
Rate
Ingredients
5

eggs large

1 ¼

cups

granulated sugar

2 ⅔

cups

blanched almond flour

zest of 1 lemon

½

teaspoon

cinnamon powder

1

teaspoon

unsalted butter for the pan

2

tablespoons

powdered sugar for dusting the cake
Instructions
Preheat oven to 350F/180C. Rub the bottom and the sides of a 9-inch round cake pan and line it with parchment paper.

In a large bowl, beat the eggs and sugar together until the sugar is dissolved and the mixture is foamy.

Add the almond flour, cinnamon and lemon zest and fold them in gently to make sure you don't remove the air from the mixture.

Pour the mixture into the prepared pan and bake at 350F for 30-35 minutes or until a toothpick inserted in the middle comes out clean.

Take the cake out of the oven and set it on a cooling rack. Give it a good 10 to 15 minutes to cool down before you attempt to take it out of the pan. Once it's ready, go ahead and sprinkle some powdered sugar over the top.
Notes
Expert tips:
Room-Temperature Eggs: Using eggs that have been brought to room temperature can make a difference in the texture of your cake. 
Overbaking Alert: Almond flour can be a bit tricky. To avoid overbaking, keep an eye on the cake during the final 10 minutes. Overbaked almond flour can turn overly crumbly and dry.
Almond Flour: Check the freshness of your almond flour. If it's stale or rancid, it can affect the overall taste of the cake. Store almond flour in the fridge to extend its shelf life.
Note on baking at high altitudes:
I got a message from someone who lives at a high altitude, and the recipe did not work for her. If you find yourself in this situation, remember that baking at high altitude is a complex matter that requires a little bit of science and practice.
My recipes are not tested for high altitude, as I have no way of doing that, so I cannot give you specific information on what you need to do.
However, I can give you some websites where you can learn how to bake when you live at a high altitude.
Colorado State University- High altitude food preparation
New Mexico State University- High-altitude cooking
King Arthur- High-Altitude Baking
Betty Crocker- Baking and Cooking at High Altitudes
Nutrition
Serving:
1
g
|
Calories:
383
kcal
|
Carbohydrates:
41
g
|
Protein:
11
g
|
Fat:
22
g
|
Saturated Fat:
2
g
|
Polyunsaturated Fat:
1
g
|
Monounsaturated Fat:
1
g
|
Trans Fat:
0.03
g
|
Cholesterol:
104
mg
|
Sodium:
39
mg
|
Potassium:
39
mg
|
Fiber:
4
g
|
Sugar:
35
g
|
Vitamin A:
164
IU
|
Vitamin C:
0.01
mg
|
Calcium:
96
mg
|
Iron:
2
mg
Tried this recipe?
Please leave a comment on the blog or like us on Facebook!
Check out this web story for Tarta de Santiago, How to make Tarta de Santiago