Spanish Almond Cake Recipe- Tarta de Santiago– A traditional Spanish cake that requires little effort to make, it is delicious and also gluten-free. If you love almonds, this recipe is for you. The recipe is suitable for holidays, dinners in the family or any other events when an easy dessert is required.
Spanish Almond Cake Recipe- Tarta de Santiago
This cake is a classic traditional Spanish dessert created a long, long time ago. The first documents about this recipe are dated 1577.
It originated in Galicia, but other regions of Spain adopted the recipe and created their own version of it.
Traditionally, the cake is marked with the cross of the Knights of Santiago and makes a perfect dessert for the holidays.
The recipe is also gluten free for those of you who follow a gluten-free diet. In 1577, people did not think about gluten-free recipes, but they did think about a way to use ingredients they had available.
Spain is known for using almonds in many of their recipes and this one is no different. Why not, as they are one of the biggest producers of almonds in the world.
The original recipe requires raw Marcona almonds, but if you do not have that type of almond, any almonds will do.
The cake is dense because in the traditional recipe the ingredients are just mixed without whipping the egg whites or adding baking powder for aerating the batter.
Some recipes I saw, the egg whites are beaten and then added to the batter, but I personally do not recommend it, if you want to make it truly authentic.
It is a beautiful dessert and it needs to be tried at least once.
When we were visiting Madrid a year ago, our daughter took us to lunch one day and ordered Tarta de Santiago for us.
We had to take a picture of it. But before that, we had to take a picture of the lovely meal we had.
A seafood soup that was delicious…
Pork tenderloin with mashed potatoes and a little salad…light and simple…
And Tarta de Santiago, the one that we are going to make today.
Do you see how dense the cake is? Let's see how it is made!
How to make Spanish Almond Cake Recipe- Tarta De Santiago
Step One.
Start by gathering the ingredients together. Eggs, sugar, almond liqueur (or almond flavor), cinnamon, almond flour and lemon.
Step two.
Place the eggs in a bowl and beat them well.
Step three:
Add the lemon peel, cinnamon, and almond liqueur.
Add the sugar. Beat the eggs and the sugar together until frothy.
Step four:
Add the almond flour and incorporate it into the mixture.
Note about the ground almonds: I suggest you look for almond flour made from skinless blanched almonds.
How to remove the skin of the almonds before grinding them:
You need to buy whole raw almonds(not roasted or salted) and soak them in hot water for 5 minutes.
The brown skin will slide off the almonds very easy. Place the almonds on a clean kitchen towel and remove the moisture, then put them in the food processor and grind them. Now they are ready to be used.
Finally, pour the batter into the buttered pan and bake it at 350F for about 35 minutes.
Remove it from the pan carefully and place it on a serving platter.
Dust it with powder sugar and serve.
DELICIOUS!
The recipe is incredibly simple and you will be pleased with the results. Also, the cake is not tall, looks more like an elegant tart. Enjoy!
PIN THIS FOR LATER: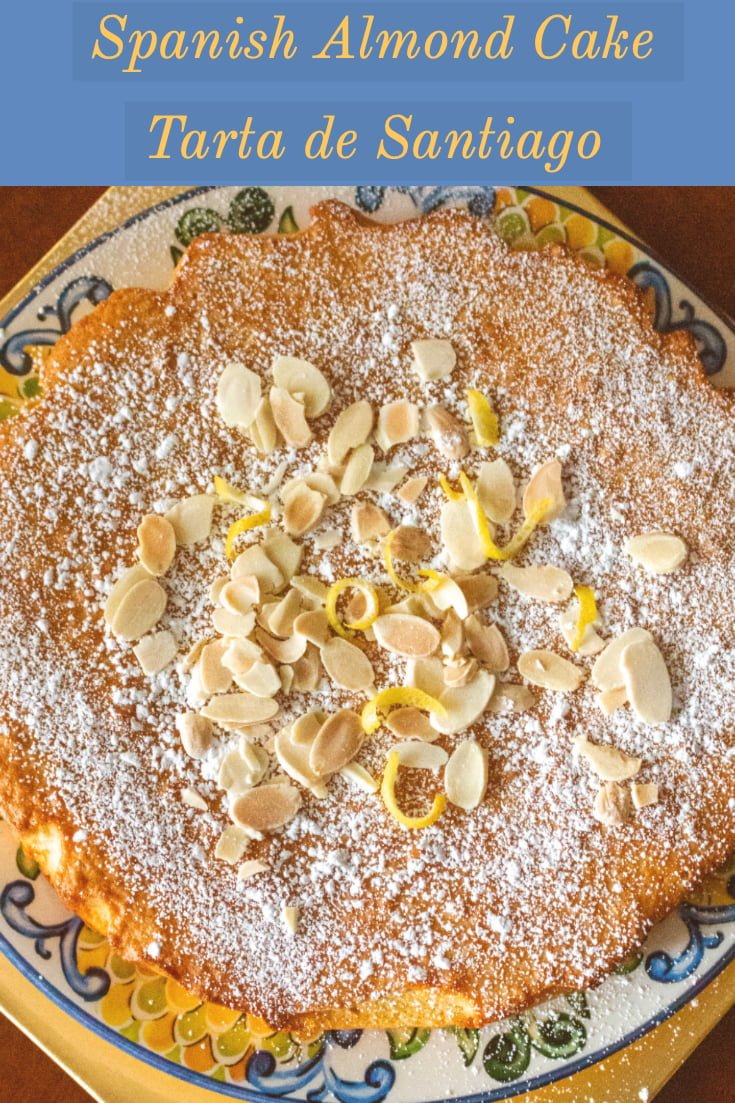 Yield: 8 servings
Spanish Almond Cake Recipe- Tarta De Santiago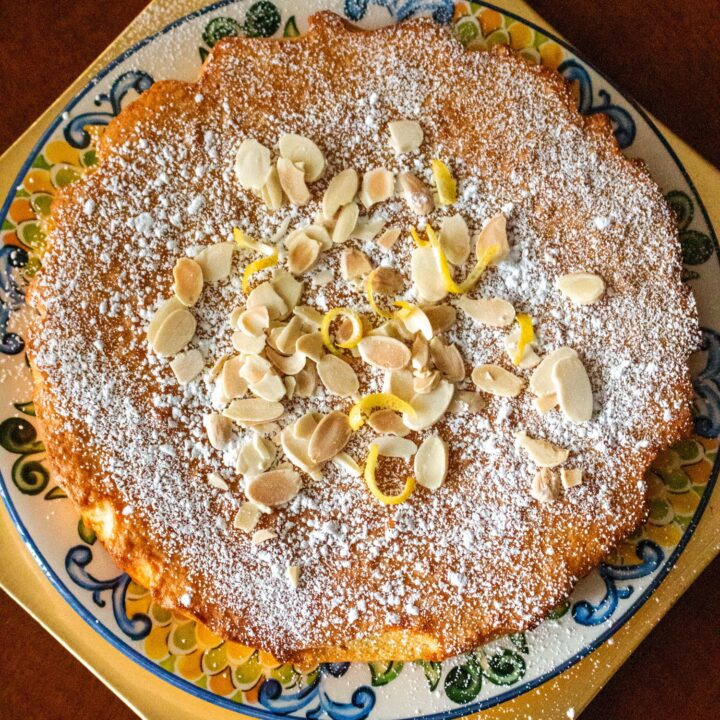 A delicious Spanish dessert made with almond flour. Gluten free. In Spain, this Tarta de Santiago is served around the holidays or during the Semana Santa, before Easter Sunday.
Ingredients
9 ounces sugar
5 eggs large
Zest of 1 lemon
1 teaspoon butter for buttering the pan
Powder sugar for dusting the cake
Instructions
Preheat oven to 350F and set aside a 9-inch round tart pan.
In a big bowl beat the eggs and sugar together until the sugar is dissolved and the mixture is foamy.
Add the lemon zest, cinnamon, almond flavor and the almond flour.
Mix everything very well.
Butter the tart pan.
Place the mixture in the pan and bake at 350F for 30-35 minutes.
Remove the cake from the oven, let it cool for few minutes, then dust it with powder sugar.
Recommended Products
As an Amazon Associate and member of other affiliate programs, I earn from qualifying purchases.
Nutrition Information:
Yield:
8
Serving Size:
1
Amount Per Serving:
Calories:

399
Total Fat:

21g
Saturated Fat:

3g
Trans Fat:

0g
Unsaturated Fat:

17g
Cholesterol:

124mg
Sodium:

75mg
Carbohydrates:

45g
Fiber:

4g
Sugar:

38g
Protein:

11g