Chickpeas Green Beans With Pork And Spanish Chorizo - a heart-warming dish from Spain. Chickpeas are popular in most parts of Spain and chorizo is a staple. Use Spanish paprika and Spanish chorizo for a more authentic flavor.
Jump to:
Why You Should Try This Recipe
Today I will continue sharing with you another traditional Spanish recipe, Chickpeas Green Beans with Pork and Spanish Chorizo, a recipe I collected during my vacation in Spain. It is a heartwarming dish, great to make on chilly days.
Easy to put together, especially if you have, like me, those cans of chickpeas in the pantry and you do not know what to do with them.
If you like chickpeas, I have some other ideas for you besides this recipe, like Okra with Chickpeas And Pork, these lovely Chickpeas Cucumber and Tomato Salad, or this hearty soup with chickpeas and noodles.
No matter which recipe you choose to make, chickpeas are a great choice when it comes to fiber and protein, and they should be, if not already, a staple in your pantry.
For sure, they are a staple in Spain, and people eat them all year round.
Last December, we had the opportunity to travel to Spain, where our daughter was completing a Master's degree.
We were so excited and happy to reunite with her after almost one year of not seeing her and spending the holidays together as a family!
Holidays are very busy all around Spain, and tourists invade every corner of the country, so we decided to stay home in Madrid for Christmas and New Year's and travel to Seville and Granada the first week of January.
Many touristic places are also closed for the holidays, and there is not a lot to do besides shopping.
Our first stop was in Seville, one of the most charming cities in Spain. The capital of the southern region of Spain, Andalusia, the city of Seville, is famous worldwide for its culture, monuments, traditions, and artistic heritage.
Seville is well connected to Madrid by the Spanish high-speed train AVE, so it was extremely easy to get there.
We loved the Cathedral, the third largest in the world,
Plaza Espana, a place that I really fell in love with,
and the abundance of orange trees on every street and corner of the city.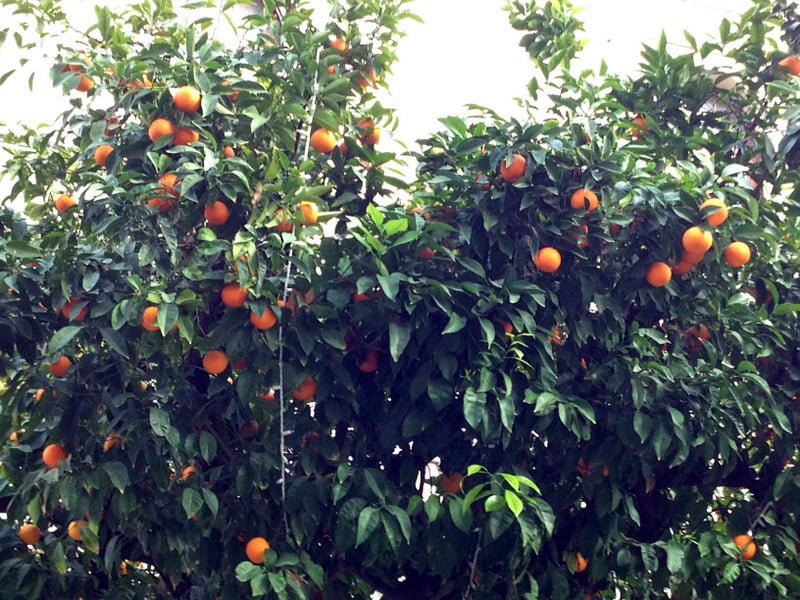 However, I would not be a real food blogger if I were not interested in food and recipes. On our first day in Seville, right after arriving, we went out to lunch.
We did not have to look around for too long, as Seville, like most Andalusian destinations, is known for its tapas and its restaurants everywhere.
The closest place to eat was right in front of our Airbnb apartment (Thank you, Lord! I was so hungry!).
We ordered the dish of the day, this beautiful, amazingly delicious Chickpeas with Spanish Chorizo and Green Beans.
I really fell in love with the dish as it was one of the simplest yet most delicious foods I had ever had in a restaurant. When I arrived home, back in Minneapolis, I tried to replicate the dish at home.
How to make
For this recipe, you will need just a few ingredients. I used a few Spanish key ingredients for flavor, like sweet Spanish paprika and Spanish chorizo. Obviously, it is not easy to find real Spanish Chorizo in the United States, at least not where I live.
By the way, it is not the same as the Mexican chorizo that everyone knows. Mexican chorizo is very spicy, and Spanish chorizo is not.
However, you can try to replace it with your favorite sausage. It will not taste the same, but it will be close.
I added pieces of pork to the sausage.
I chopped the onion, garlic, chorizo, and pork. I heated some olive oil in a pan and sautéd the vegetables, meat, and chorizo together.
When the vegetables developed the flavor and got translucent, I added the sweet paprika and some bay leaves. I also added the chopped green beans and the chickpeas together with their liquid from the cans.
After 10 minutes of simmering, I seasoned for the last time with salt and pepper. Optional, you can add a tablespoon of tomato sauce for color, but it is truly not necessary.
At this point, it is ready to eat. I suggest a crusty baguette or garlic bread to dip in the sauce. If you have more time and plan in advance, I suggest making this delicious, super easy homemade bread.
More recipes to love
Easy Chickpeas Salad With Feta And Mint
Cheesy Chorizo And Tomato Baked Pasta
Baked Potatoes With Chicken And Spanish Chorizo
Enjoy!
Yield: 6 servings
Chickpeas Green Beans With Pork And Spanish Chorizo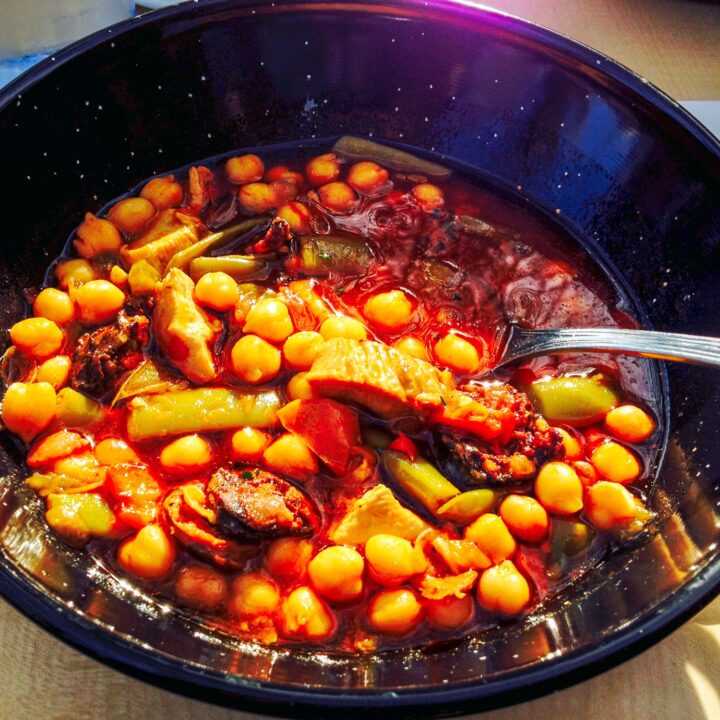 Chickpeas Green Beans With Pork And Spanish Chorizo - a heart-warming dish from Spain. Chickpeas are popular in most parts of Spain and chorizo is a staple. Use Spanish paprika and Spanish chorizo for a more authentic flavor.
Ingredients
2-3 tablespoons extra virgin olive oil
2 Spanish Chorizo sliced (approx. 8oz)
1 pound pork meat chopped to bite size
1 large red onion chopped
3-4 garlic cloves chopped
1 Tablespoon Spanish sweet paprika
1-2 bay leaves
4 oz fresh or frozen green beans chopped to bite size
2 cans of chickpeas
salt and pepper to taste
Instructions
Chop the red onion, garlic, chorizo and pork meat.
Heat up the olive oil in a medium pan and add the vegetables, chorizo, and meat.
Saute until onions are translucent. Keep an eye on the garlic as it tends to burn easily.
Add the bay leaves and the sweet paprika.
Mix well, then add the chickpeas with the liquid from the can and the green beans.
Season with salt and pepper.
Simmer everything on low heat for about 10-15 minutes until the meat and the green beans are cooked.
Serve with crusty baguette or garlic bread.
Nutrition Information:
Yield:
6
Serving Size:
1
Amount Per Serving:
Calories:

395
Total Fat:

23g
Saturated Fat:

6g
Trans Fat:

0g
Unsaturated Fat:

14g
Cholesterol:

75mg
Sodium:

215mg
Carbohydrates:

20g
Fiber:

6g
Sugar:

4g
Protein:

28g