This Chickpea Salad is your ticket to a quick yet fulfilling meal, loaded with crisp cucumbers and sweet peppers, juicy tomatoes, vibrant green onions, and creamy feta cheese.
The fresh mint and basil transport you straight to a Mediterranean garden with each bite, while a splash of lemon juice and a drizzle of olive oil will bring everything together into a bowl of nourishment.
This salad is simple to make and perfect to enjoy at any time of the day.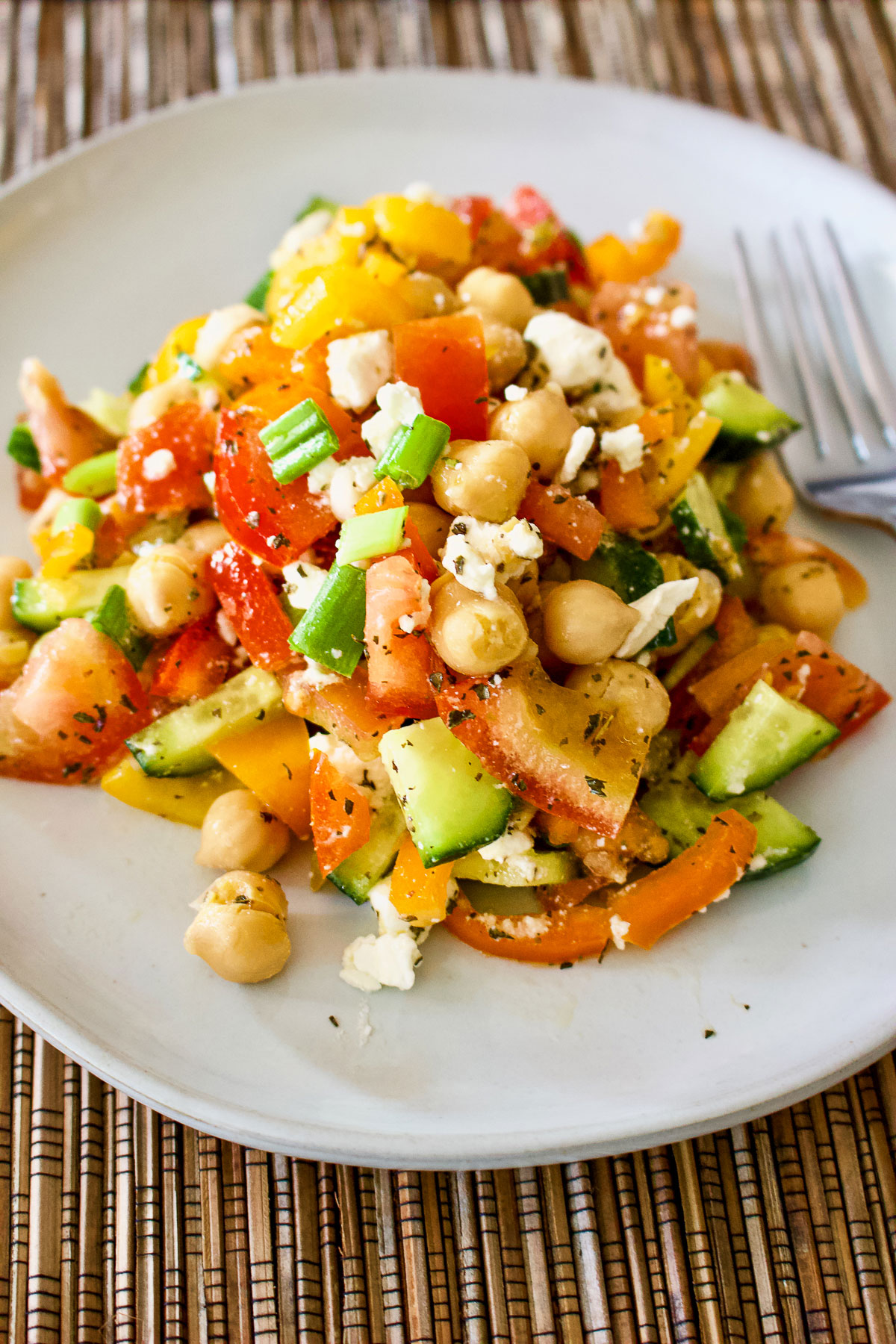 When I entertain, I love to serve this garbanzo bean salad with Roasted Boneless Pork Chops and some Pearl Couscous With Almonds And Raisins.
Jump to:
A Simple & Tasty Salad
Chickpeas, gorgeous bell peppers, green onion, cucumbers, and tomatoes are tossed in an easy, healthy olive oil and lemon juice dressing. Mint and delicate basil are added to the salad to bring it closer to perfection.
Remember that can of chickpeas you have in the pantry and don't know what to do with it? This is the time to use it!
I don't know about you, but I personally always keep chickpeas cans in my pantry.
It is a great shortcut to put a recipe together in no time when you don't really have the time to cook chickpeas from scratch.
Is it chickpeas or garbanzo bean salad?
Chickpeas and garbanzos are actually the same type of legume, just known by different names in different regions. The word "chickpea" comes from the Latin word "cicer," and is most commonly used in English-speaking countries.
On the other hand, "garbanzo" has Spanish origins, and is used widely in Spain and Latin American countries.
Why should you use chickpeas?
These legumes are a staple in many international cuisines including in the Mediterranean, the Middle East, and India.
They're a great source of protein, making them a popular choice in vegetarian and vegan diets and super versatile.
I use chickpeas to make homemade hummus, I add them to different salads, or in heartwarming recipes like this Moroccan Chicken Soup I made the other day.
I love them in all kinds of stews as they are perfect for the winter season, like this Chickpeas Green Beans with Pork and Spanish Chorizo, or this Okra with Chickpeas and pork.
However, for warmer climates or seasons, I truly recommend this easy and delicious salad.
It makes a wonderful lunch, gives you fiber and a little bit of protein, and as far as I know, it should have an important place in your "healthier recipes" collection.
There is no better way to add a little bit of protein to a salad than to add some sort of beans to it. Chickpeas, white beans, red beans, or lentils are always a great addition.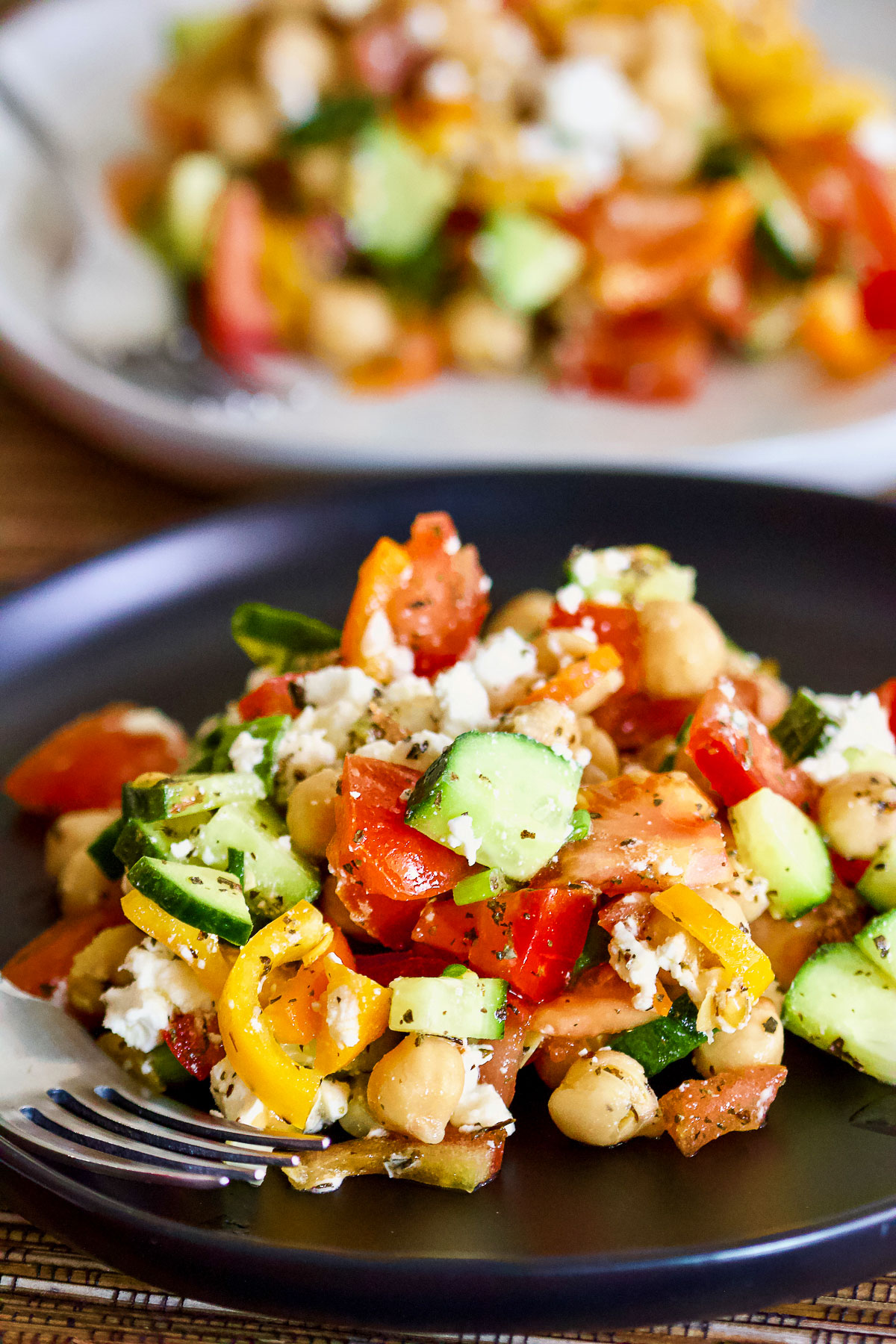 Why should you try this recipe?
Quick and Easy: Got a can of chickpeas in your pantry? This recipe is a wonderful way to put it to use, allowing you to whip up a satisfying meal in no time, especially when you're looking for a quick lunch or dinner solution.
Perfect for Every Season: Whether you're in the mood for a cold salad in the warmer months or looking to add it as a side to a warm, hearty dish in winter, this salad fits perfectly with your plans, offering versatility in serving options.
A Palette of Colors and Flavors: This recipe celebrates vibrant vegetables like colorful bell peppers, green onions, and tomatoes, creating a dish that is as pleasing to the eyes as it is to the palate.
So, grab that can of chickpeas, and let's make a salad together. You will not need many ingredients besides the chickpeas, and you can also remove or add other ingredients according to your taste.
Ingredients
(For the amount of ingredients make sure you check the printable recipe card at the end of this article)
Chickpeas: They have a mild, nutty flavor that pairs well with a variety of ingredients. If you don't have chickpeas, you could substitute with other types of beans like cannellini beans or kidney beans.
You can also use dried chickpeas, but they need to be soaked overnight and cooked until tender before using in the salad. For your convenience, one can of chickpeas is approximately 1.5 cups cooked chickpeas.
Feta Cheese: Feta is a tangy, salty cheese that adds a lot of flavor to the salad. If you don't have feta, you could use goat cheese, or even cubed fresh mozzarella as a substitute.
However, feta cheese has a unique tangy flavor that pairs well with the other ingredients.
Tomatoes: Tomatoes add a sweet and slightly acidic flavor to the salad. You could use any type of tomatoes you have on hand, from cherry tomatoes to beefsteak tomatoes. If you don't have fresh tomatoes, you could use sun-dried tomatoes instead, especially in the winter when tomatoes don't taste amazing.
Green Onions or Red Onion: I love green onions in the summer, but red onions are perfect all year round. If you don't have green onions or red onion, you could use white or yellow onions, but keep in mind they have a stronger flavor.
Cucumber: Cucumbers add a fresh, crisp texture to the salad. Go for English cucumbers or Persian cucumbers as they have a more delicate skin and fewer seeds, which makes them more enjoyable in a fresh salad.
However, if you have garden cucumbers or regular ones from the store, they will work too; just make sure to peel them to remove the tough skin and scoop out the seeds for a better texture in your salad.
Bell peppers: I used a yellow bell pepper because it is milder and sweet. You can also use a red pepper or a spicy one, if this is what you like.
Mint and Basil: These herbs add an incredible fresh, aromatic flavor to the salad. If you don't have fresh herbs, you can use dried herbs, but use them sparingly as they have a more concentrated flavor. If you don't have mint or basil, you could use parsley or cilantro.
Lemon Juice: Lemon juice adds a bright, acidic flavor to the salad. If you don't have lemons, you could use a splash of vinegar (like red wine vinegar or apple cider vinegar) as a substitute, and call it Greek vinaigrette.
Extra Virgin Olive Oil: Olive oil adds a rich, fruity flavor to the salad and helps to meld the flavors together. If you don't have olive oil, you could use another type of oil like sunflower oil, or any other neutral vegetable oil available.
What do you serve with chickpea salad?
Meats or Fish: Try this recipe for No Breaded Fried Chicken Thighs or this Cedar Plank Salmon on Mixed Greens.
Pita Bread or Flatbread: You can serve the salad inside a pita pocket or alongside flatbread for a Mediterranean-inspired meal.
Soup: A light soup, such as a chicken or vegetable broth-based soup, could be a nice accompaniment to the salad for a light lunch or dinner.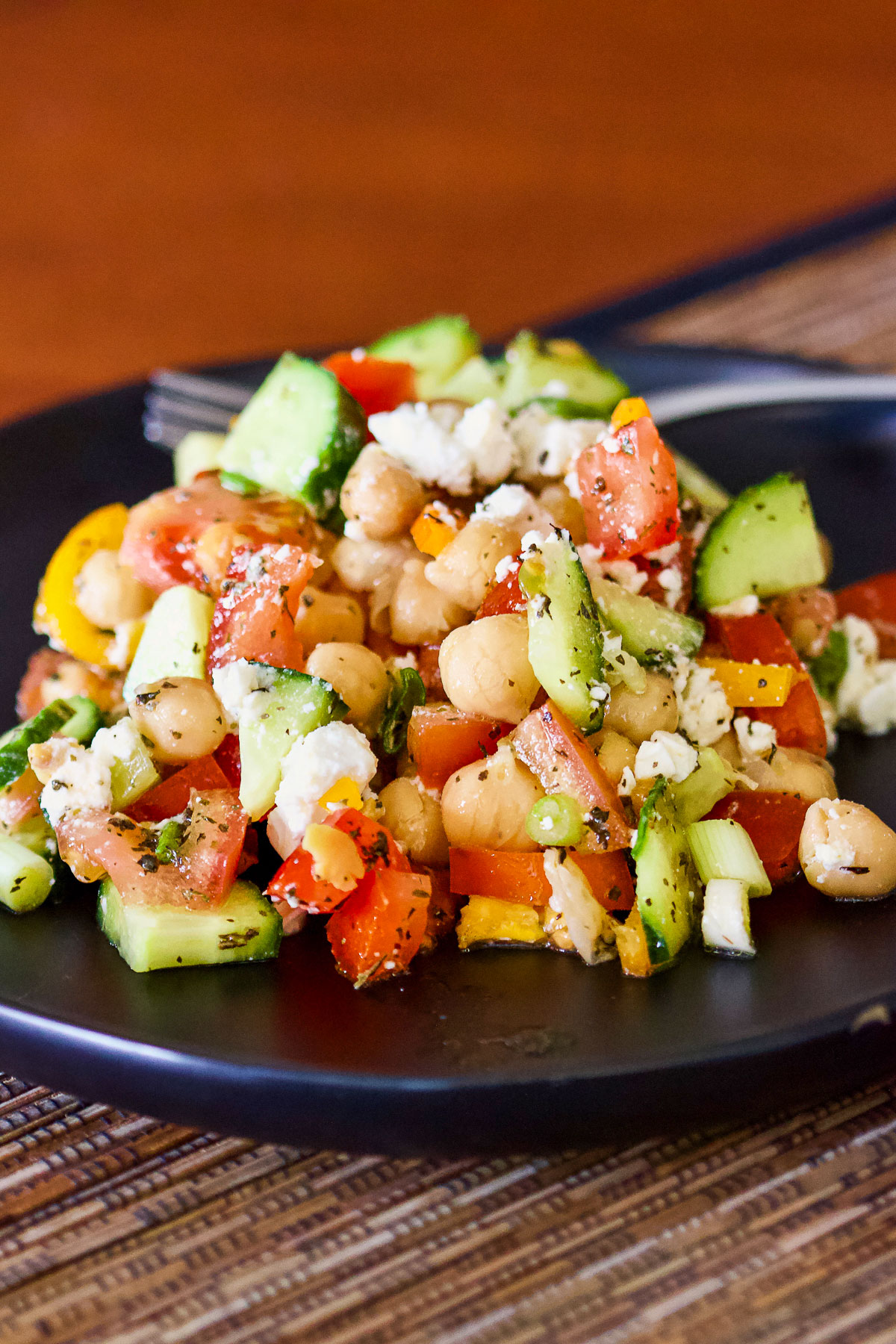 Storage:
Place the leftover salad in an airtight container and refrigerate. This salad stores well in the fridge for 2-3 days. Keep in mind that the cucumbers and tomatoes will soften over time, so it's best enjoyed fresh.
Recipe Faqs
Can you use chickpeas straight from the can in a salad?
Yes. They are pre-cooked and safe to eat without additional cooking. However, it is generally a good idea to rinse them before use to remove any excess sodium or preservatives that might be in the canning liquid.
Are chickpeas high in protein?
Yes, chickpeas are a good source of plant-based protein. One cup of cooked chickpeas contains approximately 14-15 grams of protein. Chickpeas are also rich in dietary fiber and contain a variety of vitamins and minerals, including folate, iron, and magnesium.
What other vegetables can I add to the chickpea salad?
You can personalize the salad by adding avocados, or radishes, or removing some things you might not like. Play around with the ingredients to find your perfect blend.
Can I make this salad ahead of time?
Yes, you can prepare the salad a few hours before serving. However, to maintain the crispness of the vegetables, I recommend you to add the dressing just before serving.

More salad without lettuce:
More recipes to love
Craving more? Subscribe to The Bossy Kitchen to get new recipes and a newsletter delivered straight to your inbox! Stay in touch on Facebook, Twitter, Pinterest, and Instagram for all of the latest updates. Don't forget to use the star rating and leave a review.
📖 Recipe
Chickpea Salad
This Chickpea Salad is healthy, packed with protein, and easy to make. It features juicy tomatoes, crisp cucumbers, sweet peppers, and Feta cheese. With the addition of fresh mint, basil, and olive oil with lemon dressing, this garbanzo salad takes you on a trip to the Mediterranean flavors.
Print
Pin
Share
Grow
Saved!
Rate
Ingredients
15

ounces

can of chickpeas

drained and rinsed

2

medium tomatoes chopped

3

medium green onions chopped

or 1 medium red onion diced

1

medium cucumber chopped

1

medium bell pepper chopped

use yellow, red, or orange bell peppers

¼

cup

crumbled feta cheese

2

teaspoons

fresh chopped mint

or ½ teaspoon dried mint

2

teaspoons

chopped basil

or ½ teaspoon dried basil

1

juice from one lemon

3

tablespoons

extra virgin olive oil

½

teaspoon

salt

⅛

teaspoon

ground black pepper
Instructions
Start by draining and rinsing the chickpeas thoroughly. Proceed to chop the tomatoes, green onions (or red onion), cucumber, and bell pepper into bite-sized pieces.

In a large bowl, combine the prepared chickpeas, tomatoes, green onions, cucumber, and bell pepper. Stir in the crumbled feta cheese, followed by the chopped fresh mint and basil (or their dried alternatives).

In a small bowl, whisk together the fresh lemon juice, extra virgin olive oil, salt, and ground black pepper until well combined.

Pour the dressing over the chickpea mixture and toss everything together until well combined and evenly coated with the dressing.

Cover the bowl and refrigerate the salad for about 30 minutes to allow the flavors to meld. Serve cold, and enjoy your refreshing, homemade chickpea salad.
Notes
Herbs: Feel free to use a variety of fresh herbs according to your preference. Fresh dill, parsley, or cilantro can be great additions. You dried herbs in the winter.
Cheese: If you're not a fan of feta, try substituting it with goat cheese or fresh mozzarella for a different flavor profile.
Vegan option: To make this salad vegan, simply omit the feta cheese.
Leftovers: This salad stores well in the fridge for 2-3 days. Keep in mind that the cucumbers and tomatoes will soften over time, so it's best enjoyed fresh.
Serving suggestion: This salad pairs wonderfully with grilled chicken, seafood, or a slice of crusty bread for a light lunch.
Spice it up: If you prefer a bit of heat in your salads, consider adding a diced jalapeño or a sprinkle of red pepper flakes.
Nutrition
Serving:
1
g
|
Calories:
325
kcal
|
Carbohydrates:
37
g
|
Protein:
12
g
|
Fat:
16
g
|
Saturated Fat:
3
g
|
Polyunsaturated Fat:
2
g
|
Monounsaturated Fat:
9
g
|
Cholesterol:
8
mg
|
Sodium:
413
mg
|
Potassium:
660
mg
|
Fiber:
10
g
|
Sugar:
9
g
|
Vitamin A:
1661
IU
|
Vitamin C:
55
mg
|
Calcium:
125
mg
|
Iron:
4
mg
Tried this recipe?
Please leave a comment on the blog or like us on Facebook!