This Easy Chickpeas Salad with Feta and Mint is a delicious salad that you can make all year round. The recipe combines all my favorite fresh vegetables in one perfect salad.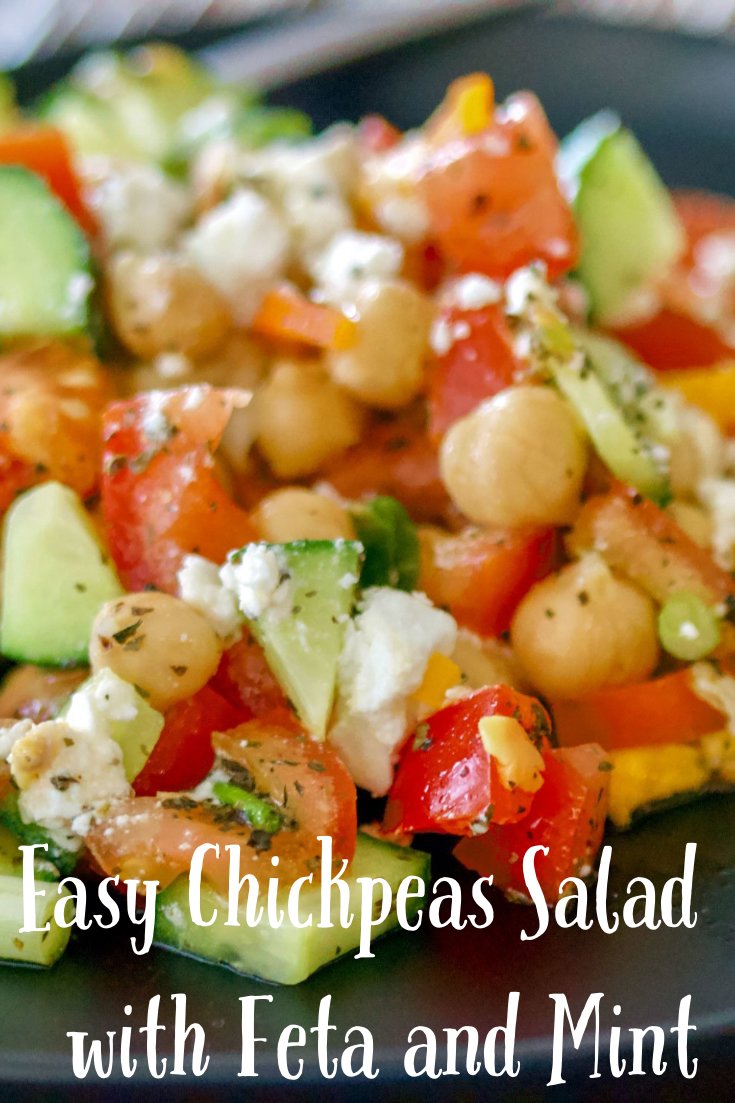 Chickpeas, gorgeous bell peppers, green onion, cucumbers, and tomatoes are tossed in an easy, healthy olive oil and lemon juice dressing. Mint and delicate basil are added to the salad to bring it closer to perfection.
Remember that can of chickpeas you have in the pantry and have no clue what to do with it? This is the time to use it! I don't know about you, but I personally always keep chickpeas cans in my pantry (organic).
It is a great shortcut to put a recipe together in no time when you don't really have the time to cook them from scratch.
I use the chickpeas for making homemade hummus, add them to different salads, or for different heartwarming recipes like this Moroccan Chicken Soup I made the other day.
Chickpeas have a lot of protein and as well lots of fiber, like the majority of beans. They are also very high in iron and calcium. I love them in all kinds of stews as they are perfect for the winter season, like this Chickpeas Green Beans with Pork and Spanish Chorizo.
Or this Okra with Chickpeas and pork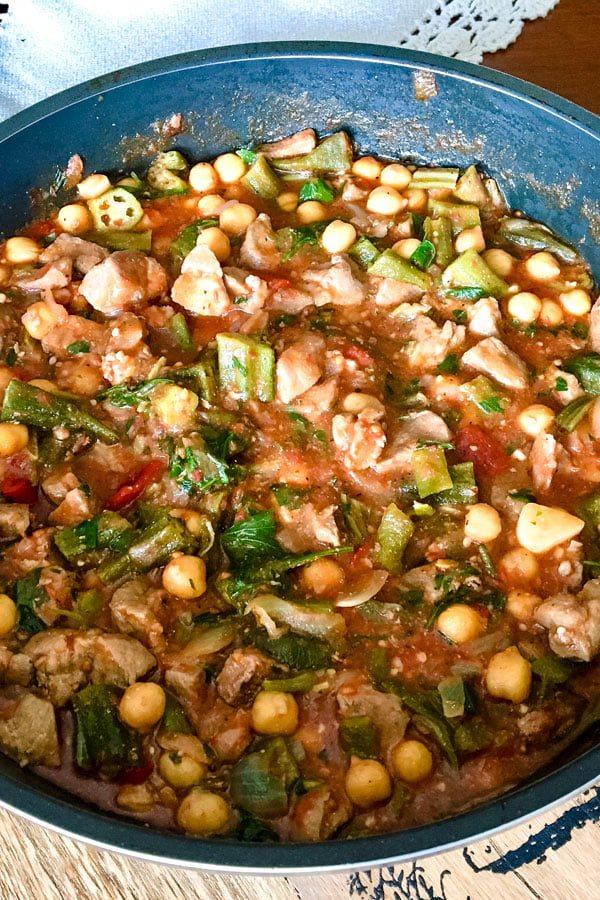 However, for the warmer climates or seasons, I truly recommend this easy and delicious salad. It makes a wonderful lunch, gives you fiber and a little bit of protein, and as far as I know, it should have an important place in your "healthier recipes" collection.
There is no better way to add a little bit of protein to a salad than to add some sort of beans to it. Chickpeas, white beans, red beans, or lentils are always a great addition.
I make this salad a lot because it is one of the very few salads that I find satisfying as a meal. I also love the vegetables that go into it. Colorful, beautiful tomatoes, bell peppers, green onions, cucumbers…
I grew up with the combination of these vegetables, and I still go first for them every time I have the opportunity. Get here my favorite Tomato salad recipe.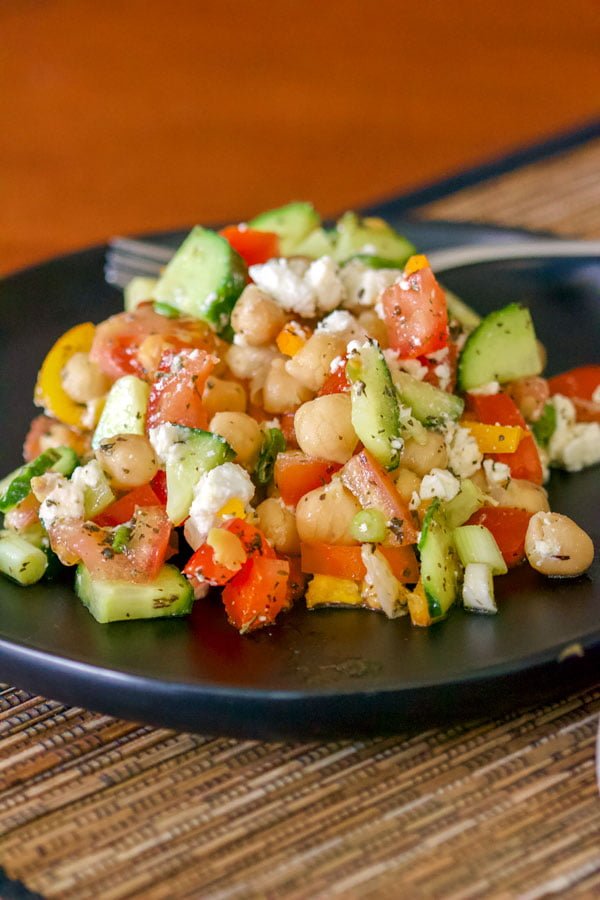 So, grab that can of chickpeas, and let's make a salad together. You will not need many ingredients besides the chickpeas, and you can also remove or add other ingredients according to your taste. Enjoy!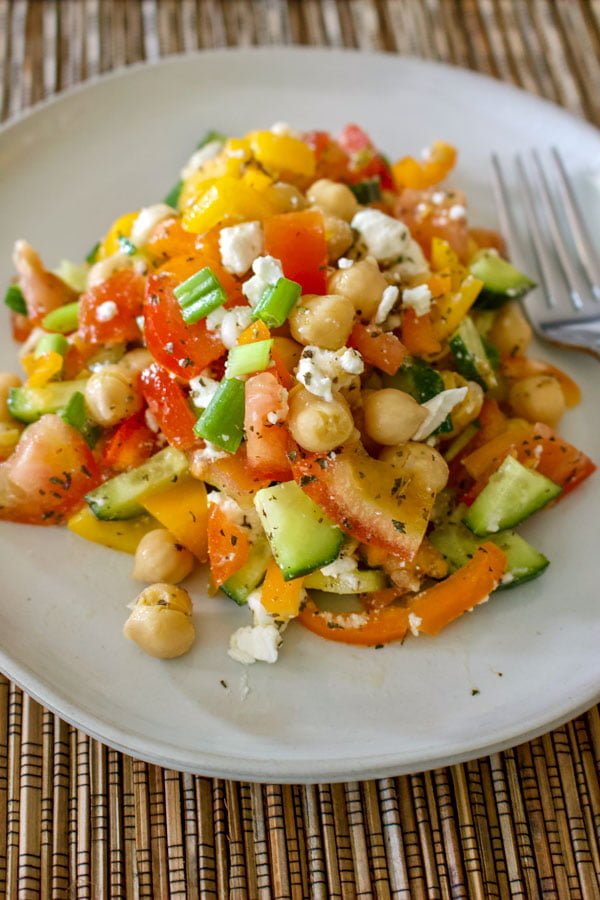 More recipes to love:
Grilled Ham And Cheese Cranberry Sandwich
Romanian Garlic Green Beans Salad
Yield: 4 servings
Easy Chickpeas Salad With Feta And Mint
This Easy Chickpeas Salad with Feta and Mint is a great recipe for any day of the year. Grab that can of chickpeas from your pantry and make the recipe in less than 10 minutes. Use fresh mint and basil in the summer or dried herbs in the winter. Healthy, easy and delicious!
Ingredients
1-2 medium tomatoes chopped
2-3 green onions chopped
1 medium cucumber chopped
1/4 cup crumbled feta cheese
2 teaspoons fresh chopped mint
2 teaspoons chopped basil
1 lemon(use the juice)
salt and pepper to taste
Note: If you do not have fresh basil and mint use a 1/2 teaspoon of dried basil and dried mint)
Instructions
Drain and rinse the chickpeas.
In a bowl, combine the chickpeas, tomatoes, cucumbers, green onion, feta cheese, basil and mint together.
Add the olive oil and lemon juice, salt and pepper to taste.
Serve cold.
Nutrition Information:
Yield:
4
Serving Size:
1
Amount Per Serving:
Calories:

149
Total Fat:

6g
Saturated Fat:

2g
Trans Fat:

0g
Unsaturated Fat:

3g
Cholesterol:

8mg
Sodium:

170mg
Carbohydrates:

20g
Fiber:

5g
Sugar:

7g
Protein:

6g
Note: "We are a participant in the Amazon Services LLC Associates Program, an affiliate advertising program designed to provide a means for us to earn fees by linking to Amazon.com and affiliated sites."