Note: "We are a participant in the Amazon Services LLC Associates Program, an affiliate advertising program designed to provide a means for us to earn fees by linking to Amazon.com and affiliated sites."
I had many cucumber salads in my life but only in Transylvania I ate a cucumber salad made this way. It is a very easy recipe that uses  simple ingredients, but the taste is fabulous. Made with green onion, dill, sweet paprika and a simple vinaigrette, this cucumber salad is the best salad for summer.
This recipe has Hungarian roots. The use of paprika is very popular in the Hungarian and also Transylvanian cuisine, due to the ethnic influences.
I saw my grandmother making this recipe in the summer while I was growing up and I also made it myself many times. I love a good cucumber salad next to grilled meats, fried potatoes, or a good schnitzel.
I researched many Romanian cucumber recipes and they all agree in something very important. You need to make this salad with 30 minutes before you serve it, so the ingredients have time to get friendly with each other.
I love good cucumbers in the summer, the ones that do not have the chance to grow too big and have too many seeds. Not too small, like the ones you would pickle(See here my favorite and also the most popular recipe on the site), but medium in size.
The English cucumber is also very good, so use what you have available.
HOW TO MAKE THE BEST CUCUMBER SALAD- TRANSYLVANIA STYLE
It is super easy. Peel the cucumbers and slice them really thin. A mandoline is perfect for the job, but if you don't have one, a knife will work as well.
Just make sure you cut the cucumbers thin. Place them in a colander and salt them lightly, so they release some water.
While the cucumbers are draining, chop the onion and the fresh dill. This is a summer salad, so fresh dill and green onions are perfect, but if you make the salad in the winter, then regular onion, or even red onion and preserved dill work well too.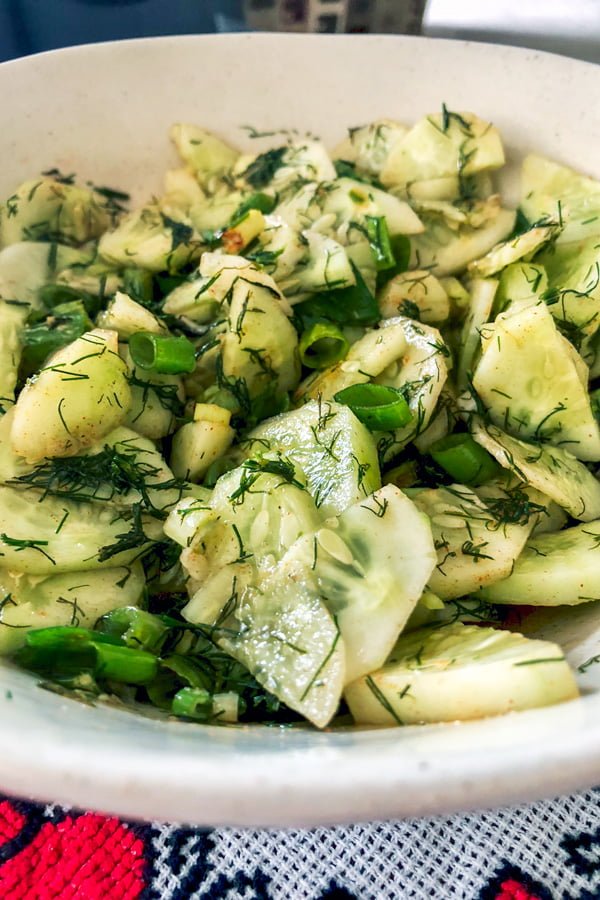 Place the cucumbers in a salad bowl, add the onions and mix gently to combine. Separate, make the vinaigrette by mixing together the vinegar, water, salt and a little bit of sugar.
Add the vinaigrette over the salad and toss the cucumbers and onions in it. Add the dill and mix again.
Add a little bit of oil on top of the salad and dust the cucumbers with sweet paprika.
The salad needs to sit before you serve it for about half hour, so the ingredients get marinated in the vinaigrette.
Serve it with Chicken Schnitzel(one of my favorites), or Scalloped potatoes with hard boiled eggs. You might also like New potatoes with dill and butter and Romanian meatballs(yumm!)
All these summer dishes are perfect for this cucumber salad.
By the way, if you liked this recipe, maybe you want to try some other salad ideas for this summer: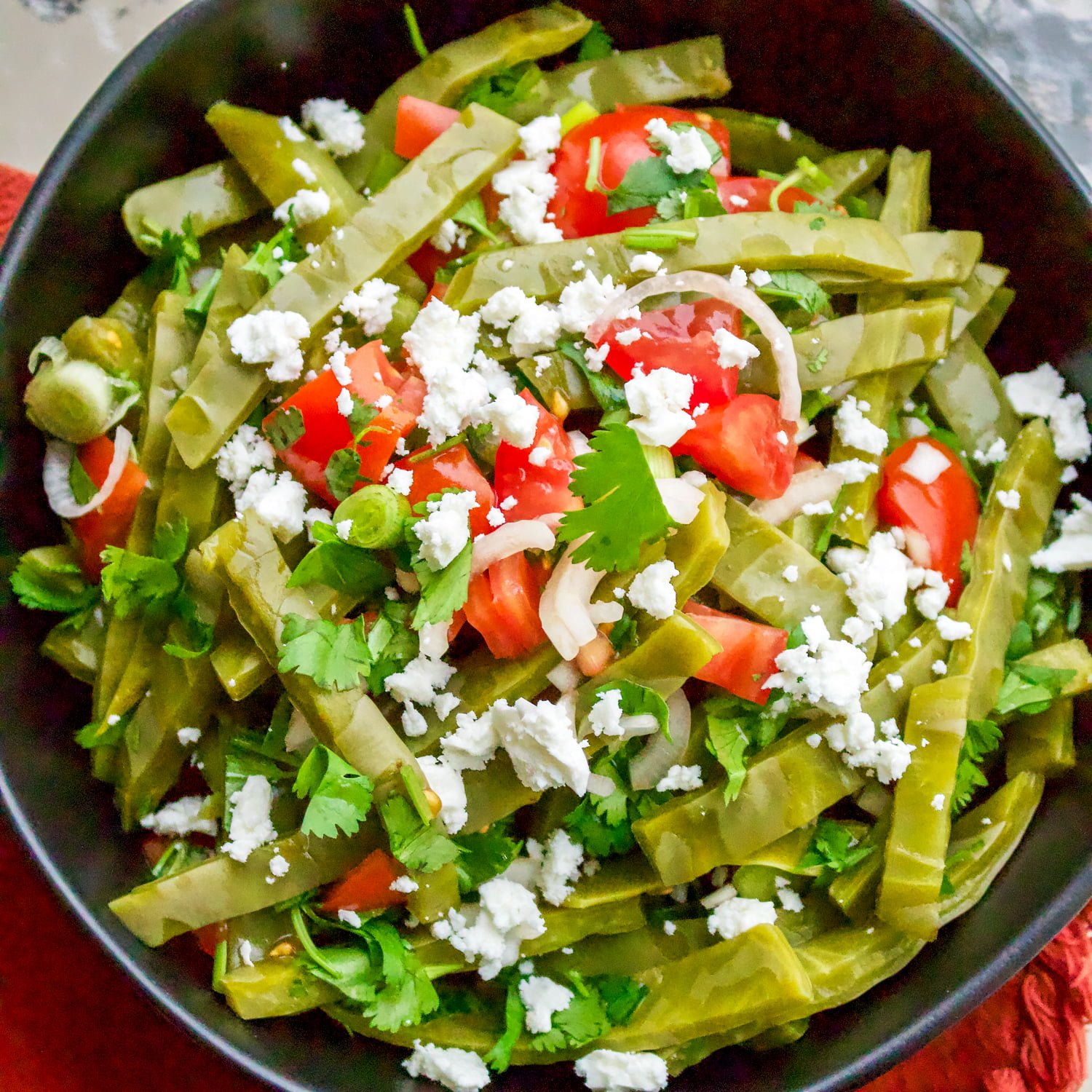 Yield: 4 servings
Best Cucumber Salad- Transylvania Style
This is the best cucumber salad- Transylvania Style- an unforgotten summer recipe that can be made over and over again. Delicious and simple. Keywords: Salad, Summer, Summer recipes, Cucumbers, Transylvania
Additional Time
30 minutes
Ingredients
For the salad:
3-4 medium cucumbers or 1 English cucumber sliced thin
2-3 green onions or 1 small onion sliced
1 pinch of salt for cucumbers
1 small bunch of dill chopped(or a handful)
1/2 teaspoon sweet paprika
For the vinaigrette:
1 cup cold water
2-3 tablespoons white vinegar or apple cider vinegar
1 teaspoon salt
1/2 teaspoon sugar
1 tablespoon oil for the top of the salad when serving
Instructions
Slice cucumbers very thin and place them with a pinch of salt on a colander to remove some of the water. Let them sit for 10-15 minutes. Squeeze the cucumbers to remove the water before placing them in a salad bowl.
Meanwhile, slice the onions and the dill.
Place the cucumbers in a salad bowl and add onion and dill.
Make the vinaigrette:
Mix water, vinegar, salt and sugar together and bathe the vegetables with it. Toss the cucumbers in the vinaigrette and let the salad marinate for about 30 minutes before serving.
Sprinkle sweet paprika over the salad and a little bit of oil and serve.
It goes really well with grilled meats, potatoes etc.