This Potatoes Au Gratin with Ham and Eggs recipe elevates a timeless classic by layering sliced hard-boiled eggs with a luxurious sour cream sauce and cheese, all baked to golden-brown excellence.
A staple for countless generations, this dish is a standout choice for both lunch and dinner that you won't want to miss out on.
The recipe is part of my collection of Side Dishes. I love potatoes, so in this collection you will find other recipes for them, like these Roasted Potatoes With Green Garlic And Dill, Baby Potatoes With Butter And Dill or these Cinnamon Roasted Sweet Potatoes, which are perfect for the holidays, just to mention a few.
Jump to:
💖 Why I love this unique recipe:
Simplicity. The recipe is straightforward and easy to follow. It uses basic ingredients that are commonly found in most kitchens, making it an accessible and convenient dish to make.
Easy to make. The steps involved are simple, such as boiling the potatoes and eggs, slicing them, and layering them in a baking dish with the other ingredients.
Satisfying and nutritious for the entire family. The combination of tender potatoes and creamy sauce with the addition of hard-boiled eggs makes it a filling and satisfying meal.
Versatile. The recipe can be adapted to suit different tastes and preferences. For example, you can add additional ingredients such as bacon, sausages, or vegetables to make the dish more flavorful.
Key Ingredients:
Potatoes: Choose your potatoes carefully. Russets are starchy and great for absorbing the sauce, while Yukon Golds have a buttery taste and hold their shape well. Red potatoes also keep their shape but aren't as absorbent. European Desiree potatoes are another versatile option for this dish.
Hard Boiled Eggs: I would not remove the eggs from the combination, as the eggs and the potatoes are the stars of the recipe.
Ham: You can replace the ham with other ingredients such as bacon, sausages, or pepperoni. For a vegetarian version, omit the ham.
Sour Cream, eggs, and milk: These ingredients will be the binder for the recipe.
Shredded cheese: Some popular options are cheddar cheese, Swiss cheese, Gruyere cheese, or a combination of different cheeses.
However, feel free to experiment with other types of cheese to find your favorite combination.
Just make sure that the cheese you choose is a good melting cheese to ensure that it melts and blends well with the other ingredients.
Step 1: Start by preheating your oven and preparing the potatoes and eggs on the stovetop.
First, give your potatoes a good rinse but keep the skin on. Boil them in a pot of salted water over medium heat until they're tender yet still hold their shape, roughly 20 to 25 minutes. Once done, let them cool before peeling.
Boil the eggs for about 6 minutes, then cool them in cold water and remove the shell.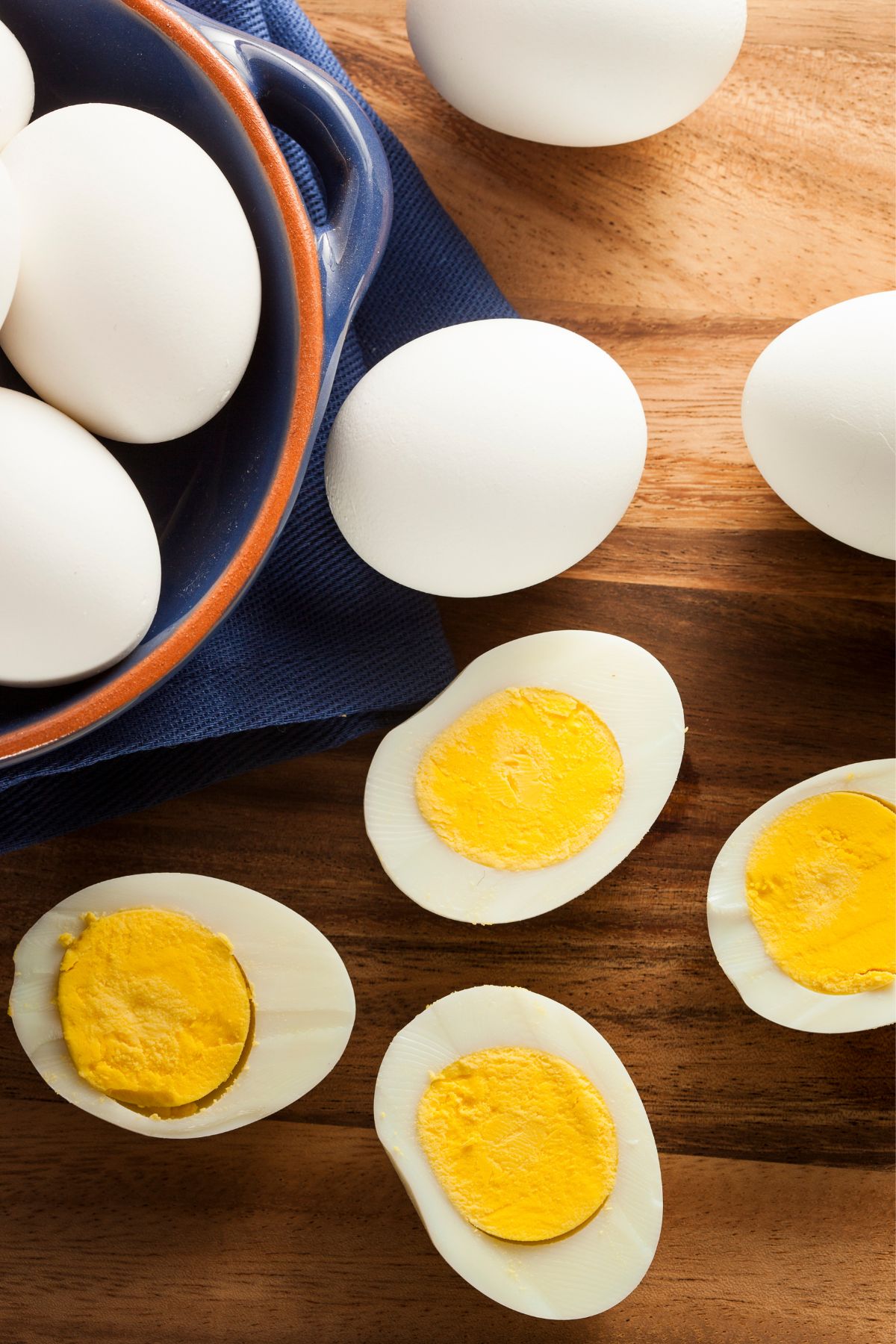 Step 2. Slice the potatoes, eggs, and ham.
Chop a few slices of ham and place them in a bowl for later use. Slice the potatoes medium-thin and also slice the eggs.
Step 3. Assemble the dish:
Butter a 9x9-inch baking dish and coat with bread crumbs. Layer boiled potato slices, followed by egg slices, ham pieces, and shredded cheese. In a bowl, mix beaten eggs with sour cream, milk, salt, and pepper. Drizzle this mixture over each layer.
Repeat layers, finishing with potatoes and topping with remaining sour cream and cheese.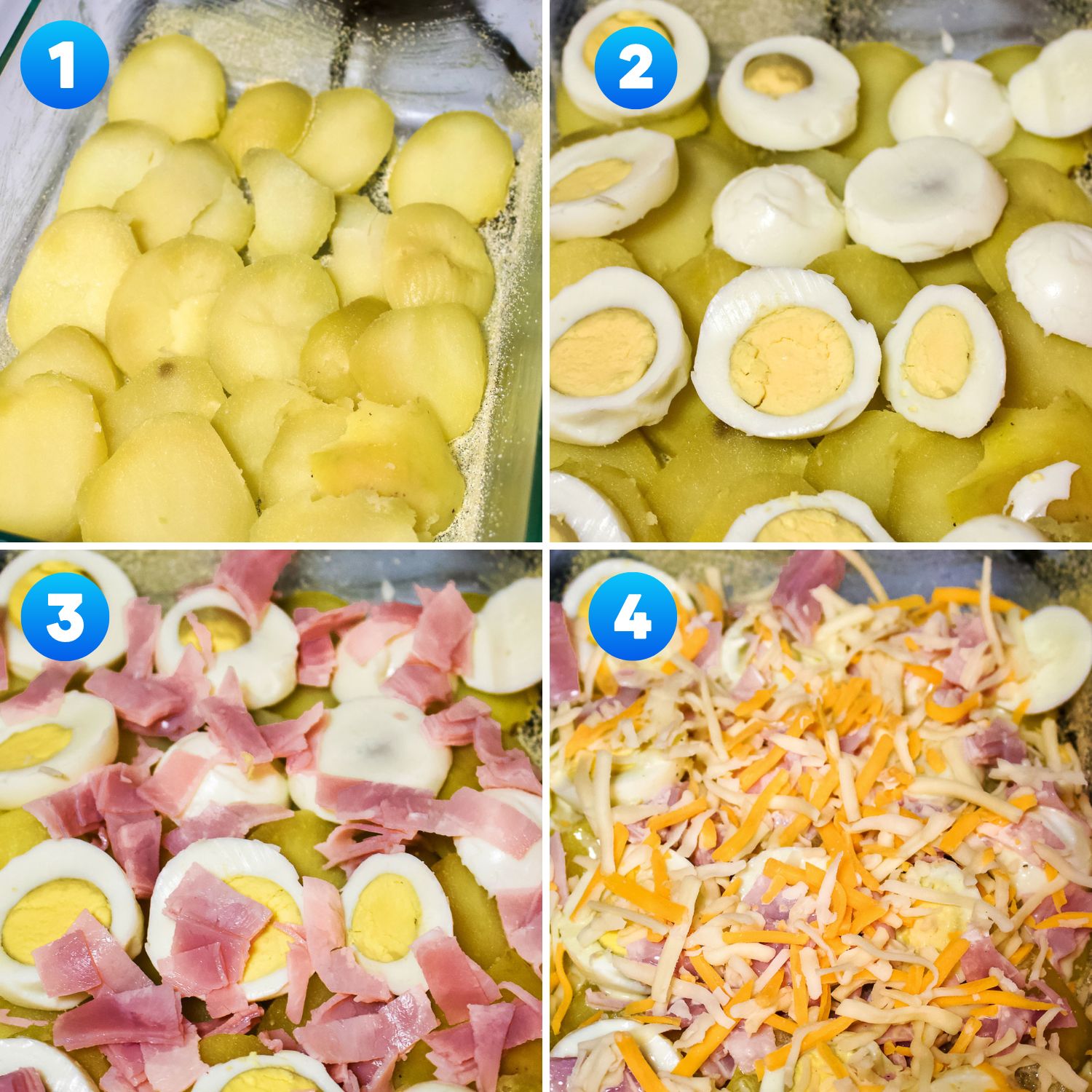 Step 4. Bake.
Bake the dish in a 350F oven until golden brown, approximately 30-40 minutes.
🪄Expert Tips:
Prepare ahead of time: If you want to make the dish ahead of time, prepare it up until the baking stage, cover it with foil, and refrigerate it for up to 24 hours. This will allow the flavors to meld together and save you time on the day you want to serve it.
Make it creamier: For a richer and creamier sauce, substitute some of the sour cream for heavy cream or half-and-half. This will give the dish a more luxurious taste and texture.
We had some for dinner, but the best part was that we had it for brunch the next day, together with a delicious Boston lettuce salad.
❄️ How to store
This dish can be stored in the refrigerator for up to three days. To reheat, simply place it in the oven at 350°F for 15 to 20 minutes.
🙋‍♀️ Recipe Faqs:
What is the difference between au gratin and gratin?
"Gratin" refers to any dish with a browned crust, which can be made from various ingredients like breadcrumbs or cheese. "Au Gratin" specifically includes a topping of grated cheese or breadcrumbs mixed with butter. Essentially, all "au gratin" dishes are gratins, but not all gratins are "au gratin" due to the potential absence of cheese.
What is the difference between scalloped potatoes and au gratin potatoes?
Scalloped potatoes are typically made with a cream sauce and no cheese, while au gratin potatoes include a cheesy layer, often with breadcrumbs. Both are baked until golden, but the key difference lies in the use of cheese.
Is potato gratin the same as dauphinoise?
Potato Gratin and Dauphinoise differ mainly in three areas: the potato's cooking state, cheese inclusion, and cream amount. Gratin uses pre-cooked potatoes and cheese, while Dauphinoise starts with raw potatoes and is traditionally cheese-free. For example, Julia Child's Dauphinoise sticks to the classic, cheese-less version.
Can I freeze this dish?
Freeze the fully cooled dish in an airtight container for up to 3 months. To enjoy later, thaw overnight in the fridge and reheat in a 350°F oven for 30-40 minutes. Add a splash of milk or cream before reheating to keep it moist. Be aware that texture and sauce consistency may change, but flavor will remain.
It's super good and a super easy recipe to make! Very kid-friendly, too, if you ask me!
🥙 It goes well with:
Potatoes Au Gratin with Ham and Eggs is a hearty and filling dish that can be served on its own as a main course.
However, if you want to make it a complete meal, there are a variety of sides that would pair well with it. Here are some suggestions:
Roasted Vegetables: A side of roasted vegetables such as broccoli, or my recipe for easy roasted carrots, or these Brussels sprouts made in a cast iron pan can add color, flavor, and nutrition to your meal.
Green Salad: A light and refreshing green salad, such as Spinach Strawberry Salad with a vinaigrette dressing, can balance out the richness of the au gratin potatoes and provide a contrasting flavor and texture.
Garlic Bread: A warm and crusty garlic bread can add a comforting and indulgent element to the meal. It also pairs well with the cheesy and creamy flavors of the dish.
Grilled or Roasted Meat: Grilled or roasted meat such as Lemon Thyme Chicken Thighs, 34 Best Roasted Pork Recipes For Christmas, or 15 Ground Meat Recipes (Beef And Pork) can add protein and flavor to the meal.
Soup or Chowder: A warm and hearty soup or chowder such as Tomato Soup- Dairy Free, vegetable, or clam chowder can complement the comforting and satisfying flavors of the dish.
This Potatoes Au Gratin with Ham and Eggs dish is versatile and perfect for any meal, lunch, dinner, or brunch. Mix and match sides to your liking, and you won't be disappointed!
🥔 More recipes with potatoes:
Enjoy!
Craving more? Subscribe to The Bossy Kitchen to get new recipes and a newsletter delivered straight to your inbox! Stay in touch on Facebook, Twitter, Pinterest, and Instagram for all of the latest updates. Don't forget to use the star rating and leave a review.
📖 Recipe
Potatoes Au Gratin with Ham and Eggs
This Potatoes Au Gratin with Ham and Eggs recipe elevates a timeless classic by layering sliced hard-boiled eggs with a luxurious sour cream sauce and cheese, all baked to golden-brown excellence.
Print
Pin
Rate
Ingredients
4

large potatoes

6

large eggs hard boiled

2

raw large eggs

⅓

cup

sour cream

2 -3

tablespoons

milk

salt and pepper to taste

16

ounces

ham

1 ½

cup

shredded cheddar cheese

1-2

tablespoons

butter for buttering the dish

1

tablespoon

bread crumbs
Instructions
Preheat oven to 350F.

Boil the potatoes with the skin on. When cooked, peel the potatoes and slice them into medium-thin slices.

Boil the 6 eggs for about 6 minutes. Let them cool, then peel and slice them.

Chop the ham and set it aside.

Butter the inside of a 9x9 inch baking dish and sprinkle bread crumbs on the bottom and sides.

Place a layer of potato slices on the bottom of the dish.

Over the potatoes, place a layer of sliced hard-boiled eggs.

Sprinkle a layer of chopped ham over the eggs.

In a separate bowl, beat the eggs together, add the sour cream, a little bit of milk, salt, and pepper to taste. Pour a few tablespoons of this mixture over the ham, eggs, and potatoes. Sprinkle shredded cheese over.

Continue layering the same way, potatoes, eggs, ham, sour cream mixture, and cheese until you finish with all the ingredients.

The last layer should be potatoes covered with the last amount of sour cream mixture and more cheese.

Bake at 350F until golden brown, about 30-40 minutes.

Serve warm.
Notes
Russet or Yukon Gold potatoes are recommended for better absorption and texture.
Feel free to swap cheddar for Gruyère or another melting cheese for variety.
Leftover holiday ham works great; just dice it up!
Store leftovers in an airtight container in the fridge for up to 3 days.
Freezing is possible but may alter the texture; reheat in the oven to revive.
Nutrition
Serving:
1
g
|
Calories:
542
kcal
|
Carbohydrates:
28
g
|
Protein:
34
g
|
Fat:
33
g
|
Saturated Fat:
14
g
|
Polyunsaturated Fat:
3
g
|
Monounsaturated Fat:
11
g
|
Trans Fat:
0.1
g
|
Cholesterol:
306
mg
|
Sodium:
1206
mg
|
Potassium:
940
mg
|
Fiber:
3
g
|
Sugar:
2
g
|
Vitamin A:
745
IU
|
Vitamin C:
28
mg
|
Calcium:
275
mg
|
Iron:
3
mg