Check out this incredible collection of 34 Best Roasted Pork Recipes for Christmas. All these recipes are festive enough to make for the holidays if you choose to skip the turkey or the ham and go with pork. There is definitely something for everyone.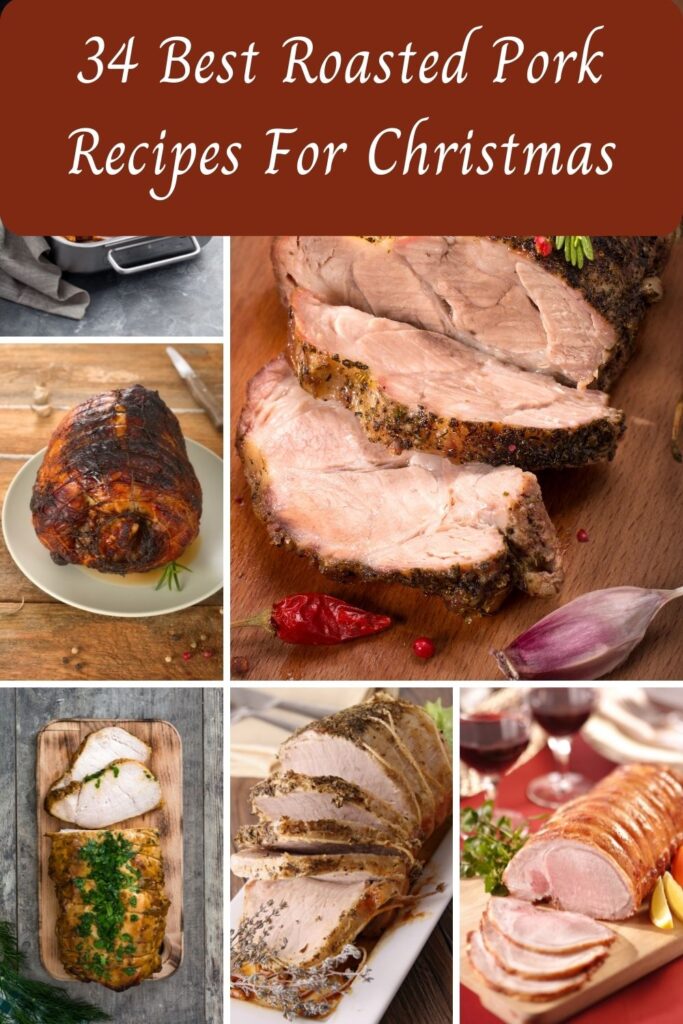 Roasted pork is versatile and elegant for the holidays
I like pork. I grew up eating more pork than beef and learned how to make it properly. This collection of roasted pork recipes was born with the hope that I could help you with some ideas for the Christmas and New Year's Eve dinners.
I wanted to bring you festive recipes that would be perfect as a show stopper on your Christmas table. Christmas roasts are so popular on holiday menus and guaranteed crowd-pleasers.
What to serve with roasted meats?
If you want to go simple, make mashed potatoes and roasted vegetables. Otherwise, you can try these 38 Best Side Dish Recipes or 15 Gluten-Free Sides.
You can never have too many holiday recipes, and leftovers are always great.
Roasted pork is good in sandwiches or incorporated into an exciting entrée, where rice, pasta, beans, or potatoes can recreate an entirely new dish for dinner. Wraps are also an excellent idea for lunch.
Basically, a pork roast is a handsome show-stopper on any Sunday dinner, perfect for the holidays, especially if you are not really into ham or turkey.
This collection of recipes will show you how to make a great roast for the holidays and impress your family and friends with an excellent meal.
Grab a roasting pan and Happy Holidays!
More recipes to love:
10 Easy Recipes With Pork On The Bossy Kitchen
15 Ground Meat Recipes (Beef and Pork)
28 Best Dip Appetizers To Make All Year Round
34 Best New Year's Eve appetizers
44 Christmas Cookies & Bars From Around The World
35 Festive Christmas Punch Recipes
Craving more? Subscribe to The Bossy Kitchen to get new recipes and a newsletter delivered straight to your inbox! Stay in touch on Facebook, Twitter, Pinterest, and Instagram for all of the latest updates. Don't forget to use the star rating and leave a review.
34 Best Roasted Pork Recipes For Christmas
These are some of the best roasted pork recipes you can make for Christmas. These recipes can succesfully replace the ham and become a show stopper on the Christmas table.