Apple and mushroom stuffed roasted pork tenderloin is a recipe that makes a great alternative to the usual ham around the holidays.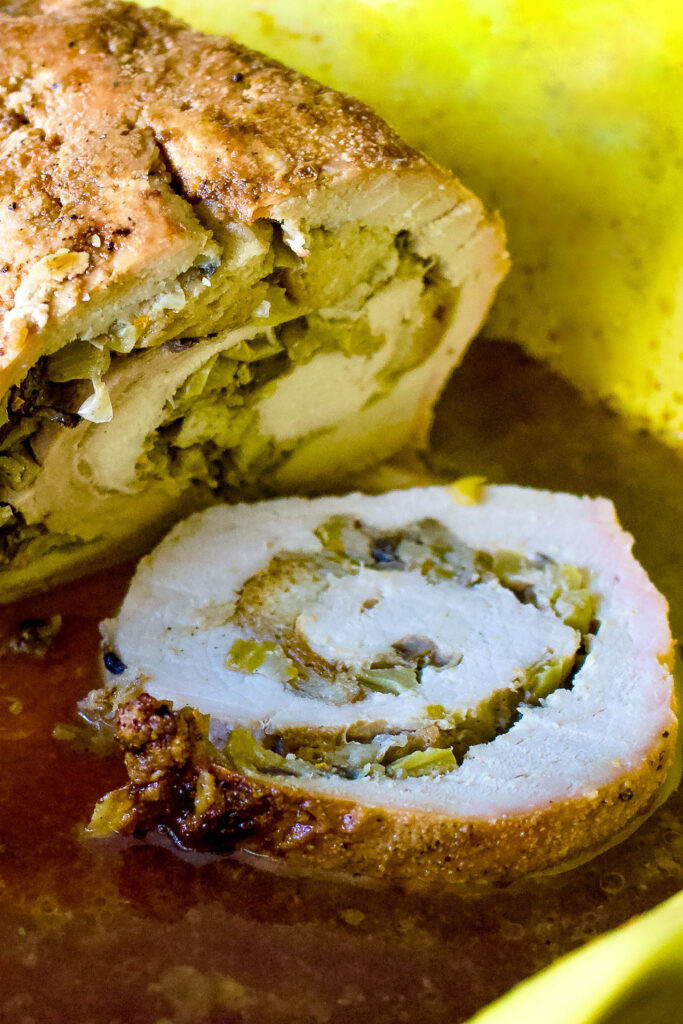 I love pork, and I am sure this recipe of Apple and Mushroom Stuffed Roasted Pork Tenderloin will win your heart in no time. If you grew up with pork and apple sauce, you need to try this grown-up recipe of stuffed pork tenderloin.
This is an easy recipe if you want to replace the traditional ham with something else for the holidays. Thanksgiving, Christmas, and even a formal celebration with family and friends are perfect occasions to make this dish.
The main ingredients are apples, mushrooms, and a good piece of pork tenderloin.
Overall, the recipe is excellent with anything you like. You can serve it with your favorite vegetables, mashed potatoes, or just a salad for a low-carb meal. It also goes well with Couscous, Roasted Carrots, Simple roasted potatoes, or these delicious mushrooms. Leftovers are amazing.
When I usually make this recipe, every person at the table raves about how good and flavorful this dish is. It's great because it looks and tastes like a gourmet dish, but it's easy to make and definitely a crowd-pleaser.
I love pork tenderloin for entertainment. It is a handsome piece of meat that looks good seared, roasted, or stuffed.
The recipes for pork tenderloin tend to be relatively easy to put together, making them a good option for the average cook.
Pork tenderloin is also not a very expensive cut of meat, which helps when cooking on a budget.
Roasted pork tenderloin makes the perfect centerpiece for a lovely dinner. It is lower in fat than other parts of the pig, therefore accepted by most people.
Leftovers are great too, especially in a sandwich, using a good homemade crusty bread. Yum! Nothing better than this one, if you ask me!
More recipes to love:
Roasted Bacon Wrapped Pork Tenderloin
Romanian Stuffed Peppers(With Instant Pot Instructions)
Mushroom Salad With Garlic And Mayo
Enjoy!
Yield: 6 servings
Apple And Mushroom Stuffed Roasted Pork Tenderloin
Apple and mushroom stuffed roasted pork tenderloin is a recipe that makes a great alternative for the usual ham around the holidays.
Cook Time
1 hour
30 minutes
Ingredients
2.5 pounds(1 kg) pork tenderloin
1 small red onion chopped
3.5 ounces(100g) mushrooms chopped small
1 teaspoon butter
1 medium apple peeled and chopped
1 slice of bread chopped or 3 Tbsp bread crumbs
1 lemon's zest
salt and pepper to your taste
1/2 teaspoon nutmeg
3 tablespoons olive oil
1 bay leaf
1 cup(250ml) water
Instructions
Preheat oven to 350F(180C).
In a medium pan, melt the butter and add the chopped onion, mushrooms, and apple.
Saute them for 2-3 minutes.
Add the bread or the bread crumbs and mix.
Season with salt, pepper, and nutmeg. Add the lemon zest.
Remove pan from the stove and set aside.
In the meantime, soak 6-7 toothpicks in water to prevent them from burning. Rinse the pork and pat dry.
Then, make a 1-inch-deep incision down the length of the tenderloin; do not cut all the way through. Open the meat like a book, so the tenderloin lies flat.
Cover the pork with plastic wrap and pound it with the flat side of a meat mallet until about 1/2 inch thick, starting from the middle and working outward. This will tenderize the meat and will make it a bit easier to roll.
Spread the apple and mushroom mixture over the surface of the pork tenderloin.
Starting with a long side, tightly roll up each tenderloin. Secure the seams with the toothpicks.
Meanwhile, preheat a large pan.
Brush the pork tenderloin roll with olive oil and season with salt and pepper.
Place the pork tenderloin in the pan and lightly brown all sides for 4-5 minutes.
Transfer the meat to a baking pan.
Deglaze the pan where you browned the meat with a cup of water. Add salt and pepper to your taste and pour the sauce over the meat. Add the bay leaf to the sauce.
Roast the pork tenderloin for about 1 hour at 350F(180C) or until the temperature inside the thickest part of the meat is 155F(68C).
Remove from the oven and let it rest for a few minutes.
Slice and serve with your favorite vegetables.
Nutrition Information:
Yield:
6
Serving Size:
1
Amount Per Serving:
Calories:

230
Total Fat:

17g
Saturated Fat:

5g
Trans Fat:

0g
Unsaturated Fat:

10g
Cholesterol:

32mg
Sodium:

121mg
Carbohydrates:

11g
Fiber:

2g
Sugar:

4g
Protein:

10g
Note: "We are a participant in the Amazon Services LLC Associates Program, an affiliate advertising program designed to provide a means for us to earn fees by linking to Amazon.com and affiliated sites."