Note: "We are a participant in the Amazon Services LLC Associates Program, an affiliate advertising program designed to provide a means for us to earn fees by linking to Amazon.com and affiliated sites."
This Spanish Lemon Garlic Mushrooms recipe is perfect for a party where appetizers are served. Makes a great tapa, if you have a Spanish theme party. Also, you can serve it as a side dish right next to your favorite meat.
I like mushrooms. A lot. They are low in carbs and calories, rich in proteins and make a great substitute for meat. I also love garlic and use it a lot in my cooking. The combination of lemon and garlic mixed with the caramelized mushrooms in a bit of olive oil is really good. I found this recipe to be delicious, therefore I make it quite often.
If you are interested in more recipes with mushrooms, I also have a great one on my blog for Mushrooms with Chipotle, a delicious Mexican side dish that you might want to take a look at.
HOW TO MAKE IT:
For this easy recipe, we will need plain white mushrooms, some good olive oil, garlic, lemons, parsley and of course, some crusty bread to dip in that awesome juices from the pan.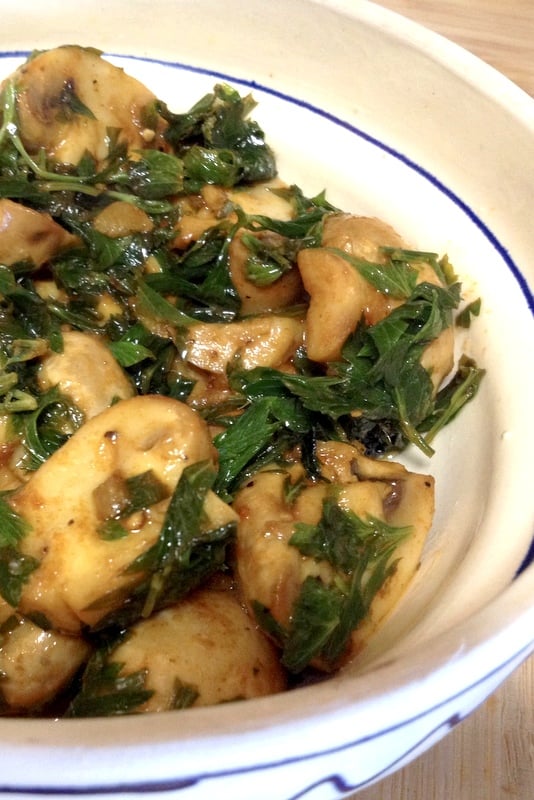 If you liked this recipe, you might be interested to join The Bossy Kitchen community group where you are welcome to share some of your creations with the rest of the group.
Champiñones Al Ajillo (Spanish Lemon Garlic Mushrooms Tapas)
Author:
The Bossy Kitchen
Ingredients
1 lb/450g white mushrooms
5 tablespoons good quality extra virgin olive oil
2-3 garlic cloves finely chopped
1 lemon juice
salt and pepper to taste
4 tablespoons chopped fresh parsley
crusty bread to serve
Instructions
Clean the mushrooms, trim off the stalks close to the caps.
Cut any large mushrooms in half or into quarters.
Chop the garlic and set aside.
Cut the lemon in half and squeeze the juice. Set aside.
Chop the parsley and set aside.
Heat the olive oil in a large skillet and add the garlic to cook for about 30 seconds.
Add the mushrooms and saute over high heat, stirring continuously, until mushrooms absorb the oil in the skillet.
Add a pinch of salt.
Reduce the heat to low, so the juices of the mushrooms are released, for about 3-4 minutes.
Increase the heat again and saute for 4-5 minutes, until the juices almost evaporate.
Add the lemon juice and season again with salt and pepper to your taste.
Stir in the parsley and cook for an additional minute.
Transfer the sauteed mushrooms to a serving dish and serve hot or warm with chunks of crusty bread to dip in the juices.