Spanish Migas With Chorizo (Garlic Pan Fried Bread & Chorizo Sausage) is a rustic Spanish dish that uses leftover bread pan-fried together with sausage.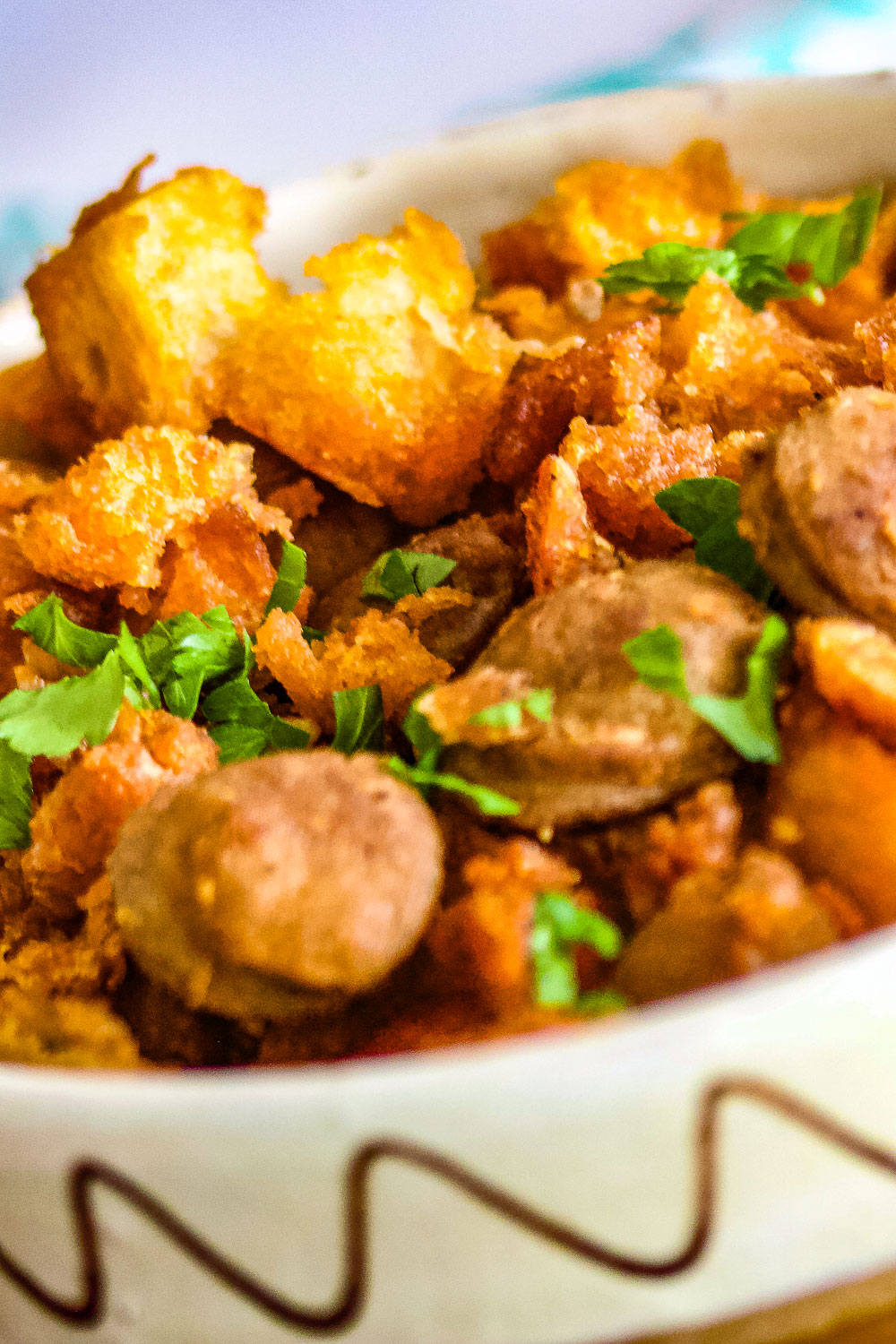 Jump to:
Spanish Migas- A garlic pan-fried bread and chorizo appetizer
This is the dish made in heaven and sent by God to us to enjoy it! For the ones who do not know what Spanish Migas means, this is the name of an ancient dish that is very traditional in Spain and Portugal.
The dish was cooked for breakfast using leftover bread, but over time, Migas became a fashionable dish that was served for lunch or dinner in many Spanish restaurants.
"Migas" actually means "crumbs," and the bread crumbs or pieces of bread are the main ingredients for this dish.
ℹ️ How Migas are cooked in different parts of the world:
There are many ways to cook Migas, but one thing you need to know is that Spanish Migas are not the same as Mexican Migas.
Spanish Migas: Primarily uses bread, pieces of sausage or meat, and occasionally vegetables, all cooked in olive oil with garlic, and seasoned with Spanish paprika.
Regional variations abound: some feature meats or sausages, others include peppers, sardines, or tomatoes, while sweet versions with milk and chocolate exist too.
In Aragon, pairing Migas with fruits showcases the dish's knack for creatively bringing together different ingredients into a tasty meal.
Mexican Migas: A different take, made with strips of tortilla that are fried and then combined with eggs or scrambled eggs, using stale tortillas for an economical, hearty breakfast.
Tex-Mex Migas: Strays further, incorporating refried beans, vegetables, cheese, pico de gallo, among other ingredients, offering a more loaded version compared to the Mexican variant.
This recipe for Spanish Migas is a very simple one. You have to keep in mind that this is my interpretation of the Spanish recipe.
My recipe isn't traditional, as I've adapted it to available US ingredients. In Spain, numerous variations exist, tailored to individual tastes and family preferences. Typically, stale bread crumbs found in bars are deep-fried to absorb leftover oil, making it a heavy meal. Hence, I've slightly altered the recipe for a lighter touch.
Bread: Opt for larger bread pieces instead of crumbs to absorb less oil, allowing better flavor infusion from other ingredients.
The best bread to make this dish with is rustic, crusty bread that is at least 2 days old. You can try to make this super easy no knead bread, which you can find on my blog.
Spanish Chorizo: A cured sausage with meat, garlic, and paprika, differing from Mexican chorizo, which requires cooking due to raw meat content. If unavailable, substitute with milder Italian sausage or spicy Andouille sausage.
Olive Oil: Select a high-quality olive oil for a flavorful blend with bread, sausage, and garlic.
Garlic: Use real garlic cloves over garlic powder for authentic flavor.
Paprika: Sweet paprika is preferred, though smoked paprika works too, depending on taste preference.
🍽️How to serve:
Serve the dish as an appetizer for a fancy Spanish night in Spanish bowls or platters, together with the Sizzling Chili Shrimp, Lemon Garlic Mushrooms, Roasted Pepper Spanish Salad, and make a simple dessert like this Almond Cake to finish the meal in style. Simple and very, very delicious!
Or serve it for brunch together with this Fried peppers with tomatoes eggs and cheese.
🍛Store leftovers:
Cool Migas to room temperature, transfer to an airtight container, and refrigerate for up to 3-4 days. For longer storage, freeze in a sealed container for up to 1 month, thawing overnight in the fridge before reheating. Reheat in a skillet over medium heat until warmed through.
🍽️❓ Recipe faqs:
Can I use fresh bread instead of stale?
Stale bread is preferred as it holds up better during cooking. If only fresh bread is available, you can dry it out in the oven for a few minutes before using.
What other spices can be added to this dish?
Feel free to experiment with other spices like coriander or a pinch of cayenne pepper for added heat.
Can this dish be made in advance?
Migas is best enjoyed fresh but you can prepare the chorizo and vegetable mix in advance. Just add and cook the bread when you're ready to serve.
Is there a gluten-free version of this recipe?
Yes, you can use gluten-free bread to make this recipe suitable for those with gluten sensitivities.
Enjoy!
Craving more? Subscribe to The Bossy Kitchen to get new recipes and a newsletter delivered straight to your inbox! Stay in touch on Facebook, Twitter, Pinterest, and Instagram for all of the latest updates. Don't forget to use the star rating and leave a review.
📖 Recipe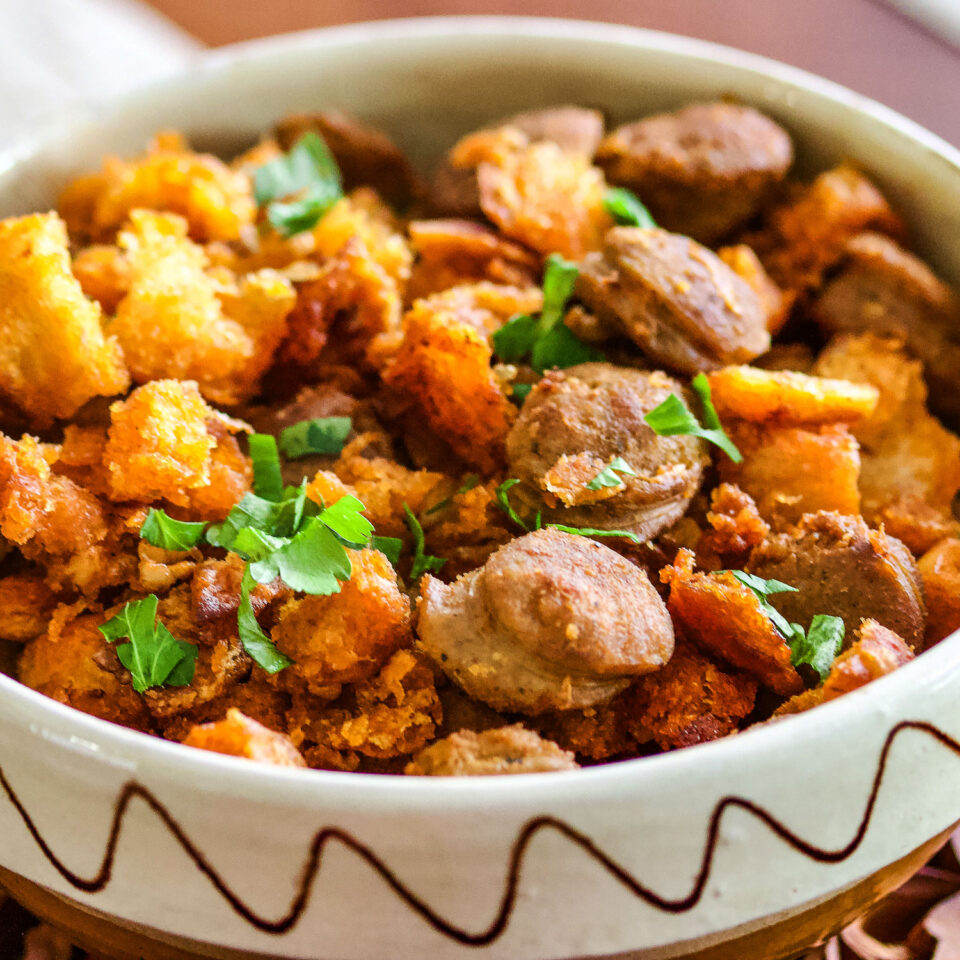 Spanish Migas With Chorizo
Spanish Migas With Chorizo-Garlic Pan Fried Bread&Chorizo is a rustic Spanish dish that uses leftover bread pan fried together with sausage.
Print
Pin
Rate
Ingredients
7

ounces

Spanish chorizo sausage

not the Mexican style

4

slices

of bread

stale country bread works the best (thick slices)

1-2

tablespoons

of Spanish extra virgin olive oil for pan frying

3-4

garlic cloves finely chopped

2

tablespoons

parsley

fresh and chopped

2

teaspoons

Spanish sweet paprika
Instructions
Cut the chorizo sausage into ½ inch/1 cm thick slices.

Cut the bread, with its crust still on, into ½inch /1 cm cubes. Add enough olive oil to a large, heavy-bottom skillet so that it generously covers the bottom.

Heat the oil, add the garlic and cook for 1 minute, or just until lightly browned.

Add the chorizo slices and cook them for 2-3 minutes until browned. Add the Spanish sweet paprika and mix well.

Add the bread cubes to the skillet and pan fry, stirring all the time, until golden brown and crisp.

Turn the pan fried bread and chorizo into a serving bowl and add the chopped parsley. Toss together.

Serve warm.
Notes
Opt for stale, hearty bread for better texture.
Spanish chorizo offers authentic flavor, but alternatives like Italian sausage work well.
Adjust paprika to taste; smoked paprika provides a different flavor twist.
Serve warm, and enjoy as a hearty breakfast or comforting dinner.
Nutrition
Serving:
1
g
|
Calories:
122
kcal
|
Carbohydrates:
1
g
|
Protein:
6
g
|
Fat:
10
g
|
Saturated Fat:
3
g
|
Polyunsaturated Fat:
0.3
g
|
Monounsaturated Fat:
2
g
|
Cholesterol:
21
mg
|
Sodium:
5
mg
|
Potassium:
30
mg
|
Fiber:
0.3
g
|
Sugar:
0.1
g
|
Vitamin A:
559
IU
|
Vitamin C:
2
mg
|
Calcium:
7
mg
|
Iron:
1
mg