Spanish Migas With Chorizo-Garlic Pan Fried Bread&Chorizo Sausage is a rustic Spanish dish that uses leftover bread pan-fried together with sausage.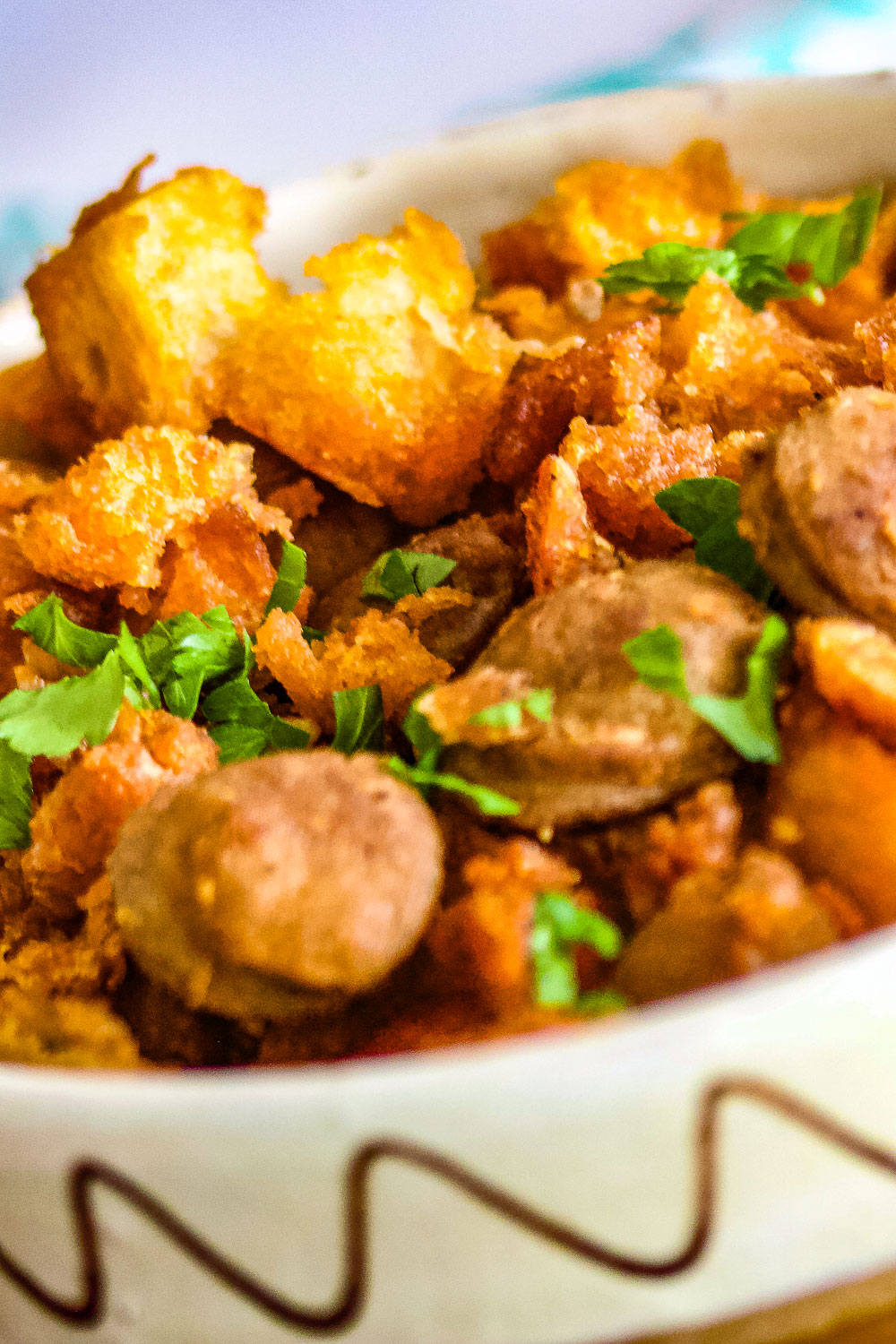 Jump to recipe
Spanish Migas- A garlic pan-fried bread and chorizo appetizer
This is the dish made in heaven and sent by God to us to enjoy it! For the ones who do not know what Spanish Migas means, this is the name of an ancient dish that is very traditional in Spain and Portugal.
The dish was cooked for breakfast using leftover bread, but over time, Migas became a fashionable dish that was served for lunch or dinner in many Spanish restaurants.
"Migas" actually means "crumbs," and the bread crumbs or pieces of bread are the main ingredients for this dish.
How Migas are cooked in different parts of the world:
There are many ways to cook Migas, but one thing you need to know is that Spanish Migas are NOT the same as Mexican Migas (for the ones who had Mexican ones before).
Basically, Spanish Migas use bread, pieces of sausage or meat, and sometimes vegetables. Everything is cooked in olive oil with garlic, then flavored with Spanish paprika.
The Mexican Migas, on the other hand, is made with strips of tortilla that are fried and then mixed with eggs or scrambled eggs and tortilla.
Like the Spanish Migas, the Mexican ones use stale tortillas and eggs to create a beautiful, cheap breakfast meal that can feed a family.
The Tex-Mex Migas are different compared with the Mexican ones. They are made with refried beans, vegetables, cheese, pico de gallo, etc.
This recipe for Spanish Migas is a very simple one. You have to keep in mind that this is my interpretation of the Spanish recipe.
I do not claim that my recipe is traditional, as I had to adapt it to the ingredients one can find here in the US.
Even in Spain, there are many variations of this recipe, and even when people make it at home, they end up making something that suits their family and eating style.
What you find in bars are usually bread crumbs from the stale bread that is leftover. The crumbs are usually thrown into the deep frier at the end of the day/week to soak up all of the leftovers from the oil.
Therefore, it is a very heavy meal that is not for everyone, which is why I tried to alter the recipe a little bit.
What ingredients go into this dish?
Bread.
Bread is the main ingredient in the dish. My recipe goes for larger pieces of bread instead of crumbs.
Having larger chunks of bread means that less oil is absorbed, and then the bread can be flavored with the other aromas, as opposed to soaking the bread in what in Spanish restaurants usually is old oil.
Spanish chorizo.
I chose a Spanish chorizo for the dish. Please remember that Spanish chorizo is NOT the same as Mexican chorizo. Spanish chorizo is a cured sausage filled with meat and garlic and loaded with paprika.
Mexican chorizo is made with chopped or ground pork or beef, and you have to cook it, as the meat inside is raw. It contains a variety of spices, chiles, and herbs.
Some of the peppers used in making chorizo are chiles ancho, and pasilla. Cloves, coriander, oregano, cumin seeds, garlic, paprika, and vinegar are only some of the few ingredients used in chorizo recipes.
If you do not have Spanish chorizo, you can use a milder sausage, like the Italian style. Or you can go with an Andouille sausage, as it is spicy and delicious.
Olive oil.
Choose the best olive oil you can afford. This combination of bread, sausage, and garlic would not be a great one without good olive oil.
Garlic.
Go for the real garlic cloves and not the garlic powder.
Sweet or smoked paprika.
I prefer sweet paprika in this dish, but you can use either one of them.
Before I share the recipe with you, I need to make you aware that this should be considered a treat.
It is a hearty meal, high in calories, and something you can enjoy without guilt once in a while, but not on a regular basis as the Spanish shepherds and farmers in the villages used to do it.
However, if you go to Spain, I highly recommend you to go and try the Migas in restaurants, so you can get a taste of the real traditional dish.
In some regions of Spain, Migas are made with sausage or different kinds of meats.
In other parts of the country, you can have the dish with peppers and sardines or tomatoes and peppers cooked together with bread and meat.
Some Migas are sweet and have milk and chocolate added to the bread crumbs.
In the Aragon region, Migas are also served with grapes or other fruits. Based on the idea that nothing should be wasted, the Spanish Migas dish beautifully brings back to life a multitude of ingredients that together make a hearty and delicious meal.
Serve the dish as an appetizer for a fancy Spanish night in Spanish bowls or platters, together with the Sizzling Chili Shrimp, Lemon Garlic Mushrooms, Roasted Pepper Spanish Salad, and make a simple dessert like this Almond Cake to finish the meal in style. Simple and very, very delicious!
Or serve it for brunch together with this Fried peppers with tomatoes eggs and cheese.
Enjoy! By the way, the best bread to make this dish with is rustic, crusty bread that is at least 2 days old. You can try to make this super easy no knead bread, which you can find on my blog.
Check out the web story for this recipe: Spanish Migas With Chorizo and Garlic
Enjoy!
📖 Recipe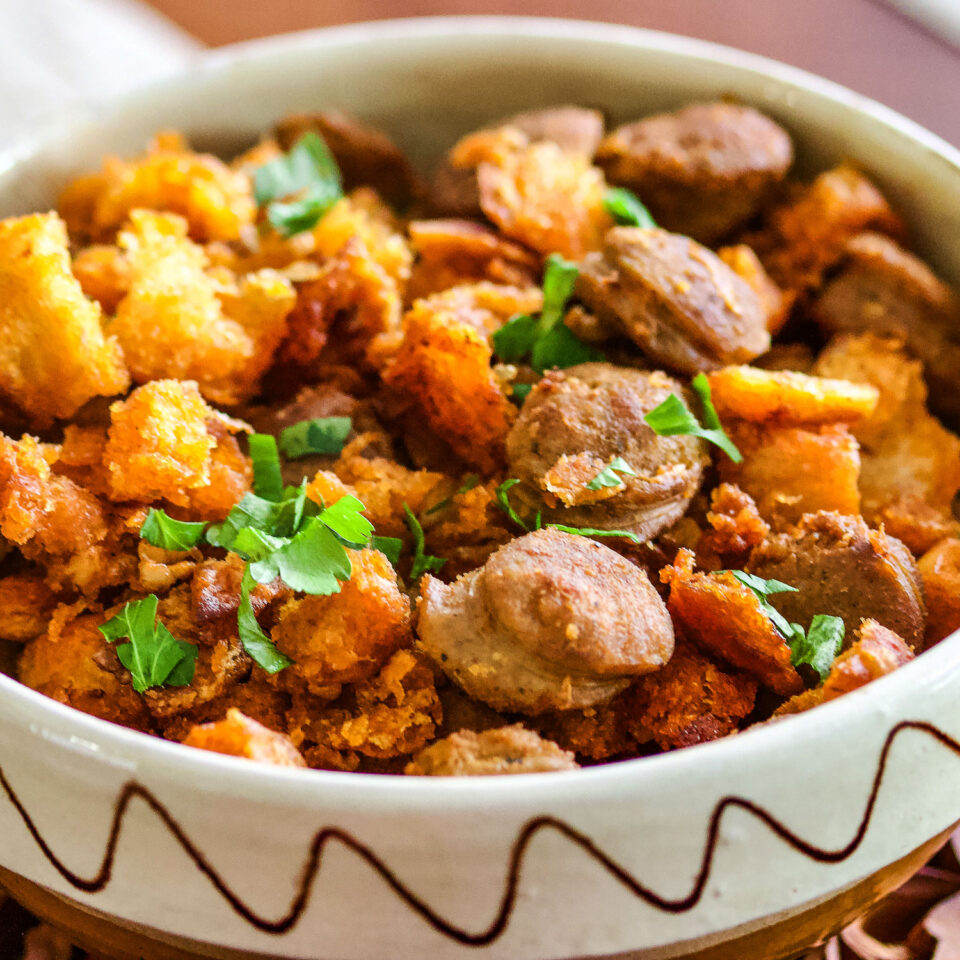 Spanish Migas With Chorizo-Garlic Pan Fried Bread&Chorizo
Spanish Migas With Chorizo-Garlic Pan Fried Bread&Chorizo is a rustic Spanish dish that uses leftover bread pan fried together with sausage.
Print
Pin
Share
Grow
Saved!
Rate
Ingredients
7

ounces

Spanish chorizo sausage

not the Mexican style

4

slices

of bread

stale country bread works the best (thick slices)

1-2

tablespoons

of Spanish extra virgin olive oil for pan frying

3-4

garlic cloves finely chopped

2

tablespoons

parsley

fresh and chopped

2

teaspoons

Spanish sweet paprika
Instructions
Cut the chorizo sausage into ½ inch/1 cm thick slices.

Cut the bread, with its crust still on, into ½inch /1 cm cubes. Add enough olive oil to a large, heavy-bottom skillet so that it generously covers the bottom.

Heat the oil, add the garlic and cook for 1 minute, or just until lightly browned.

Add the chorizo slices and cook them for 2-3 minutes until browned. Add the Spanish sweet paprika and mix well.

Add the bread cubes to the skillet and pan fry, stirring all the time, until golden brown and crisp.

Turn the pan fried bread and chorizo into a serving bowl and add the chopped parsley. Toss together.

Serve warm.
Nutrition
Serving:
1
g
|
Calories:
122
kcal
|
Carbohydrates:
1
g
|
Protein:
6
g
|
Fat:
10
g
|
Saturated Fat:
3
g
|
Polyunsaturated Fat:
0.3
g
|
Monounsaturated Fat:
2
g
|
Cholesterol:
21
mg
|
Sodium:
5
mg
|
Potassium:
30
mg
|
Fiber:
0.3
g
|
Sugar:
0.1
g
|
Vitamin A:
559
IU
|
Vitamin C:
2
mg
|
Calcium:
7
mg
|
Iron:
1
mg
Tried this recipe?
Please leave a comment on the blog or like us on Facebook!