Note: "We are a participant in the Amazon Services LLC Associates Program, an affiliate advertising program designed to provide a means for us to earn fees by linking to Amazon.com and affiliated sites."
Crustless quiche is one of our favorite breakfast items. We are not cereal eaters in the morning, so eggs are a great way to get energy, protein and keep us satisfied for longer periods of time.
This recipe today is a simple quiche that uses lots of spinach, but to make it more fun I added smoked cured pork loin and gouda cheese. I would say that if you do not have all ingredients, you can replace them with whatever you have available. You can replace the smoked pork loin with ham,  bacon or any smoked meat you like and gouda with any shredded cheese you have in the refrigerator. I do that very often.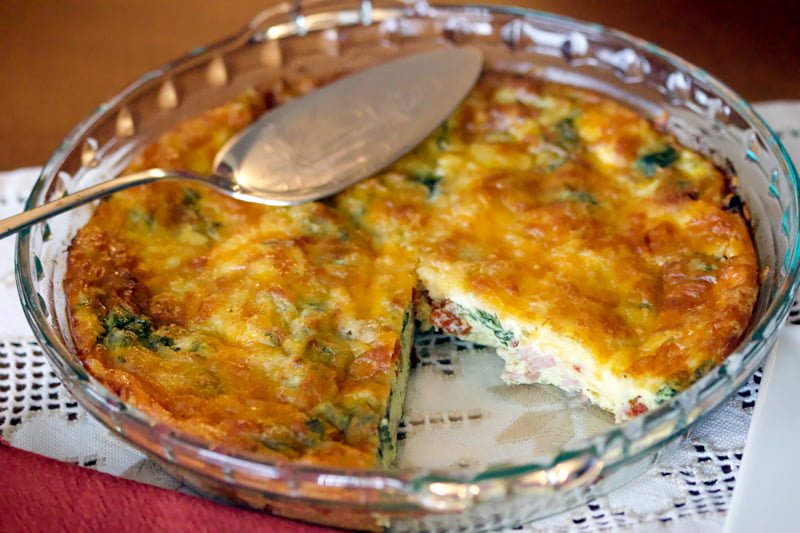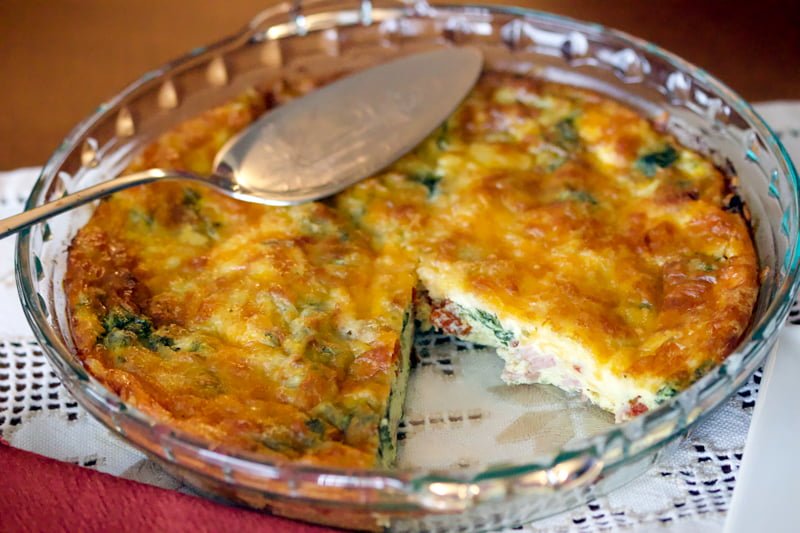 This recipe is very easy to make and also good for you if you are watching your carbs. There is no crust involved. I make quiche very often because we discovered that we can eat it not only for breakfast, but it is great for brunch or lunch. I often take a slice with me at work and have it with a salat. Do you have a favorite salad? I like this one. Goes really well with any kind of quiche.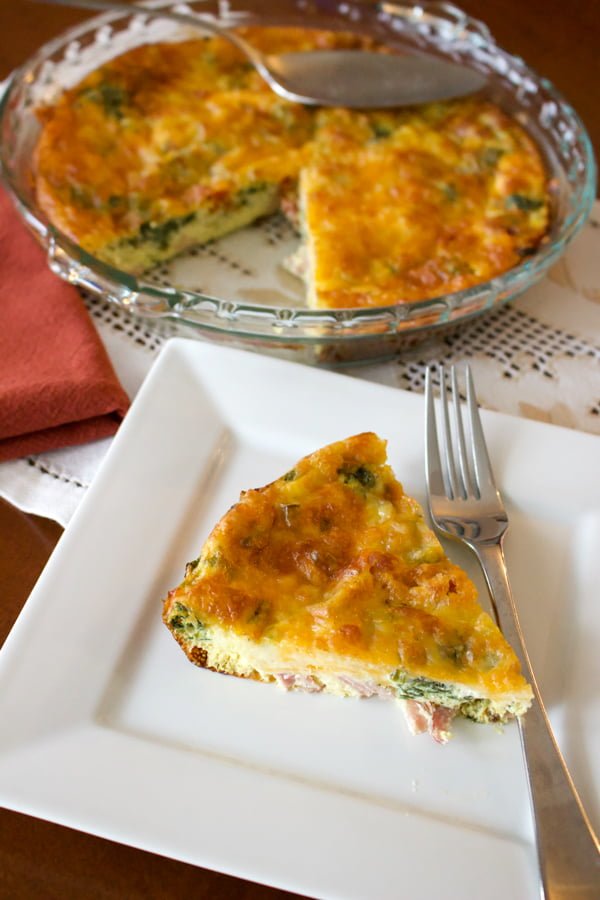 Spinach is also one of my main staples in the house. I always have a bag of frozen spinach and I never run out of eggs, ham, cheese( the sharper, the better for this recipe) or sour cream. If you want to see the pantry items I cannot live without, read here.  Lots of good idea items to put on your shopping list!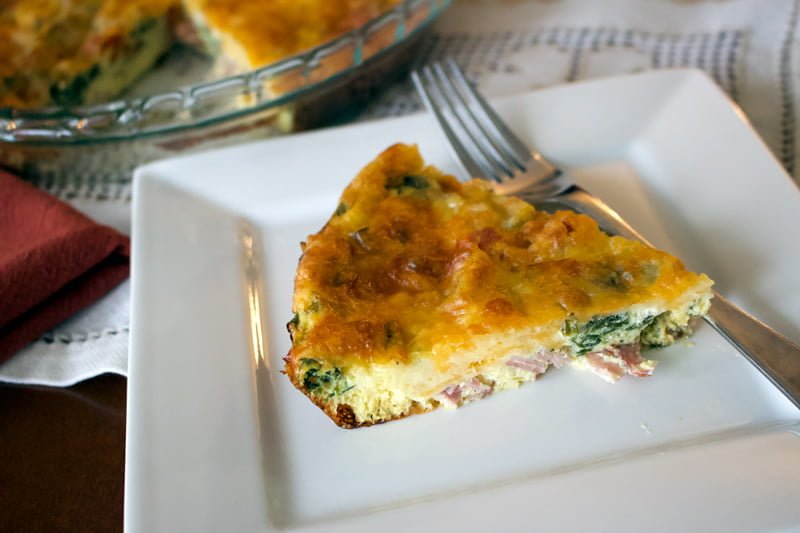 Anyway, quiche recipes are very forgiving and if you are a little bit creative, you can put together a fancy quiche out of nothing basically, using main ingredients most people have around the house.
Enjoy!
Note: Recipe/pictures reviewed on Feb 4th, 2018

Crustless Spinach with Smoked Meat and Gouda Cheese Quiche
Author:
The Bossy Kitchen
Ingredients
8 oz smoked pork loin or bacon
16 oz chopped spinach(I used the frozen one)
3-4 green onions
5 large eggs
1 cup shredded gouda cheese
⅔ cup of sour cream
salt and pepper to taste
1-2 tablespoons vegetable oil
Instructions
Preheat the oven to 350F.
Slice and dice the meat.
Chop the onions.
Set the stove on medium heat and use a skillet to sauté the meat and the onions together with some oil.
Add the spinach and cook everything together until the liquid from spinach evaporates. Your mixture should not be very wet.
Let the mixture cool down before assembling the quiche.
Taste for salt and pepper but go easy on the salt as your meat and cheese are also salty.
Shred the cheese.
Whisk the eggs together.
Add the sour cream and cheese to the eggs and mix well.
Spread the spinach on the bottom of a baking dish.
Pour the mixture of eggs over the spinach and mix well.
Bake the quiche for about 30 mins at 350F, until it's lightly brown outside and cooked inside.
Insert a toothpick in the middle and check if it is done. The toothpick should come out clean.
Serve warm or cold for breakfast or with a salad for lunch.