The recipe for Crustless Broccoli Bacon Quiche is one of my favorite recipes. It is low in carbs, nutritious, and delicious.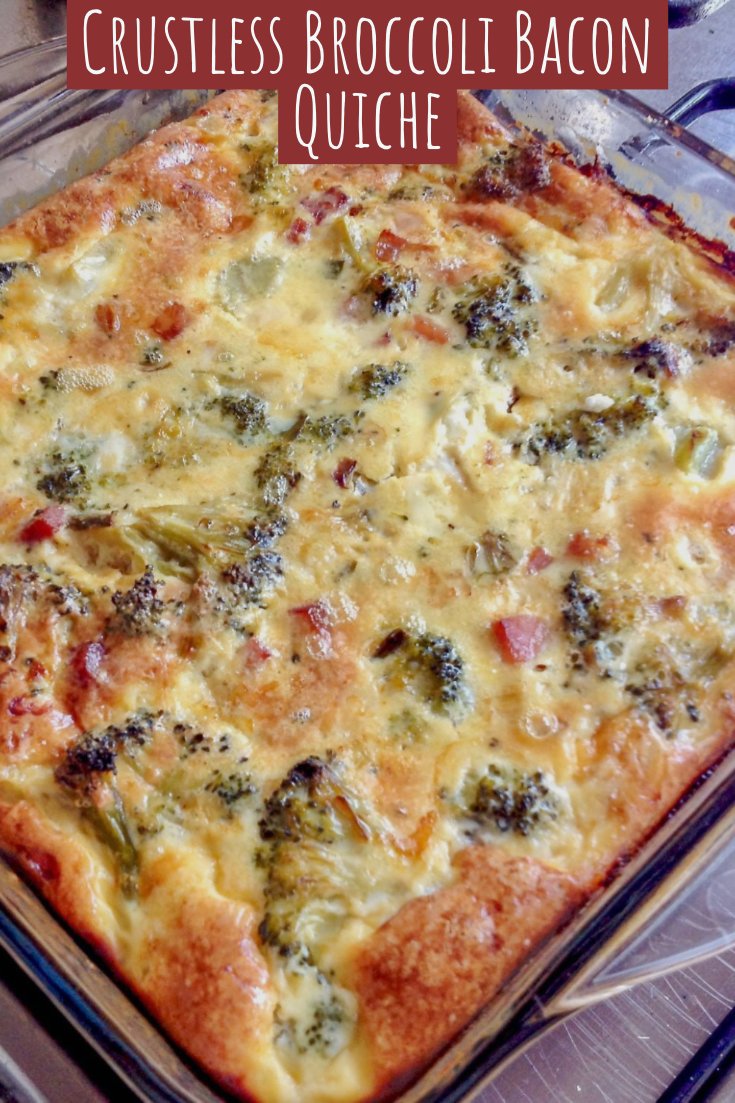 Crustless Broccoli Bacon Quiche
I make quiche very often for my family, first of all, because they love it and second because it is an effortless breakfast or lunch item that can be taken to work.
Have a slice in the morning with your favorite coffee, or make a salad and have the quiche with it for lunch. Delicious!
What kind of vegetables you can use for a quiche:
I always try to get creative in the kitchen, so I use any kind of vegetables in the refrigerator. Sometimes it is broccoli, but it could also be spinach, onion, pepper, asparagus, or mushrooms. You can definitely use ham instead of bacon.
I am also interested in eating clean and healthy, so the eggs and sour cream I use are always organic. I also use quality cheese.
Milk, half and half or sour cream?
I had people asking me what I put in my quiche and why it is different from other recipes. I believe it is the cream or the sour cream I mix with the eggs, instead of using milk or half and half, as you will see in many American recipes.
In fact, I discovered recently reading the Larousse Gastronomique that the original quiche recipe has a base made with beaten eggs and cream, or cream Fraiche, the European substitute for our American sour cream.
I was happy to learn that, as I always used sour cream in my quiche recipes, because I liked the texture.
Milk will give a spongy texture to the quiche. The reason I like using sour cream is that the texture is creamier and more delicious. If you are looking to cut down the fat in your diet, milk is a good option but keep in mind that the texture will differ.
Can I replace bacon with other types of meat?
My preference is ham if I do not have bacon available. However, if you live in an area where cold cuts are more diverse, use them.
For example, outside of the US, like Europe, there are cured, smoked meats that can be used for these types of recipes.
It could be smoked pork loin, smoked pork shoulder, smoked beef shoulder, pastrami etc.
How to make Crustless Broccoli Bacon Quiche:
To make this recipe, start by cooking together with onions and bacon together. When the onion is translucid and the bacon cooked, add the broccoli. I sometimes use frozen broccoli, which might save you a trip to the store.
Cook the broccoli halfway through, making sure that any liquid in the pan is almost evaporated. Set the pan aside and let the broccoli, bacon, and onions cool while taking care of the eggs.
Beat the eggs, add the sour cream, mix, then add the shredded cheese. Place the broccoli, ham, and onions in a baking pan and add the mixture of eggs, sour cream, and cheese.
Bake and enjoy. (See recipe below) It is easy to make, right?
If you liked this recipe, you might also like some other quiche recipes on the blog, like Crustless Spinach with Smoked Meat and Gouda Cheese and Caramelized Onion Tart.
If you have guests or a potluck, this recipe of Vegetarian mini quiche is a great one.
For more awesome quiche recipes take a look at this collection that might inspire you.
But, how about other recipe ideas for breakfast? Click here to see my entire collection of breakfast recipes.
Do you like salmon? you should try this Crustless Smoked Salmon Spinach Quiche.
Yield: 8 servings
Crustless Broccoli Bacon Quiche
The recipe for Crustless Broccoli Bacon Quiche is one of my favorite recipes. It is low in carbs, nutritious, and delicious.
Ingredients
5 eggs
8oz frozen broccoli
1 chopped medium onion
8 oz bacon (or ham) chopped in small pieces
1 cup shredded Cheddar Cheese or Gruyere cheese
2/3 cup sour cream
salt and pepper to taste
1 tablespoon vegetable oil
Instructions
Preheat the oven to 350F.
In a medium pan, saute the chopped onion and meat (bacon or ham) together in some oil. Cook until the onions are translucid and meat is cooked.
Add the broccoli.
Mix the ingredients and cook them for about 5 minutes until the broccoli is half cooked and the liquid in the pan evaporated.
Add salt and pepper to your taste.
Remove the broccoli, onions, and bacon from the stove and put them in a pie/quiche pan. I use a Pyrex Pie Pan, but you can use any pie pan you have around.
Let the broccoli and bacon cool for few minutes.
Meanwhile, whisk the eggs together.
Add sour cream to the mixture and shredded cheese.
Pour the eggs with the cheese and sour cream over the vegetables.
Bake the quiche for about 30 mins at 350F, until it is lightly brown outside and cooked inside.
Insert a toothpick in the middle and check if it is done. The toothpick should come out clean.
Nutrition Information:
Yield:
8
Serving Size:
1
Amount Per Serving:
Calories:

256
Total Fat:

21.7g
Saturated Fat:

9.5g
Trans Fat:

0g
Unsaturated Fat:

7g
Cholesterol:

148mg
Sodium:

289mg
Carbohydrates:

4.6g
Fiber:

1g
Sugar:

1/4g
Protein:

11.2g
Note: "We are a participant in the Amazon Services LLC Associates Program, an affiliate advertising program designed to provide a means for us to earn fees by linking to Amazon.com and affiliated sites."