This delicious breakfast recipe of Cheesy Ham Hash Brown Egg Casserole is easy to make when you feed a crowd and great for breakfast or brunch.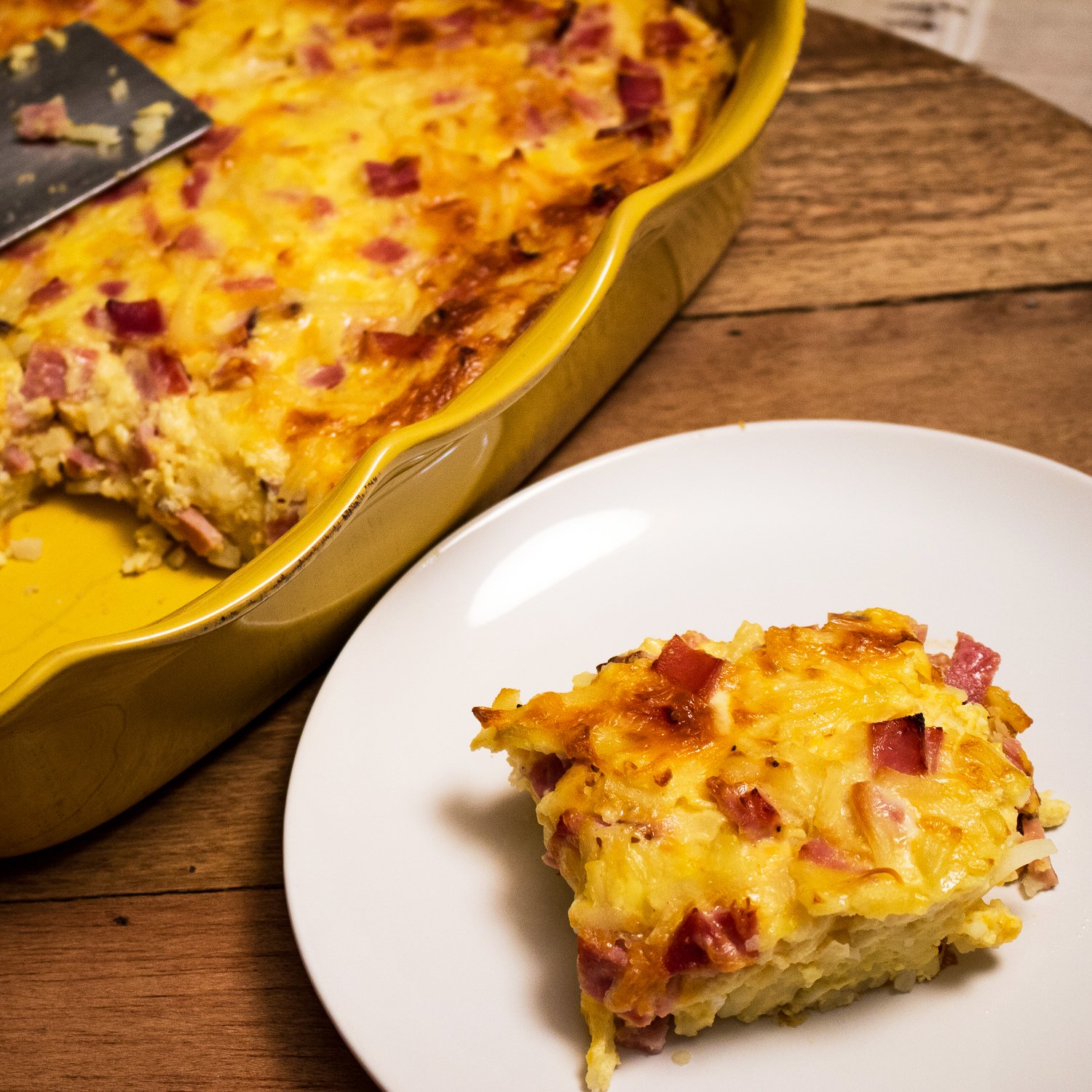 Hash Brown Egg Casserole
Do you have leftover ham and don't know what to do with it? Or small pieces of cheese that could be put to use?
Here is an idea of a very but VERY easy breakfast casserole with hash browns and ham that you could make. Maybe you have company over and have to provide breakfast or brunch.
This dish is perfect for events like this, especially around the holidays when we have family from around the country staying with us.
No matter when you bake it, if it is for Thanksgiving, Black Friday, Christmas morning, Easter, or Mother's Day, this recipe feeds a crowd and satisfies most palates.
After all, we all need a good breakfast to start the day. This is not a new recipe, and I am sure many of you made it a million times before.
However, I hope this recipe is inspiring enough for those who have never made it before.
The original recipe uses bacon, but in my kitchen, we use whatever we have available. Ham, cold cuts, smoked cured meats, and sausages are perfect examples of items you could use in this casserole.
We also love cheese, so there is always a piece of this and a bit of that to shred and make a delicious "something."
What kind of ingredients go into this hash brown casserole:
Hash browns
Hash Browns are available in most grocery stores. If you live outside of the US, as an American, you know how difficult, close to impossible, is to find hash browns.
The good news is that you can make homemade hash browns at home by shredding the potatoes and squeezing the water and starch out of them. I did this many times when traveling and wanted to have this dish.
Eggs
I used large eggs for this recipe.
Ham
Ham is the choice for the recipe, but you can replace it with bacon, cold cuts, like turkey ham, chopped pieces of sausage (kielbasa), or your favorite cooked sausages, like mild Italian, for example.
Cheese
What kind of cheese you use is really up to you. I am always for being flexible in the kitchen and using what you have available. Cheddar is the choice here, but you might find that you really like some Gruyere, Colby, Monterey Jack, a mixture of them, or another type of cheese you can use if you don't have cheddar.
Milk
Whole milk was my choice. You can also use low fat if you want. I never tried to use
Salt and pepper to taste, as everyone is different.
The only "tricky" part of this recipe is to crack the eggs!!! 🙂
How to make this recipe:
The first step is to preheat the oven to 350F. By the time you are done putting the recipe together, the oven will be ready for baking.
The second part is to grab a large bowl and combine hash browns, ham(or the meat you chose for this recipe), 1/2 cup cheese, salt, pepper, and paprika.
Note: You do not need to thaw the hashbrowns.
Spoon into a greased 13×9″ baking dish and set aside.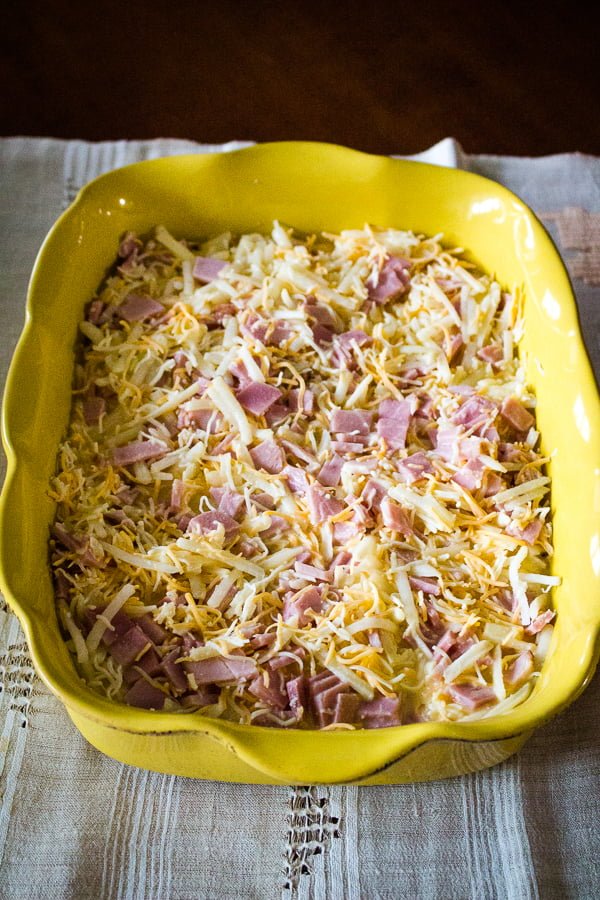 Beat eggs and milk until smooth in a separate bowl, and pour over the hash brown mixture. Top with the remaining cheese.
Voila! The only thing you have to do now is to bake, uncovered, at 350 for 45 to 50 minutes or until golden brown on top.
The waiting part is the hardest one, as you have to be patient for this beauty to come out of the oven!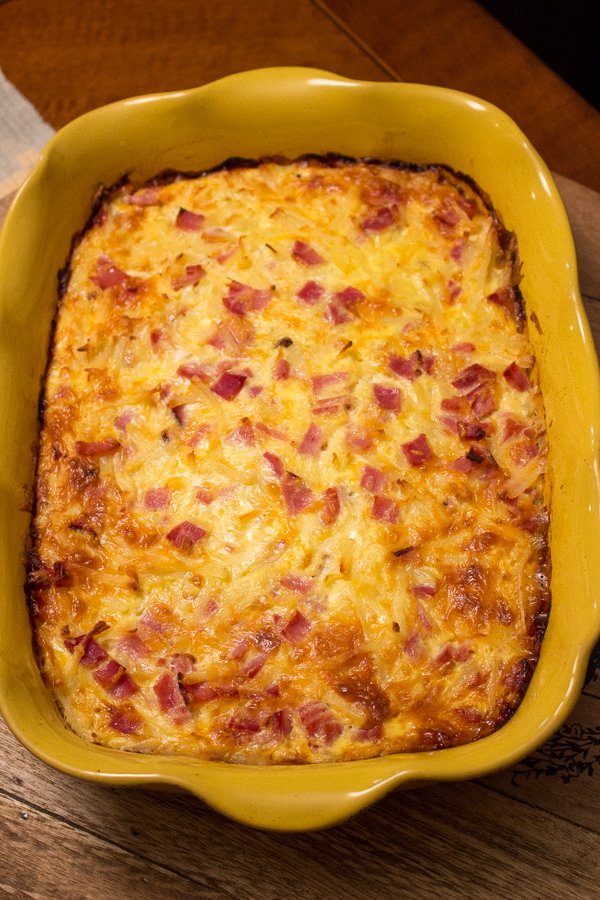 Just give me a plate and a fork, please! I am so ready!
Serve this ham and hashbrown breakfast casserole next to fresh fruit, for an excellent breakfast, for lunch, with your favorite salad, or even for a light dinner.
Who am I to judge what you want to eat when you are hungry?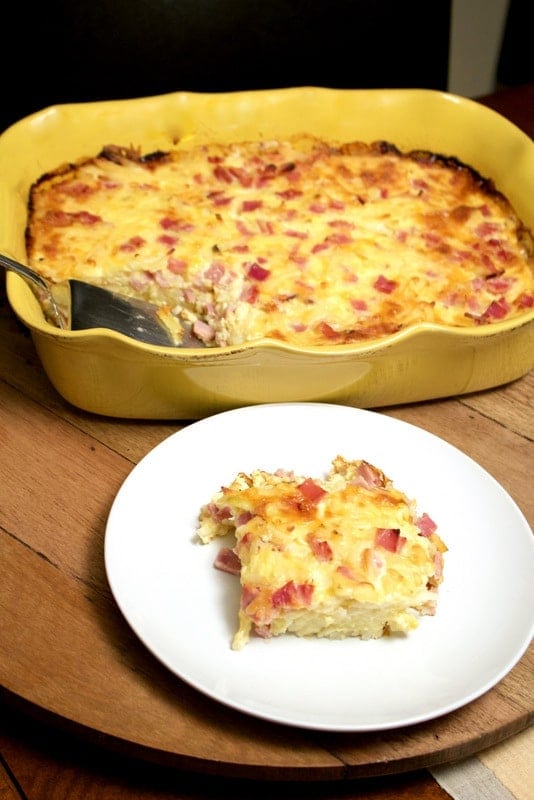 Can I make this Breakfast Hash Brown Casserole in advance?
Of course. I do this all the time. For example, I made the casserole today, and tomorrow we do not need to worry about breakfast or lunch!
Or, I put the casserole together the night before and I bake it the next morning.
You can reheat the leftovers.
I did not freeze it, so I would not know to give you any advice. I like cooking fresh all the time, and I am not really a fan of freezing casseroles and dishes.
If you are like me and love eggs, this recipe is also interesting, Crustless Quiche. If you have ham, bacon, spinach, and your favorite cheese in the fridge, you can make this beautiful dish to start the day! Breakfast is ready! Low carb too!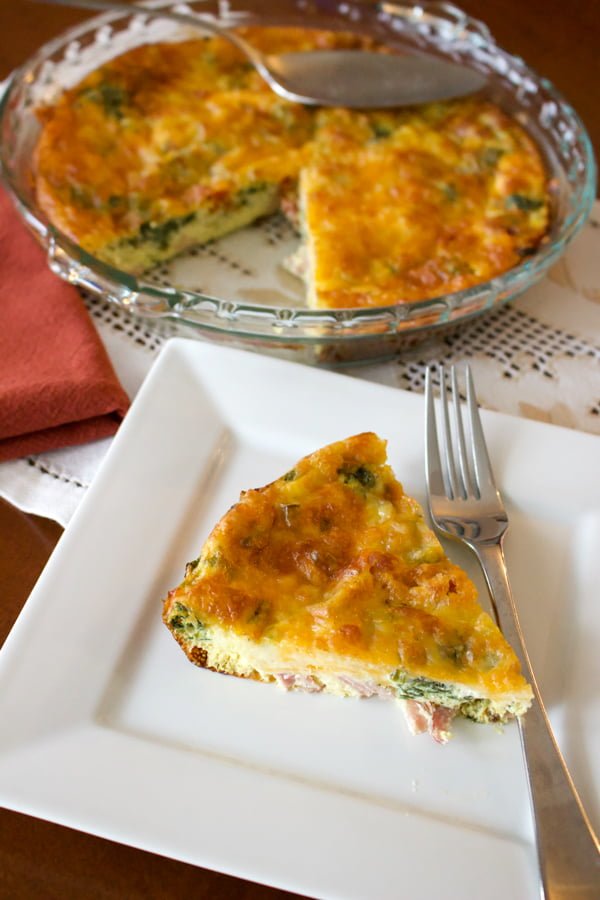 Note for the non-Americans who might find this recipe of Hash Brown Breakfast Casserole With Ham and do not have access to hash browns:
Hash browns are frozen shredded potatoes. If you cannot find already shredded potatoes at the grocery store, you can make the casserole by shredding raw potatoes, placing them in a clean towel, and squeezing the liquid out of them as much as possible.
Pin this for later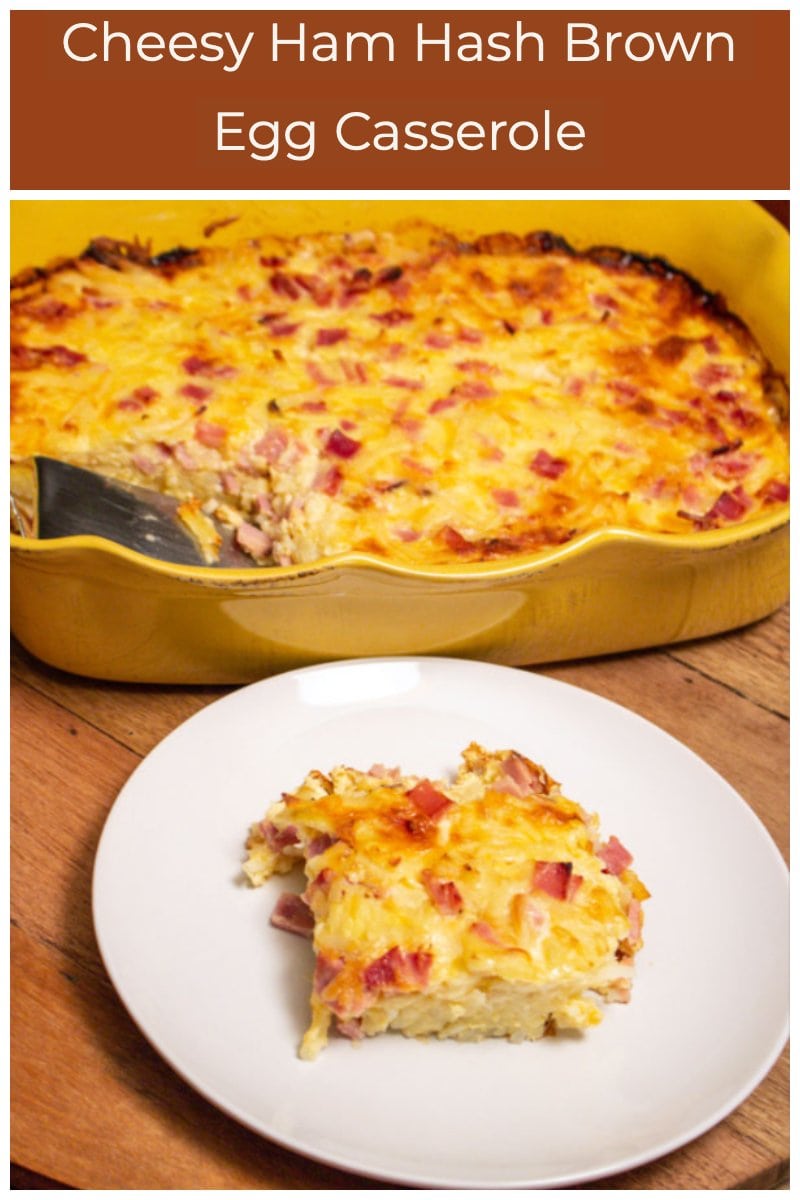 After that, follow the recipe below and enjoy! I know it is more complicated, but hey, from my own experience, real, unprocessed potatoes taste better anyway!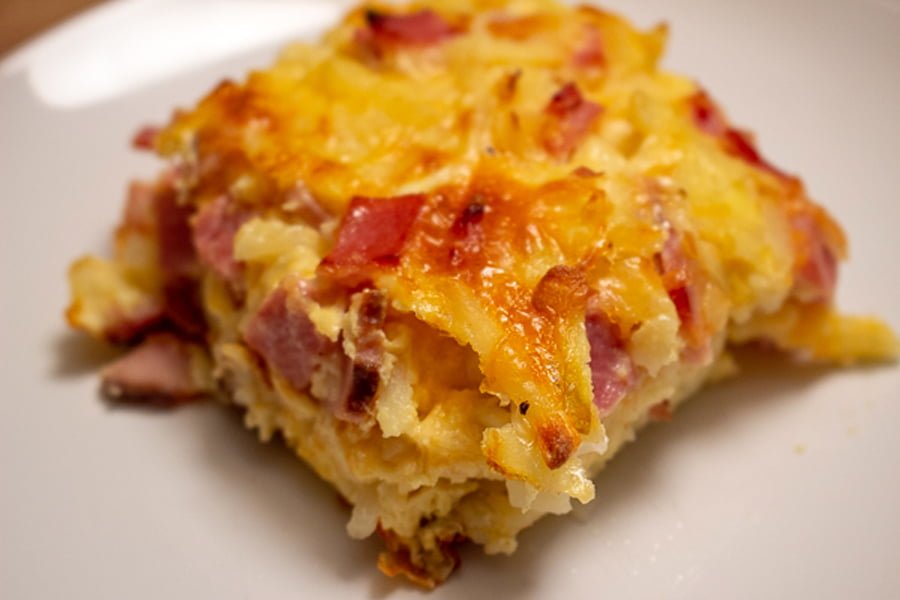 If you liked this recipe, you might also like this Quick and Easy Cheese Pie or this Capirotada- Bread Pudding- Mexican Style.
What is your favorite breakfast recipe?
Suggestions for recipes that use eggs:
Scalloped Potatoes with Hard-Boiled Eggs
Easy Baked Pumpkin Mac And Cheese
Crustless broccoli bacon quiche
Quick and easy cheese pie recipe
Savory feta and caraway pastries
Fried peppers with tomatoes, eggs, and cheese
Yield: 12 servings
Cheesy Ham Hash Brown Egg Casserole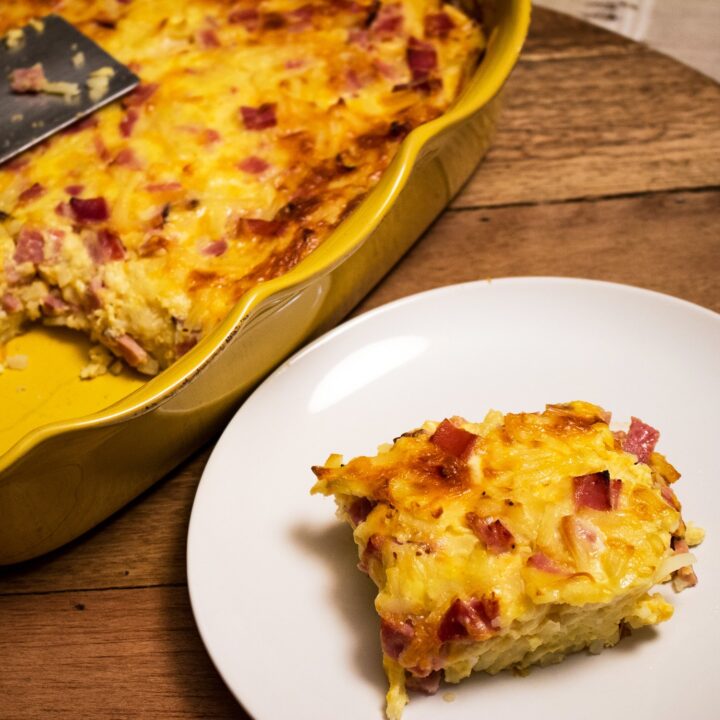 Delicious breakfast recipe- Cheesy Ham Hash Brown Egg Casserole- easy to make when you feed a crowd and great for breakfast or brunch.
Total Time
1 hour
5 minutes
Ingredients
20 ounces package frozen hash brown potatoes, no need to thaw them
8 ounces cooked, diced ham(cold cuts, bacon, sausage etc)
4 ounces cheddar cheese(or any other favorite cheese that can be shredded)
6 large eggs
1 1/2 cups whole milk
salt and pepper to taste
a pinch of paprika
13x9" baking dish
Instructions
Preheat the oven to 350F.
Combine hash browns, ham, 1/2 cup cheese, salt, pepper, and paprika in a large bowl.
Spoon into a greased 13x9" baking dish.
In a separate bowl, beat eggs and milk until smooth, and pour over the hash brown mixture.
Top with the remaining cheese.
Bake, uncovered, at 350 for 45 to 50 minutes or until golden brown on top.
Recommended Products
As an Amazon Associate and member of other affiliate programs, I earn from qualifying purchases.
Nutrition Information:
Yield:
12
Serving Size:
1
Amount Per Serving:
Calories:

247
Total Fat:

16g
Saturated Fat:

5g
Trans Fat:

0g
Unsaturated Fat:

10g
Cholesterol:

118mg
Sodium:

587mg
Carbohydrates:

16g
Fiber:

1g
Sugar:

2g
Protein:

12g
Note: "We are a participant in the Amazon Services LLC Associates Program, an affiliate advertising program designed to provide a means for us to earn fees by linking to Amazon.com and affiliated sites."