Learn how to make one of the best breakfast strata casseroles. This fluffy strata recipe is an easy and versatile egg dish perfect for breakfast, brunch, and family gatherings.
It is an ideal make-ahead dish, especially during the holidays. Prepare it the night before, and pop it in the oven the next morning for a special quick, and delicious breakfast that feeds a crowd.
Jump to:
What is a Strata?
Strata is a savory breakfast or brunch casserole prepared the night before and baked the following day. The basic ingredients are bread (lots of it), a custard made with eggs and milk, or eggs and cream and cheese. Meats like bacon, ham, salami, or other cold cuts and vegetables are also part of the dish.
It is an American layered egg casserole dish, very easy to make, and highly suitable for a hearty breakfast or brunch.
This egg dish is perfect for feeding a house full of guests and if you want to prepare something simple and delicious that doesn't require a lot of time in the kitchen.
You can put the strata together before you go to bed. The next morning you just have to remove it from the fridge and bake it, which is a very unstressful way of having people over. Just like my Cheesy Ham Hash Brown Egg Casserole, this dish is easy and hearty with minimum work involved.
Strata is usually made with stale bread that is layered together with anything you have in the fridge. This is the beauty of it. You can make it with whatever you want.
The liquid base is usually milk and eggs, but I saw recipes that use sour cream and eggs instead. I personally like the strata with sour cream instead of milk.
However, if you make it with sour cream, the texture will be a little bit different, just more "egg-ish" than the one made with milk.
This dish is perfect for Christmas, Easter, any brunch that involves guests, or anytime you have people out of town visiting your house.
Equipment
Baking dish: for 4-6 people, you might need an 8x8x2 inches baking dish. For more than 6-8 people, you might need a 13x9 inches dish. 
Knife
Cutting board
Mixing bowls
Ingredients
Bread- Any bread will do. I like a French baguette, sourdough, French loaf, and artisan bread, but even gluten-free would work.
I like to cut the bread into chunks and leave it covered in a bowl on the kitchen counter for the day. This is how I ensure the bread is dry and ready to absorb the milk(or the sour cream) and the eggs.
If you don't have stale bread, then use a fresh one, but cut the bread into chunks, or just break it into pieces, place it on a baking pan, then in the oven at 350F for 5-7 minutes until the chunks are crisp on the outside but not completely dry.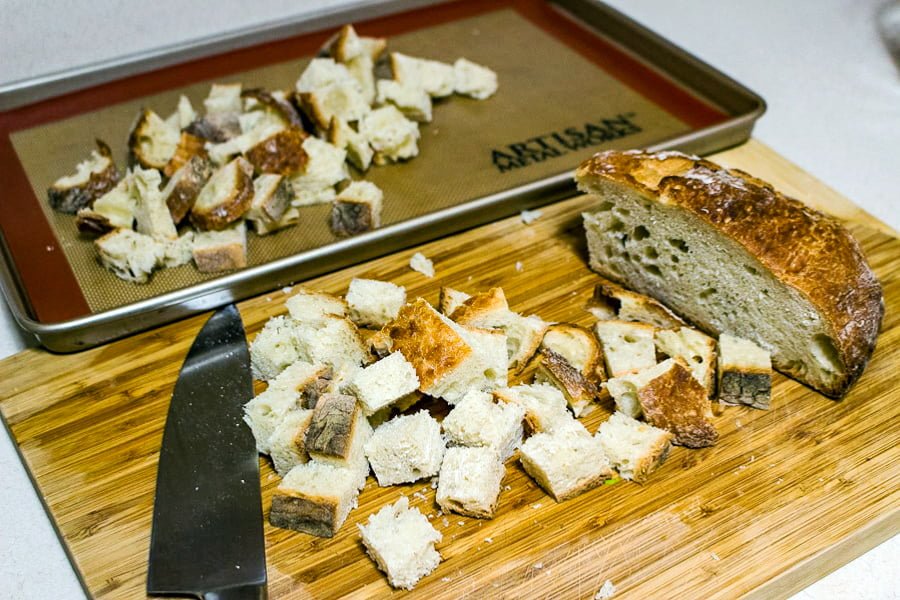 When cool, measure the bread and make sure it fits in the baking dish you want to use. To serve 4-6 people, you will need about 4-5 cups of cubed bread.
Liquid base: As I said before, the traditional strata is made with milk and eggs, but the sour cream and eggs combination is perfectly acceptable. I like the sour cream. I also use it when I make quiche. 
Note on using the sour cream instead of milk: A strata is baked for about 40-45 minutes if made with milk. If you use sour cream with eggs instead, reduce the amount of baking to only 30-35 minutes, as there is not a lot of liquid in the pan to evaporate.
You can flavor the liquid base the way you want it. A good start would be salt and pepper. A little nutmeg and maybe some hot sauce would work well if you like it spicier.
Shredded Cheese- Any melting cheese is excellent for this recipe.
The most popular is, of course, cheddar cheese. Gruyere, mozzarella, and Mexican cheese work well. If you don't like it very cheesy, add less. Not a big deal. However, it needs some cheese. This is not an ingredient to skip entirely.
Expert tip
Mix the cheese with the dried bread and keep a handful of cheese aside to sprinkle on top of the dish when you are ready to place it in the oven.
Some other possible ingredients
Meat: Sausage/chorizo, bacon, ham, and other cold cuts are the most popular.
Vegetables: asparagus, peppers (I prefer the red, yellow, or orange), sun-dried tomatoes, scallions, white or red onion, mushrooms, leeks, spinach, etc.
Note: Don't add them all, just pick and choose the ones you have available in the refrigerator and go with them. Two to three veggies are just enough. Although they are not mandatory, having them in the mixture is nice.
Herbs: thyme, marjoram, rosemary, dill, etc.
Spices: nutmeg, mustard powder
Variations of the recipe
Ham and green onion
Ham or bacon, green onion, pepper, and sun-dried tomatoes
Spinach, bacon, and red onion
Ham and spinach
Mushrooms, green onions, and dill
Bacon and leeks
Asparagus, sun-dried tomatoes, and green onion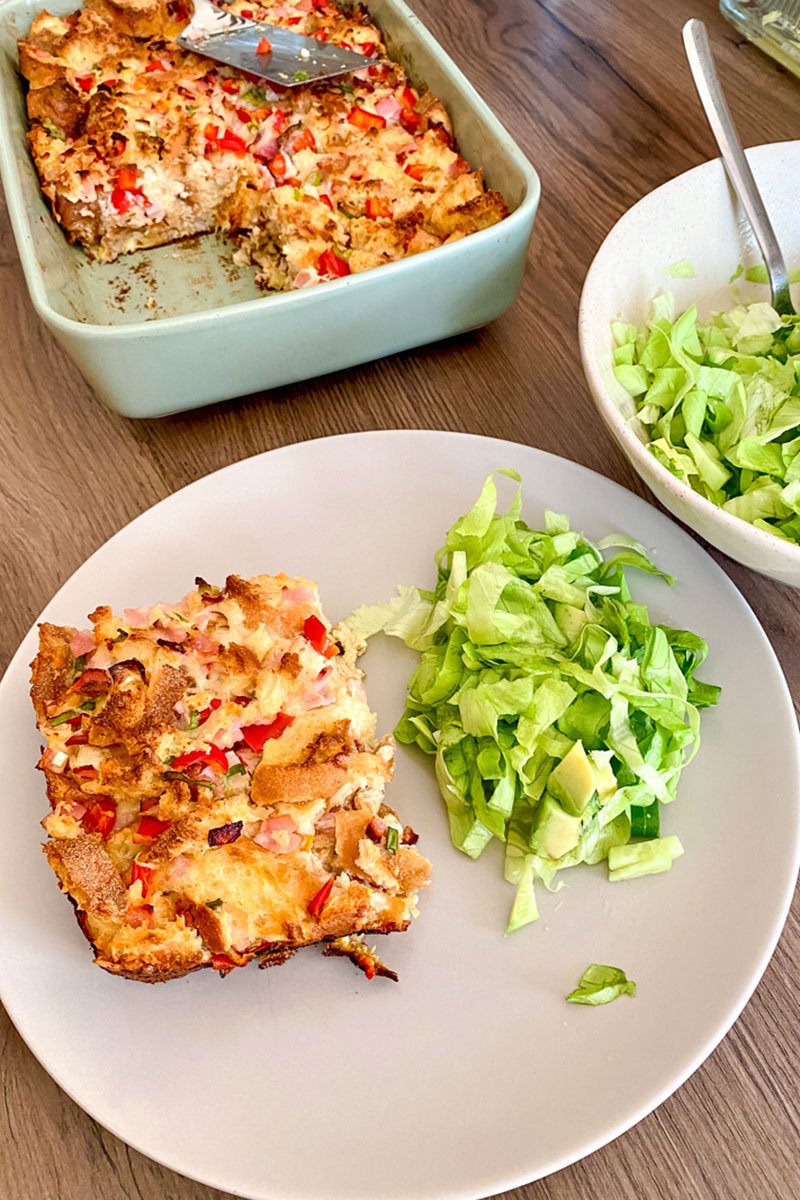 Assemble the strata
In a baking dish, place the bread on the bottom and add the shredded cheese, chopped meat of your choice, and vegetables, also chopped small.
Add the mixture of milk/eggs and top the dish with more shredded cheese. Cover with foil and place in the refrigerator for a few hours or overnight.
Overnight is better because the ingredients will have time to get friendly with each other. Friendly ingredients = delicious dish!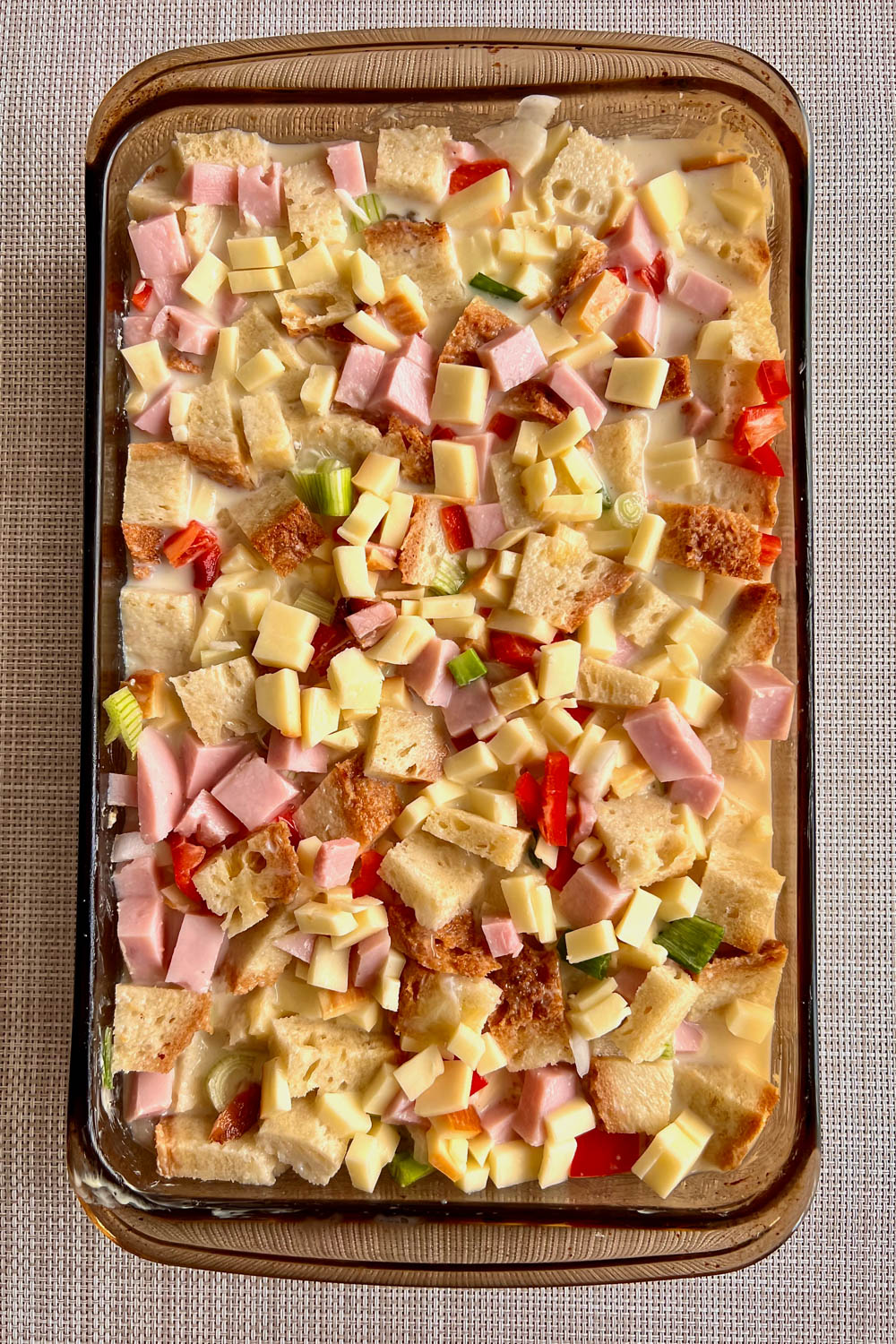 Bake it
The following day, preheat the oven to 350F/180C and place the dish inside. Bake the dish for about 40 minutes and check the inside. It is ready if it doesn't jiggle when shaken. The dish should be golden brown on top, and the cheese should be melted.
You can also ensure it is cooked by checking the internal temperature in the center. It has to be 160F.
Remove it from the oven and let it sit for 5-10 minutes. While baking, the strata will puff up, but after you remove it from the oven, it will deflate.
Note: If the dish was at room temperature, it might need only 40-45 minutes to bake. If the dish was super cold, it might need another 5-10 minutes. The dish should reach 160F inside to make sure the eggs cook inside. Check and make sure you don't overcook it!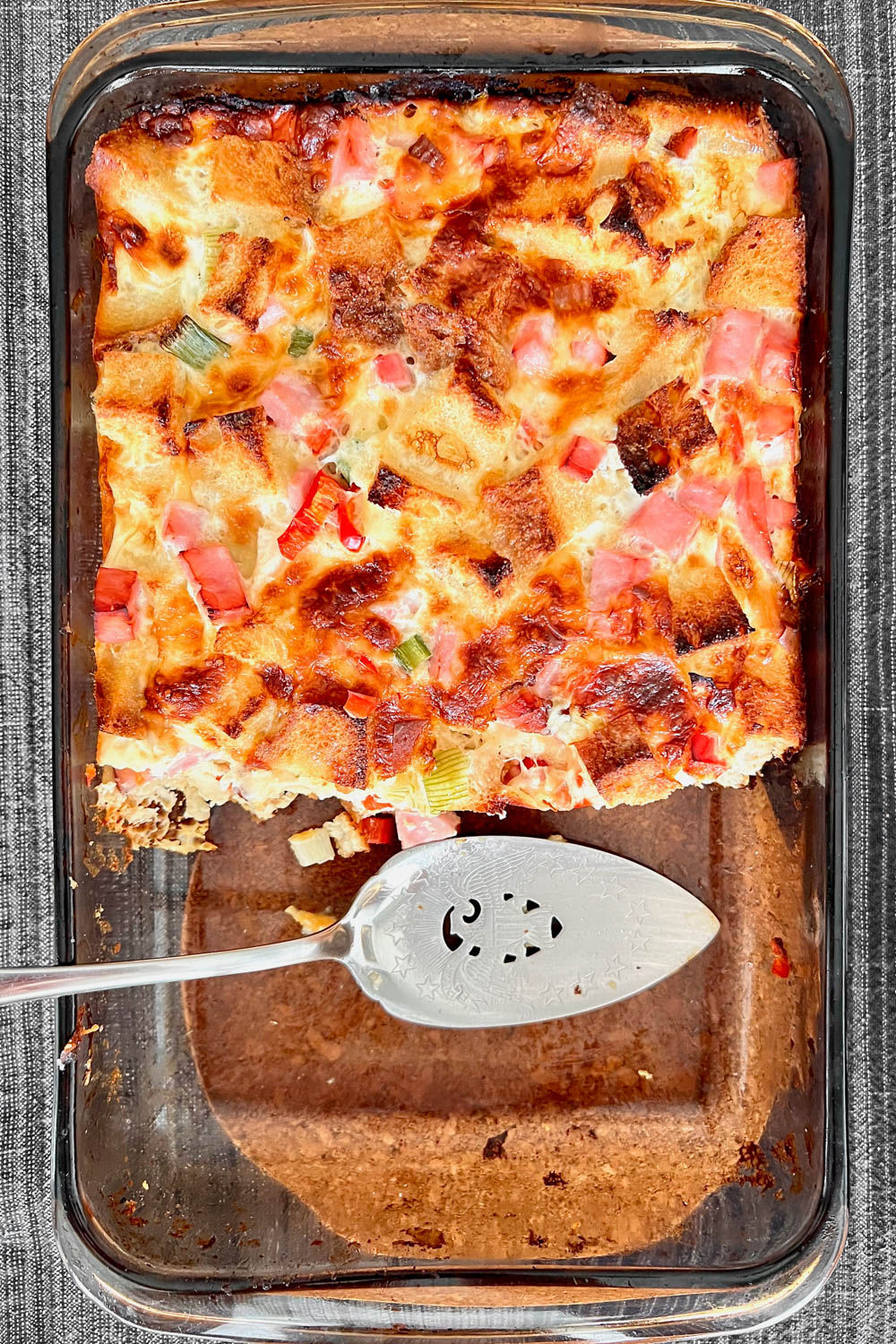 What can you serve with this Strata?
For a brunch, you can also make some of these items:
Fried peppers with tomatoes, eggs, and cheese
Cracked Black Pepper and Ham Scones
Easy Yogurt Drop Homemade Doughnuts
Serve everything with my special Turkish Coffee.
Recipe Faqs
Why does strata have to sit overnight?
A delicious strata needs some time to sit uncooked until the bread has the time to absorb some of the custard.
However, eggs, milk, and other ingredients in this baked egg casserole are perishable.
You must keep the assembled dish in the refrigerator at all times until it goes into the oven.
How far ahead can you make strata?
Make this dish up to 12 hours ahead of baking. If you forgot to assemble the dish the night before, allow it at least one hour on the day you plan to bake it, so it has some time to absorb the liquid and do its magic.
What is the difference between strata and frittata?
Strata is a baked egg casserole with layers of bread, custard, cheese, and other ingredients, like meat and/or vegetables.
A frittata is an egg dish made with eggs, meat, and veggies, cooked in a skillet, then finished in the oven.
Can I make dairy-free strata?
Yes, use dairy-free milk or cream instead of the regular one.
Can I freeze unbaked strata? 
Basically, you can freeze almost anything. However, I am not a fan of freezing eggs. First of all, the texture will change and become rubbery when frozen. I know some will probably say I am wrong, but this is my opinion. USDA.gov is very clear about this as well.
How to store leftovers strata
After baking, leftovers should be refrigerated within two hours and kept in the refrigerator for up to four days. You can also freeze already baked strata for up to three months.
You can serve leftovers hot or at room temperature for breakfast, brunch, or lunch, next to a beautiful salad.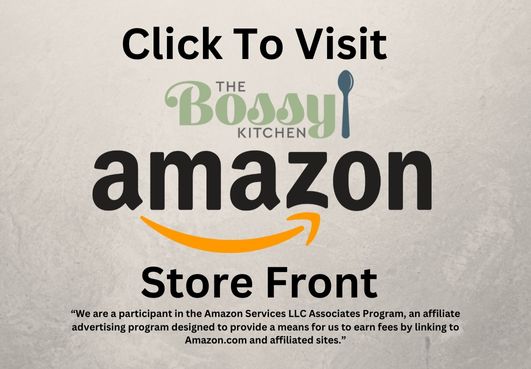 Egg Recipes For Breakfast Or Brunch
Crustless Spinach with Smoked Meat and Gouda Cheese Quiche
Crustless Broccoli Bacon Quiche
More recipes to love
Craving more? Subscribe to The Bossy Kitchen to get new recipes and a newsletter delivered straight to your inbox! Stay in touch on Facebook, Twitter, Pinterest, and Instagram for all of the latest updates. Don't forget to use the star rating and leave a review.
Here is my favorite Strata recipe I make:
📖 Recipe
Best Breakfast Strata
Learn how to make one of the best breakfast strata casseroles. This easy and versatile egg dish is perfect for family gatherings, around the holidays, and anything in between.
Print
Pin
Rate
Ingredients
4

cups

cubed stale bread

French baguette, rustic, sourdough, regular, or gluten free

6

large eggs

½

cup

sour cream

OR 2 cups whole milk

4-6

green onion chopped small

or a small white or red onion

1

cup

chopped ham

or cooked sausage/chorizo, or cooked bacon

1

small red pepper chopped small

yellow or orange peppers work well too

¼

cup

sun dried tomatoes chopped small

1 ¾

cup

shredded Cheddar cheese

¼

cup

shredded mozzarella

¼

teaspoon

nutmeg

salt and pepper to taste
Instructions
Use a 9x13 inch baking dish.

Cut the stale bread in cubes and place it on the baking dish.

Add shredded cheese, but keep a handful of cheese to sprinkle on top of the dish before you bake it.

Add meat and vegetables.

Separately, beat the eggs and add milk or sour cream(according to your preference). Add salt and pepper to your taste.

Mix well and pour over the bread.

Sprinkle the rest of the cheese over the top and cover with foil.

Place the dish in the refrigerator overnight.

Next morning, preheat oven at 350F.

Bring the dish to room temperature for about 30 minutes.

Bake the strata for 40-45 minutes if you added milk and 35 minutes if you made it with sour cream.(See the notes on the blog about that).

Check the temperature of the strata in the middle. It should be 160F. The dish is ready when it does not giggle in the middle when shaken. The color should be golden brown.

Remove from the oven and allow it to rest for 5-10 minutes before serving.
Nutrition
Serving:
1
g
|
Calories:
730
kcal
|
Carbohydrates:
81
g
|
Protein:
36
g
|
Fat:
29
g
|
Saturated Fat:
12
g
|
Polyunsaturated Fat:
4
g
|
Monounsaturated Fat:
7
g
|
Trans Fat:
0.1
g
|
Cholesterol:
225
mg
|
Sodium:
1284
mg
|
Potassium:
610
mg
|
Fiber:
8
g
|
Sugar:
13
g
|
Vitamin A:
1463
IU
|
Vitamin C:
34
mg
|
Calcium:
511
mg
|
Iron:
7
mg