This Savory Cheese Pie recipe is a delicious and original way to serve breakfast. Made with different types of cheese, eggs, and flour, this dish is perfect for weekends when the entire family is home.
Jump to:
Hey there, cheese lovers! Let me introduce some extra oomph to your regular breakfast with a savory twist – meet the Savory Cheese Pie.
Is it a pie, or is it a pancake? I have no idea, as technically, could be any of them. If you can come out with a good name, let me know in the comments.
The best part? It's super easy to make, straight from your stovetop, and it's just as perfect for a weekend family brunch as it is for appetizers when your friends pop over.
Plus, you can mix and match different cheeses to make it your own. Ready to dive in and give it a try? Let's get started with this awesome savory cheese dish.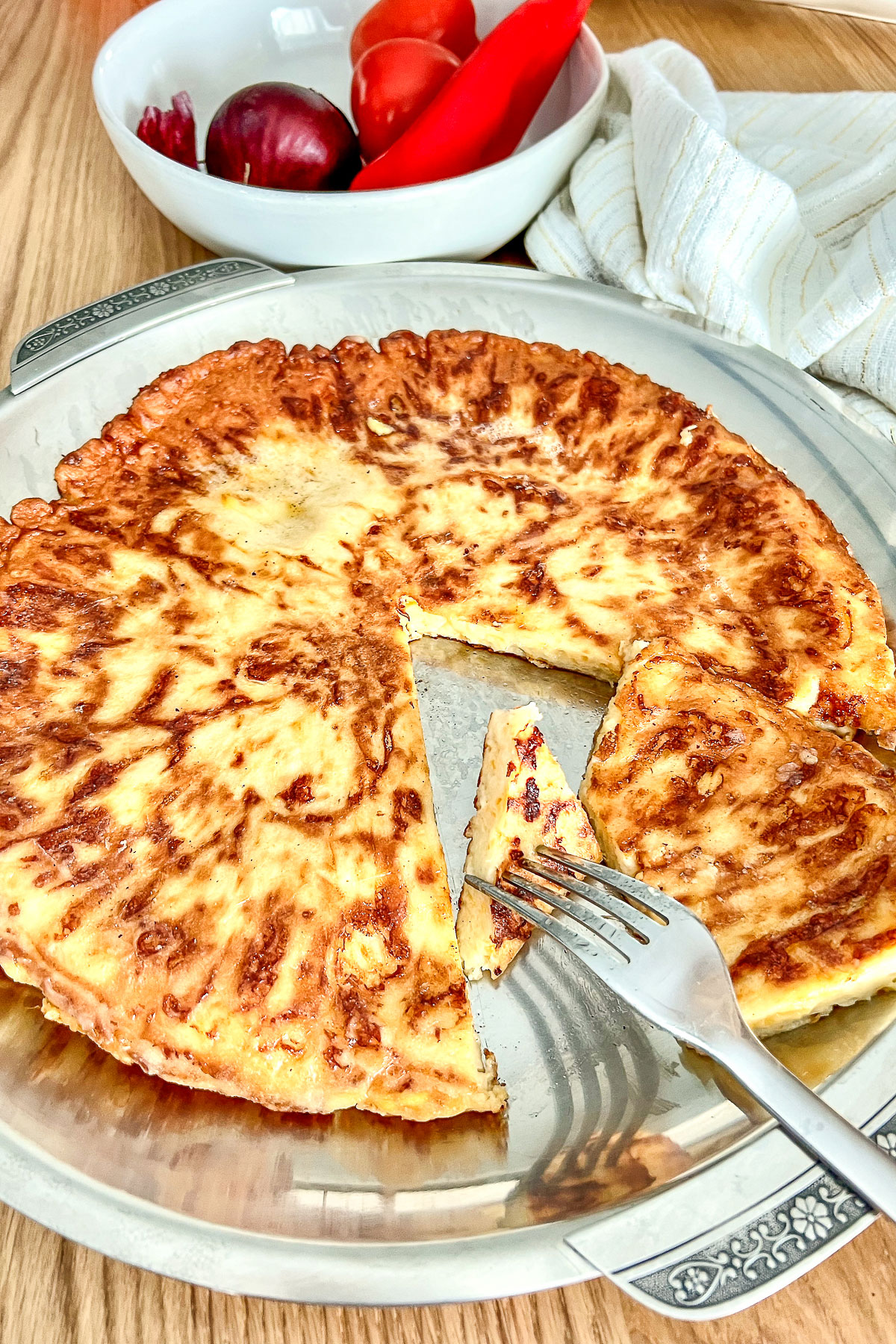 Why this recipe is a favorite
Effortless Preparation. With its simplicity and savory flair, this quick and tasty cheese pie is an awesome meal to be enjoyed at any time of the day.
Best of all, it's skillet-made, so there's no need for baking!
Adaptable. This recipe's versatility truly shines as it can accommodate a wide variety of cheeses, from mozzarella and feta to delectable goat cheese.
Perfect for any meal - breakfast or appetizer, it truly adapts to your culinary desires.
Multiple Serving Styles. This dish is my frequent go-to for breakfasts and brunches, especially during weekends.
However, its potential as an appetizer during gatherings is undeniable. Simply slice it up pizza-style and let your guests relish it!
Related Recipes:
Ingredient breakdown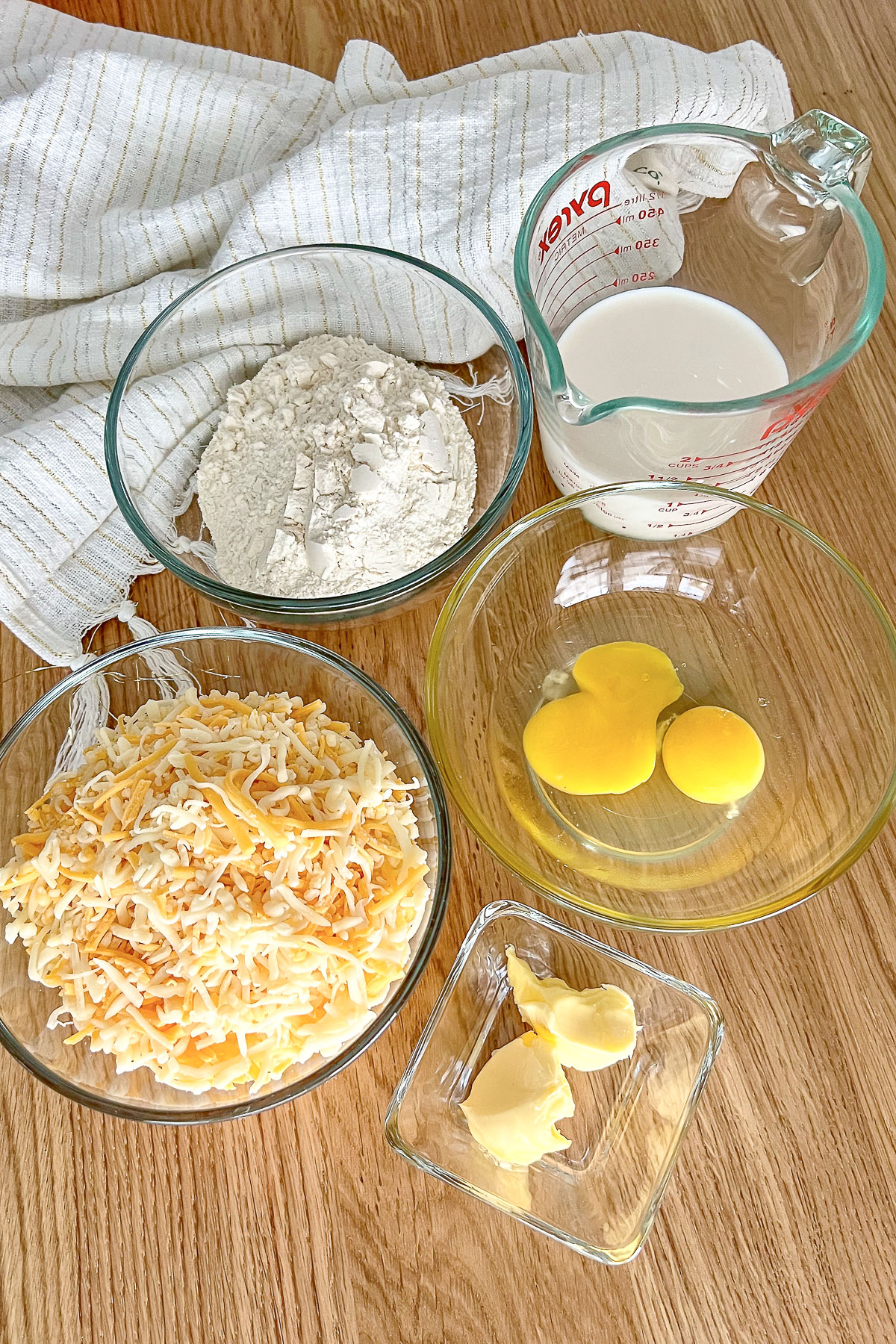 Eggs: Large eggs are a staple for baking and cooking in the US and are perfect for this recipe.
Milk: Whole milk works best, though 2% milk is a suitable alternative. Low-fat or fat-free options aren't recommended due to their watery consistency. Non-dairy milk is an acceptable substitute.
Flour: All-purpose flour is my choice for the recipe.
Cheese: Scroll down for further details.
Butter: Essential for frying.
Exploring cheese options
A cheese that melts well is the perfect choice for this recipe. Mozzarella, Gruyere, and Cheddar are excellent choices, while Monterey, Colby, and Queso Quesadilla add delightful variations.
For a touch of saltiness, add crumbled Feta. Combining two or three types of cheese can lead to mouthwatering results, especially when using leftover pieces from your fridge.
Shredded cheese is preferred over grated, and freshly shredded cheese trumps store-bought varieties. Pre-shredded Cheddar, for instance, can make the pie overly greasy.
When using Feta, aim for the authentic kind, preferably from Greece. It's available in plastic containers at places like Trader Joe's or Costco and is made from sheep or goat milk.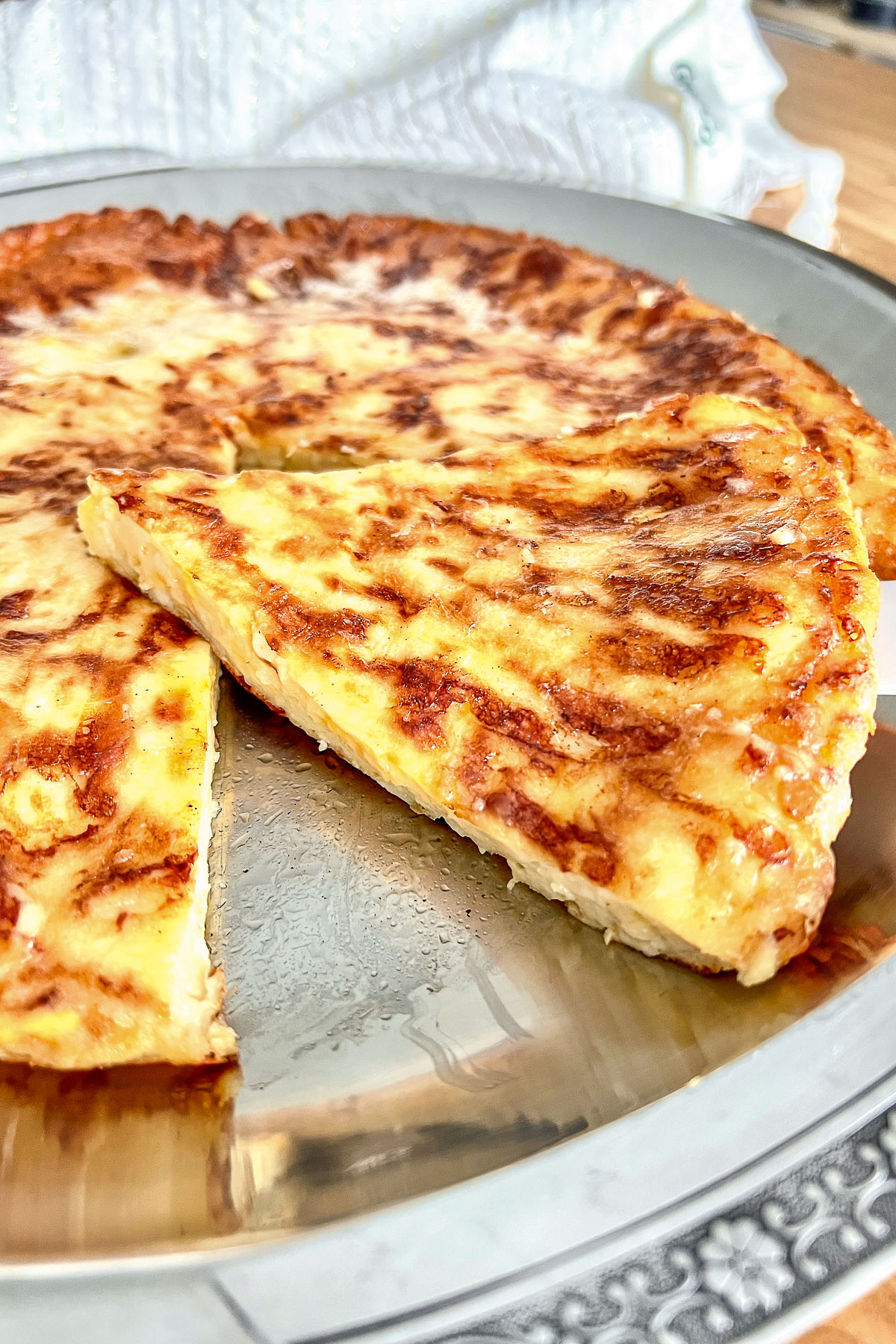 Instructions
This recipe is a stovetop delight, prepared in a skillet.
Step 1.
In a medium bowl, beat the egg with a whisk before adding and beating the milk.
Step 2.
Blend in the flour until the mixture is lump-free. Stir in the shredded/crumbled cheese.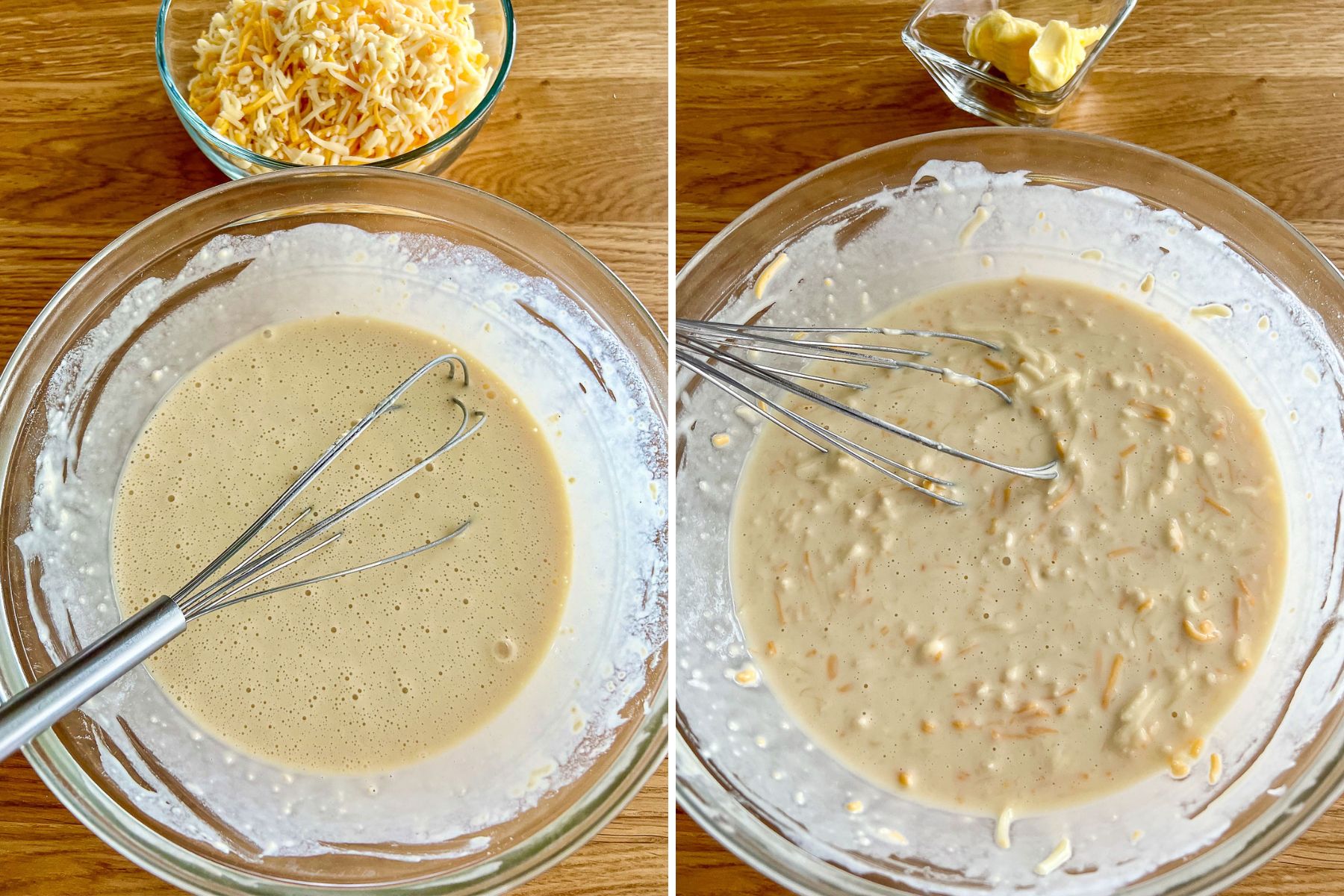 Step 3.
On medium heat, melt the butter in the skillet and spread the mixture to cover its base. Cover and cook each side for 3-4 minutes.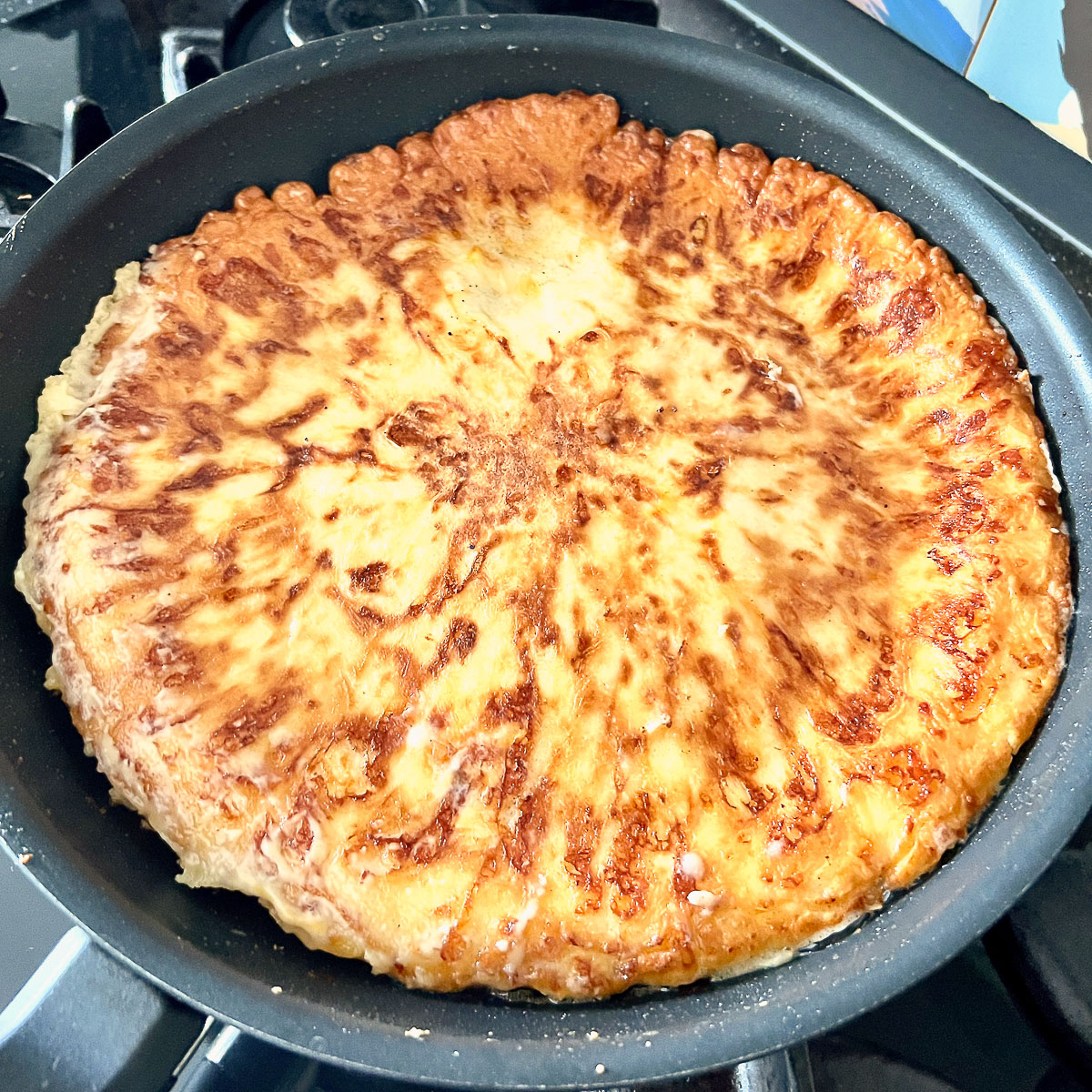 Step 4.
Serve warm or cold.
Serve this cheese pie at any mealtime. It pairs beautifully with salad for lunch or dinner. It's also a great reheatable dish – if there's any left!
Recipe twists
Enhance the recipe with these additions:
Ham or other cold cuts
Herbs like dill, parsley, or chives
Vegetables like bell peppers or onions
Spices including garlic powder, onion powder, mustard powder, paprika, or even chili powder.
Choosing the right skillet
A 9-inch skillet is ideal for this recipe, yielding 6 servings. You can double the ingredients for a larger pie or to make two.
You can even make them smaller by pouring small amounts of batter in the skillet.
How to store this easy cheese pie
Let the pie cool completely before storing it to prevent it from becoming soggy from condensation.
You can cut the cooled pie into individual portions for easier storage and reheating.
Place the slices in an airtight container or wrap them in plastic wrap or aluminum foil.
Store them in the refrigerator for about 3-5 days.
If you want to store it for longer, you can freeze it. When freezing, place a sheet of parchment paper between each piece to prevent them from sticking together.
Then, put these in a freezer-safe bag or container. Frozen cheese pie can be kept for up to 2 months.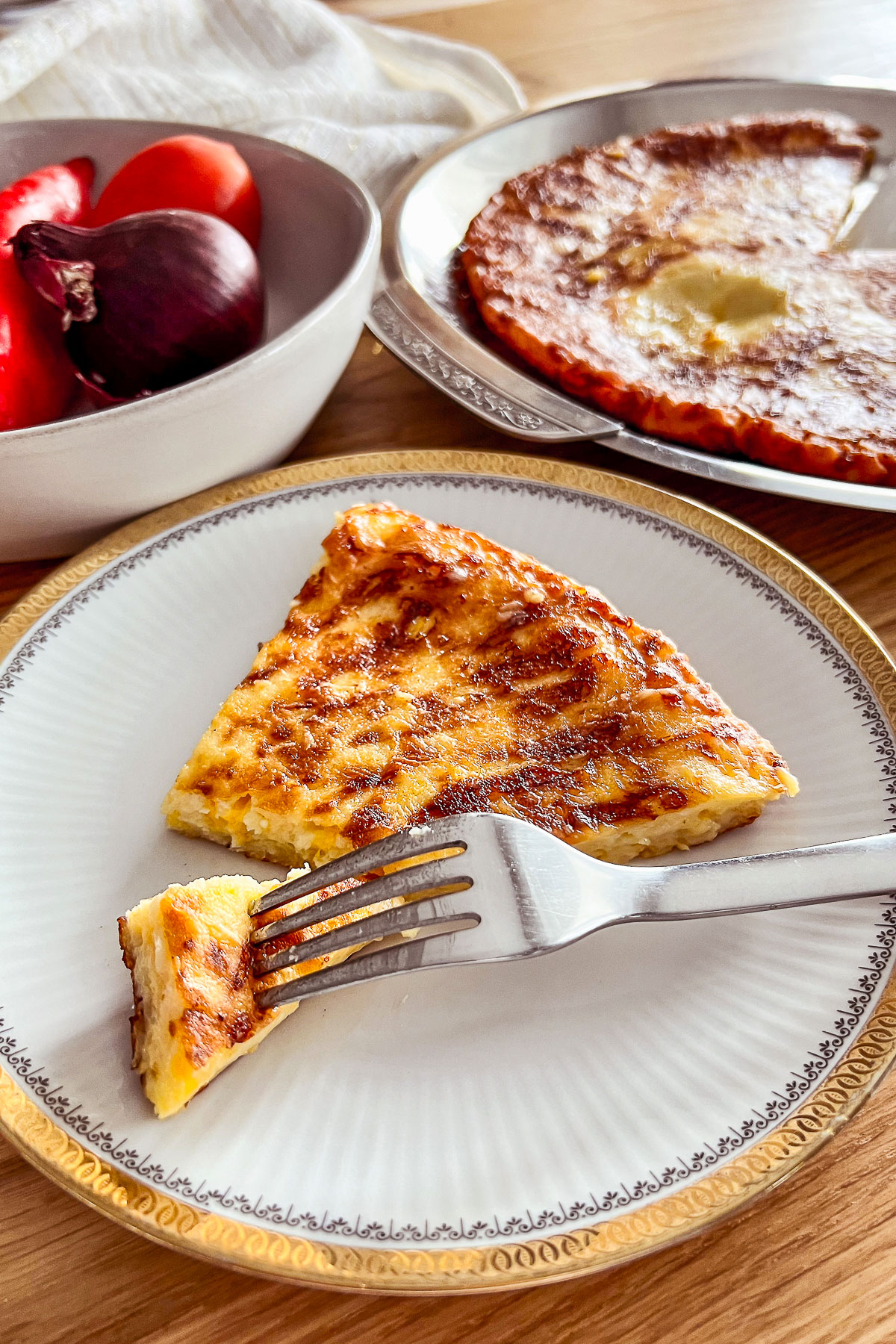 Expert tip
Cook your pie over medium heat to ensure that it cooks evenly. Too high heat can cause the exterior to cook too quickly and burn while the interior remains uncooked.
Recipe Faqs
I'm lactose intolerant. Can I use lactose-free milk and cheese in this recipe?
Yes, you can substitute whole milk with lactose-free milk or other non-dairy alternatives such as almond or soy milk. As for cheese, there are many lactose-free cheeses available in the market today. Just make sure you choose one that melts well to maintain the texture and flavor of the pie.
Can I make the batter ahead of time and store it in the fridge?
Yes, you can make the batter ahead of time, which is especially handy for a quick breakfast or when you're entertaining. Simply prepare the batter and store it covered in the fridge. However, I recommend using it within a day for the best results.
I followed the recipe, but my cheese pie isn't cooking evenly. What am I doing wrong?
There could be a few reasons for this. It's important to spread the batter evenly in the skillet so it cooks uniformly. Also, be sure you're cooking it over medium heat. Too high, and it may cook too quickly on the outside while staying raw on the inside; too low, and it may dry out before cooking through. Lastly, make sure your skillet is well-heated before you add the batter – this helps with even cooking.
Check out the web story for this recipe: How to Make Savory Cheese Pie
More breakfast ideas
Blueberry Bread Pudding With Cheddar
Crustless Salmon and Spinach Quiche
Easy Banana-Buttermilk Pancakes
How To Make Crepes- The Easy Way
Delicious Savory Recipes With Fresh Cherries
Fried Peppers with Tomatoes Eggs and Cheese
📖 Recipe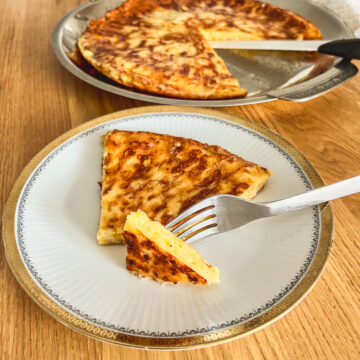 Quick And Easy Savory Cheese Pie
This Quick And Easy Savory Cheese Pie recipe is a delicious and original way to serve breakfast. Made with different types of cheese, eggs, and flour, this dish is perfect for weekends when the entire family is home.
Print
Pin
Share
Grow
Saved!
Rate
Ingredients
2

large eggs

1

cup

all-purpose flour

1

cup

whole milk

2% is good, also non dairy milk can be used

2

cups

mixture of melting cheese like Mozzarella

Cheddar, Gruyere, Asiago, Monterey, Colby, Queso Quesadilla or even Feta

2

Tablespoons

butter for frying
Instructions
In a medium bowl beat the egg with the whisk.

Add the milk and beat again.

Add the flour and mix.

Incorporate the shredded/crumbled cheese.

Heat the skillet on medium heat, place the mixture in the middle, cover with the lid and cook on each side for 3-4 minutes.

Serve warm or cold. Leftovers are really good as well.
Nutrition
Serving:
1
g
|
Calories:
308
kcal
|
Carbohydrates:
19
g
|
Protein:
14
g
|
Fat:
19
g
|
Saturated Fat:
11
g
|
Polyunsaturated Fat:
1
g
|
Monounsaturated Fat:
5
g
|
Trans Fat:
0.2
g
|
Cholesterol:
107
mg
|
Sodium:
313
mg
|
Potassium:
134
mg
|
Fiber:
1
g
|
Sugar:
2
g
|
Vitamin A:
640
IU
|
Calcium:
329
mg
|
Iron:
1
mg
Tried this recipe?
Please leave a comment on the blog or like us on Facebook!