This Quick and Easy Savory Cheese Pie Recipe is an awesome inspiration from the Georgian Khachapuri, a very traditional pie made with sulguni cheese.
This savory quick and easy cheese pie recipe is an awesome meal that can be served any time of the day.
Very versatile, the recipe can be made with most cheeses out there, from feta to mozzarella to goat cheese.
I make this recipe quite often for breakfast, especially over the weekends, but I love it as an appetizer when we entertain. Slice it like a pizza and let your guests help themselves.
It is super easy to make and delicious and you do not have to bake it either, because it is made in a skillet. Milk, flour, eggs and cheese are the only ingredients you need.
It is something between a cheesy pancake and a frittata, which makes it perfect for breakfast or brunch.
This weekend my husband asked me if we can make something different for breakfast (we rarely have cereals or oatmeal). I decided to make this recipe and serve it with this awesome tomatoes, green onions, cucumbers, peppers and avocado salad.
Let me tell you, it was delicious!
This is good stuff, believe me! It reheats well (not sure if you will ever have that opportunity as it will disappear fast) and it is great any time of the day.
Lunch or dinner, too, yes! I don't see why not!
I liked it the most with mozzarella and/or with feta cheese. A good mixture of both is good for this pie.
I usually buy the good quality cheese. I grew up eating lots of feta cheese and I know my stuff.
For example, the crumbled feta cheese in small containers at the grocery store is terrible.
I really don't recommend it. Also, I noticed that the already shredded cheddar cheese in the bags makes a really greasy pie, which I did not like.
I would personally make this pie with mozzarella and a tangy feta cheese made out of cow milk or sheep.
If you cannot find feta, use a tangy goat cheese mixed with mozzarella.
How traditional Georgian Khachapuri cheese pie is made:
There are multiple recipes for Khachapuri pie cheese and each region in Georgia has a different version. The original recipe that my recipe is inspired from, is made from a yeast dough, similar to pizza.
Some versions use a combination of cheeses, which are usually the local ones available. Other versions are filled with red beans.
After the dough is made and the cheese is shredded, the cheese is made into a ball and placed right in the middle of the dough. The dough is folded around to cover the cheese.
The dough is rolled again gently and baked in the oven or cooked on the stove until crisp and golden.
My recipe skips the steps of making a yeast dough, which takes time. The flour, egg, milk and cheese is mixed together and cooked on the stove in a skillet like a pancake.
Of course you will not end up with the same product, because the recipes are so different. However, as a quick version of this wonderful cheese pie, the results are quite amazing.
So, are you going to make it? I hope you do.
If you do, drop a note in the comments and let me know what you think.
Enjoy!
Yield: 6 servings
Quick and Easy Cheese Pie Recipe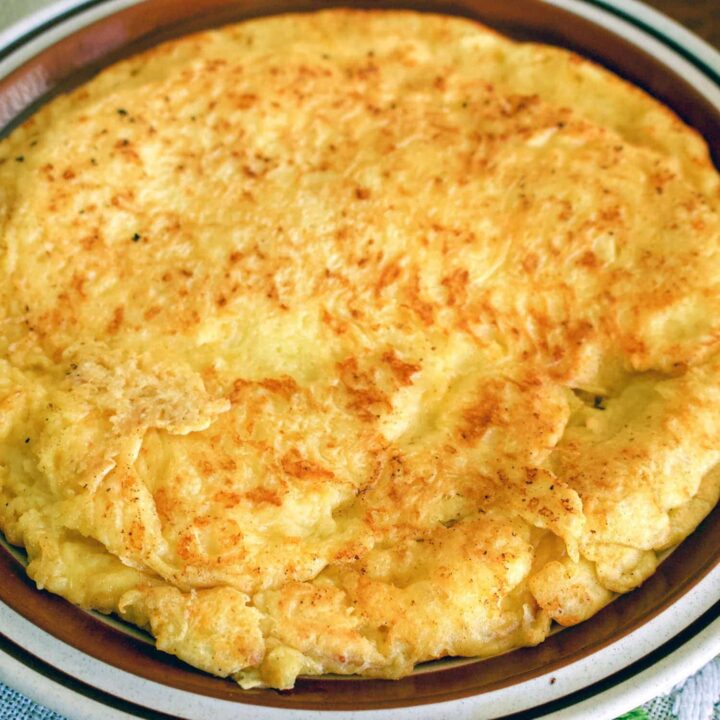 This savory quick and easy cheese pie recipe is an awesome inspiration from the Georgian Khachapuri, a very traditional pie made with sulguni cheese.
Ingredients
1 egg
1 cup all-purpose flour
1 cup whole milk
5 oz salted mozzarella shredded
5 oz Feta cheese crumbled or tangy fresh goat cheese
2Tablespoons butter for frying
Instructions
In a medium bowl beat the egg with the whisk.
Add the milk and beat again.
Add the flour and mix.
Incorporate the shredded/crumbled cheese.
Heat the skillet on medium heat, place the mixture in the middle, cover with the lid and cook on each side for 3-4 minutes.
Serve warm or cold. Leftovers are really good as well.
Nutrition Information:
Yield:
6
Serving Size:
1
Amount Per Serving:
Calories:

248
Total Fat:

13g
Saturated Fat:

8g
Trans Fat:

0g
Unsaturated Fat:

4g
Cholesterol:

73mg
Sodium:

381mg
Carbohydrates:

20g
Fiber:

1g
Sugar:

3g
Protein:

12g