This collection of delicious savory recipes with fresh cherries brings you various recipes from appetizers to salads and main dishes that might tempt you to get in the kitchen and try some of them.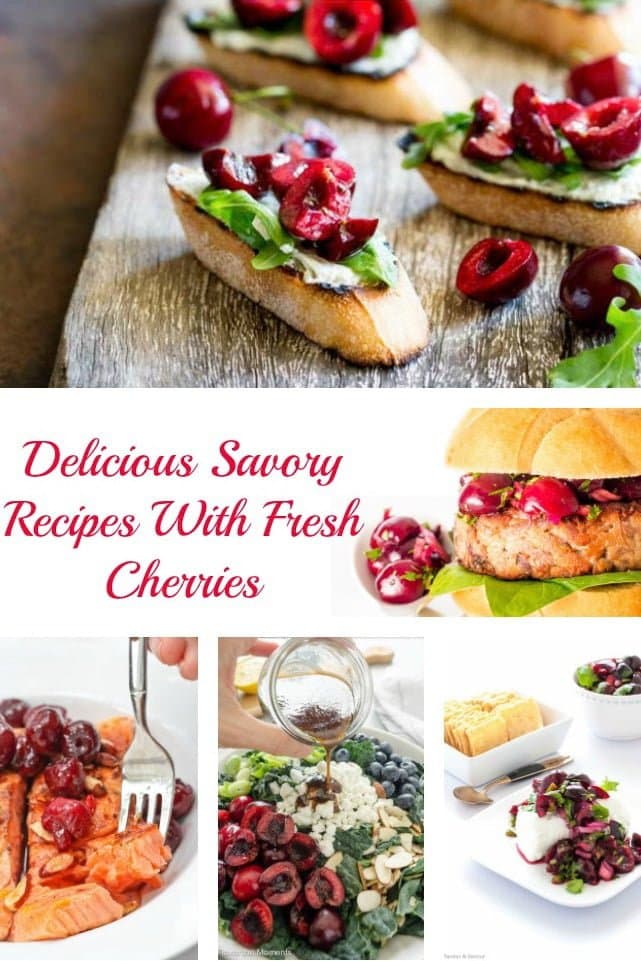 Reasons To Try These Recipes
Summer is here, and cherries are in season. If you like the combination of savory foods with cherries, you are in the right place.
While working on this post, I was constantly hungry. It is not easy to visit so many blogs, see so many beautiful pictures and stay cool.
If you love cherries, as I do, you will definitely love this. Seared salmon with cherry almond topping?
Yum! Crostini appetizer? Duck burger with cherry salsa? Are you kidding me? You have to see to believe it! I was drooling the whole time!
And if you want to make that meal complete, you should try some of the cherry beverage recipes I was writing about the other day!
So, enjoy and feel free to write back and let me know which recipe you liked the best!
Delicious Savory Recipes With Fresh Cherries
What do you think? Pretty awesome, right? Thank you all my fellow bloggers for participating on this round-up.
Please feel free to share it with your friends, family and social media.
Make everyone drool with these delicious recipes!