10 Delicious New Year's Cake ideas from The Bossy Kitchen– recipes that are great to keep close to you when it is time to celebrate either the end of the year, birthdays or other events in your life. Life is too short to say no to cake and fun. Enjoy and happy baking!
Cake for the New Year's Eve? Anyone? To bake a cake for the New Year's Eve is one of my favorite traditions I grew up with. The New Year's celebration is supposed to last all night, therefore there is a need for lots of food, cake and plenty of drinks. Perhaps many of you are celebrating big time, therefore I thought it would be fun to put together a list of cakes ideas for you to choose from on the last night of the year.
Chocolate ganache meringue torte is one of my favorite tortes out there. Easy to make, delicate and elegant, this cake is definitely a good choice for the end of the year.
This is a recipe that I have owned for many years. I make it for parties, potlucks, special occasions or just for Sunday afternoon dinners. However, this has always been a New Year's Eve favorite, because my friends and family always ask me to make it for this special occasion.
This is a wonderful recipe suited for all kinds of events all year long. It is great for any celebrations you might have and the best part is that you do not have to worry about baking a cake in the oven. It took me about an hour to make and I have to say that it disappeared in about the same time after I served it.
I made this Charlotte Russe Cake for the New Year's Eve. A classic European cake, the Charlotte Russe recipe is a very old one. Eighteenth-century European aristocrats knew Charlotte Russe as a cake made of lady fingers pressed into an elegant mold, filled with thick custard or Bavarian cream, and flavored with cooked fruit, spices or brandy.
This cake is a real treat and I am not kidding you. Decadent and beautiful!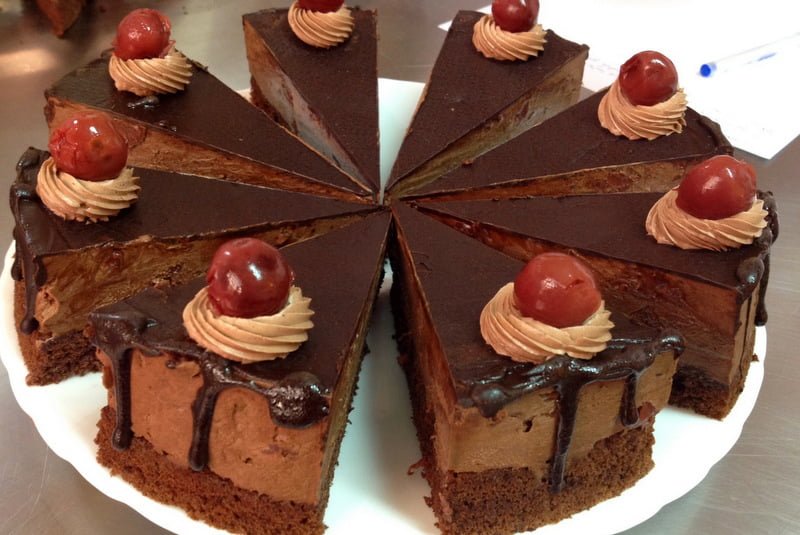 A real treat! Bakers, if you want to impress and also confuse everyone with your baking skills, you have to try this recipe!
An easy and fun cake to make and decorate.
If you never had this cake before, you do not know what you are missing. For the chocolate lovers and not only, this cake is a must try. Once you had it, this recipe will become one of the family treasures. At least, this is what happened in our house and I am confident that it will happen in yours as well.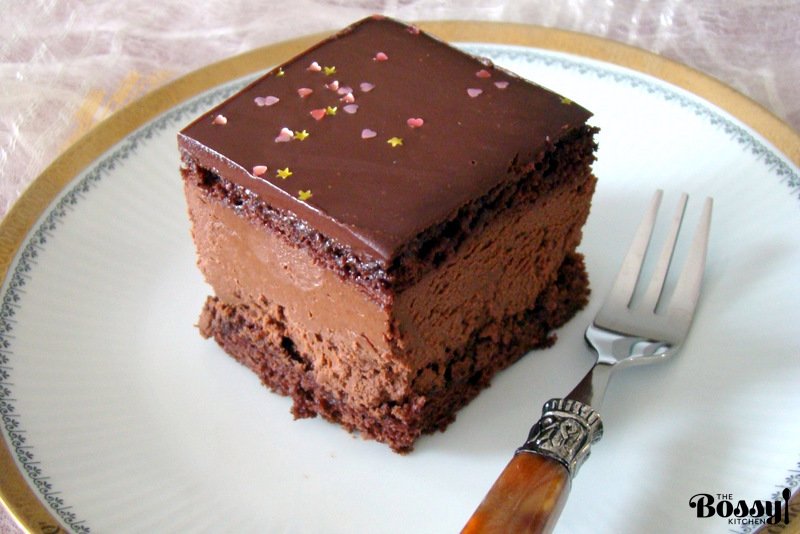 I cannot even begin to tell you how delicious this recipe is and how decadent. The entremet has a praline bottom, chocolate mousse, an insertion of dacquoise cake, then another insertion of vanilla cream on top of the dacquoise and finally it is all covered with more chocolate mousse. You cannot go wrong with it. Note the words "La multi ani" on the cake, mean "Happy New year", or "Happy birthday". It is the traditional greeting that Romanians use for celebrating someone's special day. This can mean their birthday, their name day and it's also a phrase used to celebrate New Years and their traditional National Day.
This is the last recipe on my list, but I have to say that I love this cake. It is light, not very sweet and the flavor of the mint is subtle. Chocolate cake and mint infused white chocolate ganache filling, covered in dark chocolate ganache. What can be better than that?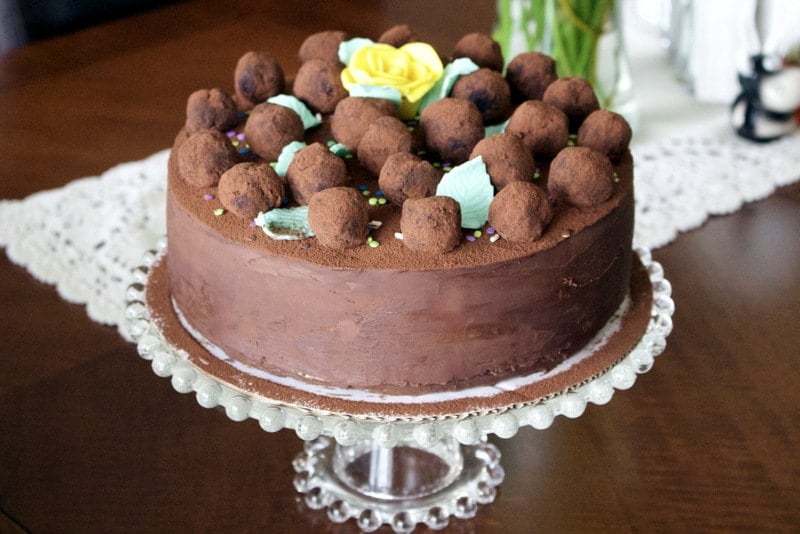 This is it, my friends! I am closing the year with many accomplishments and I am happy to be able to share with you my best recipes.
I hope you find the perfect cake to make for the New Year's Eve. I also hope 2018 is going to be kind to all of us.
I wish you health, peace, prosperity and love! Happy cooking and Happy New Year! Or the traditional Romanian "La multi ani"!
Do you know about The Bossy Kitchen Facebook group? Interested to join it?