Note: "We are a participant in the Amazon Services LLC Associates Program, an affiliate advertising program designed to provide a means for us to earn fees by linking to Amazon.com and affiliated sites."
Cream Cheese Lemon Coconut Cake is a recipe that I have owned for many years. I make it for parties, potlucks, special occasions or just for Sunday afternoon dinners. However, this has always been a New Year's Eve favorite, because my friends and family always ask me to make it for this special occasion.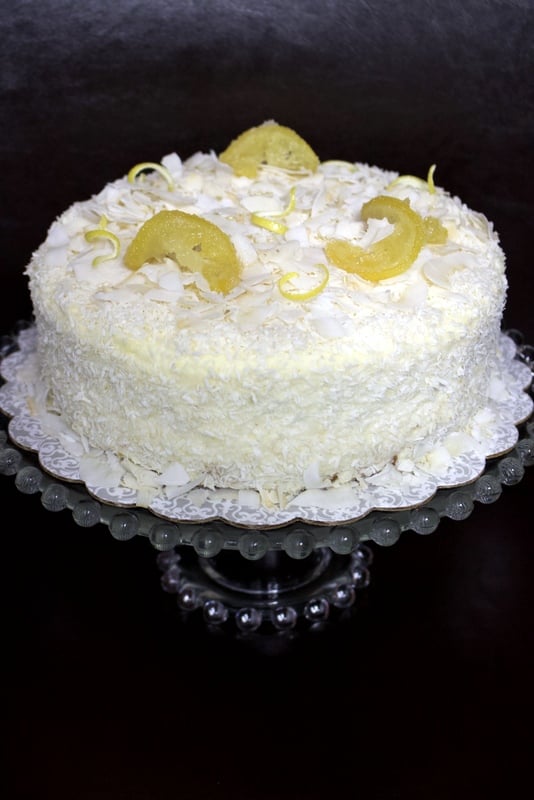 The recipe uses lemon juice and lemon zest in a cream made, originally, with farmers cheese or ricotta, butter, lemon juice and lemon zest, and it is decorated with shaved coconut. Sometimes, if I cannot find farmer cheese or ricotta,  I use cream cheese or even mascarpone, for a more delicate texture. Delicious, if you ask me, as it has a subtle tropical taste from the lemon and the coconut combination.
One time, I made it for an office celebration.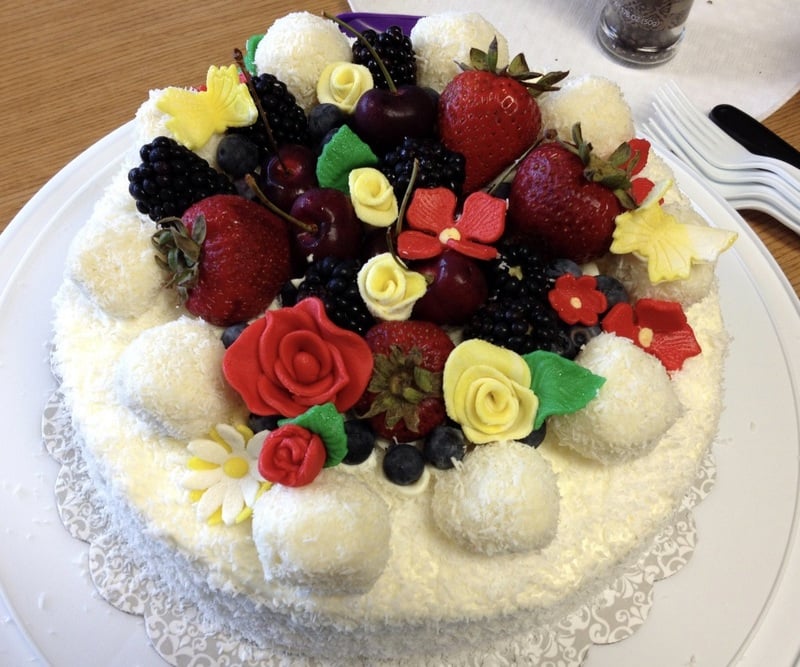 The cake was decorated with fresh berries, few fondant flowers and homemade Raffaello coconut almond confections.
To this cake in particular, I added berries marmalade in the middle, together with the cream filling. It was pretty and oh, so delicious!
Some other time, I made this cake for a St. Patrick's Day. I colored the cake green inside and decorated with fondant and big coconut flakes. What do you think?
This type of decoration as you can see next is a great one for a Sunday celebration or around the holidays. It could serve as a dessert for Easter, for example, or New Year's Eve, if you host a party or go to one and have to provide dessert. I am telling you, everyone will fall in love with it.
Or you can decorate it more festive, for Christmas, like I did this year. Fondant is my friend sometimes, as I like working with it.
As you can see, I made this cake so many times and it always came out beautiful and really good. It is versatile, easy to make and will quickly become a favorite recipe for the celebrations. I hope you make it and enjoy it with your family.
Interested in more cakes? Here is a link to my collection of cakes that are not very difficult to make and they look gorgeous. And here is another link for cakes that are a little bit more elaborated, but if you like to bake, you might love trying them.
However, make this recipe and share it with the hashtag #thebossykitchen on Instagram, Facebook and Twitter so we can all see what you're cooking!
And finally, come join me on  The Bossy Kitchen community group where you can share your creations made from this blog or from other sources. Everyone is welcome!

Cream Cheese Lemon Coconut Cake
Author:
The Bossy Kitchen
Ingredients
For the cake:
6 eggs
1¾ cups/350 g granulated sugar
2½ cup/300 g flour
9 Tbsp cold water
1 teaspoon baking powder
1-2 teaspoons vanilla essence
For the filling:
2 cups/ 500 g Farmer cheese or cream cheese(or mascarpone cheese) room temperature
1¾ cup/200 g powder sugar
2 sticks + 1 tablespoons/250 g butter room temperature
1 lemon(juice and zest)
1 teaspoon vanilla essence
For decoration:
½ cup coconut flakes
Optional for decoration: fruits, fondant, gum paste etc.
Instructions
CAKE:
Preheat the oven to 350F.
Separate the eggs.
Beat the yolks with sugar until smooth.
Add water and vanilla.
Separately in a medium bowl mix together baking powder and flour.
Add them to the yolk mixture.
Separately beat the egg whites stiff and fold them gently into the mixture with a spatula.
Prepare a baking dish 9x13 by coating the inside with butter and dusting with flour.
NOTE: If you prefer a round cake, use a 9 inches cake pan and follow the same steps.
Pour the batter into the dish and bake it for about 20 min or until golden brown on top. You can also test the cake with the toothpick.
Remove it from the baking dish and place it on a rack to cool down.
Filling:
Using a mixer, beat butter and cream cheese together. Add gradually the powder sugar, lemon juice, lemon zest and vanilla essence.
HOW TO PUT THE CAKE TOGETHER:
Slice the cake in two layers horizontally.
Use half of the filling on the base of the cake, then add the second layer of cake on top of it.
Use the other half of the filling to cover the cake, then sprinkle coconut flakes over the top.
Refrigerate the cake overnight. This is a must. The refrigeration will allow the cake to absorb the flavors from the filling and become moist and light.
Decorate with fresh fruit, coconut shaves or fondant flowers.
THIS CAKE NEEDS REFRIGERATION.