Meringue Farmer Cheese Cake is a delicious dessert that comes from Transylvania. It has three layers: crust, farmer cheese and meringue.
My mom sent me this recipe a long time ago, from Romania, by mail. The recipe was called Meringue Farmer Cheese Cake from Tante Anicuta. Tante Anicuta was my grandfather's sister. She loved to bake.
Many of her recipes got lost over the time, so this recipe is very special to me. Tante Anicuta lived in Fagaras, a little town in the heart of Transylvania, where my dad's side of the family was from.
I used to spend summer vacations at Fagaras, so I got to taste many of the baked goods that Tante Anicuta made.
This recipe is a very interesting one. Before graduating from the Pastry school, I was always nervous about baking, so I kind of avoided this recipe at it seemed too complicated to me.
The fact is that I never spent enough time to read the recipe through and see how easy it actually is to put it together, until one day, while looking for inspiration for my blog, I found it buried between the pages of an old cooking book.
I am not even sure if I should call the recipe a cake or something else, but it has three layers, the dough, which is a short bread crust, the farmer cheese and the meringue one.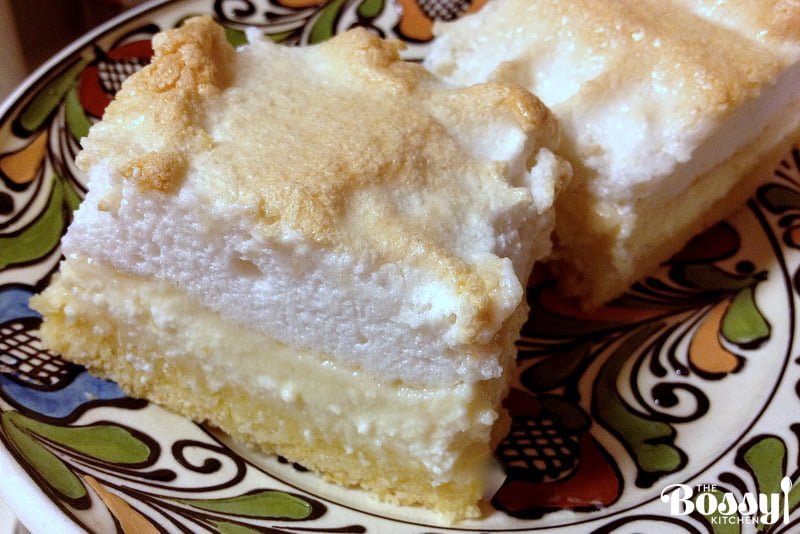 The dough is only half-baked,
then the farmer cheese filling is added on top of the dough.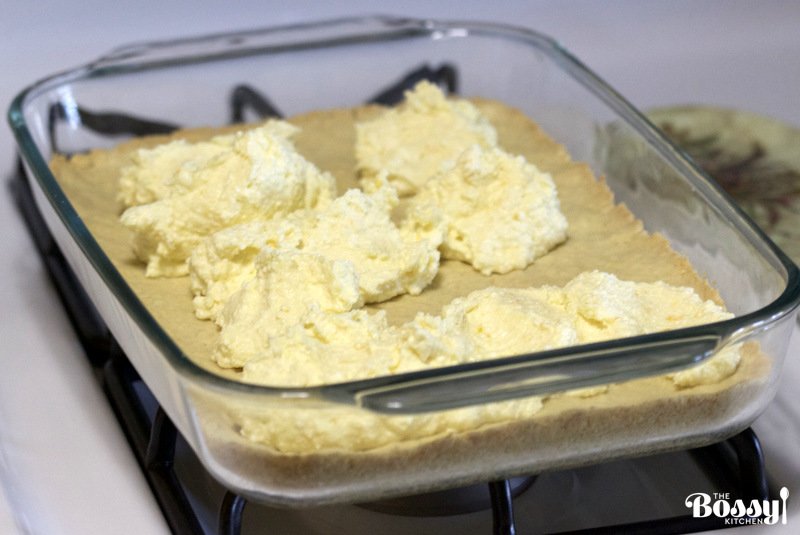 The egg whites are the last layer added to the cake.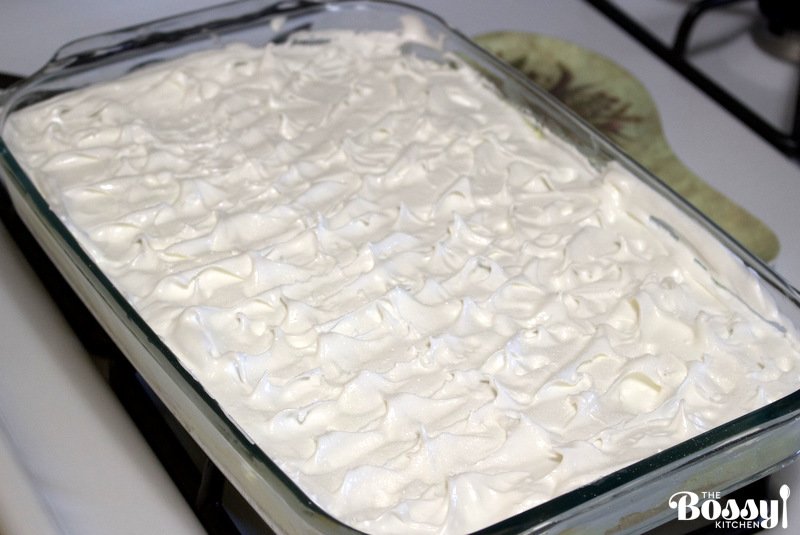 The whole thing is baked again until the meringue on top gets golden brown and the cake passes the toothpick test.
When you cut it, you will have these three beautiful layers of sweet divine fluffiness. Serve it cut into squares with a cup of Turkish Coffee for more authenticity!
What I love about the recipe is the texture of it and the fact that it doesn't waste any ingredients. It shows that people in the past valued these ingredients and wanted to make sure they are used up in a proper way.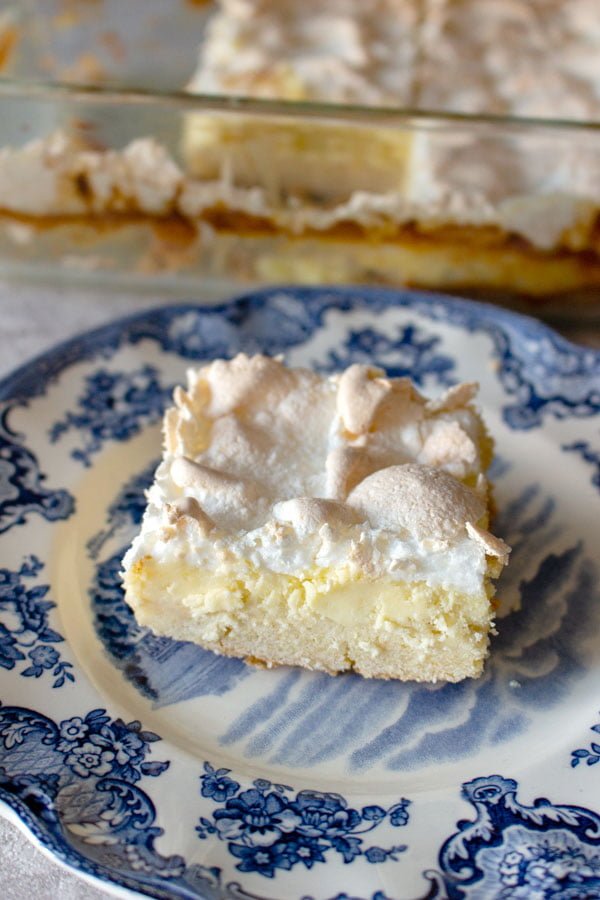 While my grandparents for example were a little bit wealthier and had the opportunity to be the first ones around to own a refrigerator, most people did not have one.
Recipes like this one are abundant in Romania, where people made sure, for example, that if you crack an egg to bake something and you need the yolk for the crust, you need to figure out what to do with the egg white, so it doesn't get thrown away. Pretty cool, right?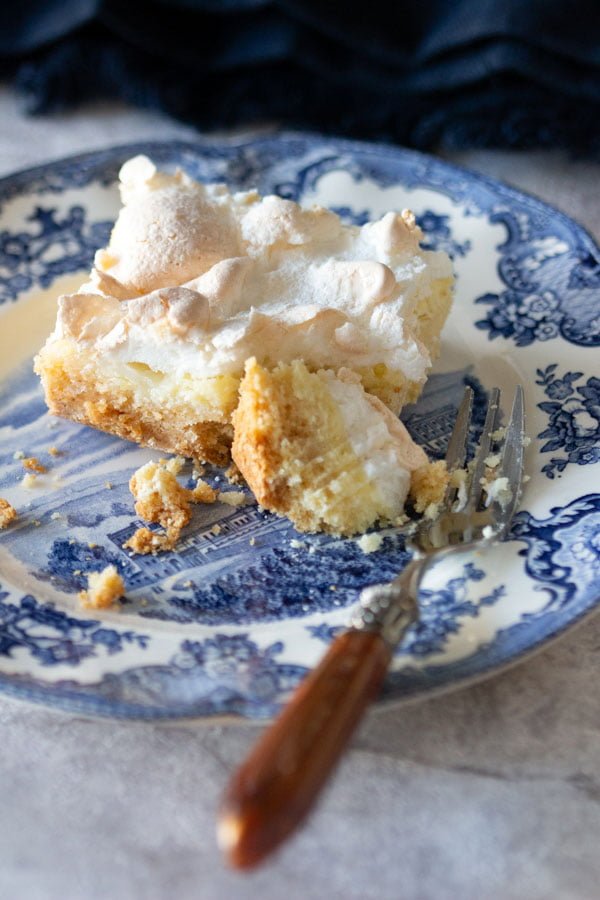 So, let's take a look at the recipe and try to make it. I hope you will enjoy it as much as we did!
It certainly brought back many memories of my childhood!
Note: Here you have a recipe of Farmer Cheese, or cottage cheese.
* If you make this recipe, share it with the hashtag #thebossykitchen on Instagram, Facebook, and Twitter so we can all see what you're cooking!
Or maybe you want to join The Bossy Kitchen community group where you can share your creations made from this blog or from other sources. Everyone is welcome to join!
Yield: 24 servings
Meringue Farmer Cheese Cake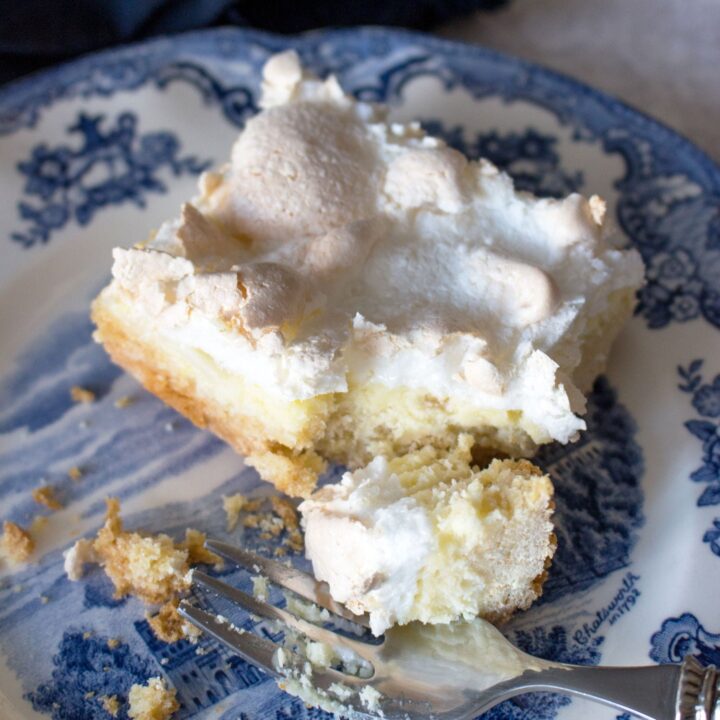 Meringue Farmer Cheese Cake is a delicious dessert that comes from Transylvania. It has three layers: crust, farmer cheese and meringue.
Total Time
1 hour
10 minutes
Ingredients
The recipe calls for 4 eggs that will need to be separated(2 egg yolks will go to make the dough 2 egg yolks will go inside of the farmers cheese filling, and the 4 egg whites will make the meringue)
The crust:
3¼ cups all-purpose flour 400 g
1½ sticks unsalted butter (cold) 150g
⅓ cups granulated sugar 60 g
2 egg yolks
2 Tablespoons sour cream
2 Tablespoons vanilla
1 teaspoon baking powder
Farmer Cheese filling:
1 pound Farmer Cheese 453g
3 Tablespoons granulated sugar
1 teaspoon vanilla
1 lemon zest
2 egg yolks
Meringue:
4 egg whites
1 cup granulated sugar 200 g
Instructions
Preheat oven to 350F.
To make the crust:
Mix flour, salt, sugar, baking powder together.
Add cubed cold butter and work it into the flour mixture with your fingers. You should have a sandy mixture.
Add egg yolks, sour cream and vanilla and incorporate them in the dough. It will still be a little bit crumbly.
In a 9x13 baking pan spread the dough equally with your fingers and press it down.
Bake at 350F for 20 minutes, then remove from the oven. The crust is only half baked at this point.
Meanwhile, mix all the ingredients for the farmer cheese filling, then spread the mixture over your crust.
Beat the 4 egg whites until stiff and add the sugar. Do not overmix, you still need to taste the crunchiness of the sugar in your meringue.
Spread the egg whites over the other layer of farmer cheese and bake the cake at 350F for another 20 minutes.
The meringue has to be golden brown and the cake has to pass the toothpick test inside.
Let it cool and serve it cut in squares with a cup of Turkish coffee.
Recommended Products
As an Amazon Associate and member of other affiliate programs, I earn from qualifying purchases.
Nutrition Information:
Yield:
24
Serving Size:
1
Amount Per Serving:
Calories:

210
Total Fat:

8g
Saturated Fat:

4g
Trans Fat:

0g
Unsaturated Fat:

3g
Cholesterol:

79mg
Sodium:

224mg
Carbohydrates:

26g
Fiber:

0g
Sugar:

13g
Protein:

8g